Transport via Macropinocytic Vesicles Is Crucial for Productive Infection with Bombyx Mori Nucleopolyhedrovirus
1
Jiangsu Key Laboratory of Sericultural Biology and Biotechnology, School of Biotechnology, Jiangsu University of Science and Technology, Zhenjiang 212018, Jiangsu, China
2
Key Laboratory of Genetic Improvement of Sericulture in the Ministry of Agriculture, Sericultural Research Institute, Chinese Academy of Agricultural Science, Zhenjiang 212018, Jiangsu, China
*
Author to whom correspondence should be addressed.
Received: 2 July 2019 / Revised: 18 July 2019 / Accepted: 19 July 2019 / Published: 20 July 2019
Abstract
Bombyx mori nucleopolyhedrovirus (BmNPV) is a serious viral pathogen in the sericulture industry and enters host cells via macropinocytic endocytosis; however, the current understanding of the BmNPV entry mechanism remains limited. To confirm whether direct membrane fusion (DMF) results in productive BmNPV infection, DMF infectivity induced by low pH during BmNPV infection was investigated, and the infectious viral particle was traced using an eGFP-labeled virion. We found that BmNPV infection efficiently induced fluid uptake, which allowed BmNPV to bypass the cell membrane barrier via macropinocytosis. However, DMF induced by a low pH abolished the infection. While low pH is an essential condition for membrane fusion triggering, it is not sufficient for productive BmNPV infection, and DMF results in failure to transport the nucleocapsid into the nucleus. These results indicate that transport via macropinocytic vesicles facilitates BmNPV entry into the nucleus and contribute to our understanding of the BmNPV entry mechanism.
View Full-Text
►

▼

Figures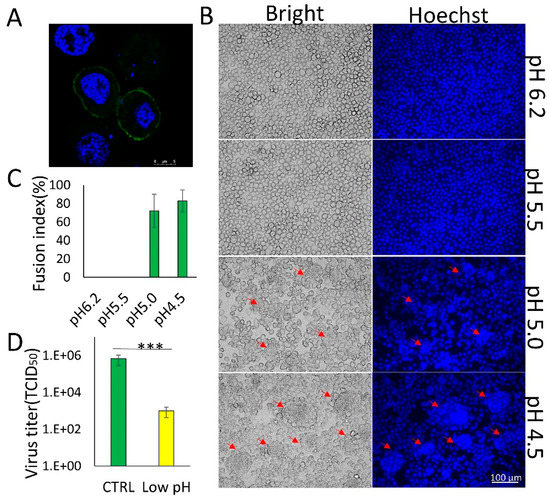 Figure 1
This is an open access article distributed under the
Creative Commons Attribution License
which permits unrestricted use, distribution, and reproduction in any medium, provided the original work is properly cited (CC BY 4.0).

Share & Cite This Article
MDPI and ACS Style
Huang, J.; Li, C.; Tang, X.; Liu, L.; Nan, W.; Shen, X.; Hao, B. Transport via Macropinocytic Vesicles Is Crucial for Productive Infection with Bombyx Mori Nucleopolyhedrovirus. Viruses 2019, 11, 668.
Note that from the first issue of 2016, MDPI journals use article numbers instead of page numbers. See further details here.
Related Articles
Comments
[Return to top]