Effects of Arbovirus Multi-Host Life Cycles on Dinucleotide and Codon Usage Patterns
Department of Microbiology, Immunology and Pathology, College of Veterinary Medicine and Biomedical Sciences, Colorado State University, Fort Collins, CO 80523, USA
*
Author to whom correspondence should be addressed.
Received: 25 June 2019 / Revised: 9 July 2019 / Accepted: 11 July 2019 / Published: 12 July 2019
Abstract
Arthropod-borne viruses (arboviruses) of vertebrates including dengue, zika, chikungunya, Rift Valley fever, and blue tongue viruses cause extensive morbidity and mortality in humans, agricultural animals, and wildlife across the globe. As obligate intercellular pathogens, arboviruses must be well adapted to the cellular and molecular environment of both their arthropod (invertebrate) and vertebrate hosts, which are vastly different due to hundreds of millions of years of separate evolution. Here we discuss the comparative pressures on arbovirus RNA genomes as a result of a dual host life cycle, focusing on pressures that do not alter amino acids. We summarize what is currently known about arboviral genetic composition, such as dinucleotide and codon usage, and how cyclical infection of vertebrate and invertebrate hosts results in different genetic profiles compared with single-host viruses. To serve as a comparison, we compile what is known about arthropod tRNA, dinucleotide, and codon usages and compare this with vertebrates. Additionally, we discuss the potential roles of genetic robustness in arboviral evolution and how it may vary from other viruses. Overall, both arthropod and vertebrate hosts influence the resulting genetic composition of arboviruses, but a great deal remains to be investigated.
View Full-Text
►

▼

Figures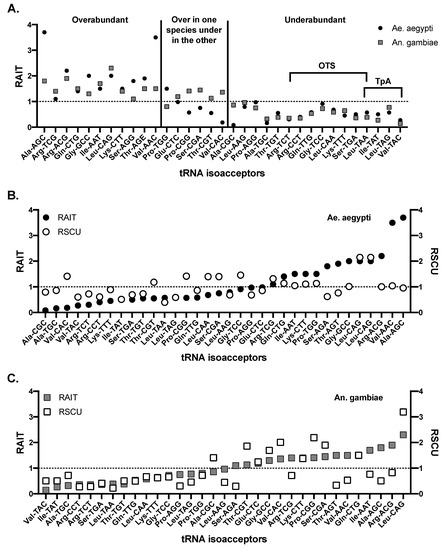 Figure 1
This is an open access article distributed under the
Creative Commons Attribution License
which permits unrestricted use, distribution, and reproduction in any medium, provided the original work is properly cited (CC BY 4.0).

Share & Cite This Article
MDPI and ACS Style
Sexton, N.R.; Ebel, G.D. Effects of Arbovirus Multi-Host Life Cycles on Dinucleotide and Codon Usage Patterns. Viruses 2019, 11, 643.
Note that from the first issue of 2016, MDPI journals use article numbers instead of page numbers. See further details here.
Related Articles
Comments
[Return to top]