Open Access This article is
freely available
re-usable
Review
Influenza A in Bovine Species: A Narrative Literature Review
1
Department of Biology and Microbiology, South Dakota State University, Brookings, SD 57007, USA
2
Department of Veterinary and Biomedical Sciences, South Dakota State University, Brookings, SD 57007, USA
3
BioSystems Networks and Translational Research Center (BioSNTR), Brookings, SD 57007, USA
*
Author to whom correspondence should be addressed.
Received: 17 May 2019 / Accepted: 14 June 2019 / Published: 17 June 2019
Abstract
:
It is quite intriguing that bovines were largely unaffected by influenza A, even though most of the domesticated and wild animals/birds at the human–animal interface succumbed to infection over the past few decades. Influenza A occurs on a very infrequent basis in bovine species and hence bovines were not considered to be susceptible hosts for influenza until the emergence of influenza D. This review describes a multifaceted chronological review of literature on influenza in cattle which comprises mainly of the natural infections/outbreaks, experimental studies, and pathological and seroepidemiological aspects of influenza A that have occurred in the past. The review also sheds light on the bovine models used in vitro and in vivo for influenza-related studies over recent years. Despite a few natural cases in the mid-twentieth century and seroprevalence of human, swine, and avian influenza viruses in bovines, the evolution and host adaptation of influenza A virus (IAV) in this species suffered a serious hindrance until the novel influenza D virus (IDV) emerged recently in cattle across the world. Supposedly, certain bovine host factors, particularly some serum components and secretory proteins, were reported to have anti-influenza properties, which could be an attributing factor for the resilient nature of bovines to IAV. Further studies are needed to identify the host-specific factors contributing to the differential pathogenetic mechanisms and disease progression of IAV in bovines compared to other susceptible mammalian hosts.
Keywords:
ruminants; bovine; cattle outbreaks; Influenza A; host restriction; bovine cell cultures; bovine respiratory disease; bronchopneumonia; epizootic cough; seroprevalence; MDBK cells
1. Introduction
Influenza viruses belong to
Orthomyxoviridae
family and are negative-sense single-stranded RNA viruses causing acute respiratory disease in a multitude of hosts all over the world. Influenza viruses were recognized as early as the 16th century and the first pandemic officially documented was in 1580 [
1
]. Influenza viruses evolved to form mainly four types: alphainfluenza virus (influenza A), betainfluenza (influenza B), gammainfluenza (influenza C), and deltainfluenza (influenza D) which again diverged to subtypes and lineages, affecting multiple mammalian species worldwide, including humans. Influenza viruses undergo antigenic drift—acquiring frequent mutations in HA and NA, which enables the virions to evade the pre-existing immunity to cause seasonal epidemics/epizootics, and antigenic shift—undergoing gene reassortments causing pandemics. The most important IAV human pandemics: 1918 Spanish flu (H1N1), 1957–1958 Asian flu (H2N2), 1968 Hong Kong flu (H3N2), and 2009 swine-origin H1N1 emerged during the last century [
1
].
Structurally, IAV and IBV genomes have eight RNA segments, whereas ICV and IDV have only seven segments. IAV has hemagglutinin (HA), neuraminidase (NA), matrix proteins (M1, M2), and NP (ribonucleoprotein) as structural proteins; 3 subunits of the RNA polymerase complex, polymerase basic protein 1 (PB1), polymerase basic protein 2 (PB2), and polymerase acidic protein (PA); and 3 nonstructural proteins, NS1, NS2/NEP (nuclear export protein), and PB1-F2. Studies have shown that NS2 and M1 protein form complexes that can be detected in purified virions and cell lysates of virus-infected cells [
2
,
3
]. Hence, NS2 and (probably) NS1 of IAV are not considered as non-structural proteins, as these proteins can be detected in virions [
4
]. IBV possesses six structural proteins, HA, NA, NB, M2, M1, NP and NS2; 3 subunits of RNA polymerase complex, PA, PB1, and PB2; and nonstructural protein NS1 [
5
]. ICV and IDV have 4 structural proteins, M2, M1, NP, and the hemagglutinin–esterase fusion (HEF) protein that replaces the HA and NA of IAV or IBV; 3 subunits of RNA polymerase complex, P3, PB1, and PB2; and 2 nonstructural proteins, NS1 and NS2. IAV has several subtypes based on the HA and NA proteins. Currently, there are 18 HA and 11 NA subtypes, of which H1 to H16 and N1 to N9 have been isolated from birds; the subtypes H17, H18, N10, and N11 have been identified in bats [
6
,
7
]. Out of these, only three HA (H1, H2, H3) and two NA (N1, N2) subtypes have been associated with human epidemics and are capable of sustained transmission [
8
].
Influenza viruses spill over periodically from their primordial reservoirs (aquatic fowls) to the intermediate/secondary hosts to facilitate better adaptation and transmission and some of these hosts must remain as permanent niches for sustained IAV transmission. Other than birds, influenza A affects diverse mammalian populations such as pigs, seals, horses, dogs, cats, wild cats, minks, whales, and humans. The global pandemic of 2009 caused by swine-origin H1N1 was reported in swine, turkey, dogs, and cat [
9
,
10
,
11
,
12
,
13
,
14
]. Over the last few years, influenza infection landscape has widened to include new mammalian hosts such as bats, seals, and whales [
6
,
15
,
16
,
17
,
18
]. Humans are the intermediate hosts for many diseases and zoonotic infections can occur in two ways: (1) isolated, dead-end infections which fail to establish and adapt as in the case of Ebola and hantaviruses (2) virus adapts and establishes in the intermediate or secondary hosts, and also sustain horizontal transmission, as in influenza [
19
]. Such stable host-switch events lead to strong adaptations (ex. H5N1 and H9N2) which can resist the evolutionary pressure or the antagonistic environment posed by the novel hosts [
20
,
21
,
22
]. The factors that govern the virulence, pathogenicity and transmission of influenza viruses could be multifactorial including both viral as well as host factors. Host factors such as availability of the receptors, the presence of host innate immune and other cellular factors, population size and its interconnectivity all govern the sustainability of influenza transmission [
23
]. Influenza viral determinants undergo adaptive mutations, to expand or to limit the host range. Among the viral factors, HA glycoprotein is the primary factor determining the host range and interspecies transmission. Other viral proteins such as NP, PB2, and NS1 have also been involved in host range restriction and adaptation [
24
]. For example, avian influenza polymerase possesses a limited function in human hosts and hence host-specific genetic changes have occurred to the polymerase subunits and NP during natural evolution. Though uncommon in recent times, IAV has been reported in ruminant species in the past. However, a tight host genetic bottleneck might have played a major role in the evolution, preventing the adaptive mutations necessary for the sustained transmission cycles in a novel host. Interestingly, the recently emerged influenza D, for which cattle are considered to be the primary reservoir, is widespread in cattle herds across the world. In this review, we conducted a comprehensive search of the available scientific reports/journal articles on influenza over the last century, with reference to bovine species, to understand the timeline of bovine IAV incidences with respect to human pandemics and epidemics, natural and experimental infections, seroepidemiological studies, and the role of bovine cellular and host factors in the evolution of influenza.
2. Literature Search Strategy
A literature search conducted mainly through PubMed (
www.ncbi.nlm.nih.gov/entrez/query.fcgi
accessed January 20, 2019) using the keywords "influenza in bovines", "influenza in cattle", influenza in ruminants, and "bovine influenza" yielded 720, 717, 846, and 997 results, respectively. Another search with "bovine respiratory disease and influenza" retrieved 206 results. The searches were conducted with and without specifying the dates and the results retrieved were nearly the same. For the dates specified, the search started from 1900/01/01 to 2019/01/21. A flow chart showing the schematic representation of the comprehensive search is shown in
Figure 1
A with dates covered from 1900/01/01 to 2019/01/21. The search yielding the highest number of results (bovine influenza,
n
= 997) was used to further categorize the journal articles in different sections. Category-wise representation of the related articles obtained by the keyword search was shown in the Pie chart in
Figure 1
B. Furthermore, the IAV related studies in bovine (blue pie,
n
= 73) were broken down and illustrated in a donut graph to show the different subsections (IAV studies in bovine, IAV-bovine host factor interactions, seroprevalence, and use of IAV vector for bovine diseases). There were several reports on influenza infections and respiratory diseases in cattle from Russia, Germany, and Poland, most of which were in their native languages, and hence not accessible. Few of these journal articles carried English abstracts, which have been used in this review [
25
,
26
,
27
]. Influenza D journal articles (
n
= 38) were reviewed separately.
3. A Brief Overview of Influenza Viral Ecology
4. Role of Influenza in Bovine Respiratory Diseases and Evidence of Zoonosis/Reverse Zoonosis
5. Natural Cases of Influenza A in Bovines
6. Experimental Infections of Influenza A in Ruminant Species
Several experimental studies have been performed in the past to study the antibody responses in different species of domestic animals. In 1956, an experimental infection by direct inoculation of influenza A PR8 strain and Newcastle disease virus (NDV) into the lactiferous sinus of goat mammary glands resulted in the production of neutralizing antibodies in the milk and blood. This study also found that influenza neutralizing antibody level in the blood phased out slowly compared to the NDV even after surgical removal of the mammary gland [
115
]. In 1974, experimental inoculation of seronegative yak with human IAV such as A/Hong Kong/1/68 (H3N2), A/England/42/72 (H3N2), and A/equine/Prague/1/56 resulted in serological response against all these strains [
103
]. Experimental inoculation of calves with A/csf/Udmurtiia/116/73 was reported in 1977 [
27
]. Nakamura et al. [
110
] experimentally infected calves with influenza B virus by aerosol and intravenous routes to determine the serum non-specific inhibitors of influenza in domestic animals. Several experimental studies have been reported from cattle in the 20th century, and some of the reports were only available in non-English languages [
25
,
26
,
27
]. Experimental infection in different mammalian species such as calves and lambs to characterize the antibody responses revealed appreciable hemagglutination inhibition (HI) antibody titers in calves after primary infection, leading to an anamnestic response after challenge with a homologous antigen [
110
].
Experimental infection using human and swine IAV subtypes caused variable responses in causing respiratory disease in cattle. In 1977, calves experimentally infected with three Hong Kong-like H3N2 strains (A/Michigan/l/72, A/England/42/72, and A/Aichi/2/68) compared to the calf H3N2 strain, A/calf/Duschambe/55/71 demonstrated no respiratory disease by human IAV, while A/calf/Duschambe/55/71 caused disease with nasal discharge, cough, and mild rhinitis. However, virus shedding was detected for A/Aichi/2/68 and A/calf/Duschambe/55/71 for five and seven days respectively, indicating that calves were susceptible to human IAV. The A/calf/Duschambe/55/71 strain was considered to be a host range variant of Hong Kong/68 strains isolated from humans [
48
]. Furthermore, intranasal inoculation of live swine influenza virus (SIV) A/sw/IL/75 (H1N1) in calves caused respiratory disease with virus shedding, contact transmission to sentinel animals, seroconversion at 9 days post-infection (dpi) and virus neutralization antibody development at 14 and 21 dpi [
105
]. Another study using recombinant vaccinia virus expressing SIV-HA (A/NJ/11/76) developed antibodies when inoculated to cattle, sheep, and poultry, while the wild-type virus did not cause any antibody response. No contact transmission was reported by the wild-type or recombinant virus in these species [
104
].
The pathogenesis and transmission of avian influenza viruses in bovine species have also been studied previously. Cattle egrets share a symbiotic relationship with cattle and forages along with cattle and other livestock species. Recently, highly pathogenic avian influenza virus (HPAIV) was isolated from cattle egret in Egypt near broiler chicken farms [
116
]. Therefore, it would be noteworthy to study the epidemiological role of the cattle egrets in the transmission of IAV. Cattle egrets were intranasally challenged with an HPAIV (A/duck/Vietnam/40D/04 (H5N1)) to study its role in H5N1 outbreaks in Vietnam and to investigate the virulence of the strain. The egrets contracted the infection, and some succumbed to death in a week. However, no contact transmission occurred in the co-housed chickens [
107
]. Despite the close association of cattle egrets or similar intermediate hosts of influenza, it is interesting that cattle are refractory to influenza. In 2007, experimental inoculation of calves with HPAIV strain, A/cat/Germany/R606/2006 (H5N1) demonstrated 100% seroconversion with neutralizing antibodies against the homologous strain. This study reported very low viral shedding as determined by the titration of nasal swab fluid in embryonated chicken eggs and MDCK cells. Virus neutralization and the ELISA tests conducted at 3 months post inoculation demonstrated seroconversion in all the inoculated calves and one contact animal, thus providing evidence for contact transmission [
106
]. On the contrary, another experimental infection of six beef calves and two ponies with A/equine/Kentucky/91 (H3N8) did not cause any viral shedding, clinical symptoms, or disease in calves compared to the ponies [
117
].
Table 1
. describes the experimental infection conducted in cattle in chronological order. These experimental studies show that ruminants could be infected with IAV derived from avian, swine, and human IAV subtypes.
7. Seroprevalence Studies of Influenza A in Bovine Species
Influenza serosurveillance studies have been conducted in bovines and other animal species over time in different parts of Eurasia. In Romania, epidemiological studies conducted in humans and animals during the early 1960s by Bronitki et al. [
110
,
118
] demonstrated influenza A and B specific antibodies in several wild and domestic animals including cattle, and sheep. In the early 1970s, naturally occurring antibodies against the H3N2 viruses were detected in the crossbred yak, cattle and water buffaloes in Kathmandu, (Nepal) and goats and cattle in West Bengal (India) as demonstrated by the single radial immunodiffusion tests [
103
]. The precipitation and complement fixation tests to study the incidence of the A/Port Chalmers/73 (H3N2), A2/Hong Kong/1/68 and PR8 in fourteen animal species from Ottawa area in Canada revealed seropositivity in six species such as dog, cat, rabbit, goat, chipmunk, and sheep [
119
]. In Great Britain, a serosurveillance study conducted on swine and bovine samples collected during September 1973–July 1977, against A/Swine/Wisconsin/66 (HSwlN1), A/Swine/1976/30 (HSwlN1), A/Hong Kong/1/68 (human H3N2), A/Port Chalmers/73 (human H3N2) demonstrated seropositive swine samples against human H3N2 viruses with 4.5% (1974), 1.7% (1975) and 2.3% (1976) against A/Port Chalmers/73 suggesting the evidence for reverse zoonosis. On the contrary, none of the bovine sera was positive against the tested swine (H1N1) and human (H3N2) influenza viruses [
120
]. Seroprevalence study conducted in different species of animals involving cattle, horses, pigs, dogs, cats, minks, and rats over the period 1975–77 in Japan, demonstrated antibodies against 15 subtypes of influenza A viruses among 16 subtypes that were tested [
111
]. In the case of cattle, out of 728 serum samples, only 1.5% and 1% were seropositive against H0 and H3 Aichi respectively and were seronegative against other subtypes [
111
]. In 1978, a seroprevalence study of influenza B and C viruses in different mammalian species including cattle conducted in Japan revealed that all cattle sera were negative to IBV and only 0.6% seropositive samples against ICV [
56
].
In Northern Ireland, around 200 sera collected from crossbred and indigenous sheep breeds to study the seroprevalence of influenza A and other viruses (parainfluenza types 1, 2, and 3, respiratory syncytial virus, bovine adenovirus, Maedi-visna virus, and bovine viral diarrhea virus) demonstrated no antibodies against influenza A, Maedi-visna and parainfluenza virus 1 and 2 [
121
]. A review of the published pathological and serological studies by Lopez and Woods, reported seroprevalence of influenza A and B viruses (complement fixation and hemagglutination inhibition tests) in ruminants from different parts of the world such as the USA, Italy, Rumania, USSR, Nepal, India, and Hungary [
47
,
122
].
Another serological study conducted in five calves inoculated with swine influenza virus showed a significant association between the mean diameter of the hemolysis zone obtained by the single radial hemolysis (SRH) test and the geometric mean of the HI titer after periodate treatment and receptor-destroying enzyme [
123
]. In 1974, serological screening against human influenza viruses such as A/Hong Kong/1/68 (H3N2), and A/England/42/72 (H3N2), conducted in West Bengal, India (cattle, goats) and Kathmandu, Nepal (water buffaloes, cattle) also showed seropositivity against the H3 antigens by single radial immunodiffusion test [
103
]. While this study demonstrated seroprevalence against H3 antigens, no antibodies were detected against the equine influenza A virus, A/equine/Prague/1/56 (Heq1 Neq1) in human, goat, cattle, chicken, and dog sera [
103
]. Another serological survey involving 177 paired calf sera from 1978–1981 showed that 3.4% of the calves were seropositive to swine influenza virus [
122
]. A retrospective serological survey conducted in Minnesota, USA involving 2,345 bovine sera against H1 subtype-specific antigen revealed 27% positive and 31% low positive samples, without any clear evidence of clinical infections [
114
]. This study also found that peak titers occurred during September–November, and February–March [
114
]. In Egypt, seroprevalence against avian influenza has been demonstrated in samples collected from different animal species such as goat, cattle, buffaloes, sheep, horses, swine, donkey, sewage rats, stray dogs, and cats [
124
]. Bovine seroepidemiological studies on the prevalence of equine and porcine influenza viruses in cattle sera collected during 1999–2000 in Kentucky demonstrated 17% and 51% seropositive samples against A/equine/Kentucky/94 (H3N8) and A/swine/Texas/98 (H3N2) respectively [
117
]. A chronological list of studies pertaining to the seroprevalence of IAV in ruminants is shown in
Table 2
. These observations have clearly indicated that bovines are susceptible to human, avian, equine, and swine influenza viruses; however, there appears to be some host-specific interference preventing disease development.
8. Bovine Cell Cultures for Influenza Studies in Vitro
9. Host Restriction Factors in Bovines: Sensitivity of Influenza to Cellular/Serum Factors
Despite the growing host range of IAV over the last century, the rare incidence of influenza A in bovine species could be due to the presence of some host-dependent restriction factors in the bovine respiratory tract which could possibly hinder/interfere with influenza virus replication and further adaptation. The fact that influenza A and B viruses could replicate almost always in the in vitro bovine systems [
145
,
155
,
162
,
163
,
185
,
186
,
187
,
188
] but very rarely in vivo, suggests the presence of an interfering host factor in vivo. Previous research has shown that biological factors/fluids of ruminants possess anti-influenza activity and hence we speculate that the lack of sensitivity of bovine species to influenza viral pathogenesis could be attributed to some host factors, which could be physiological, cellular, or related immune factors.
10. Influenza Vaccine Studies in Bovines and Use of Bovine Viral Vectors
In the late 20th century, a vaccination study using killed vaccines of foot and mouth disease (FMD) and influenza was conducted in two-month-old calves and lambs. Interestingly, both these viruses exist in multiple serotypes. Formalin-inactivated allantoic viral cultures of A/PR/8/34 (H1N1) were used as a vaccine. In case of influenza, 100% of animals seroconverted against the homologous serotype influenza (A/PR/8/34) and 18.7% of animals seroconverted against each of the heterologous serotypes A/Leningrad/360/86 (H3N2) and A/Shanghai/11/87 (H3N2)} in calves. Similarly, in lambs, 100% seroconversion was observed against homologous serotype influenza (A/PR/8/34) and 10% and 17.5% seroconverted against the heterologous serotypes A/Leningrad and A/Shanghai, respectively. Only 1/32 and 1/40 responded to both heterologous serotypes in calves and sheep respectively [
221
].
Bovine adenovirus/adenoviral vector was used to replace the human adenovector to circumvent the pre-existing vector immunity against the human adenovectors in vaccine production. Administration of bovine adenovector (BAd) subtype 3 vectored H5-HA vaccine in human adeno (HAd) serotype 5 primed mice successfully eluded the high levels of pre-existing human adeno neutralizing antibodies and elicited HA-specific humoral and cell-mediated immune (CMI) responses. BAd vector immunization of naïve or adenovirus primed mice ensured full protection from a potentially lethal challenge with A/Hong Kong/483/97 in mice, which ensures its utility in influenza and as an alternative/supplement to other human adenovirus vectored vaccines [
232
,
233
]. Influenza viral vectors, particularly of subtypes H5N1 and H1N1 were used for veterinary vaccine applications. Effective protective efficacy was observed upon vaccination of influenza viral vector-based Brucella vaccine in cattle and small ruminants [
234
,
235
].
11. Summary
Here, we conducted a comprehensive review of the literature available on the past influenza cases/studies occurring globally in ruminant (bovine, caprine, ovine) population, and have summarized the overall influenza A prevalence in bovines. In this review, we have discussed the host range of the four types of influenza, emphasizing the susceptibility/utility of bovine in vivo and in vitro models to influenza A studies over recent years. Even though natural cases of influenza occurred in bovines causing influenza-like respiratory disease with bronchopneumonia, epizootic cough, nasal discharge, lacrimation, or other extrapulmonary signs such as milk drop, only a few cases culminated in successful virus isolation. Cattle-origin IAV strains were isolated during the early 1970s, around the time when Hongkong/1968 human IAV strains (H3N2) were prevalent. Although the relatedness of HA glycoprotein of these cattle IAV strains to human H2 and H3 prototypes was reported, sufficient data/characterization studies were lacking to support the extent of genetic relatedness. Pigs, which were domesticated by humans 1500 years after cattle, are naturally susceptible to all four influenza types and are excellent mixing vessels of influenza. Hence, the refractory nature of bovines against influenza A could be due to species-specific host-associated interference as discussed before. Compared to IAV and IBV (eight segmented genomes), bovines are naturally susceptible to IDV, and lately to ICV (seven segmented genomes) as indicated by the seroprevalence studies and isolation of complete viral genomes, thus contributing significantly to the bovine respiratory disease along with other bacterial/viral pathogens. The transboundary occurrence of influenza D in bovines, compounded with its extraordinary thermal and pH stability [
236
] compared to other influenza types, demands further studies to study the pathobiological aspects of this virus and its predisposition in bovine species. The fact that bovines harbor some natural predisposing factors, amenable for the tissue tropism and pathogenesis of ICV and IDV, while detrimental to IAV and IBV, would make them a suitable model to delineate influenza type-specific host–pathogen interactions, and further studies are needed to address this differential disease pathogenesis at the cellular and molecular level.
Author Contributions
Concept and design: F.L. and D.W.; Literature search, and writing: C.C.S.; Illustrations: C.C.S., M.T., and D.W.; Supervision and editing: R.S.K., and F.L. Final approval of the version submitted: all the authors.
Acknowledgments
This study was supported by NIH R21AI107379 and R01AI141889, SDSU-AES 610 3AH-673, USDA/NIFA 2016–67016-24949, National Science Foundation/EPSCoR (
http://www.nsf.gov/od/iia/programs/epscor/index.jsp
) award IIA-1335423, and the SD-CBRC supported by the State of South Dakota's Governor's Office of Economic Development.
Conflicts of Interest
The authors declare no conflict of interest.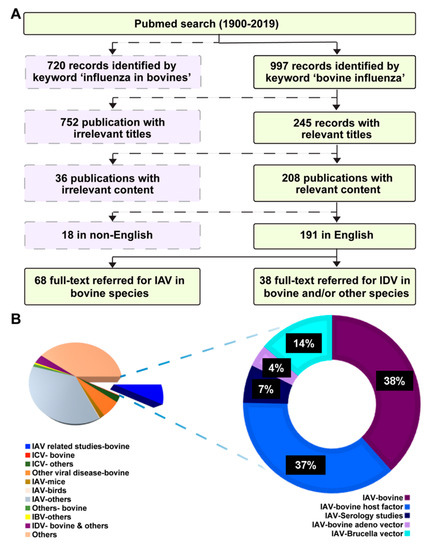 Figure 1. Schematic illustration of the literature search strategy. (A) A literature search was conducted using different keyword combinations in the PubMed database. Initial screening was carried out by shortlisting articles that matched the title for topic relevance and the availability of the articles in full text or abstract as shown in the flow chart. (B) Articles obtained after the keyword search were categorized based on their content as described in the pie chart. A comprehensive analyses of influenza A related studies in bovines represented by donut chart were conducted. Abbreviations used: Influenza A virus, IAV; Influenza B virus, IBV; Influenza C virus, ICV; Influenza D virus, IDV.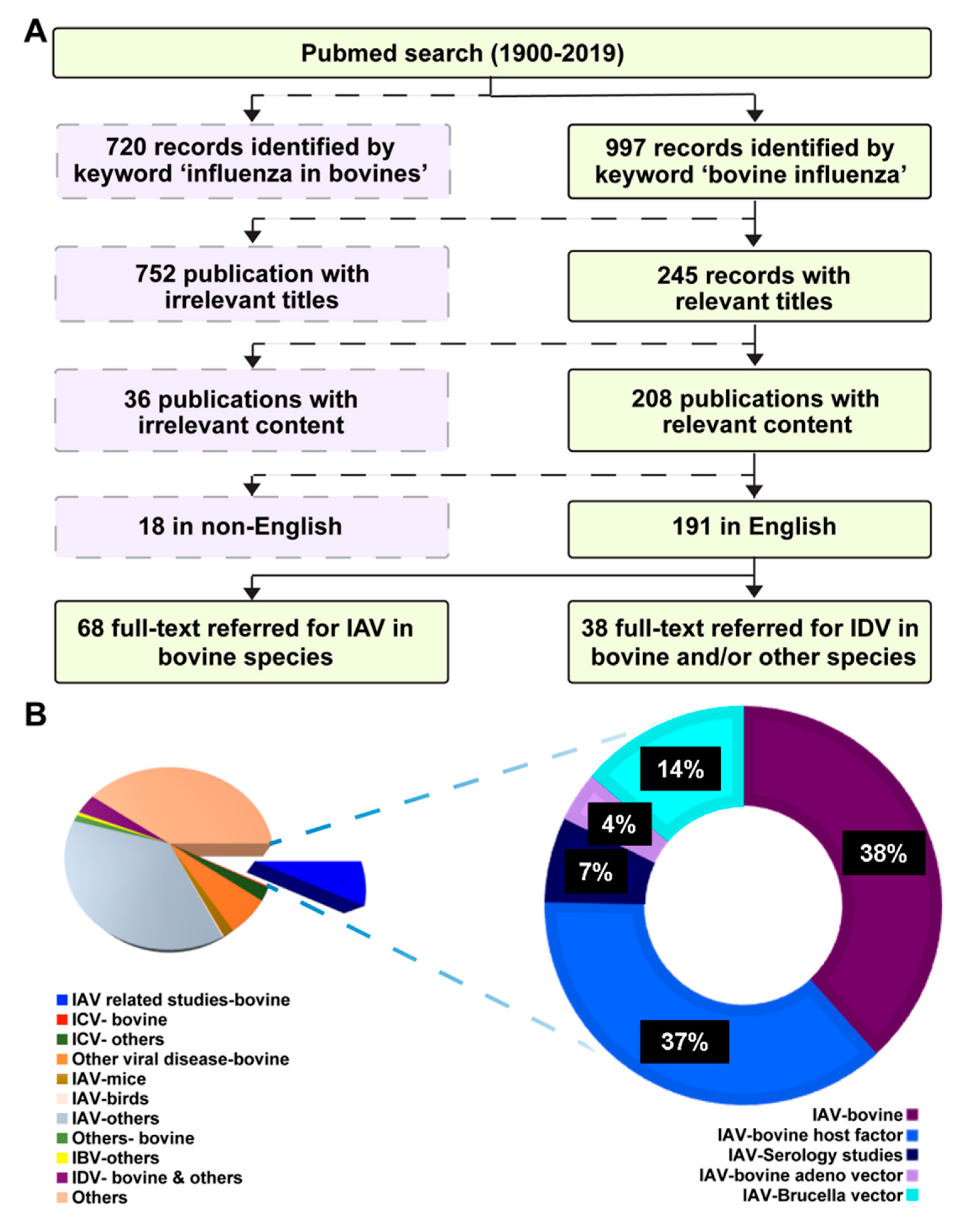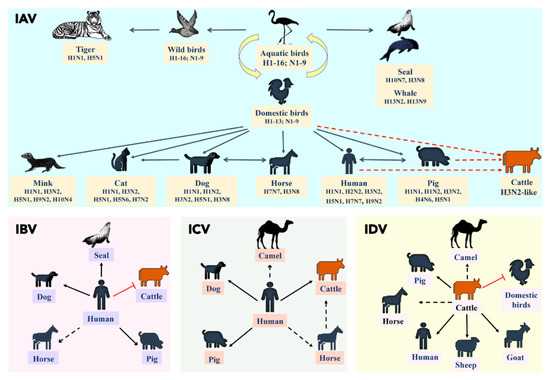 Figure 2.
The host range for all four types (IAV, IBV, ICV, and IDV) of influenza viruses. The association of influenza disease in different mammalian species with reference to cattle (orange) is described separately. In each box, the bold black line represents active infection/disease; dotted black line represents the exposure without active infection/disease, as demonstrated by the serological evidence. A red dotted line in IAV indicates the possible source/routes of IAV infection (human, avian or swine) that can occur in bovines. Red blocked line indicates neither disease nor exposure. Vector graphic images used in the figure were taken from icon pool of the Microsoft Office and Freepik (
www.freepik.com
).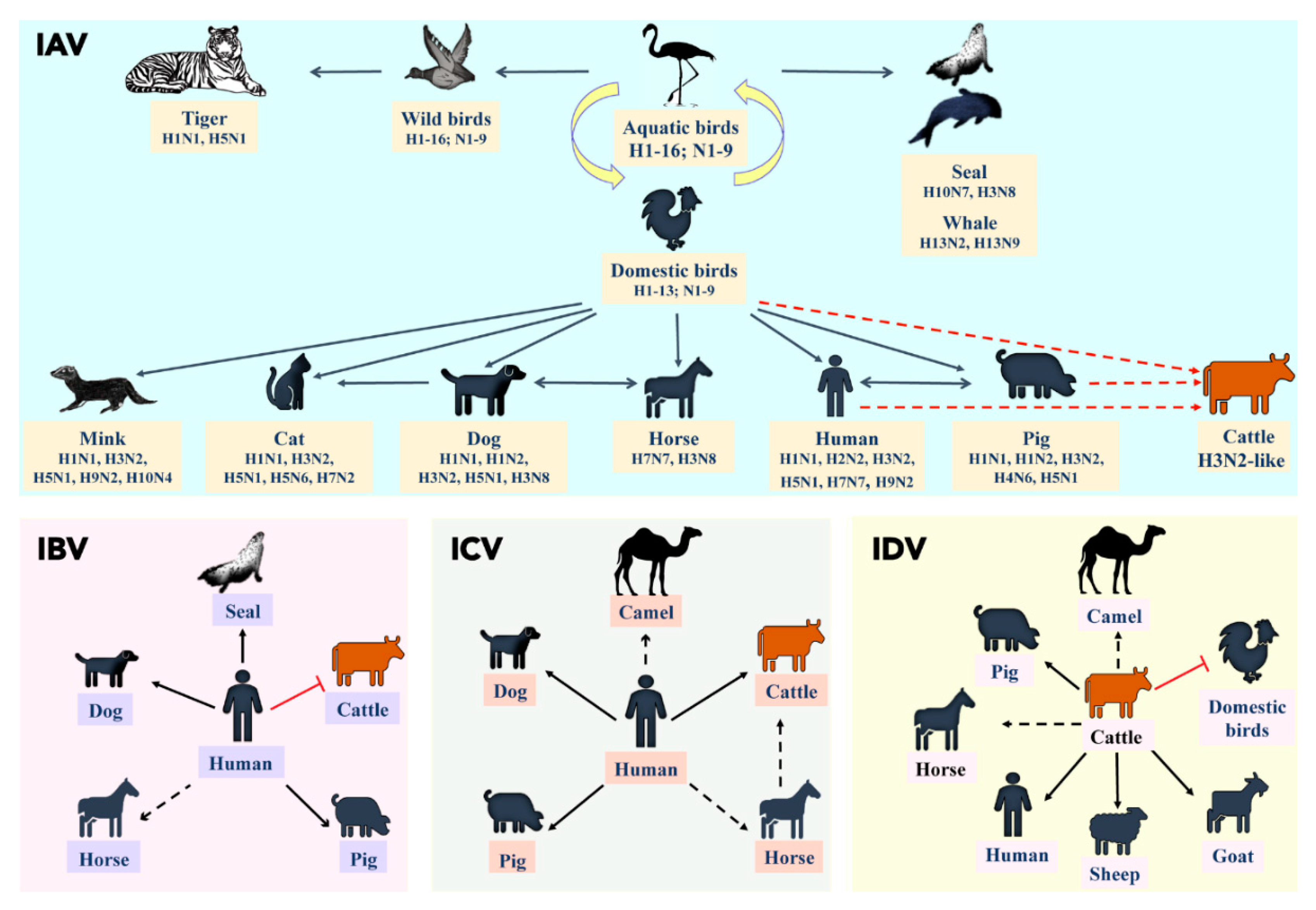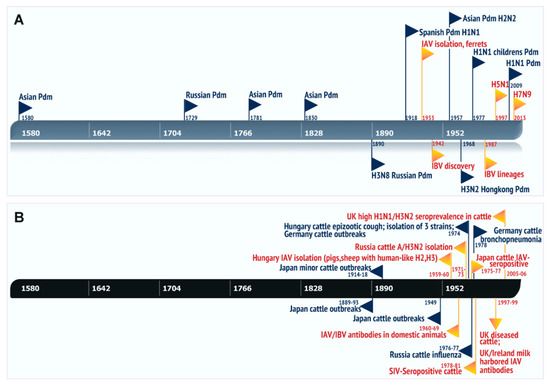 Figure 3. History timeline of the major influenza events in the past (A) Known human influenza pandemics along with the important outbreaks/discoveries. All the pandemics with year and country of origin are indicated in "black" flag, black font, while the other outbreaks/epidemics/discoveries are indicated in "orange" flag, red font. (B) influenza A incidences occurred in ruminants especially bovine species, were plotted based on the information from peer-reviewed articles. Only the natural infections/outbreaks and seroepidemiological studies reported in cattle in the past were included in the timeline. Experimental studies were excluded in this timeline. Illustrated major events included the major influenza outbreaks, cattle epizootics/respiratory disease with year and country of origin, and are represented by black triangle blocks, black font. Please note that both the timelines (A and B) have same dimensions starting with human pandemic as early as 1580 to 2013 H7N9 outbreaks and the timeframe of these cattle outbreaks/diseases (1889, 1893, 1914–1916, 1949, 1959–1960, 1971–1981, 1997–1999, 2005–2006) occurred almost concurrent to the human pandemic/outbreaks, which is indicative of the natural susceptibility of bovines to human influenza viruses. Most of the cattle influenza A isolates appeared to be related to human influenza A strains, with the HA glycoprotein similar to the prototypic human H2 and H3 subtypes.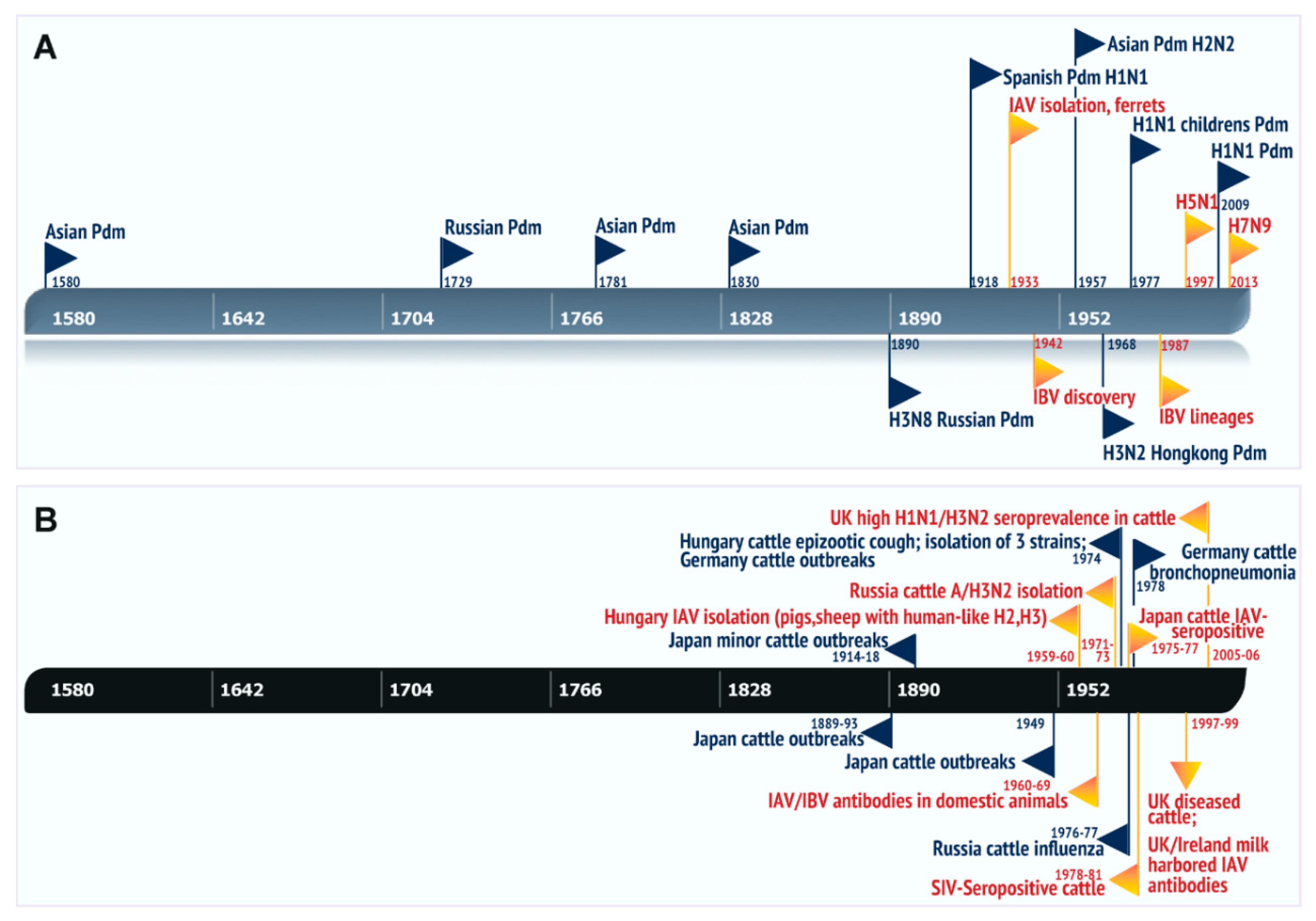 Description
Year
Ref.
Natural infection
Influenza outbreak in Japan
1951
[76]
*Incidence, level of influenza, and adeno virus antibodies in domestic animal species
1969
[25]
*Antigenic characteristics of influenza viruses from domestic animals and birds (USSR)
1973
[89]
*Influenza outbreak in cattle
1973
[90]
Isolation of influenza A strains from cattle
1973
[46]
*Study of cattle influenza
1976
[92]
*Influenza in cattle
1977
[91]
Hong Kong influenza A strains in calves
1977
[48]
*Pathological anatomical examination of the lung from bovine influenza
1977
[94]
*Influenza of cattle
1978
[93]
Unexplained sporadic milk drop in cows
1997
[95]
Bovine influenza
1998
[97]
Influenza A in dairy cows with sporadic milk syndrome
1999
[98]
Evidence of antibodies in sera/nasal samples against human influenza viruses from 17 outbreaks of respiratory disease with milk drop syndrome and diarrhea in cattle in 1998–1999
2002
[99]
Wild animals as a reservoir for different bacterial and viral diseases including avian influenza
2002
[102]
Experimental infection
*Experimental infection of bovines with human influenza virus
1954
[26]
*Experimental inoculation of calves with influenza virus A/csf/Udmurtiia/116/73
1977
[27]
Experimental infection of influenza in yak and presence of H3N2 antibodies
1974
[103]
Recombinant vaccinia virus expressing HA in cattle, sheep, and poultry
1986
[104]
Intranasal inoculation of calves with live swine influenza virus
1987
[105]
Experimental inoculation of a cat derived highly pathogenic avian influenza virus in calves
2008
[106]
Experimental inoculation of highly pathogenic avian influenza virus H5N1 in cattle egrets
2011
[107]
Articles in non-English languages*.
| Description | Year | Ref. |
| --- | --- | --- |
| Influenza A and B specific antibodies in domestic and wild animals | 1965 | [118] |
| Serological study in Ottawa based on immunoprecipitation test found influenza A antibodies in sheep and goat among 14 species tested | 1975 | [119] |
| Serosurveillance of swine H1N1 in cattle and swine in Great Britain | 1978 | [120] |
| Serological screening of influenza B and C in cattle, horses and other animals in Japan | 1978 | [56] |
| Serological evidence of influenza A in cattle in Japan | 1978 | [111] |
| Influenza-specific antibodies not detected in indigenous and non-indigenous sheep breeds of Northern Ireland | 1984 | [121] |
| Influenza in ruminants: a review with information regarding viruses isolated from the cattle | 1984 | [47] |
| Single radial hemolysis to measure influenza antibody in cattle serum | 1986 | [123] |
| Swine influenza virus as a component in the respiratory disease complex in calves | 1986 | [122] |
| Presence of influenza A specific antibodies in cattle with respiratory disease and reduced milk yield | 1998 | [96] |
| Vaccination study of foot and mouth disease and influenza in cattle and sheep | 1998 | [125] |
| Influenza A antibodies associated with an acute reduction in milk yield in cattle in Britain | 2008 | [100] |
| Serosurveillance study of avian influenza H5N1 in cattle, buffaloes, sheep, goat, and other animals in Egypt | 2013 | [124] |
Description
Year
Ref.
Studies on the cellular enzymes and their role in the cytopathic effect of influenza in cell cultures
1967
[181]
Replication of WSN influenza virus in high titers in MDBK cell line at high and low multiplicity of infection
1969
[144]
*Adaptation of the influenza virus in calf kidney cell cultures
1969
[182]
Study of infective and incomplete influenza virions grown in MDBK and HeLa cells
1970
[145]
Calf serum suppressed plaque formation of many influenza virus strains in different cell lines
1970
[183]
Influenza B virus propagation in bovine fetal kidney cell cultures: incomplete virus formation
1970
[148]
Influenza B virus forms plaque in primary calf kidney cells
1971
[156]
Interaction of swine influenza and bovine mycoplasma in bovine tracheal cultures
1971
[177]
*Influenza virus adaptation (A2 (Hong Kong) 68) in calf kidney cell cultures
1972
[184]
Use of bovine kidney cells for the propagation of

ts

recombinant viruses
1972
[173]
Use of primary bovine kidney cells at 25 °C for growing low temperature adapted vaccine virus
1973
[174]
Influenza virions grown in Madin–Darby Bovine Kidney (MDBK) cells without calf serum have more uncleaved HA especially in the early phase indicating that HA cleavage is both host cell and strain dependent
1973
[166]
Influenza virus grown in MDBK cells in the presence of medium containing 2% calf serum caused cleavage of HA polypeptide, to HA1 and HA2 unlike serum-free medium due to the plasminogen component in the sera
1973
[167]
Use of bovine kidney and trachea organ cultures for influenza for studying the virus reactogenic and immunogenic properties
1975
[178]
Study of the polypeptide composition of incomplete influenza viruses propagated in MDBK cells
1975
[185]
Use of lung and trachea organ cultures from bovine and other species for the influenza studies
1976
[176]
Use of bovine embryo kidney cells, roller cultures for high titer influenza virus propagation
1977
[157]
Articles in non-English languages*.
| Description | Year | Ref. |
| --- | --- | --- |
| Inhibition of influenza virus hemagglutination by cow's milk | 1949 | [189] |
| *Inhibition of influenza virus hemagglutination by bovine amniotic fluid factor | 1954 | [193] |
| Mucoprotein from bovine submaxillary glands with restricted hemagglutination inhibition activity against influenza virus | 1955 | [192] |
| Influenza virus inhibitor in human and cow milk | 1960 | [226] |
| *Beta inhibitors in bovine serum | 1963 | [227] |
| Use of sera from different species of animals to study periodate induced hemagglutination inhibitor | 1968 | [207] |
| Influenza A2/Hong Kong strains were sensitive to periodate-resistant inhibitors in normal bovine serum | 1971 | [206] |
| *Serum inhibitors of hemagglutination | 1972 | [228] |
| Serum inhibitors of hemagglutination of A2/Hong Kong strains | 1972 | [229] |
| *Characterization of non-specific inhibitors of hemagglutination of influenza A virus in the sera of different species of animals and birds | 1977 | [208] |
| *Serum inhibitors of cattle and influenza virus persistence in Madin–Darby Swine Kidney (MDSK) cells | 1980 | [230] |
| Conglutinin as bovine serum beta inhibitor of influenza virus hemagglutination and infectivity of H1 and H3 subtypes | 1992 | [212] |
| Isolation of influenza virus inhibitor, conglutinin | 1992 | [214] |
| Opsonizing activity of conglutinin against influenza A virus | 1993 | [213] |
| Recombinant bovine conglutinin deficient in N-terminal and collagenous domains and its activity against influenza virus | 1996 | [211] |
| Bovine collectins and its antiviral activity against rota virus | 1998 | [216] |
| CL-43, bovine serum collectin, and its antiviral activity by inhibiting the hemagglutination activity of influenza A virus | 2002 | [231] |
| Bovine collectins_Conglutinin, CL-43, and CL-46 | 2006 | [218] |
| Recombinant trimeric neck and carbohydrate recognition domains (NCRD) of bovine conglutinin and CL-46 demonstrated a higher level of intrinsic antiviral activity against influenza A virus | 2010 | [217] |
| Aprotinin, a natural polypeptide of bovine lung origin can inhibit the HA cleavage of pdmH1N1 and its replication in different host systems | 2011 | [219] |
| Bovine colostrum can enhance natural killer cell activity and thus boosts the immune response against influenza in a mouse model | 2014 | [196] |
| Peptide inhibitors derived from lactoferrin C-lobe possess broad anti-influenza activity and prevented influenza hemagglutination and infection | 2012, 2017 | [199,203] |
| Bovine lactoferrin interferes with the fusion of HA glycoprotein and thus inhibits influenza A infection | 2019 | [204] |
Articles in non-English languages*.

© 2019 by the authors. Licensee MDPI, Basel, Switzerland. This article is an open access article distributed under the terms and conditions of the Creative Commons Attribution (CC BY) license (http://creativecommons.org/licenses/by/4.0/).