The Third Annual Meeting of the European Virus Bioinformatics Center
1
European Virus Bioinformatics Center, 07743 Jena, Germany
2
RNA Bioinformatics and High-Throughput Analysis, Friedrich Schiller University Jena, 07743 Jena, Germany
3
Chair of Bioinformatics, Matthias-Schleiden-Institute, Friedrich Schiller University Jena, 07743 Jena, Germany
4
MRC-University of Glasgow Centre for Virus Research, Glasgow G61 1QH, UK
5
Department of Genetics and Genome Biology, University of Leicester, Leicester LE1 7RH, UK
6
Institute of Medical Microbiology, Jena University Hospital, Am Klinikum 1, D-07747 Jena, Germany
7
Section for Experimental Virology, Jena University Hospital, Hans-Knöll-Straße 2, D-07745 Jena, Germany
8
Center for Sepsis Control and Care, Jena University Hospital, D-07747 Jena, Germany
9
Theoretical Biology and Bioinformatics, Science4Life, Utrecht University, Padualaan 8, Utrecht 3584 CH, The Netherlands
10
Centre for Molecular and Biomolecular Informatics, Radboud Institute for Molecular Life Sciences, Radboud University Medical Centre, Geert Grooteplein 26, Nijmegen 6525 GA, The Netherlands
11
Infection & Immunity Division, Roslin Institute, University of Edinburgh, Midlothian EH25 9RG, UK
12
Nuffield Department of Medicine, University of Oxford, Peter Medawar Building, South Parks Road, Oxford OX1 3SY, UK
13
Institute of Virology and Immunology, 3012 Bern, Switzerland
14
Department of Infectious Diseases and Pathobiology, Vetsuisse Facility, University of Bern, 3012 Bern, Switzerland
15
University of Tartu, Institute of Technology, 50411 Tartu, Estonia
16
Quadram Institute Bioscience, Norwich Research Park, Norwich NR4 7UQ, UK
17
Department of Zoology, University of Oxford, Parks Rd, Oxford OX1 3PS, UK
18
Usher Institute of Population Health Sciences & Informatics, Ashworth Laboratories, Kings Buildings, University of Edinburgh, Charlotte Auerbach Road, Edinburgh EH9 3FL, UK
19
Institute of Clinical Molecular Biology, Kiel University, 24118 Kiel, Germany
20
Natural History Museum of Denmark, University of Copenhagen, DK-1123 Copenhagen, Denmark
*
Authors to whom correspondence should be addressed.
†
These authors organized the conference.
Received: 28 April 2019 / Accepted: 29 April 2019 / Published: 5 May 2019
Abstract
The Third Annual Meeting of the European Virus Bioinformatics Center (EVBC) took place in Glasgow, United Kingdom, 28–29 March 2019. Virus bioinformatics has become central to virology research, and advances in bioinformatics have led to improved approaches to investigate viral infections and outbreaks, being successfully used to detect, control, and treat infections of humans and animals. This active field of research has attracted approximately 110 experts in virology and bioinformatics/computational biology from Europe and other parts of the world to attend the two-day meeting in Glasgow to increase scientific exchange between laboratory- and computer-based researchers. The meeting was held at the McIntyre Building of the University of Glasgow; a perfect location, as it was originally built to be a place for "rubbing your brains with those of other people", as Rector Stanley Baldwin described it. The goal of the meeting was to provide a meaningful and interactive scientific environment to promote discussion and collaboration and to inspire and suggest new research directions and questions. The meeting featured eight invited and twelve contributed talks, on the four main topics: (1) systems virology, (2) virus-host interactions and the virome, (3) virus classification and evolution and (4) epidemiology, surveillance and evolution. Further, the meeting featured 34 oral poster presentations, all of which focused on specific areas of virus bioinformatics. This report summarizes the main research findings and highlights presented at the meeting.
View Full-Text
►

▼

Figures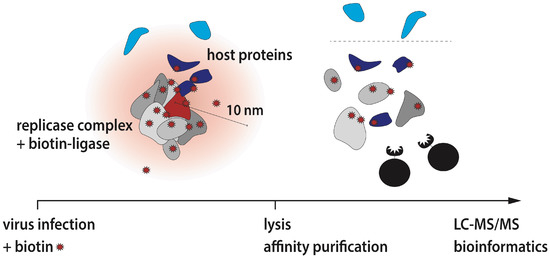 Figure 1
This is an open access article distributed under the
Creative Commons Attribution License
which permits unrestricted use, distribution, and reproduction in any medium, provided the original work is properly cited (CC BY 4.0).

Share & Cite This Article
MDPI and ACS Style
Hufsky, F.; Ibrahim, B.; Modha, S.; Clokie, M.R.J.; Deinhardt-Emmer, S.; Dutilh, B.E.; Lycett, S.; Simmonds, P.; Thiel, V.; Abroi, A.; Adriaenssens, E.M.; Escalera-Zamudio, M.; Kelly, J.N.; Lamkiewicz, K.; Lu, L.; Susat, J.; Sicheritz, T.; Robertson, D.L.; Marz, M. The Third Annual Meeting of the European Virus Bioinformatics Center. Viruses 2019, 11, 420.
Note that from the first issue of 2016, MDPI journals use article numbers instead of page numbers. See further details here.
Related Articles
Comments
[Return to top]