Adeno-Associated Virus VP1u Exhibits Protease Activity
Department of Biochemistry and Molecular Biology, Center for Structural Biology, The McKnight Brain Institute, University of Florida, Gainesville, FL 32610, USA
*
Author to whom correspondence should be addressed.
Received: 27 March 2019 / Revised: 18 April 2019 / Accepted: 19 April 2019 / Published: 29 April 2019
Abstract
Adeno-associated viruses (AAVs) are being developed for gene delivery applications, with more than 100 ongoing clinical trials aimed at the treatment of monogenic diseases. In this study, the unique N-terminus of AAV capsid viral protein 1 (VP1u), containing a canonical group XIII PLA
2
enzyme domain, was observed to also exhibit proteolytic activity. This protease activity can target casein and gelatin, two standard substrates used for testing protease function but does not self-cleave in the context of the capsid or target globular proteins, for example, bovine serum albumin (BSA). However, heated BSA is susceptible to VP1u-mediated cleavage, suggesting that disordered proteins are substrates for this protease function. The protease activity is partially inhibited by divalent cation chelators ethylenediaminetetraacetic acid (EDTA) and ethylene-bis(oxyethylenenitrilo)tetraacetic acid (EGTA), and human alpha-2-macroglobulin (A2M), a non-specific protease inhibitor. Interestingly, both the bovine pancreatic (group VIIA) and bee venom (group III) PLA
2
enzymes also exhibit protease function against casein. This indicates that PLA
2
groups, including VP1u, have a protease function. Amino acid substitution of the PLA
2
catalytic motif (
76
HD/AN) in the AAV2 VP1u resulted in attenuation of protease activity, suggesting that the protease and PLA
2
active sites are related. However, the amino acid substitution of histidine H38, which is not involved in PLA
2
function, to alanine, also affects protease activity, suggesting that the active site/mechanism of the PLA
2
and protease function are not identical.
View Full-Text
►

▼

Figures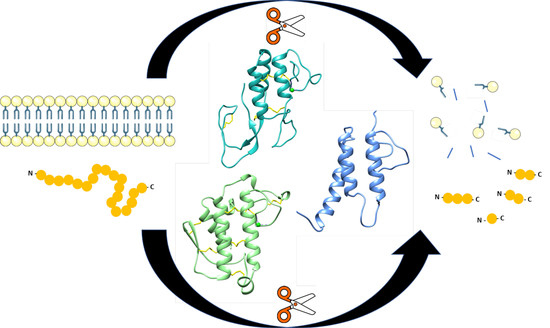 Graphical abstract
This is an open access article distributed under the
Creative Commons Attribution License
which permits unrestricted use, distribution, and reproduction in any medium, provided the original work is properly cited (CC BY 4.0).

Share & Cite This Article
MDPI and ACS Style
Kurian, J.J.; Lakshmanan, R.; Chmely, W.M.; Hull, J.A.; Yu, J.C.; Bennett, A.; McKenna, R.; Agbandje-McKenna, M. Adeno-Associated Virus VP1u Exhibits Protease Activity. Viruses 2019, 11, 399.
Note that from the first issue of 2016, MDPI journals use article numbers instead of page numbers. See further details here.
Related Articles
Comments
[Return to top]