Protection of Phage Applications in Crop Production: A Patent Landscape
1
Laboratory of Gene Technology, KU Leuven, 3001 Heverlee, Belgium
2
Clinical Pharmacology and Pharmacotherapy, KU Leuven, 3000 Leuven, Belgium
*
Authors to whom correspondence should be addressed.
Received: 19 February 2019 / Revised: 14 March 2019 / Accepted: 16 March 2019 / Published: 19 March 2019
In agriculture, the prevention and treatment of bacterial infections represents an increasing challenge. Traditional (chemical) methods have been restricted to ensure public health and to limit the occurrence of resistant strains. Bacteriophages could be a sustainable alternative. A major hurdle towards the commercial implementation of phage-based biocontrol strategies concerns aspects of regulation and intellectual property protection. Within this study, two datasets have been composed to analyze both scientific publications and patent documents and to get an idea on the focus of research and development (R&D) by means of an abstract and claim analysis. A total of 137 papers and 49 patent families were found from searching public databases, with their numbers increasing over time. Within this dataset, the majority of the patent documents were filed by non-profit organizations in Asia. There seems to be a good correlation between the papers and patent documents in terms of targeted bacterial genera. Furthermore, granted patents seem to claim rather broad and cover methods of treatment. This review shows that there is indeed growing publishing and patenting activity concerning phage biocontrol. Targeted research is needed to further stimulate the exploration of phages within integrated pest management strategies and to deal with bacterial infections in crop production.
Author Contributions
Conceptualization, D.H., R.L., I.H., and J.W.; methodology, D.H. and I.H.; writing—original draft preparation, D.H.; writing—review and editing, R.L., I.H., and J.W.
Funding
D.H., I.H., R.L., and J.W. are supported by the European Union's Horizon 2020 Research and Innovation Program (773567;
www.viroplant.eu
) and by a VLAIO LA-grant (150914). DH holds a predoctoral scholarship from FWO-strategic basic research (1S02518N).
Conflicts of Interest
The authors declare no conflict of interest.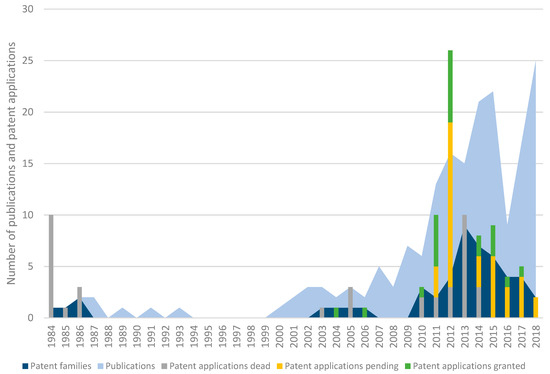 Figure 1. An overview of the number of scientific publications, patent families, patents, and patent applications in the field of phage biocontrol in crop production organized by year. The light blue area chart represents the number of scientific publications and the dark blue area chart the number of patent families per priority year. The bars represent the number of patent applications per priority year: green ("Granted patents") corresponds to the number of granted patents, yellow ("Pending applications") to pending applications, and grey ("Dead applications and patents") to dead patents and applications. This last group consists of patents and applications that are abandoned, refused, withdrawn, deemed to be withdrawn, or lapsed.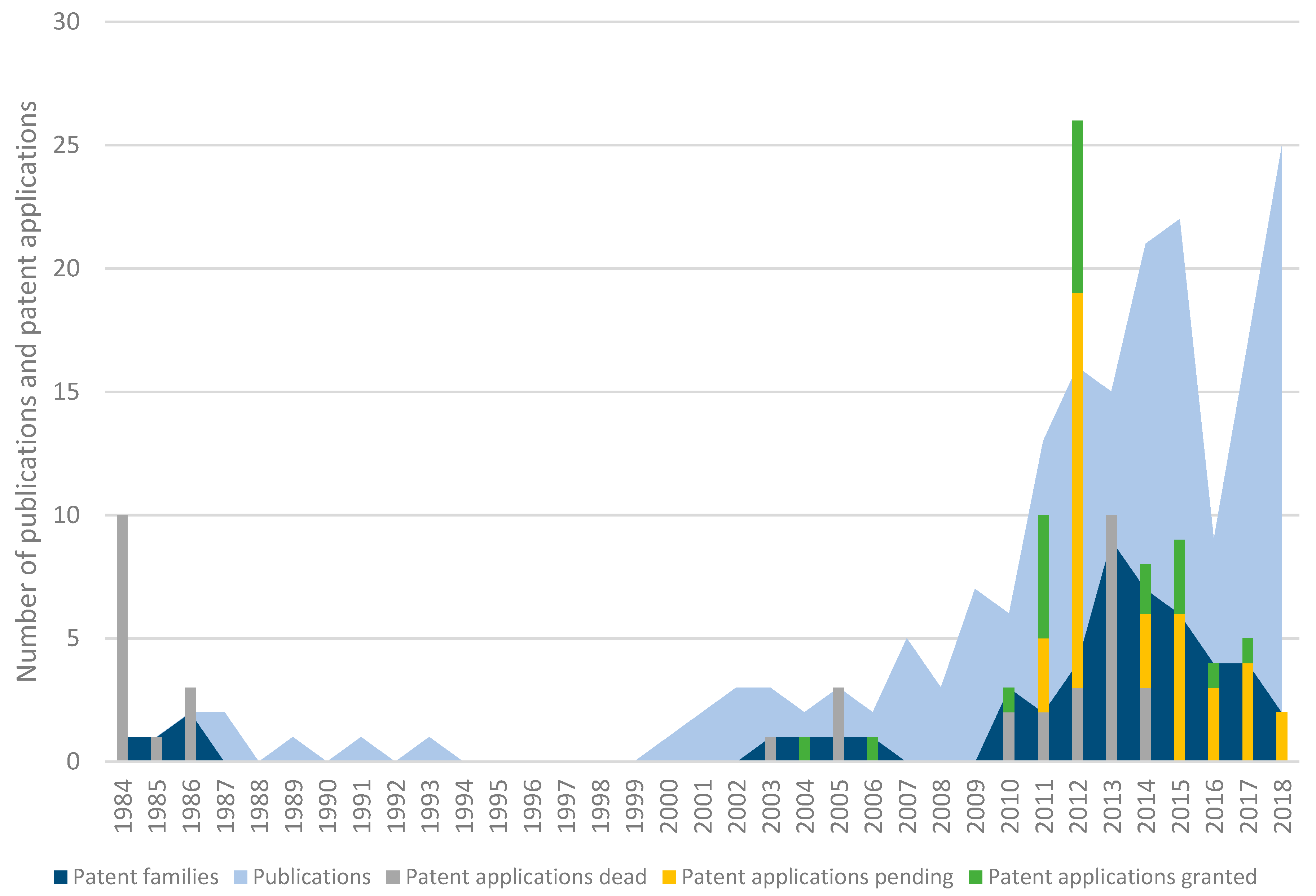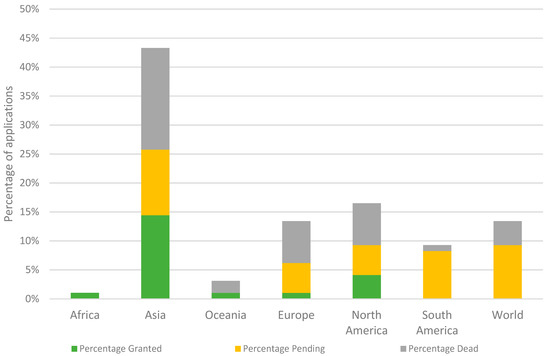 Figure 2. Percentage of patents and applications organized per continent. The total height of the bars indicate the percentage of patents and applications per continent. Africa (ZA), Asia (CN, IN, JP, KR), Oceania (AU, NZ), Europe (DE, EA, EP, ES, GB, IT), North America (CA, US), South America (AR, BR, CL, CR, GT, MX, PE), and world applications. In green, the percentage of granted patents; in yellow, the percentage of pending applications; and in grey, the percentage of dead applications and dead patents.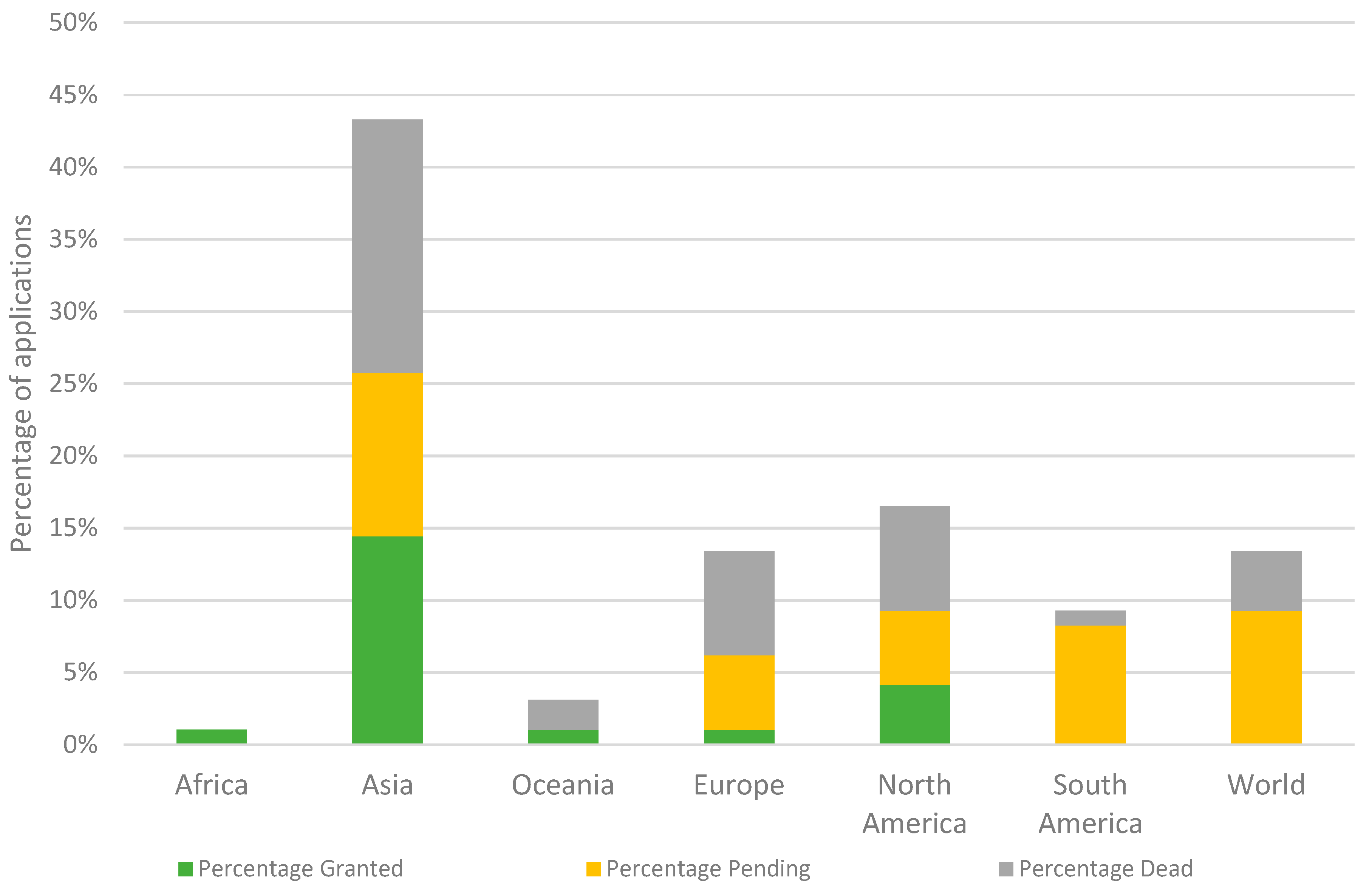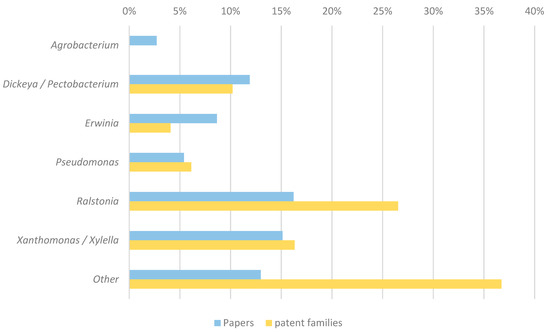 Figure 3.
Distribution of patent families and scientific publications classified according to the bacterial genera that is tackled by the phage product. On the basis of Mansfield et al., 2012, seven categories (
Agrobacterium, Dickeya/Pectobacterium, Erwinia, Pseudomonas, Ralstonia, Xanthomonas/Xylella,
and Other) were made to classify patent families and publications. Groupings of bacterial genera (
Dickeya/Pectobacterium
and
Xanthomonas/Xylella
) were created as phage cocktails were created to tackle both bacterial genera. The last category "Other" consists of patent families and publications that do not specify the bacterial pathogen that is being targeted or that tackle an alternative bacterial genera.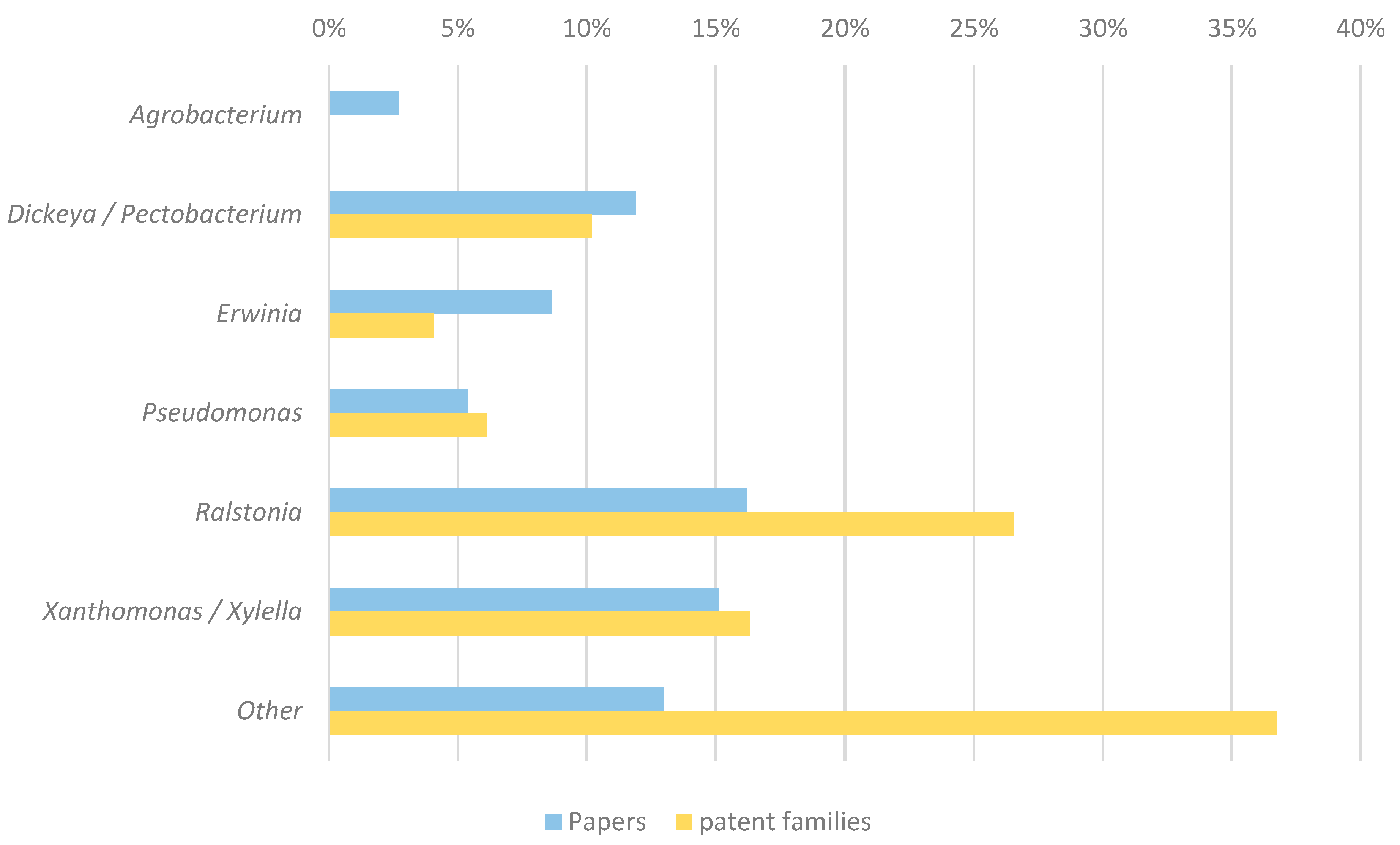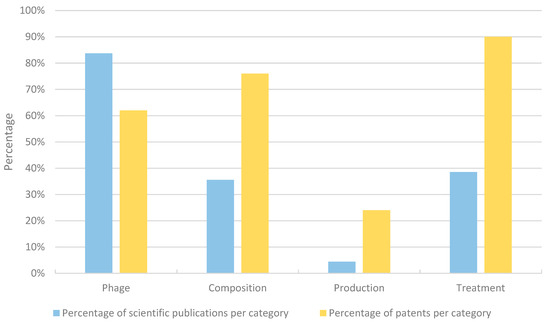 Figure 4. Claim and abstract analysis of the active, granted patents and scientific publications. In total, 79 independent claims from 21 patents and 137 abstracts from scientific papers were categorized among four different categories: (1) Phage—here the phage was described as the active ingredient or the isolation of a phage was described, (2) Cocktail—this category contains claims that protect the combination of phages and publications that describe a phage cocktail, (3) Production—ways of how the phage is produced, and (4) Treatment—claims that protect the use of phages to fight a specific bacterial infection or methods and application strategies for using the phage (e.g., bioassays, field trials). In blue, the percentages of publications are shown; in yellow, the percentage of claims are shown. Note: one publication and patent can be categorized in multiple categories.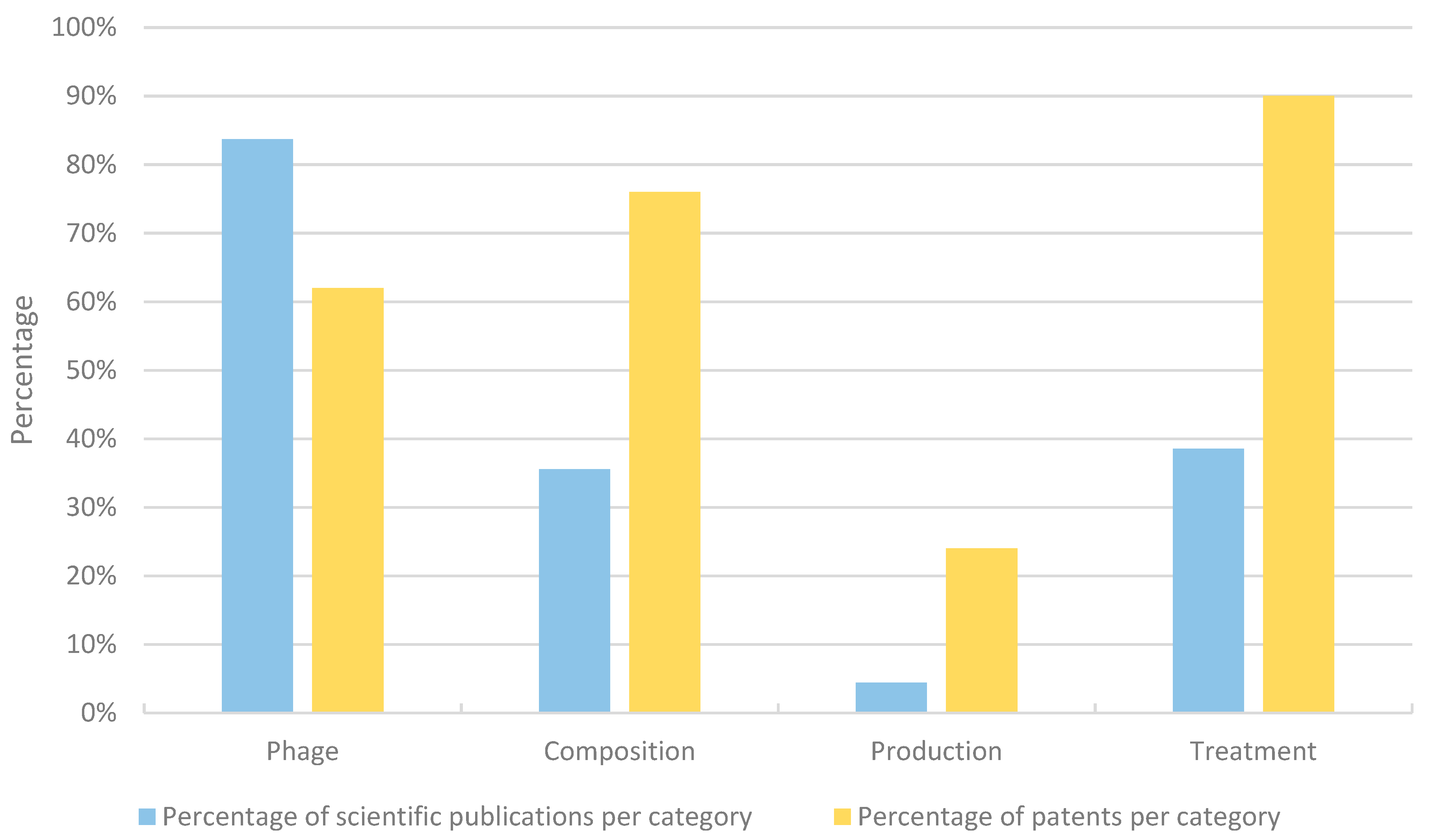 Table 1. Claim analysis of the granted patents. Within this table, all granted patents have been organized according to the bacterial genera they describe, their patent number, the applicant (private sector in blue and public sector in yellow) and the nationality of the applicant (CN China, ES Spain, GB United Kingdom, JP Japan, KR Korea, and US United States), and the filing year. Moreover, the claims were categorized according the four different categories: (1) Phage: claims protecting one or multiple phages and their genome sequence, (2) Composition: claims discussing the composition of a phage product, (3) Production: methods to produce phages, and (4) Treatment: methods to use phages as a treatment for plant diseases. If a patent contains claims that belong to a specific category, it is quantified. The colors indicate the scope of a claim or set of claims: very narrow, intermediate, or broadly-defined (green, orange, and red, respectively).
Bacterial Genera
Patent Number
Applicant
Filing Year
Type of Claim
Phage
Composition
Production
Treatment

Other

US9539343
Fixed Phage (GB)
2012
1
1
CN103747792
Fixed Phage (GB)
2012
1
1
JP6230994
Fixed Phage (GB)
2012
1
1
US9278141
Fixed Phage (GB)
2013
5
CN104630154
University of Zhejiang (CN)
2015
1
1
1
2
KR101887987
Pukyong National University (KR)
2016
1
1
1

Dickeya/Pectobacterium

KR101368328
Rural development Administration (KR)
2010
1
1
KR101790019
Rural development administration (KR)
2014
1
1
1
KR101797463
Rural development Administration (KR)
2014
1
1
1
KR101891298
Seoul National University (KR)
2016
1
2
1

Pseudomonas

KR101584214
Chungbuk National University (KR)
2012
1
1

Ralstonia

JP4532959
Sanin Kensetsu Kogyo (JP)
2004
3
2
2
JP4862154
University of Hiroshima (JP)
2006
1
1
3
US9380786
University of Hiroshima (JP)
2012
1
JP5812466
University of Hiroshima (JP)
2011
1
3
CN104542717
Guizhou Tobacco science research institute (CN)
2015
1
1
ES2592352
University of Valencia (ES)
2015
1
1
2

Xanthomonas/Xylella

AU2013331060
Texas A&M University (US)
2013
1
1
2
4
JP6391579
Texas A&M University (US)
2013
1
1
2
2
US9357785
Texas A&M University (US)
2013
1
ZA201502230
Texas A&M University (US)
2013
1
1
2
2

© 2019 by the authors. Licensee MDPI, Basel, Switzerland. This article is an open access article distributed under the terms and conditions of the Creative Commons Attribution (CC BY) license (http://creativecommons.org/licenses/by/4.0/).