Discovery and Characterization of Bukakata orbivirus (
Reoviridae:Orbivirus

), a Novel Virus from a Ugandan Bat

1

Department of Microbiology, Immunology, and Pathology, Colorado State University, Fort Collins, CO 80523, USA

2

Department of Zoology, Entomology and Fisheries Sciences, Makerere University, Kampala, Uganda

3

Arboviral Diseases Branch, Division of Vector-borne Diseases, Centers for Disease Control and Prevention, Fort Collins, CO 80523, USA

4

Department of Arbovirology, Emerging, and Re-emerging Viral Infections, Uganda Virus Research Institute, Entebbe, Uganda

5

Department of Biosecurity, Ecosystems and Veterinary Public Health, Makerere University, Kampala, Uganda

6

National Wildlife Research Center, US Department of Agriculture, Animal and Plant Health Inspection Service, Wildlife Services, Fort Collins, CO 80521, USA

7

College of Arts and Sciences, Roosevelt University, Collections & Research, The Field Museum of Natural History, Chicago, IL 60605, USA

8

Viral Special Pathogens Branch, Division of High Consequence Pathogens and Pathology, Centers for Disease Control and Prevention, Atlanta, GA 30333, USA

9

United States Public Health Service, Commissioned Corps, Rockville, MD 20852, USA

*

Author to whom correspondence should be addressed.

Received: 14 February 2019 / Revised: 26 February 2019 / Accepted: 26 February 2019 / Published: 2 March 2019
Abstract
While serological and virological evidence documents the exposure of bats to medically-important arboviruses, their role as reservoirs or amplifying hosts is less well-characterized. We describe a novel orbivirus (
Reoviridae:Orbivirus
) isolated from an Egyptian fruit bat (
Rousettus aegyptiacus leachii
) trapped in 2013 in Uganda and named Bukakata orbivirus. This is the fifth orbivirus isolated from a bat, however genetic information had previously only been available for one bat-associated orbivirus. We performed whole-genome sequencing on Bukakata orbivirus and three other bat-associated orbiviruses (Fomede, Ife, and Japanaut) to assess their phylogenetic relationship within the genus
Orbivirus
and develop hypotheses regarding potential arthropod vectors. Replication kinetics were assessed for Bukakata orbivirus in three different vertebrate cell lines. Lastly, qRT-PCR and nested PCR were used to determine the prevalence of Bukakata orbivirus RNA in archived samples from three populations of Egyptian fruit bats and one population of cave-associated soft ticks in Uganda. Complete coding sequences were obtained for all ten segments of Fomede, Ife, and Japanaut orbiviruses and for nine of the ten segments for Bukakata orbivirus. Phylogenetic analysis placed Bukakata and Fomede in the tick-borne orbivirus clade and Ife and Japanaut within the
Culicoides
/phlebotomine sandfly orbivirus clade. Further, Bukakata and Fomede appear to be serotypes of the
Chobar Gorge virus
species. Bukakata orbivirus replicated to high titers (10
6
–10
7
PFU/mL) in Vero, BHK-21 [C-13], and R06E (Egyptian fruit bat) cells. Preliminary screening of archived bat and tick samples do not support Bukakata orbivirus presence in these collections, however additional testing is warranted given the phylogenetic associations observed. This study provided complete coding sequence for several bat-associated orbiviruses and in vitro characterization of a bat-associated orbivirus. Our results indicate that bats may play an important role in the epidemiology of viruses in the genus
Orbivirus
and further investigation is warranted into vector-host associations and ongoing surveillance efforts.
View Full-Text
►

▼

Figures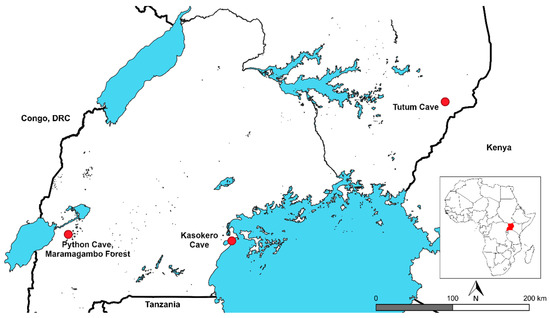 Figure 1
This is an open access article distributed under the
Creative Commons Attribution License
which permits unrestricted use, distribution, and reproduction in any medium, provided the original work is properly cited (CC BY 4.0).

Share & Cite This Article
MDPI and ACS Style
Fagre, A.C.; Lee, J.S.; Kityo, R.M.; Bergren, N.A.; Mossel, E.C.; Nakayiki, T.; Nalikka, B.; Nyakarahuka, L.; Gilbert, A.T.; Peterhans, J.K.; Crabtree, M.B.; Towner, J.S.; Amman, B.R.; Sealy, T.K.; Schuh, A.J.; Nichol, S.T.; Lutwama, J.J.; Miller, B.R.; Kading, R.C. Discovery and Characterization of Bukakata orbivirus (Reoviridae:Orbivirus), a Novel Virus from a Ugandan Bat. Viruses 2019, 11, 209.
Note that from the first issue of 2016, MDPI journals use article numbers instead of page numbers. See further details here.
Related Articles
Comments
[Return to top]