Low Temperature and Low UV Indexes Correlated with Peaks of Influenza Virus Activity in Northern Europe during 2010–2018
1
Department of Clinical and Molecular Medicine, Norwegian University of Science and Technology, 7028 Trondheim, Norway
2
Institute of Technology, University of Tartu, 50090 Tartu, Estonia
3
Department of Virology and Immunology, University of Helsinki, 00014 Helsinki, Finland
4
Helsinki University Hospital (HUS) and University of Helsinki, 00290 Helsinki, Finland
5
Institute of Medical Microbiology, University of Tartu, 50411 Tartu, Estonia
6
Narva Haigla, 20104 Narva, Estonia
7
Latvian Biomedical Research and Study Centre, 1067 Riga, Latvia
8
Department of Laboratory Medicine, Lithuanian University of Health Science, 44307 Kaunas, Lithuania
9
Department of Emergency Medicine, Lithuanian University of Health Sciences, 44307 Kaunas, Lithuania
10
Department of Medical Sciences, Uppsala University, 75309 Uppsala, Sweden
11
Influenza Centre, Department of Clinical Science, University of Bergen, 5021 Bergen, Norway
*
Author to whom correspondence should be addressed.
Received: 11 January 2019 / Revised: 18 February 2019 / Accepted: 28 February 2019 / Published: 1 March 2019
Abstract
With the increasing pace of global warming, it is important to understand the role of meteorological factors in influenza virus (IV) epidemics. In this study, we investigated the impact of temperature, UV index, humidity, wind speed, atmospheric pressure, and precipitation on IV activity in Norway, Sweden, Finland, Estonia, Latvia and Lithuania during 2010–2018. Both correlation and machine learning analyses revealed that low temperature and UV indexes were the most predictive meteorological factors for IV epidemics in Northern Europe. Our in vitro experiments confirmed that low temperature and UV radiation preserved IV infectivity. Associations between these meteorological factors and IV activity could improve surveillance and promote development of accurate predictive models for future influenza outbreaks in the region.
View Full-Text
►

▼

Figures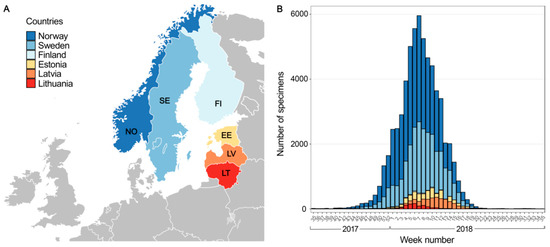 Figure 1
This is an open access article distributed under the
Creative Commons Attribution License
which permits unrestricted use, distribution, and reproduction in any medium, provided the original work is properly cited (CC BY 4.0).

Share & Cite This Article
MDPI and ACS Style
Ianevski, A.; Zusinaite, E.; Shtaida, N.; Kallio-Kokko, H.; Valkonen, M.; Kantele, A.; Telling, K.; Lutsar, I.; Letjuka, P.; Metelitsa, N.; Oksenych, V.; Dumpis, U.; Vitkauskiene, A.; Stašaitis, K.; Öhrmalm, C.; Bondeson, K.; Bergqvist, A.; Cox, R.J.; Tenson, T.; Merits, A.; Kainov, D.E. Low Temperature and Low UV Indexes Correlated with Peaks of Influenza Virus Activity in Northern Europe during 2010–2018. Viruses 2019, 11, 207.
Note that from the first issue of 2016, MDPI journals use article numbers instead of page numbers. See further details here.
Related Articles
Comments
[Return to top]