Genetic Evolution and Molecular Selection of the
HE

Gene of Influenza C Virus

1

MOE Joint International Research Laboratory of Animal Health and Food Safety, Engineering Laboratory of Animal Immunity of Jiangsu Province, College of Veterinary Medicine, Nanjing Agricultural University, Nanjing 210095, China

2

Key laboratory of Animal Virology of Ministry of Agriculture, Zhejiang University, Hangzhou 310058, China

3

Institute for Virology, Center for Infection Medicine, Veterinary Faculty, Free University Berlin, 14163 Berlin, Germany

*

Authors to whom correspondence should be addressed.

†

These authors contributed equally to this work.

Received: 3 December 2018 / Revised: 15 January 2019 / Accepted: 31 January 2019 / Published: 19 February 2019
Abstract
Influenza C virus (ICV) was first identified in humans and swine, but recently also in cattle, indicating a wider host range and potential threat to both the livestock industry and public health than was originally anticipated. The ICV hemagglutinin-esterase (HE) glycoprotein has multiple functions in the viral replication cycle and is the major determinant of antigenicity. Here, we developed a comparative approach integrating genetics, molecular selection analysis, and structural biology to identify the codon usage and adaptive evolution of ICV. We show that ICV can be classified into six lineages, consistent with previous studies. The
HE
gene has a low codon usage bias, which may facilitate ICV replication by reducing competition during evolution. Natural selection, dinucleotide composition, and mutation pressure shape the codon usage patterns of the ICV
HE
gene, with natural selection being the most important factor. Codon adaptation index (CAI) and relative codon deoptimization index (RCDI) analysis revealed that the greatest adaption of ICV was to humans, followed by cattle and swine. Additionally, similarity index (SiD) analysis revealed that swine exerted a stronger evolutionary pressure on ICV than humans, which is considered the primary reservoir. Furthermore, a similar tendency was also observed in the
M
gene. Of note, we found HE residues 176, 194, and 198 to be under positive selection, which may be the result of escape from antibody responses. Our study provides useful information on the genetic evolution of ICV from a new perspective that can help devise prevention and control strategies.
View Full-Text
►

▼

Figures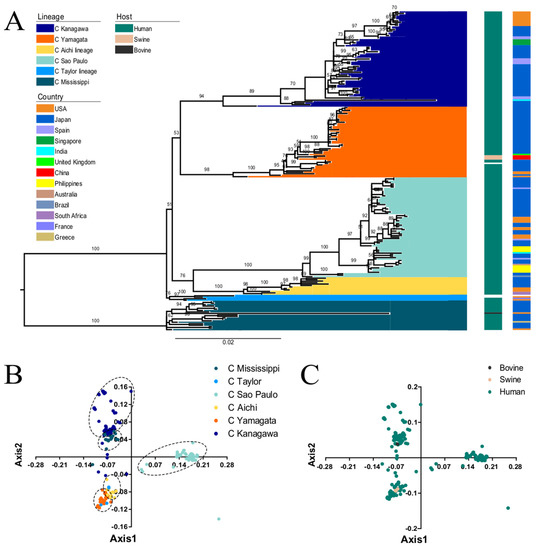 Figure 1
This is an open access article distributed under the
Creative Commons Attribution License
which permits unrestricted use, distribution, and reproduction in any medium, provided the original work is properly cited (CC BY 4.0).

Share & Cite This Article
MDPI and ACS Style
Zhang, W.; Zhang, L.; He, W.; Zhang, X.; Wen, B.; Wang, C.; Xu, Q.; Li, G.; Zhou, J.; Veit, M.; Su, S. Genetic Evolution and Molecular Selection of the HE Gene of Influenza C Virus. Viruses 2019, 11, 167.
Note that from the first issue of 2016, MDPI journals use article numbers instead of page numbers. See further details here.
Related Articles
Comments
[Return to top]