Staufen1 Protein Participates Positively in the Viral RNA Replication of Enterovirus 71
1
Bachelor Degree Program in Marine Biotechnology, College of Life Sciences, National Taiwan Ocean University, Keelung 20224, Taiwan
2
Center of Excellence for the Oceans, National Taiwan Ocean University, Keelung 20224, Taiwan
3
Division of Microbiology and Immunology, Graduate Institute of Biomedical Sciences, College of Medicine, Chang Gung University, Tao-Yuan 33302, Taiwan
4
Department of Biomedical Sciences, College of Medicine, Chang Gung University, Tao-Yuan 33302 Taiwan
5
Division of Pediatric Infectious Diseases, Department of Pediatrics, Chang Gung Memorial and Children's Hospital, Linkou 33305 Taiwan
*
Author to whom correspondence should be addressed.
Received: 29 December 2018 / Revised: 29 January 2019 / Accepted: 6 February 2019 / Published: 8 February 2019
Abstract
The double-stranded RNA-binding protein Staufen1 (Stau1) has multiple functions during RNA virus infection. In this study, we investigated the role of Stau1 in viral translation by using a combination of enterovirus 71 (EV-A71) infection, RNA reporter transfection, and in vitro functional and biochemical assays. We demonstrated that Stau1 specifically binds to the 5′-untranslated region of EV-A71 viral RNA. The RNA-binding domain 2-3 of Stau1 is responsible for this binding ability. Subsequently, we created a Stau1 knockout cell line using the CRISPR/Cas9 approach to further characterize the functional role of Stau1's interaction with viral RNA in the EV-A71-infected cells. Both the viral RNA accumulation and viral protein expression were downregulated in the Stau1 knockout cells compared with the wild-type naïve cells. Moreover, dysregulation of viral RNA translation was observed in the Stau1 knockout cells using ribosome fractionation assay, and a reduced RNA stability of 5′-UTR of the EV-A71 was also identified using an RNA stability assay, which indicated that Stau1 has a role in facilitating viral translation during EV-A71 infection. In conclusion, we determined the functional relevance of Stau1 in the EV-A71 infection cycle and herein describe the mechanism of Stau1 participation in viral RNA translation through its interaction with viral RNA. Our results suggest that Stau1 is an important host factor involved in viral translation and influential early in the EV-A71 replication cycle.
View Full-Text
►

▼

Figures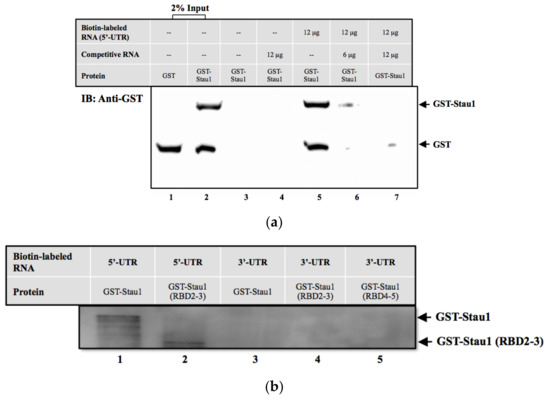 Figure 1
This is an open access article distributed under the
Creative Commons Attribution License
which permits unrestricted use, distribution, and reproduction in any medium, provided the original work is properly cited (CC BY 4.0).

Share & Cite This Article
MDPI and ACS Style
Chen, Y.-M.; Ou, B.-T.; Chen, C.-Y.; Chan, H.-H.; Chen, C.-J.; Wang, R.Y. Staufen1 Protein Participates Positively in the Viral RNA Replication of Enterovirus 71. Viruses 2019, 11, 142.
Note that from the first issue of 2016, MDPI journals use article numbers instead of page numbers. See further details here.
Related Articles
Comments
[Return to top]