Open Access This article is
freely available
re-usable
Article
Promises and Pitfalls of In Vivo Evolution to Improve Phage Therapy
1
Department of Biological Sciences, University of Idaho, Moscow, ID 83844, USA
2
Department of Biology, Emory University, Atlanta, GA 30307, USA
3
Department of Molecular Biosciences, University of Texas, Austin, TX 78712, USA
*
Author to whom correspondence should be addressed.
Received: 19 October 2019 / Accepted: 18 November 2019 / Published: 21 November 2019
Abstract
:
Phage therapy is the use of bacterial viruses (phages) to treat bacterial infections, a medical intervention long abandoned in the West but now experiencing a revival. Currently, therapeutic phages are often chosen based on limited criteria, sometimes merely an ability to plate on the pathogenic bacterium. Better treatment might result from an informed choice of phages. Here we consider whether phages used to treat the bacterial infection in a patient may specifically evolve to improve treatment on that patient or benefit subsequent patients. With mathematical and computational models, we explore in vivo evolution for four phage properties expected to influence therapeutic success: generalized phage growth, phage decay rate, excreted enzymes to degrade protective bacterial layers, and growth on resistant bacteria. Within-host phage evolution is strongly aligned with treatment success for phage decay rate but only partially aligned for phage growth rate and growth on resistant bacteria. Excreted enzymes are mostly not selected for treatment success. Even when evolution and treatment success are aligned, evolution may not be rapid enough to keep pace with bacterial evolution for maximum benefit. An informed use of phages is invariably superior to naive reliance on within-host evolution.
Keywords:
mathematical model; evolutionary prediction; dynamics; cocktail; within-host
Author Contributions
All three authors contributed to all aspects of the paper, except that J.J.B. wrote the Mathematica files to generate the figures.
Funding
This research was funded by NIH grant numbers R01GM 122079 and P20GM 104420 (JJB), GM 091875 (BRL), and R01 GM124378 (IJM).
Acknowledgments
We thank Steve Abedon for comments and insight to the literature. Two reviewers gave useful advice on the manuscript.
Conflicts of Interest
The authors declare no conflict of interest. The funders had no role in the design of the study; in the collection, analyses, or interpretation of data; in the writing of the manuscript, or in the decision to publish the results.
Appendix A. Model Details
The standard model of bacterial–phage interactions is one of ordinary differential equations assuming mass action, whereby the number of infections occurring per unit time is simply the product of the phage and bacterial concentrations (scaled by an adsorption rate parameter, [
25
,
26
]). This type of model typically leads to a rapid and profound depression of bacteria, followed by a bacterial resurgence and ensuing oscillations of phage and bacterial densities. These dynamics are apparently not representative of phage therapy patients [
2
]. We instead offer two models of ordinary differential equations that deviate from the standard model and can generate some key outcomes mirroring those of observed with phage therapy: bacteria exist in protected states, phage may slowly decay during treatment, and multiple dosing may be required [
2
]. Although our models explicitly include many components (minimally four variables and nine parameters), they are proposed heuristically in that they cannot be empirically parameterized. Instead, many parameters need be chosen so that the baseline behavior allows phage to have only a moderate effect on bacterial densities in the short term, and indeed for some trials, that multiple phage inoculations are needed to depress bacterial densities to low levels. Any numerical trial of this model is useful chiefly in illustrating possibilities that are incompatible with the standard model.
Appendix A.1. One Bacterial Strain with Two Bacterial States and Two Phages
In model (
A1
), a single strain of bacterium switches between a planktonic state and aggregates. Planktonic bacteria are susceptible to phages, aggregates are not. Two phage strains are included, differing only in decay rate. Parameters are defined in
Table A1
.
Parameter values used in
Figure 1
are: , , , , , , , . Initial bacterial densities are: , .
Notation
Description
Units
Variables (Functions of Time)
Description
Units
density of bacteria in aggregates (protected)
/mL

B

density of susceptible, planktonic bacteria
/mL
density of strain 0 phage
/mL
density of strain 1 phage
/mL
Parameters
Description
Units
adsorption rate of phage strain

i

to planktonic bacteria
mL/min
death rate of phage strain

i

/min
loss rate of bacteria from death or conversion to aggregates ()
/min
burst size of phage strain

i

individuals

c

conversion rate of aggregates to planktonic bacteria
loss rate of aggregates to become planktonic bacteria
/min
aggregate formation rate by planktonic bacteria
/min
Appendix A.2. Two Bacterial States with Two Bacterial States and Two Phages
This model is similar to that in (
A1
), except that it adds a second strain of bacteria, one whose planktonic state is resistant to one of the phages, necessarily also resistant as aggregates. To keep the emphasis on the effect of resistance, many of the same parameter values are used for the two types of bacteria and for phage infection of the bacteria.
Only variables that differ from those in model (
A1
) are defined in the table below. Parameters are the same as in
Table A1
.

Table A2.
New variables for model (
A2
).
| Notation | Description | Units |
| --- | --- | --- |
| Variables (Functions of Time) | Description | Units |
| | density of resistant bacteria in aggregates | /mL |
| R | density of resistant, planktonic bacteria | /mL |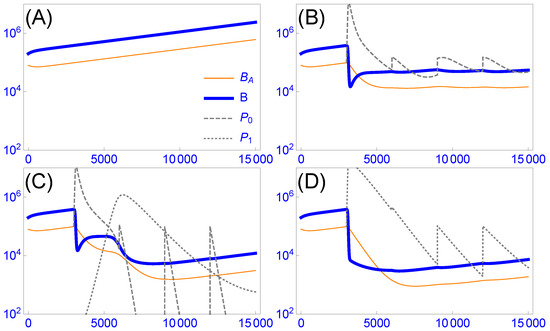 Figure 1.
Phage dynamics and evolution as a property of phage decay rate. The vertical axis gives density, the horizontal axis time (minutes). Thin orange curves are protected bacteria in refuges, thick blue curves are susceptible, planktonic bacteria. Dashed grey indicates the fast-decaying phage (, decay rate of 0.008 per min), dotted grey indicates the better, slow-decaying phage (, decay rate of 0.002 per min). The inset key (A) applies to all panels. All trials use the same bacterial growth parameters and initial bacterial densities (given in
Appendix A.1
). When phage are present, they are first added at 3000 min and added every 3000 min thereafter. (
A
) Bacterial densities slowly increase in the absence of phages. (
B
) Treatment with rapidly-decaying phages causes a sudden decline in free bacterial densities, a somewhat slower decline in aggregate bacteria. The system is approaching equilibrium in that phage and bacterial densities are being approximately maintained between inoculations. (
C
) The phage inoculum consists of rapidly-decaying phage and 0.1 slowly-decaying phage, the latter value to represent mutation. The slowly-decaying phage ascends profoundly but then drops when bacterial densities are too low to sustain it. (
D
) The phage inoculum consists of just slowly-decaying phage. There is a substantial difference between the treatments with a pure fast-decaying phage or a pure slow-decaying phage. The main effect of starting with a slow-decay phage (D) instead of relying on within-host evolution (C) lies in the early dynamics, although a modest lingering benefit is apparent. Parameter values and initial conditions are given in
Appendix A.1
. Outcomes vary with parameter values, and the actual effect of within-host evolution or treatment with pre-evolved, slowly decaying phages would need to be evaluated for each specific application.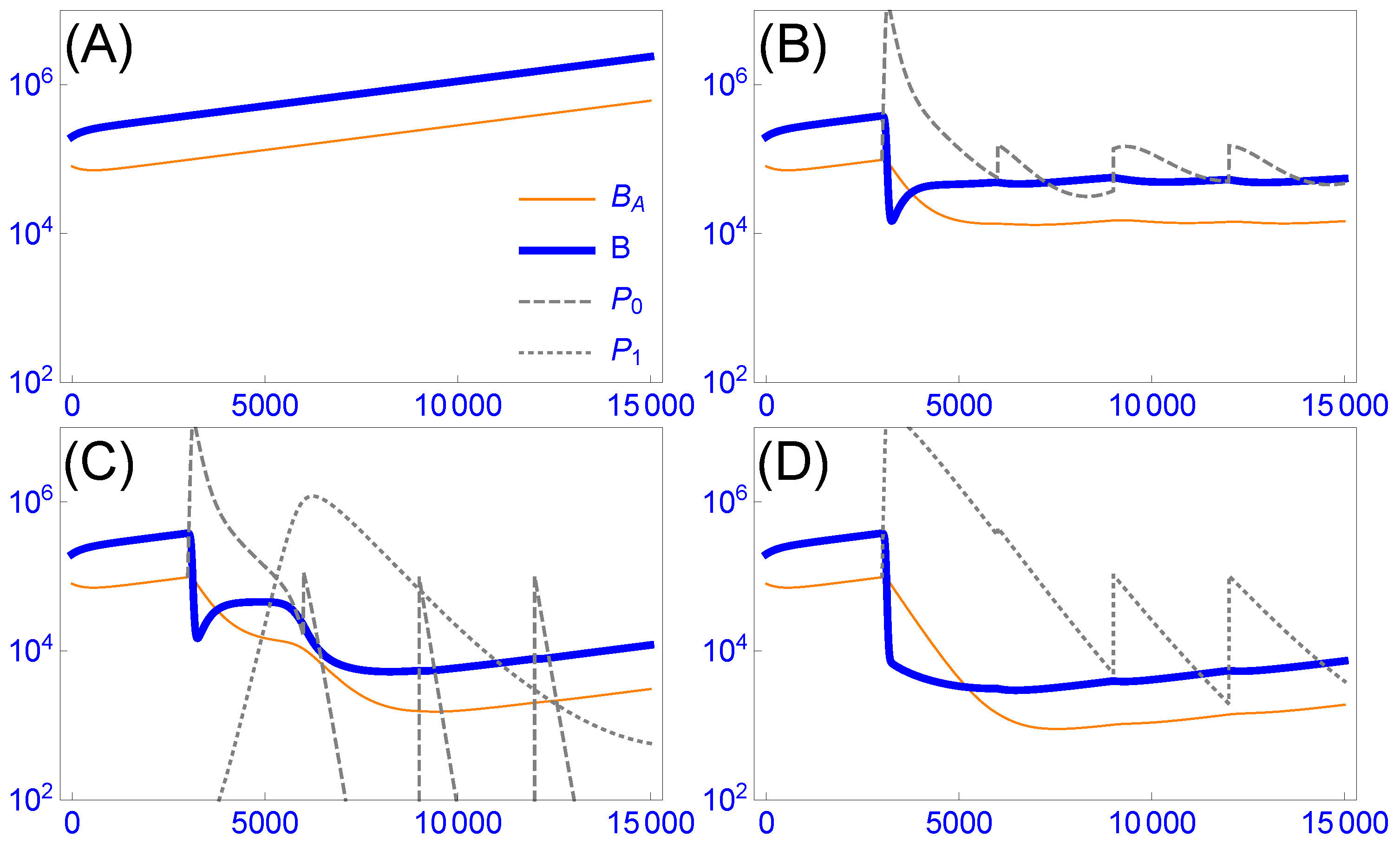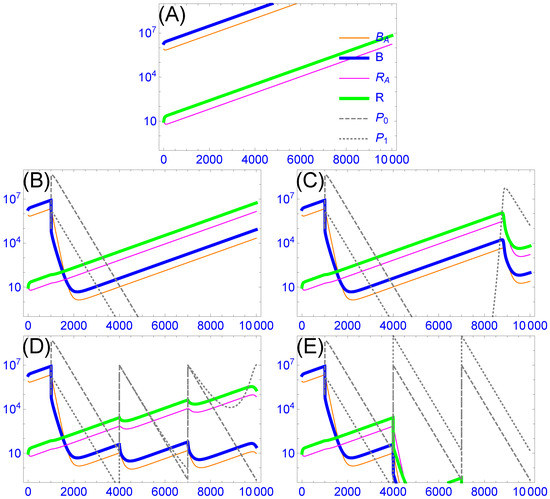 Figure 2.
A 'broad' host-range phage that blocks bacterial resistance is subject to delayed ascendency. Periodic dosing may be only moderately more useful in suppressing bacterial resistance than is relying on intrinsic dynamics. The model assumes two strains of bacteria, each in two states (solid colored curves) and two strains of phage (dashed and dotted gray); the inset legend in (
A
) applies throughout, with equations and parameters given in
Appendix A.2
. The vertical axis gives density, the horizontal axis time (minutes). The phages differ in whether they can infect both bacteria (the 'broad' phage, given by , dotted curves) or just one bacterium (the 'narrow' phage, given by , dashed curves); the narrow phage has the advantage of a slightly higher adsorption rate. The bacterial strain given by blue and orange curves is sensitive to both phages, the other (green and pink curves) is resistant to the narrow phage and is initially rare. Each bacterium exists both planktonically (thick curves) and in aggregates (thin curves), with aggregates being protected from all phages. The two bacteria differ only in sensitivity to the phages. (
A
): Growth of the bacteria in the absence of phages. (
B
): Both phages are introduced at time t = 1000 at a density of but are considered to be extinct when densities drop below 0.1. They have a rapid effect of driving the sensitive bacterial strain to low numbers, allowing the resistant bacterium to become the majority. Both phages are lost when the bacterial density is too low to sustain them, and all bacteria begin to recover, maintaining their relative abundances. (
C
): The same as in (
B
), except that phages are never considered to be extinct. The broad phage eventually rebounds in response to the high numbers of 'resistant' bacteria, and it suppresses both strains. (
D
): A cocktail of both phages is applied, each at a dose of (time 1000) and then each at a dose of (times 4000 and 7000). The narrow-host range phage gains early because of its superior adsorption rate. Resistant bacteria eventually ascend and allow the broad phage to maintain itself. Note that there is a substantial lag before the broad phage dominates. (
E
) The same as in (
D
), but the inocula at times 4000 and 7000 are increased to of the broad phage. All bacteria are now pushed to near extinction.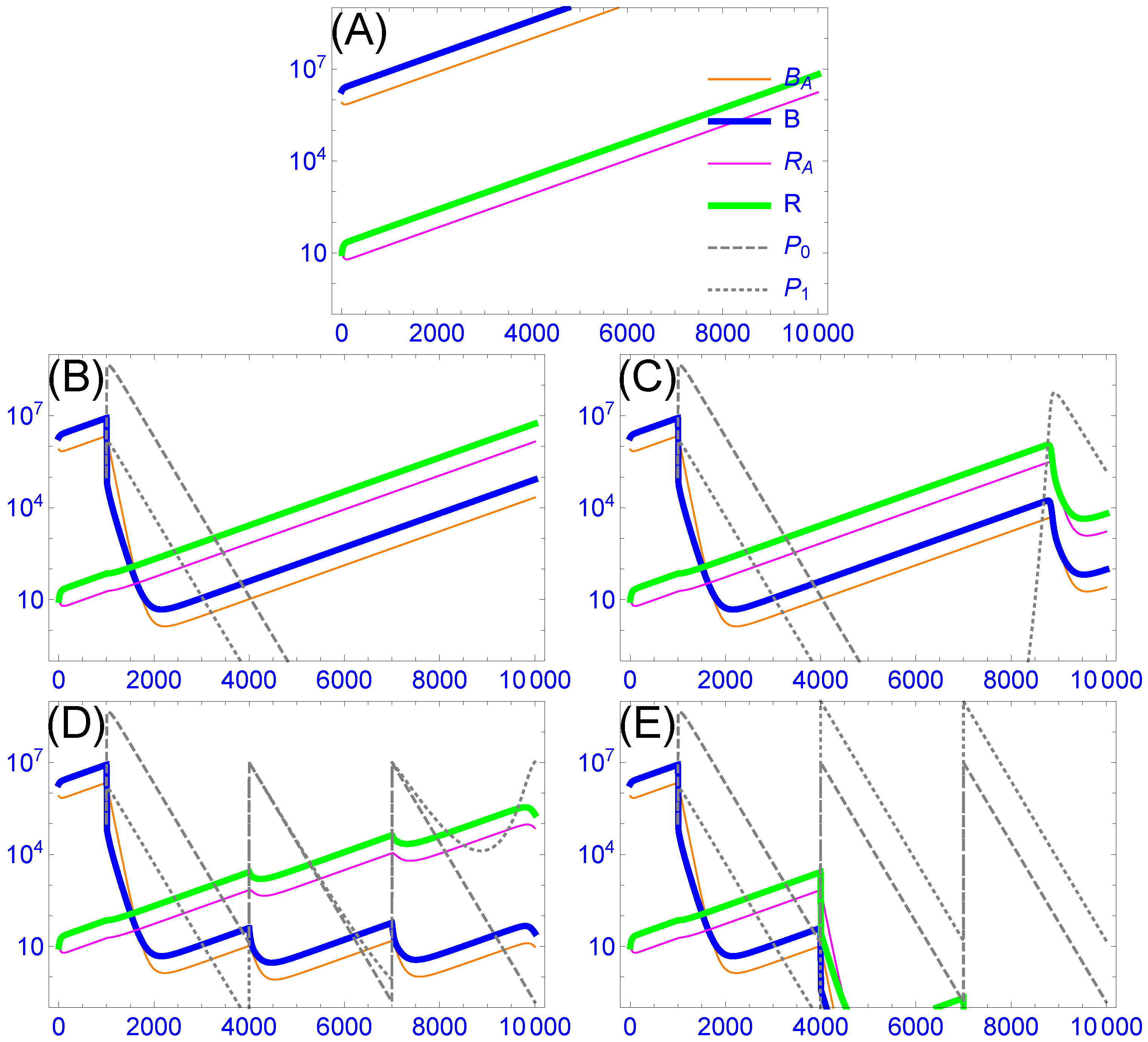 | Characteristic | How Beneficial |
| --- | --- |
| Broad host range | can be applied rapidly, with minimal testing of pathogen sensitivity |
| Good in vivo growth and persistence | single dosing sufficient for treatment |
| Bacterial resistance difficult | single phage type sufficient for treatment |
| Synergistic with antibiotics * | can be used in combination with standard treatment |
| Disrupts bacterial extracellular protections | makes vulnerable bacterial clusters (e.g., biofilms and aggregates) that are otherwise recalcitrant to treatment |
* synergy means that phages and antibiotics work better together than expected from their independent effects.

© 2019 by the authors. Licensee MDPI, Basel, Switzerland. This article is an open access article distributed under the terms and conditions of the Creative Commons Attribution (CC BY) license (http://creativecommons.org/licenses/by/4.0/).