Open Access This article is
freely available
re-usable
Review
Sphingolipids as Potential Therapeutic Targets against Enveloped Human RNA Viruses
1
Department of Basic and Clinical Sciences, Albany College of Pharmacy and Health Sciences, Albany, NY 12208, USA
2
Department of Immunology and Microbial Disease, Albany Medical College, Albany, NY 12208-3479, USA
*
Author to whom correspondence should be addressed.
Received: 7 August 2019 / Accepted: 28 September 2019 / Published: 1 October 2019
Abstract
:
Several notable human diseases are caused by enveloped RNA viruses: Influenza, AIDS, hepatitis C, dengue hemorrhagic fever, microcephaly, and Guillain–Barré Syndrome. Being enveloped, the life cycle of this group of viruses is critically dependent on host lipid biosynthesis. Viral binding and entry involve interactions between viral envelope glycoproteins and cellular receptors localized to lipid-rich regions of the plasma membrane. Subsequent infection by these viruses leads to reorganization of cellular membranes and lipid metabolism to support the production of new viral particles. Recent work has focused on defining the involvement of specific lipid classes in the entry, genome replication assembly, and viral particle formation of these viruses in hopes of identifying potential therapeutic targets for the treatment or prevention of disease. In this review, we will highlight the role of host sphingolipids in the lifecycle of several medically important enveloped RNA viruses.
Keywords:
sphingolipids; glycosphingolipids; viruses; lipid biosynthesis; antiviral
Author Contributions
K.V.K. and E.J.Y. contributed equally to the final manuscript.
Funding
K.V.K. is supported by the Albany Medical College Bridge Grant. E.J.Y. is supported by an Albany College of Pharmacy and Health Sciences Scholarship of Discovery Grant.
Acknowledgments
The authors thank Tammy Garren for her input on the design of figures and Carlos de Noronha for his assistance with the editing of the manuscript.
Conflicts of Interest
The authors declare no conflict of interest.
Figure 1. Diagram of sphingolipid biosynthetic pathways in mammalian cells. The initial step in the de novo biosynthesis of sphingolipids is the conversion of serine and palmitoyl CoA to ceramide. Following that, ceramide is subjected to conversion to sphingomyelin or to various glycosphingolipid intermediates on their way to becoming complex glycosphingolipids. The enzymes involved in the synthesis of sphingolipids and glycosphingolipids are denoted in gold. Chemical inhibitors of key enzymes are indicated in red. SGMS1/2: sphingomyelin synthase; GCS: glucosylceramide synthase; B4G5: lactosylceramide synthase; ST3GAL5: lactosylceramide alpha-2,3-sialyltransferase or GM3 synthase; A4GalT: alpha 1,4-galactosyltransferase or Gb3 synthase; SPT: serine palmitoyl transferase; CERT: ceramide transfer protein; FAPP2: four-phosphate adaptor protein 2; GlcCer: glucosylceramide; LacCer: lactosylceramide.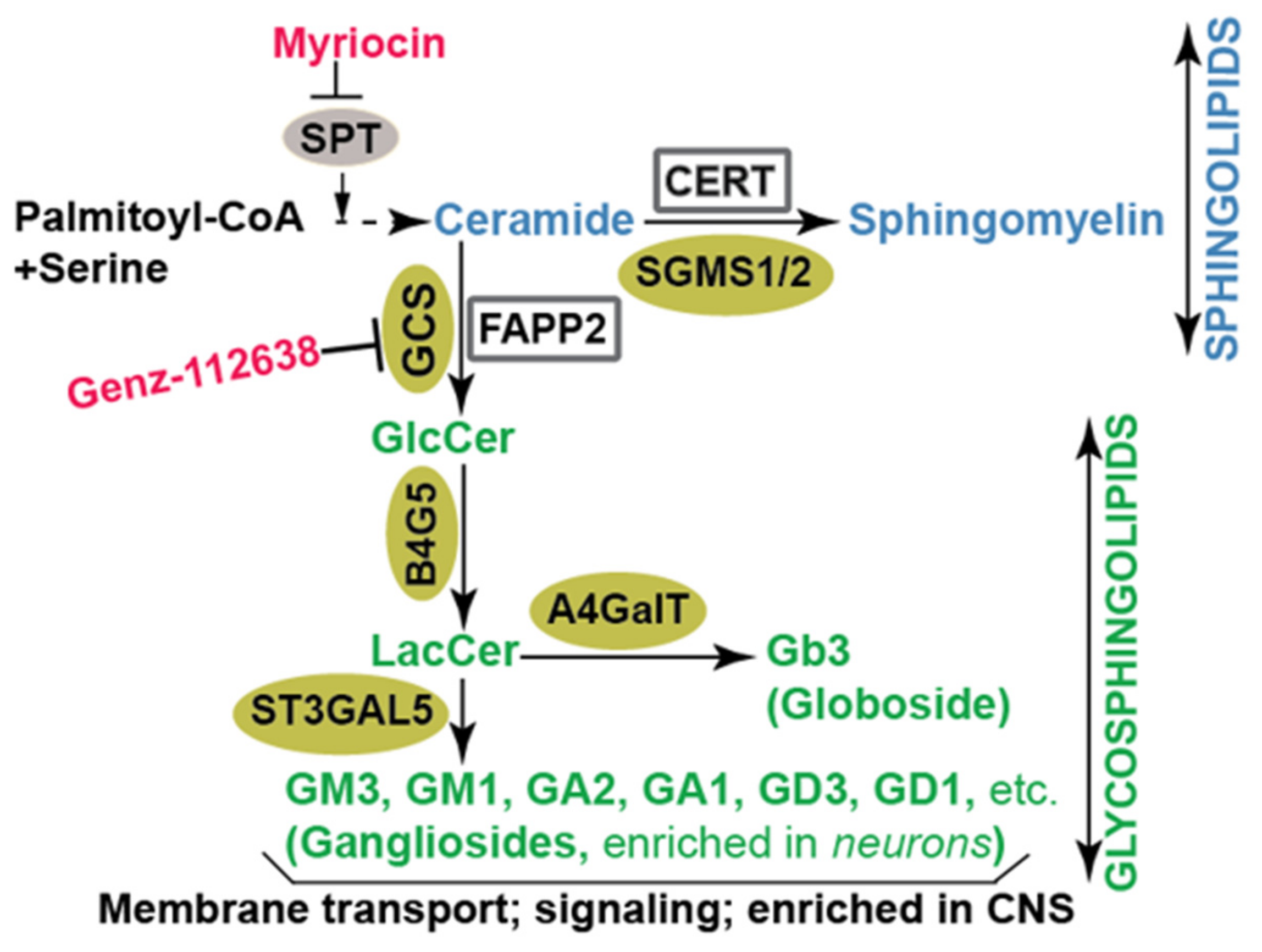 Figure 2. Diagram of hepatitis C virus genome. The HCV genome consists of a single open reading frame (ORF) flanked by the 5' and 3' untranslated regions (UTRs). The ORF is translated into a single polyprotein, which is further processed into individual proteins. The 5' and 3' UTRs are critical for internal ribosome binding, translation, and HCV genome replication.


Figure 3. Organization of a flavivirus genome. The genome of flaviviruses, such as dengue and Zika, is ~11 kb in size and encodes a single, large polyprotein, which is proteolytically processed into three structural proteins and seven nonstructural proteins. The 5' end of the genome contains a cap structure critical for the initiation of translation. RNA structures present in the 5' and 3' untranslated regions (UTR) are critical for capping and genome replication.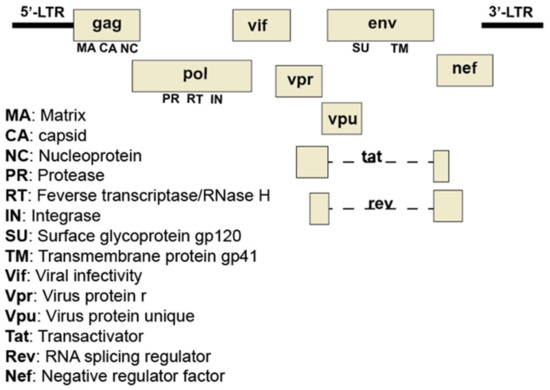 Figure 4. Organization of the HIV-1 genome. The HIV-1 genome consists of two identical copies of noncovalently linked, linear, positive-sense, single-stranded RNA molecules. Each identical copy contains nine genes that encode fifteen proteins. Many of the proteins are synthesized as precursor polyproteins which are proteolytically processed by host or viral proteases into individual proteins with roles in viral architecture, replication, regulation of cellular functions, and evasion of the host defenses. The gag gene encodes viral proteins involved in the structure of the virus. The pol gene encodes viral proteins critical for replication and integration of provirus into the host genome. The env gene encodes proteins needed for viral attachment and fusion with target cells.
Figure 5.
Organization of the Influenza A virus's genome. The influenza A virus's (IAV's) genome consists of eight segments of negative-sense, single-stranded RNA. Encoded by the genome are three polymerase proteins (PA, PB1, and PB2), nucleoprotein (NP), and two envelope proteins (HA and NA). The M and NS mRNAs can be alternatively spliced to yield M1 and M2, and NS1 and NS2 proteins, respectively. Boxes indicate coding regions, sized relative to the other gene segments. Black lines at each end represent the 3' and 5' untranslated regions. The total length of each segment (conding and non-coding regions) in nucleotides (nt) is indicated. Figure adapted from Bouvier and Palese [
71
].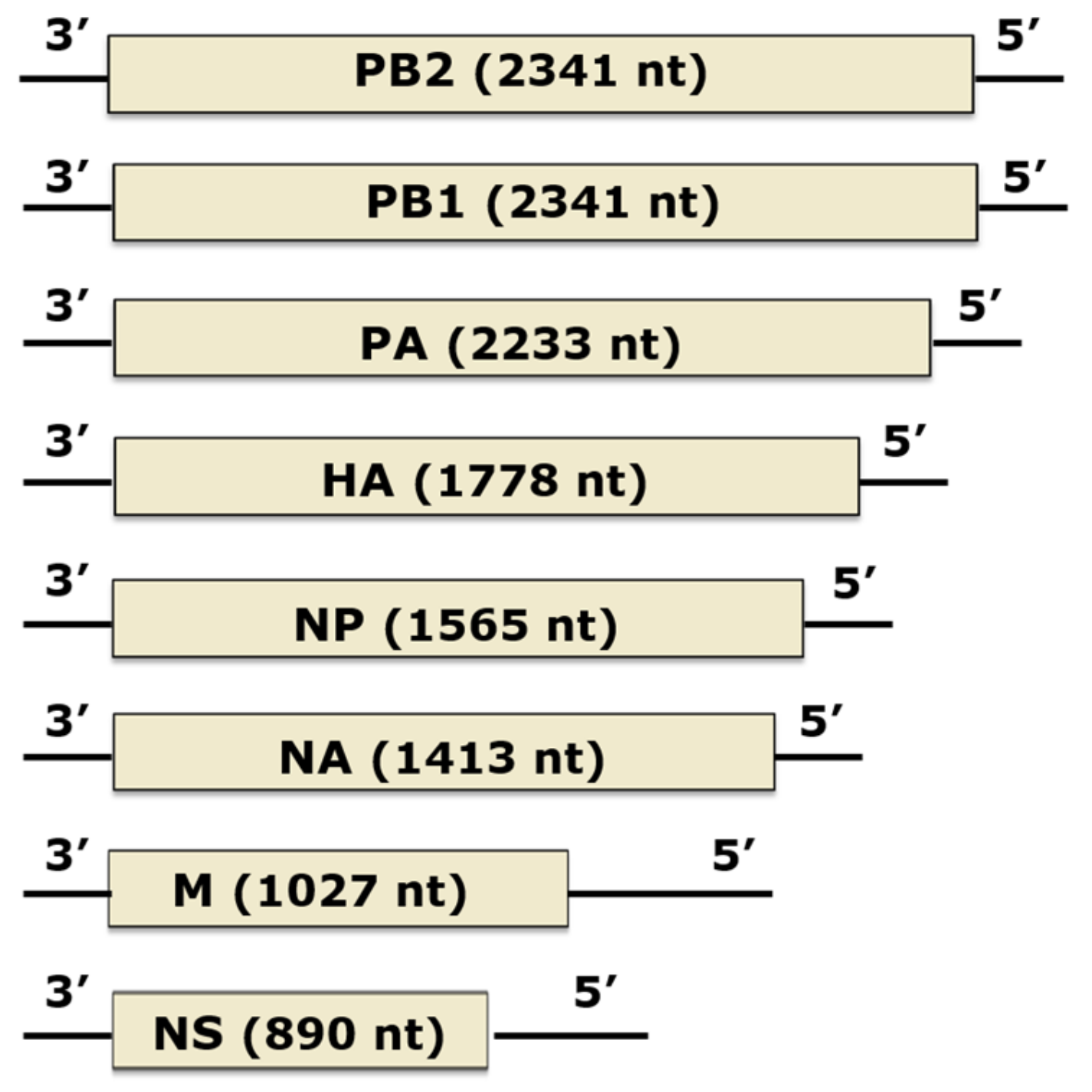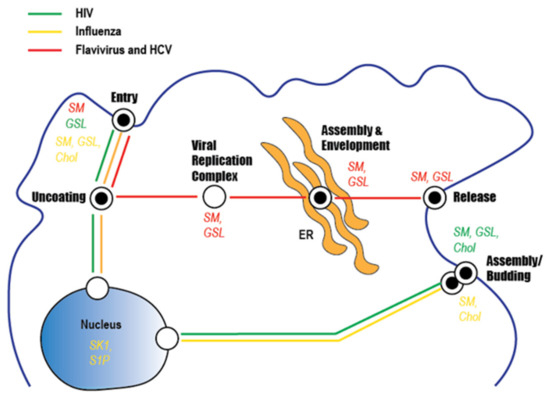 Figure 6. Sphingolipid involvement in the infection cycle of clinically important viruses. The three lines indicate the steps involved in the replication of HCV and flaviviruses (red), HIV (green), and influenza virus (yellow). Reported roles for lipids (sphingomyelin [SM], glycosphingolipids [GSL], and/or cholesterol (Chol)) in the lifecycle of each virus are indicated.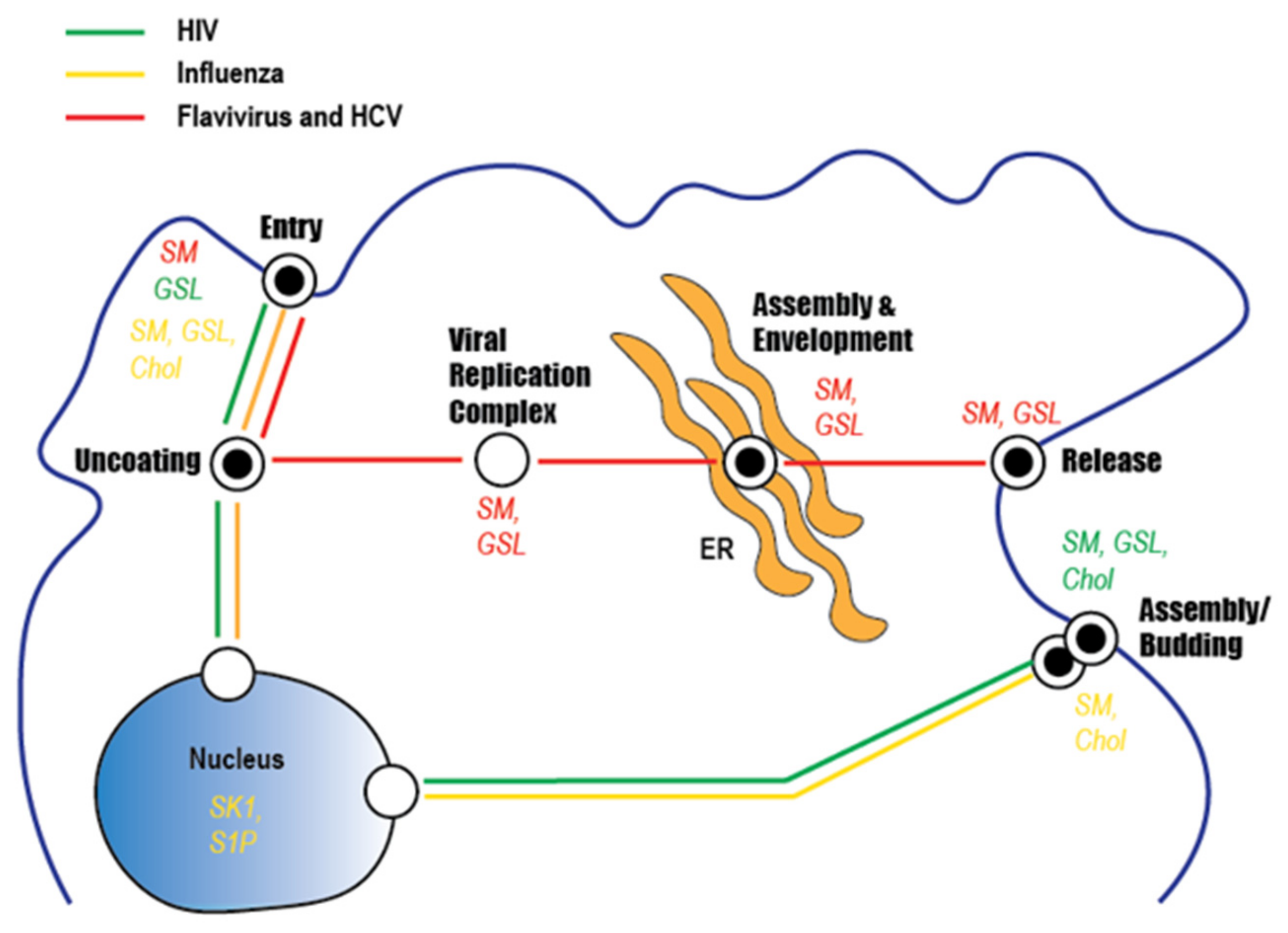 © 2019 by the authors. Licensee MDPI, Basel, Switzerland. This article is an open access article distributed under the terms and conditions of the Creative Commons Attribution (CC BY) license (http://creativecommons.org/licenses/by/4.0/).