Identification of Novel Subcellular Localization and Trafficking of HIV-1 Nef Variants from Reference Strains G (F1.93.HH8793) and H (BE.93.VI997)
Department of Microbiology and Immunology, The University of Western Ontario, Schulich School of Medicine and Dentistry, London, ON N6A 5C1, Canada
*
Author to whom correspondence should be addressed.
Received: 20 July 2018 / Revised: 30 August 2018 / Accepted: 11 September 2018 / Published: 13 September 2018
Abstract
The human immunodeficiency virus type 1 (HIV-1) accessory protein Nef, plays an essential role in disease progression and pathogenesis via hijacking the host cellular membrane-trafficking machinery. Interestingly, HIV-1 group-M subtypes display differences in the rate of disease progression. However, few reports investigated how the cellular behaviors and activities of Nef isolates from reference strains may differ between HIV-1 group-M subtypes. Here, we characterize how differing cellular distributions of Nef proteins across group-M subtypes may impact protein function using immunofluorescence microscopy and flow cytometric analysis. We demonstrate that Nef variants isolated from HIV-1 group-M subtypes display differences in expression, with low expressing Nef proteins from reference strains of subtypes G (F1.93.HH8793) and H (BE.93.VI997) also displaying decreased functionality. Additionally, we demonstrate variations in the subcellular distribution and localization of these Nef proteins. Nef from subtype G (F1.93.HH8793) and H (BE.93.VI997) reference strains also failed to colocalize with the trans-Golgi network, and were not differentially localized to cellular markers of multivesicular bodies or lysosomes. Strikingly, our results demonstrate that HIV-1 Nef proteins from reference strains G (F1.93.HH8793) and H (BE.93.VI997) highly colocalize with labeled mitochondrial compartments.
View Full-Text
►

▼

Figures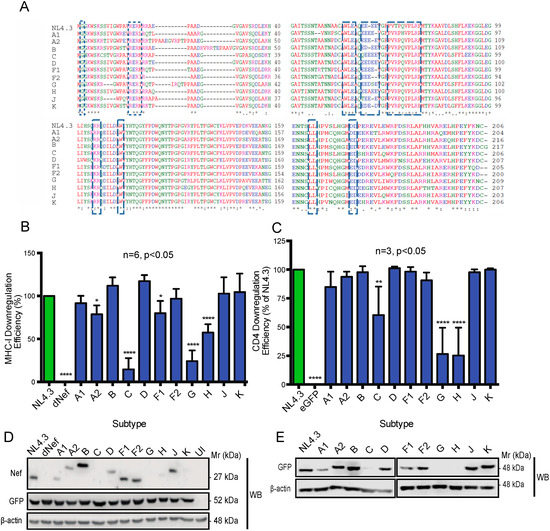 Figure 1
This is an open access article distributed under the
Creative Commons Attribution License
which permits unrestricted use, distribution, and reproduction in any medium, provided the original work is properly cited (CC BY 4.0).

Share & Cite This Article
MDPI and ACS Style
Van Nynatten, L.R.; Johnson, A.L.; Dirk, B.S.; Pawlak, E.N.; Jacob, R.A.; Haeryfar, S.M.M.; Dikeakos, J.D. Identification of Novel Subcellular Localization and Trafficking of HIV-1 Nef Variants from Reference Strains G (F1.93.HH8793) and H (BE.93.VI997). Viruses 2018, 10, 493.
Note that from the first issue of 2016, MDPI journals use article numbers instead of page numbers. See further details here.
Related Articles
Comments
[Return to top]