Open Access This article is
freely available
re-usable
Review
Host Shutoff in Influenza A Virus: Many Means to an End
1
Graduate Program in Molecular Microbiology, Sackler School of Graduate Biomedical Sciences, Tufts University, Boston, MA 02111, USA
2
Department of Molecular Biology and Microbiology, Tufts University School of Medicine, 136 Harrison Ave, Boston, MA 02111, USA
*
Author to whom correspondence should be addressed.
Received: 14 August 2018 / Accepted: 1 September 2018 / Published: 5 September 2018
Abstract
:
Influenza A virus carries few of its own proteins, but uses them effectively to take control of the infected cells and avoid immune responses. Over the years, host shutoff, the widespread down-regulation of host gene expression, has emerged as a key process that contributes to cellular takeover in infected cells. Interestingly, multiple mechanisms of host shutoff have been described in influenza A virus, involving changes in translation, RNA synthesis and stability. Several viral proteins, notably the non-structural protein NS1, the RNA-dependent RNA polymerase and the endoribonuclease PA-X have been implicated in host shutoff. This multitude of host shutoff mechanisms indicates that host shutoff is an important component of the influenza A virus replication cycle. Here we review the various mechanisms of host shutoff in influenza A virus and the evidence that they contribute to immune evasion and/or viral replication. We also discuss what the purpose of having multiple mechanisms may be.
Keywords:
host shutoff; PA-X; NS1; RNA-directed RNA polymerase; immune evasion; influenza
1. Introduction
100 years after the devastating 1918 Spanish flu epidemic, influenza A virus infections remain a global problem, with only partially effective vaccines and therapeutics available for combating them. Also, many aspects of influenza A virus infection at both the cellular and organismal level remain unclear. Several factors contribute to the complexity of influenza A biology. The remarkable ability of this virus to remodel host processes with its very limited set of 12–17 proteins speaks to the inherent multi-functionality of the influenza A proteins. In addition, the rapidly changing genome and the multitude of hosts that this virus infects means that different strains may behave differently and/or be better adapted to the molecular and organismal biology of different hosts. In this review, we will focus on the process of host shutoff, the global reduction of host gene expression by influenza A virus, as an example of a crucial process that embodies the complexity of influenza biology.
Reorganizing the host gene expression profile is a powerful way for viruses to overhaul the cell's biology and promote their own replication. It has long been known that influenza A virus-infected cells display the markings of host shutoff. Early metabolic labeling with radioactive amino acids and nucleotides showed reduced synthesis of host proteins and robust accumulation of viral proteins [
1
]. They also revealed that both the synthesis and the half-life of host mRNAs are reduced during infection [
2
,
3
,
4
]. These original observations have more recently been expanded using high-throughput RNA sequencing and ribosome profiling to simultaneously measure mRNA levels and translation rates [
5
]. The results of this approach confirm a general reduction in host RNA levels during influenza A infection that is matched by a reduction in host protein translation [
5
]. Since the earlier 1970–1990 studies, a plethora of mechanisms have been described that underlie host shutoff and impinge on different aspects of RNA and protein expression. These mechanisms involve at least six viral proteins: The trimeric RNA-directed RNA polymerase complex (RdRp), the non-structural protein NS1, and PA-X, a protein that is generated through a non-canonical translational mechanism and was thus only discovered in 2012 (
Figure 1
). The purpose of such varied mechanisms of host shutoff in viral replication and immune evasion, their strain and species specificity, and how these mechanisms interact with each other are all questions that are under active investigation. In this review we will detail the state of the research on two questions regarding gene expression changes in influenza A infected cells: What are the mechanisms of host shutoff, and what is the purpose of such pervasive changes in host gene expression. We will then discuss why such an extensive repertoire of tools to control gene expression may exist in such a small virus.
2. How Does Influenza A Virus Reduce Host Gene Expression?
3. Why Does Influenza A Virus Reduce Host Gene Expression?
3.1. Host Shutoff as a Mechanism of Immune Evasion
The most commonly proposed function of host shutoff is to reduce induction of immune-related genes. In this model, by preventing general host gene expression, host shutoff also reduces the induction of innate immune chemokines and cytokines, in particular the anti-viral type I and III IFNs, and/or of IFN-stimulated genes (ISGs). This process would therefore block the initial cell-intrinsic protective responses, as well as the recruitment of circulating immune cells like macrophages, neutrophils, B and T cells. For most of the described host shutoff proteins, experimental evidence exists that this is indeed the purpose or at least one of the purposes of host shutoff.
3.2. Alternative Functions of Host Shutoff
An alternative proposed role for host shutoff is to reduce competition between viral and host mRNAs for host translational machinery. A corollary of this model is that it could "erase" the natural host gene regulation of the cell to allow for the selective expression of genes that are beneficial for viral replication. This model, however, is very hard to prove, and has only been clearly described in the herpesviral vhs host shutoff [
108
]. In influenza A virus, testing such a model is also complicated by the multiple host shutoff mechanisms. For example, pH1N1 strains with NS1 that bind CPSF30 replicate to similar titers as the original strains, in which NS1 does not bind CPSF30 [
68
]. While this result suggests that NS1 host shutoff is not involved in replication
per se
, these viruses presumably still carry out host shutoff through PA-X and the RdRp. In the context of PR8, mutating the frameshifting site reduced plaque size and accumulation of a subset of viral proteins, without alterations in viral mRNA levels, which may support a role for PA-X in clearing ribosomes for viral translation [
22
]. However, mutations in PA-X do not generally reduce viral titers in MDCK cells [
12
,
20
], and in some cases promote replication in the human epithelial A549 cells and in mouse lung tissue [
20
]. Some studies have reported that in the absence of frameshifting, the levels of PA mRNA and/or protein are higher, and that there is increased polymerase activity in a replicon assay [
20
,
105
]. When examining the 61-aa vs. 41-aa of pH1N1 PA-X, Lee et al. also suggested that mutating PA-X could alter polymerase activity [
107
]. It is possible that these changes are simply a result of the lack of frameshifting, which could change the stability and translation of the PA mRNA. Alternatively, there could be an indirect effect of PA-X host shutoff on polymerase activity. In either case, these findings complicate the analysis of the PA(fs) mutant viruses.
A third possibility is that some of the decrease in host gene expression is an accidental consequence of viral processes. This idea was the basis for the original model of RNA destabilization as a by-product of cap snatching. While the PA-X protein has now been shown to be responsible for most of the RNA destabilization, reduced transcription could still occur as a by-product of cap snatching. As mentioned above, the unprotected 5′ ends of cellular Pol II transcripts generated by cap snatching could be the trigger for removal of Pol II from the body of genes, thus reducing transcription. Whether this is an intended purpose of the process, or whether influenza has evolved to take advantage of it remain open questions. Nonetheless, the overwhelming evidence described above indicates that at least for NS1 and PA-X, the host shutoff is a deliberate effect of the proteins, with important immunomodulatory functions in the context of in vivo infections.
4. How Are the Multiple Host Shutoff Mechanisms Integrated?
Influenza A virus has only eight gene segments but devotes a significant percentage of its coding capacity to proteins that directly or indirectly interfere with host gene expression. This "investment" raises the question of why such a small virus has evolved many different mechanisms of host shutoff and suggests that remodeling of host gene expression is critical for successful influenza A infection. One potential explanation for this phenomenon is the broad host range of influenza A viruses. Influenza A strains (unlike influenza B) infect not only humans but also many other species, including mallard ducks, chickens, seals, dogs, pigs, Owston civets, and horses [
109
]. In order to successfully establish infection in many different species, influenza A virus may need a wide range of mechanisms to overcome host responses. This may arise from different host biology, so that one mechanism may not prove as efficient in one species as it is in another. Alternatively, NS1 and PA-X may not work at all in some species without prior adaptation, because of differences in the cellular proteins that these viral factors interact with. Influenza A virus could thus make use of these different mechanisms to adapt as it moves through different hosts with different selective pressures.
Having multiple host shutoff proteins also means the virus needs to carefully adjust their immunomodulatory activities. The Takimoto lab first proposed that the host shutoff activities of NS1 and PA-X may be balanced, because in strains that lack NS1-based host shutoff, like Cal pH1N1, PA-X has stronger shutoff activity [
18
]. Subsequent studies from the Martinez-Sobrido and Topham labs have provided evidence that strains may indeed adjust the relative activity of NS1 and PA-X during evolution [
23
,
110
]. Nogales et al. found that the sequence of both NS1 and PA-X is different between the original 2009 pH1N1 isolates and the currently circulating ones [
23
,
68
]. In addition to the NS1 changes reported in Clark et al. and mentioned above (
Table 2
) [
68
], currently circulating pH1N1 strains also have four amino acid changes in PA-X, three of which are in the unique C-terminal domain (
Table 1
) [
23
]. Like the NS1 changes, these polymorphisms first appeared prior to the start of the 2011/2012 northern hemisphere season and have since gone to fixation. Interestingly, while the recent evolutionary changes in pH1N1 strains increase the host shutoff activity of NS1, they reduce the host shutoff activity of PA-X [
23
]. The authors suggest that current pH1N1 viruses have regained NS1-mediated host gene expression inhibition, and that there has been a subsequent reduction of PA-X activity to compensate, otherwise the virus would be too lethal or attenuated [
23
]. Similarly, a cold-adapted vaccine pH1N1 strain (A/California/4_NYICE_E3/2009 H1N1) with both active PA-X and CPSF30-binding NS1 is attenuated relative to the viruses with only one active host shutoff protein [
110
]. These results provide evidence that there may be a careful balance between NS1 and PA-X activity. Perhaps excessive host shutoff activity prevents optimal viral replication, as it may reduce the expression of host proteins needed for viral replication or cause cell death. It is also possible, as Khaperskyy and McCormick have speculated, that NS1 and PA-X work at different times during infection to contribute to optimal viral replication and virulence [
111
]. More mechanistic studies are needed to demonstrate how the balance and co-operation between NS1 and PA-X is achieved and to see if this effect is conserved across different influenza A serotypes and strains.
5. Conclusions
Studying the biology of influenza A virus is complicated by numerous factors including the multi-functional properties of its proteins, the rapidly changing genome and its multiple hosts. Extensive studies have shown that influenza A virus has a remarkable ability to reprogram host cell genome expression and have uncovered multiple mechanisms that can play a role in this process, but the data are still unclear with respect to their relative importance during in vivo infections. Also, it is possible that the multiple options in gene regulation confer flexibility, and thus a fitness advantage, as the virus moves through multiple different hosts. Surprisingly, evidence from the study of PA-X and PA-X-mutant viruses suggests that host shutoff could be protective, because it spares the host from lung immunopathology by reducing inflammation. This could have repercussions on human disease, as severe influenza disease is coupled to stronger inflammatory responses and not necessarily to higher viral replication. More work is needed to completely understand the molecular mechanisms of host shutoff in influenza A virus infection and its role in virulence and pathogenesis.
Funding
Research in the Gaglia lab is supported by a National Institutes of Health grant R01 AI137358 and an American Cancer Society Research Scholar award 131320-RSG-17-189-01-MPC to MMG. R.E.L. is supported by a National Institutes of Health training grant T32 AI007422.
Acknowledgments
We apologize to any authors whose work we were unable to cover in this review. We thank Gaglia lab members for critical reading of the manuscript.
Conflicts of Interest
The authors declare no conflict of interest.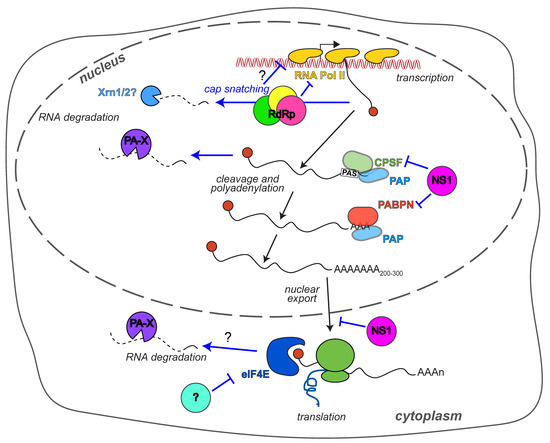 Figure 1. Summary of influenza A virus host shutoff mechanisms. The RNA-dependent RNA polymerase (RdRp) inhibits RNA polymerase II (RNA Pol II) transcription by triggering Pol II degradation. Moreover, because of its cap-snatching activity, the RdRp may promote degradation of nascent RNAs by host exonucleases like Xrn1 and Xrn 2, although the contribution of this degradation to host shutoff is unclear. The process of cap snatching may also contribute to reducing Pol II transcription by reducing Pol II loading on genes. NS1 inhibits 3′ mRNA processing through interactions with the cleavage and polyadenylation complex (CPSF), which recognizes the polyadenylation signal (PAS). Also, interactions between NS1 and the nuclear poly(A) binding protein (PABPN) inhibit elongation of the poly(A) tail by poly(A) polymerase (PAP). NS1 also inhibits RNA export from the nucleus. The RNase PA-X degrades host RNAs in the nucleus and possibly also in the cytoplasm. Unknown factors reduce activation of eIF4E and translation of host proteins.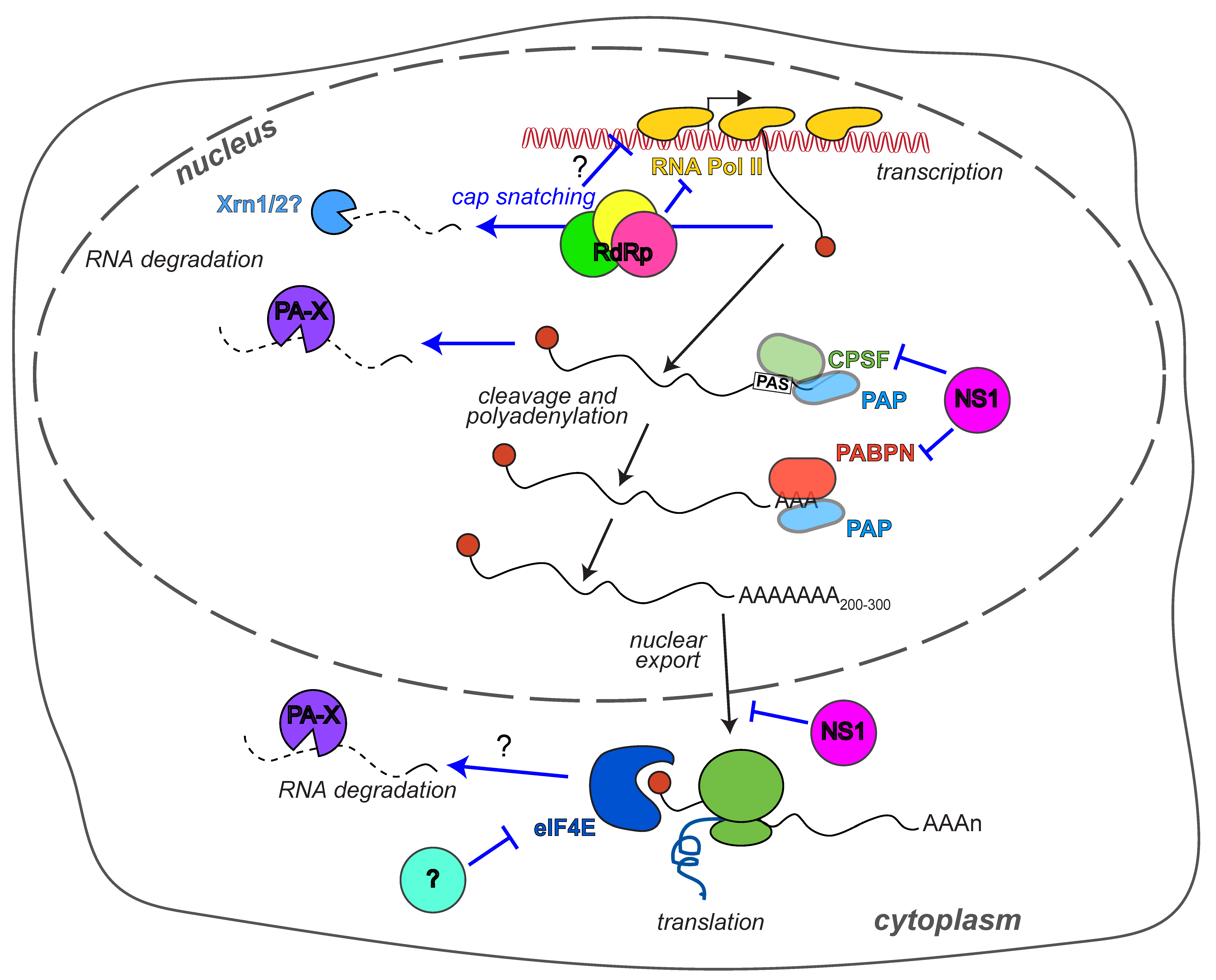 Table 1. Specific residues that affect the host shutoff activity of PA-X and the RdRp. "Strong/weak activity" for PA-X and the RdRp subunits refers to naturally occurring variants with high/low levels of host shutoff activity. "na" in "weak activity" column is indicative of residues that were identified as important for host shutoff based on loss of activity when the residue is experimentally mutated.
Host Shutoff Protein
Residue
Strong Activity
Weak Activity
Available Information on Function
Reference
PA-X
2
E
na
Needs to be acetylated by NatB for full activity
[36]
80
E
na
Residues required for nuclease activity of PA/PA-X and also shown experimentally to affect shutoff activity
[10,11,12,24,32]
106
L
na
107
P
na
108
D
na
119
E
na
134
K
na
192–197
(aa 0-15 of X-ORF)
(varies depending on strain)
na
Required for nuclear localization and activity (WSN, Cal, PR8)
[19,22,29]
195, 198, 199, 202, 203, 206
R/K
na
Mutation to A or E prevents nuclear import and activity (WSN, Cal, PR8)
[19,22,29]
100
V
I, A
Changes that arose in pH1N1 and reduce PA-X activity ("weak" variants also found in WSN for 100 and 221)
[18,23]
204
N
S
221
R
Q
229
L
S
57
R
Q
Amino acid differences responsible for higher shutoff activity of pH1N1 vs. WSN
[18]
62
I
V
65
S
L
4
F
na
Important for PA-X shutoff activity, potentially by allowing nuclear import (WSN)
[32]
9
F
na
27
D
na
39
C
na
123
T
na
124
R
na
125
R
na
24
Y
na
Important for PA-X shutoff activity presumably by structurally supporting nuclease site (WSN)
[32]
45
C
na
87
A
na
94
I
na
120
I
na
163
L
na
171
I
na
27
D
N
Changes that increase shutoff activity of equine H3N8 PA-X in conjunction with lengthening of X-ORF isoform
[34]
231
S
F
PA (RdRp)
550
L
I
Required for RdRp to direct Pol II degradation
[48]
PB2 (RdRp)
504
V
I

Table 2. Specific residues that affect the host shutoff activity of NS1. "Strong/weak activity" for NS1 variants refers to naturally occurring variants with strong/weak CPSF30 binding. "na" in "weak activity" column is indicative of residues that were identified as important for host shutoff based on loss of activity when the residue is experimentally mutated.
Host Shutoff Protein
Residue
Strong Activity
Weak Activity
Available Information on Function
Reference
NS1
103
F
L
F103/M106 confer CPSF30 binding in many strains (not sufficient in pH1N1, canine H3N8)
[62,65]
106
M
I, V
144
L
na
Required for CPSF30 binding (Udorn, WSN)
[61]
aa 184–188
GLEWN
na
Required for CPSF30 binding in vitro and in cells (Udorn); K186 (instead of E186) in canine H3N8 prevents CPSF30 binding
[62,63,66,67,73]
aa 223–237
ARTARSKVRRDKMAD
na
Required for PABPN (PABII) binding (Udorn)
[63]
55
K
E
Changes to "strong" restore strong CPSF30 binding in pH1N1 strains (with F103, M106); D189N also alters host shutoff activity in circulating H3N2 strains and 1918 H1N1;
D125G appeared in mouse adaptation of H3N2 human strain
[52,68,70,74,75]
90
I
L
108
K
R
123
V
I
125
D
E, G
131
E
K
189
D
G, N
205
S
N
64
I
T
Changes to "weak" in circulating H3N2 strains reduce CPSF30 binding and IFN antagonism; V194I also reduces CPSF30 binding and host shutoff activity in 1918 H1N1 NS1
[69,70]
194
V
I
98
L
S
Mutations that abolish CPSF30 binding during mouse adaptation of H3N2 strain
[74,75]
180
V
A
96
E
na
Mutation causes temperature sensitive mRNA cleavage phenotype (Udorn)
[72]
aa 191–195
EALQR
deleted
Deletion in H5N1 NS1 reduces CPSF30 binding and IFN antagonism
[71]

© 2018 by the authors. Licensee MDPI, Basel, Switzerland. This article is an open access article distributed under the terms and conditions of the Creative Commons Attribution (CC BY) license (http://creativecommons.org/licenses/by/4.0/).