Open Access This article is
freely available
re-usable
Review
Mutation and Epistasis in Influenza Virus Evolution
1
Department of Ecology and Evolutionary Biology, University of Michigan, Ann Arbor, MI 48109, USA
2
Division of Infectious Diseases, Department of Internal Medicine, University of Michigan, Ann Arbor, MI 48109, USA
3
Department of Microbiology and Immunology, University of Michigan, Ann Arbor, MI 48109, USA
*
Author to whom correspondence should be addressed.
Received: 17 July 2018 / Accepted: 30 July 2018 / Published: 3 August 2018
Abstract
:
Influenza remains a persistent public health challenge, because the rapid evolution of influenza viruses has led to marginal vaccine efficacy, antiviral resistance, and the annual emergence of novel strains. This evolvability is driven, in part, by the virus's capacity to generate diversity through mutation and reassortment. Because many new traits require multiple mutations and mutations are frequently combined by reassortment, epistatic interactions between mutations play an important role in influenza virus evolution. While mutation and epistasis are fundamental to the adaptability of influenza viruses, they also constrain the evolutionary process in important ways. Here, we review recent work on mutational effects and epistasis in influenza viruses.
Keywords:
influenza; mutation; epistasis; evolution; reassortment
Funding
A.S.L. was supported by the NIH R01 AI118886 and by a Burroughs Wellcome Fund Investigator in the Pathogenesis of Infectious Diseases Award. D.M.L. was supported by the University of Michigan Medical Scientist Training Program (NIH T32GM007863) and NIH F31 AI140618.
Acknowledgments
We thank Kayla Peck for a critical reading of the manuscript.
Conflicts of Interest
The authors declare no conflict of interest.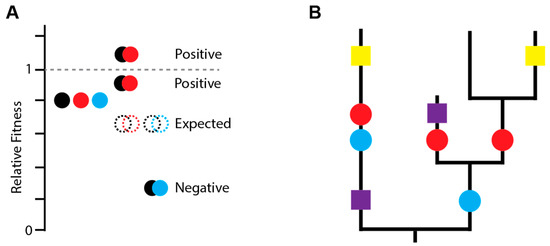 Figure 1. Identifying epistasis. (A) Epistasis is defined based on deviation from the expected fitness assuming independent multiplicative effects. Black, red, and blue mutations are each deleterious (filled individual circles) and the expected fitness of pairwise combinations (empty circles) is shown. Black and red mutations exhibit positive epistasis because combining them is not as deleterious as expected and may even increase fitness. Black and blue mutations exhibit negative epistasis because combining them is more deleterious than expected. (B) Positive epistasis can be inferred phylogenetically. Red and blue mutations interact positively as they are always present together and occur closely in time. In contrast, yellow and purple mutations do not occur closely in time and are not necessarily present together.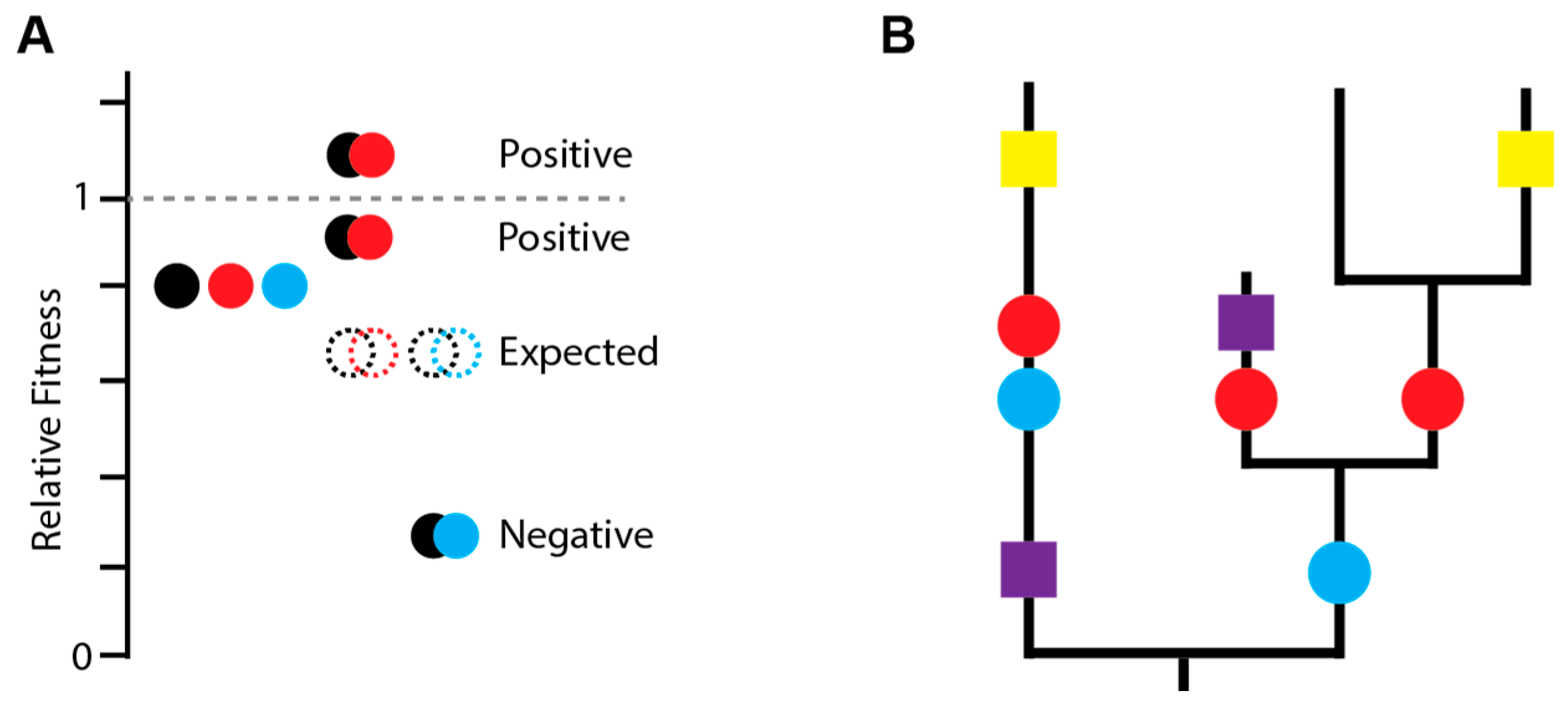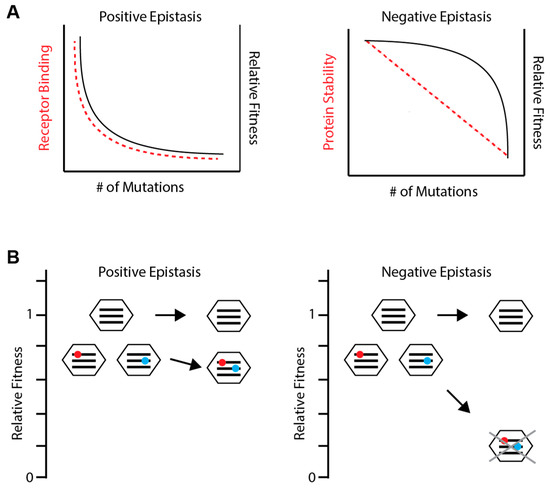 Figure 2. Patterns of epistasis. (A) Distinct epistatic patterns are predicted based on how phenotypic effects (red dashed lines) correspond to fitness effects (black solid lines). Small genomes may encode a single mechanism for a particular function, such as receptor binding in hemagglutinin (HA) (left). Without a backup mechanism, initial mutations have a large impact on receptor binding and fitness. Additional mutations have little further impact, as the function has already been destroyed, resulting in positive epistasis. Other phenotypes, like protein stability, can be reduced without affecting fitness until a threshold is reached (right). Thus, each additional mutation impacts protein stability similarly but increasingly impacts fitness, resulting in negative epistasis. (B) A viral population consisting of an unmutated genotype and two variants each with a slightly deleterious mutation (red and blue circles) on different segments (black lines). Reassortment between the two variants can combine the two deleterious mutations. If epistasis is positive (left), the reassortant will have higher fitness than expected and the deleterious mutations may persist in the population, lowering the average fitness of the population. If epistasis is negative (right), the reassortant will be quickly purged from the population, leaving the unmutated genotype and raising the average fitness of the population.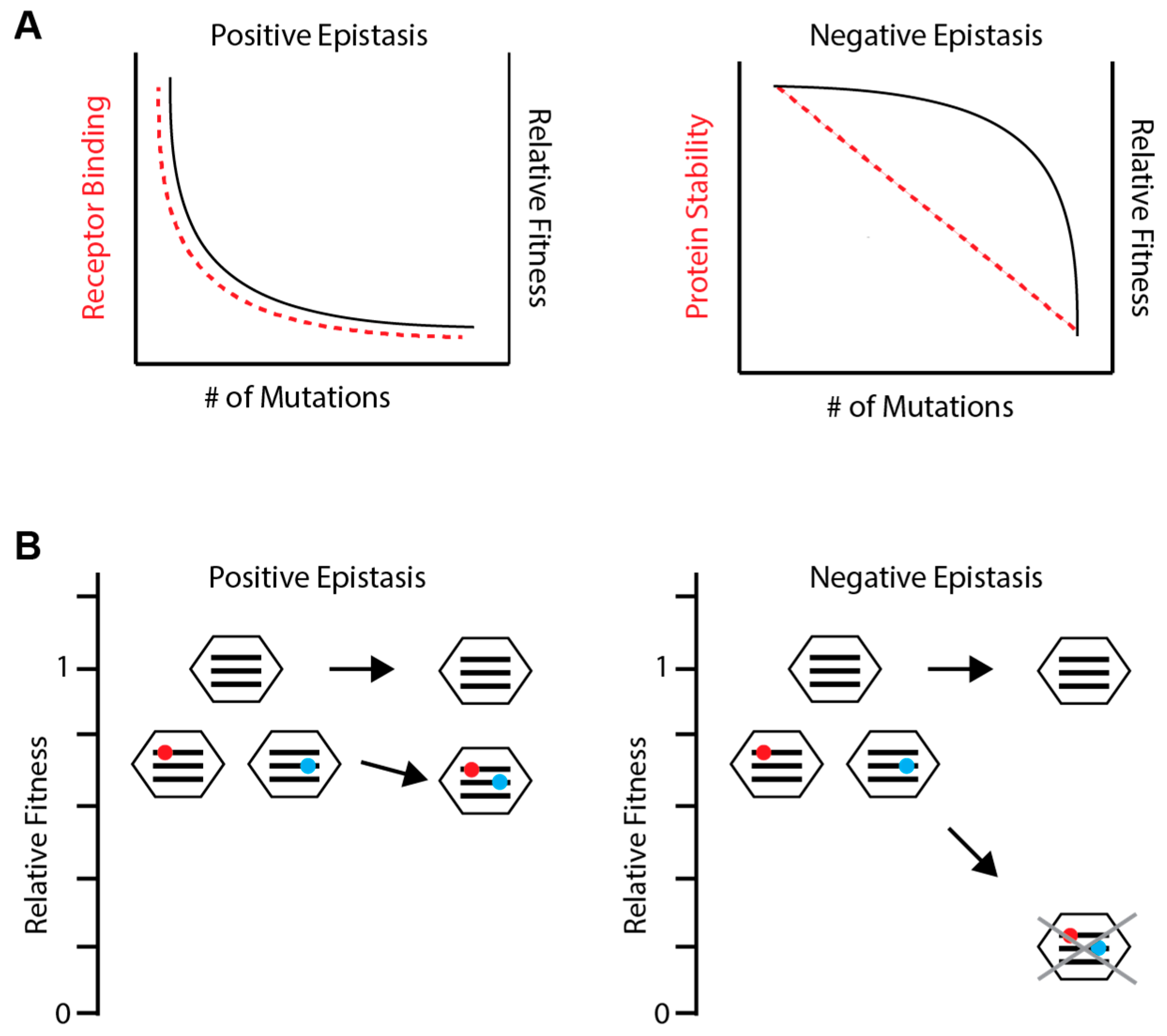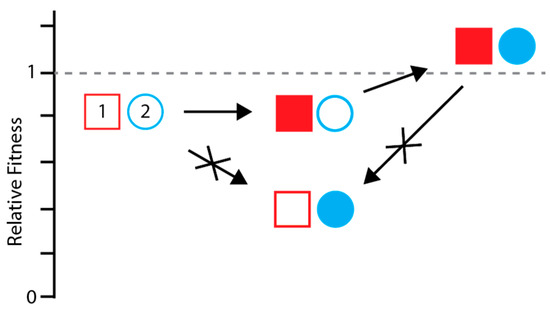 Figure 3. Epistasis can constrain adaptation. The ancestral identity of loci (1) and (2) are shown as unfilled red and blue shapes. A mutation at locus 2 mediates immune escape (filled circle) but is detrimental if it occurs on the ancestral background. Thus, a compensatory mutation at locus 1 (filled square) is required before the escape mutation, limiting the accessibility of the higher fitness genotype (filled square and filled circle). The compensatory mutation also becomes entrenched. Once the antigenic mutation arises, reversion of the compensatory mutation to its ancestral state (unfilled square) would cause a fitness decrease, even though it was initially neutral. Such interactions can occur within or between genes and involve more than two loci.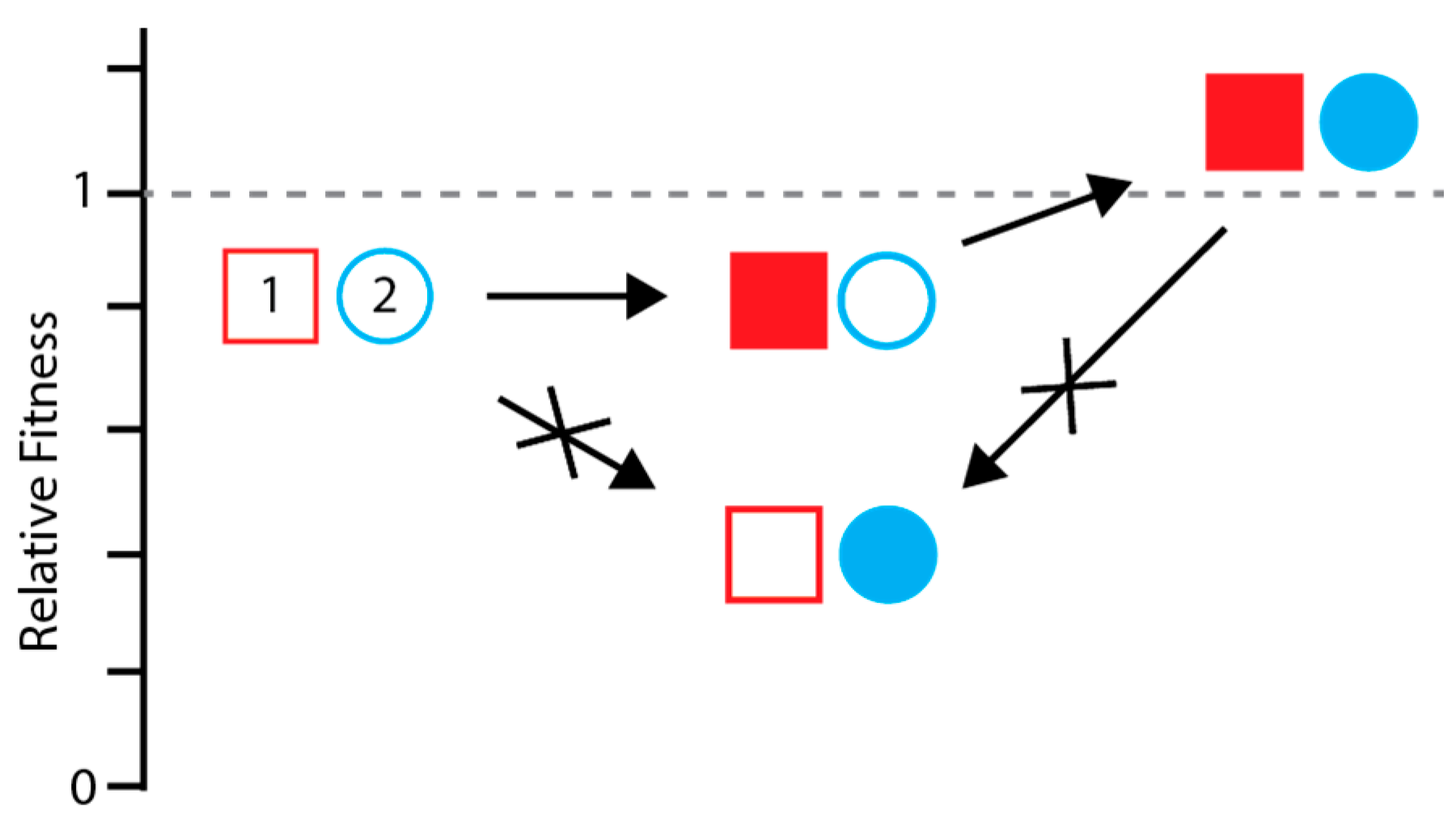 © 2018 by the authors. Licensee MDPI, Basel, Switzerland. This article is an open access article distributed under the terms and conditions of the Creative Commons Attribution (CC BY) license (http://creativecommons.org/licenses/by/4.0/).