Open Access This article is
freely available
re-usable
Communication
A Novel Hepadnavirus Identified in an Immunocompromised Domestic Cat in Australia
1
Sydney School of Veterinary Science, Faculty of Science, University of Sydney, Sydney, NSW 2006, Australia
2
School of Life and Environmental Sciences and Sydney Medical School, Charles Perkins Centre, University of Sydney, Sydney, NSW 2006, Australia
3
Marie Bashir Institute for Infectious Diseases and Biosecurity, The University of Sydney, Sydney, NSW 2006, Australia
4
School of Animal and Veterinary Sciences, Faculty of Science, The University of Adelaide, Adelaide, Roseworthy, SA 5371, Australia
†
The authors contributed equally to this article.

Received: 27 April 2018 / Accepted: 14 May 2018 / Published: 17 May 2018
Abstract
:
High-throughput transcriptome sequencing allows for the unbiased detection of viruses in host tissues. The application of this technique to immunosuppressed animals facilitates the detection of viruses that might otherwise be excluded or contained in immunocompetent individuals. To identify potential viral pathogens infecting domestic cats we performed high-throughput transcriptome sequencing of tissues from cats infected with feline immunodeficiency virus (FIV). A novel member of the
Hepadnaviridae
, tentatively named domestic cat hepadnavirus, was discovered in a lymphoma sample and its complete 3187 bp genome characterized. Phylogenetic analysis placed the domestic cat hepadnavirus as a divergent member of mammalian orthohepadnaviruses that exhibits no close relationship to any other virus. DNA extracted from whole blood from pet cats was positive for the novel hepadnavirus by PCR in 6 of 60 (10%) FIV-infected cats and 2 of 63 (3.2%) FIV-uninfected cats. The higher prevalence of hepadnavirus viraemia detected in FIV-infected cats mirrors that seen in human immunodeficiency virus-infected humans coinfected with hepatitis B virus. In summary, we report the first hepadnavirus infection in a carnivore and the first in a companion animal. The natural history, epidemiology and pathogenic potential of domestic cat hepadnavirus merits additional investigation.
Keywords:
virus; hepadnavirus;
Orthohepadnavirus
; immuosuppression; hepatitis B; domestic cat; feline; carnivore; pathogen discovery
Total RNA extracted from frozen lymphoma was enriched for non-ribosomal RNA and Illumina TruSeq paired-end libraries were prepared. Briefly, 30 mg of lymphoma was homogenised using 1.4 mm ceramic beads (OMNI Homogeniser, Kennesaw, GA, USA), total RNA was extracted using the Qiagen RNeasy mini kit (Qiagen, Hilden, Germany) followed by on-column DNA removal to remove genomic DNA. RNA quality, examined using an Agilent Bioanalyzer 2100 (Agilent Technologies, Mulgrave, VIC, Australia), demonstrated RNA integrity numbers greater than eight. Library preparation was performed using a TruSeq RNA library preparation kit (Illumina, San Diego, CA, USA) and ribosomal RNA was removed using a Ribo-Zero gold epidemiology kit (Illumina, USA). RNA sequencing of 100 bp pair-end libraries on an Illumina HiSeq 2500 platform (San Diego, CA, USA) yielded 321,297,408 total reads. Sequencing reads were uploaded onto the NCBI Sequence Read Archive (SRA) database under the BioProject submission SUB3718346.
In conclusion, we report the first hepadnavirus infection in a member of the mammalian order Carnivora and the first report of a hepadnavirus in a companion species, with hepadnavirus viraemia commonly detected among FIV-infected cats. Future investigation of the natural history and epidemiology of domestic cat hepadnavirus and its impact on feline health is clearly warranted.
Author Contributions
M.A., M.S., V.R.B., E.C.H. and J.A.B. designed and conducted the study, and wrote the manuscript; S.L., B.J. and B.H. contributed essential data and reviewed the manuscript.
Funding
This research was funded by the Morris Animal Foundation (D15FE-001), a private donation to the University of Sydney and the Cat Protection Society of NSW. ECH is funded by an ARC Australian Laureate Fellowship (FL170100022).
Acknowledgments
We thank Sydney Informatics Core Research Facility and the University of Sydney HPC service at The University of Sydney for providing bioinformatics resources that contributed to the results reported in this manuscript.
Conflicts of Interest
The authors declare no conflict of interest.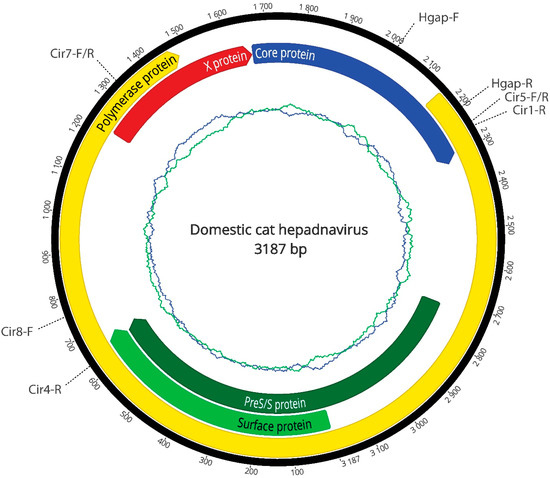 Figure 1.
Genome organization of the domestic cat hepadnavirus. The complete genome consists of 3187 bp. The innermost circles represent the GC (blue) and AT (green) content of the genome. The proteins encoded by the polymerase, surface, core and X ORFs are labelled, as are the positions of primers used in this study (
Table 1
).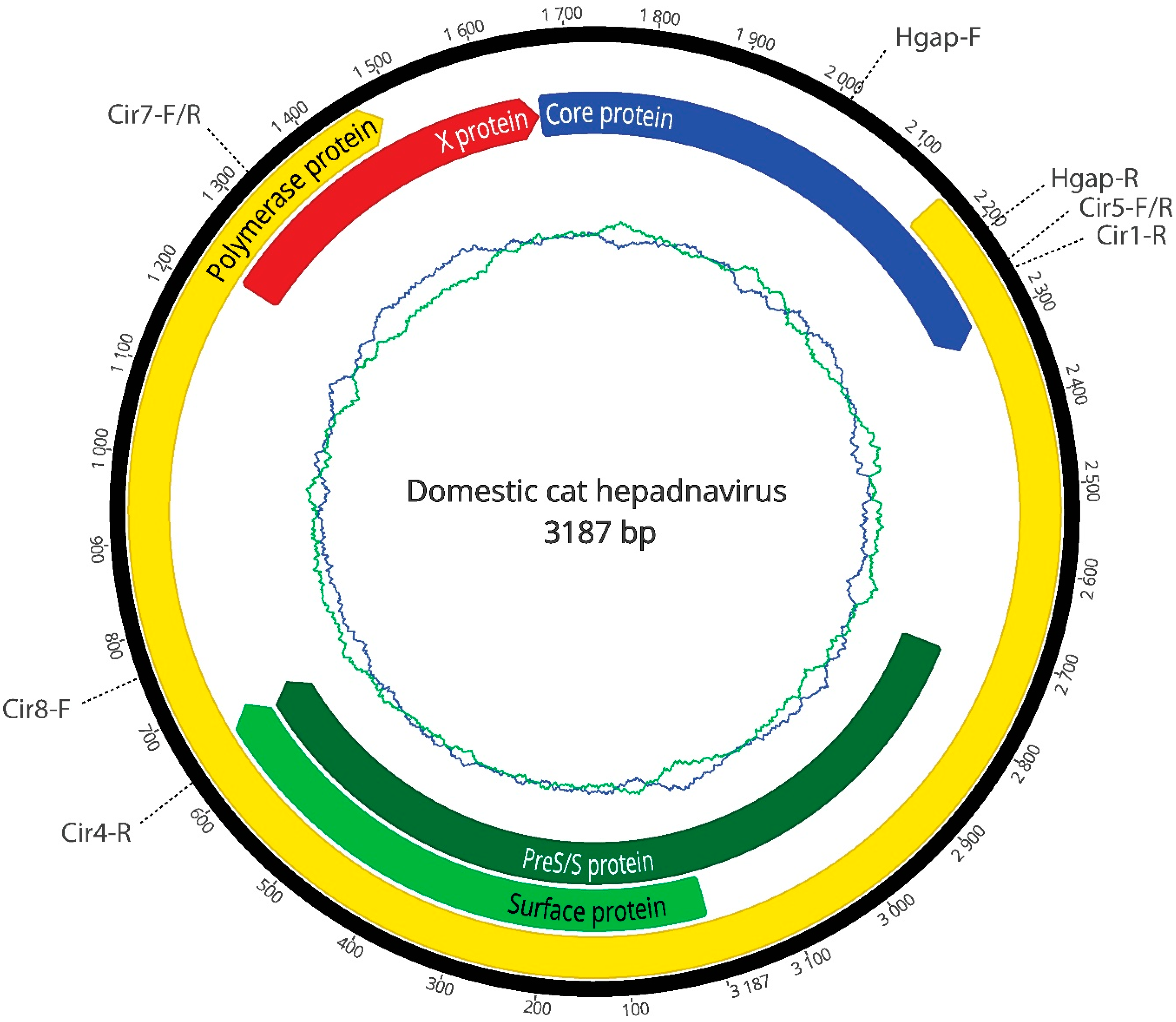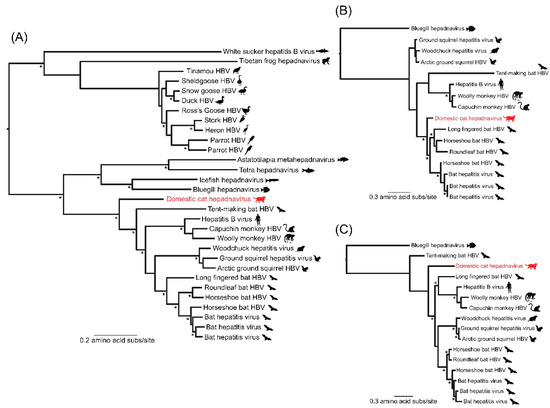 Figure 2.
The Phylogenetic position of domestic cat hepadnavirus within the
Hepadnaviridae
. (
A
) Maximum likelihood phylogeny based on the P (polymerase) ORF and incorporating a wide range of vertebrate hepadnaviruses, including Roundleaf bat HBV (YP_009045991), Horseshoe bat HBV (YP_009045995), Long-fingered bat HBV (YP_007677999), Tent-making bat HBV (YP_009045999), Bat HBVs (AVW79974, ARM20233, ARM20221, and AQT40960), Ground squirrel hepatitis virus (NP_040994), Arctic ground squirrel HBV (AAB08032), Woodchuck hepatitis virus (NP_671813); Hepatitis B virus (YP_009173866), Woolly monkey HBV (YP_009175034), Capuchin monkey HBV (AVV68831), Bluegill hepadnavirus (YP_009259541), Astatotilapia metahepadnavirus (ref7), Tetra hepadnavirus (ref7), Icefish hepadnavirus (ref7), Heron HBV (NP_040998), Parrot HBVs (YP_004956864, AFY97702), Ross's goose HBV (YP_024968), Duck HBV (NP_039821), Snow goose HBV (YP_031695), Stork HBV (CAC80811), Sheldgoose HBV (YP_024974), Tinamou HBV (YP_009389524), Tibetan frog hepadnavirus (YP_009259545), White sucker HBV (YP_009165599). This tree was mid-point rooted for clarity only. Phylogenies based on the (
B
) C ORF (
C
) and S ORF of mammalian orthohepadnaviruses and rooted by the homologous sequences found in the bluegill. In all phylogenies the host groups of each virus species are indicated by symbols to the right of the tree and branch lengths are scaled according to the number of amino acid substitutions per site. SH-like support values >0.80 for nodal support are shown by asterisks in all cases.
Oligonucleotides
Sequence
Size (bp)
Tm (°C)
Cir5-F
5′-TTGGCACCTGGATTCGCA-3′
1400
57
Cir4-R
5′-AGATGTTCCACACTCTTAGCC-3′
Cir8-F
5′-TTGGCACCTGGATTCGCA-3′
900
58
Cir7-R
5′-CGTAGACGAAGGACACGTC-3′
Cir7-F
5′-CCATCGATTTACACACTTCCCA-3′
950
57
Cir5-R
5′-TGCGAATCCAGGTGCCAA-3′
Cir1-R
5′-ATAACCGTATGCTCCGGAAG-3′
1000
55
Hgap-F
5′-GTGCTCTGATAACCGTATGCTC-3′
230
55
Hgap-R
5′-CTAGAATGGCTACATGGGGTTAG-3′

© 2018 by the authors. Licensee MDPI, Basel, Switzerland. This article is an open access article distributed under the terms and conditions of the Creative Commons Attribution (CC BY) license (http://creativecommons.org/licenses/by/4.0/).