Contemporary Zika Virus Isolates Induce More dsRNA and Produce More Negative-Strand Intermediate in Human Astrocytoma Cells
1
Department of Microbiology and Immunology, McGill University, Montreal, QC H3A 2B4, Canada
2
Department of Biochemistry, McGill University, Montreal, QC H3A 2B4, Canada
*
Author to whom correspondence should be addressed.
Received: 22 October 2018 / Revised: 17 December 2018 / Accepted: 18 December 2018 / Published: 19 December 2018
Abstract
The recent emergence and rapid geographic expansion of Zika virus (ZIKV) poses a significant challenge for public health. Although historically causing only mild febrile illness, recent ZIKV outbreaks have been associated with more severe neurological complications, such as Guillain-Barré syndrome and fetal microcephaly. Here we demonstrate that two contemporary (2015) ZIKV isolates from Puerto Rico and Brazil may have increased replicative fitness in human astrocytoma cells. Over a single infectious cycle, the Brazilian isolate replicates to higher titers and induces more severe cytopathic effects in human astrocytoma cells than the historical African reference strain or an early Asian lineage isolate. In addition, both contemporary isolates induce significantly more double-stranded RNA in infected astrocytoma cells, despite similar numbers of infected cells across isolates. Moreover, when we quantified positive- and negative-strand viral RNA, we found that the Asian lineage isolates displayed substantially more negative-strand replicative intermediates than the African lineage isolate in human astrocytoma cells. However, over multiple rounds of infection, the contemporary ZIKV isolates appear to be impaired in cell spread, infecting a lower proportion of cells at a low MOI despite replicating to similar or higher titers. Taken together, our data suggests that contemporary ZIKV isolates may have evolved mechanisms that allow them to replicate with increased efficiency in certain cell types, thereby highlighting the importance of cell-intrinsic factors in studies of viral replicative fitness.
View Full-Text
►

▼

Figures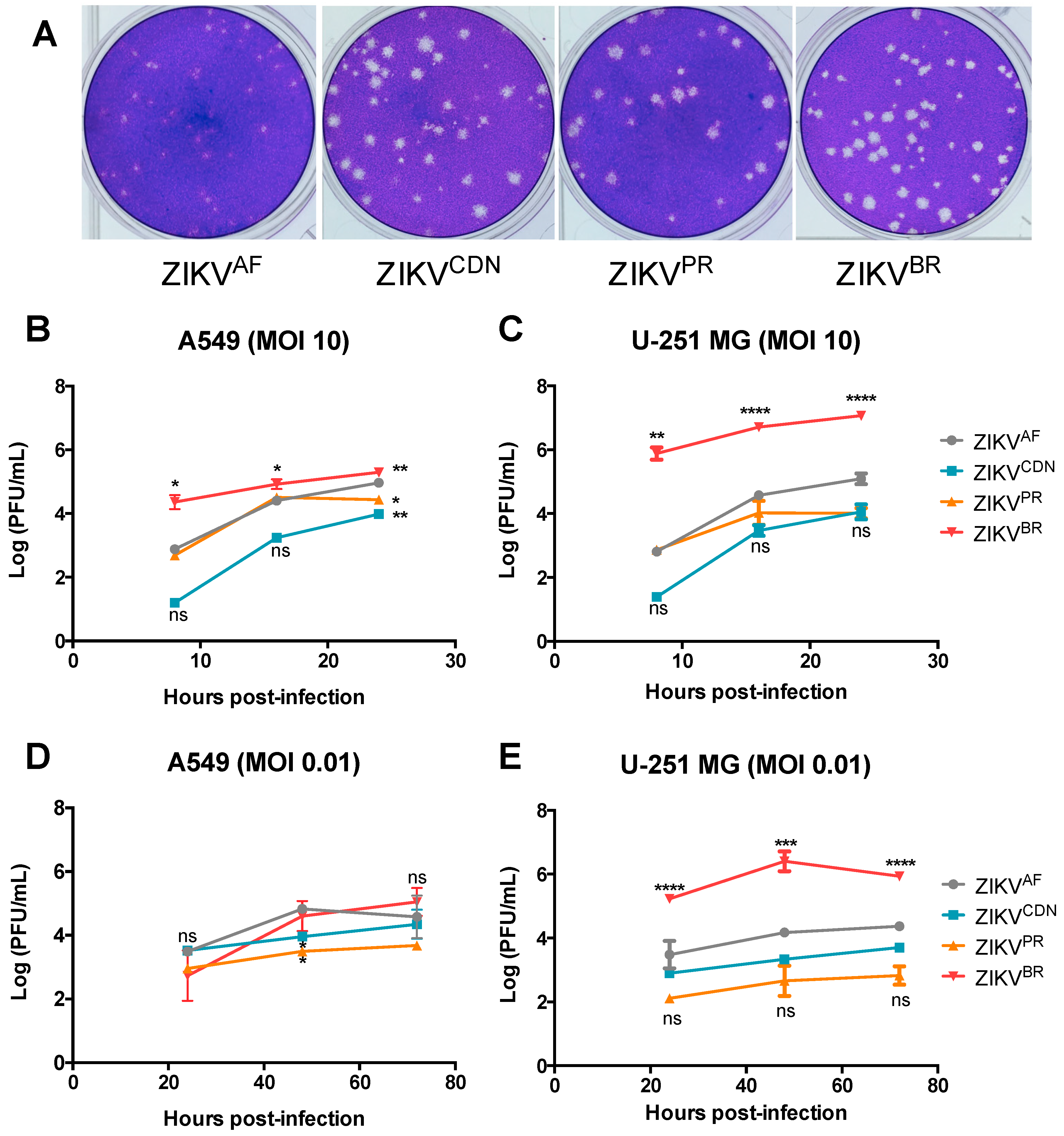 Figure 1
This is an open access article distributed under the
Creative Commons Attribution License
which permits unrestricted use, distribution, and reproduction in any medium, provided the original work is properly cited (CC BY 4.0).

Share & Cite This Article
MDPI and ACS Style
Barnard, T.R.; Rajah, M.M.; Sagan, S.M. Contemporary Zika Virus Isolates Induce More dsRNA and Produce More Negative-Strand Intermediate in Human Astrocytoma Cells. Viruses 2018, 10, 728.
Note that from the first issue of 2016, MDPI journals use article numbers instead of page numbers. See further details here.
Related Articles
Comments
[Return to top]