Antiviral RNA Interference Activity in Cells of the Predatory Mosquito,
Toxorhynchites amboinensis
1
MRC-University of Glasgow Centre for Virus Research, Glasgow, Scotland G61 1QH, UK
2
Departamento de Bioquímica e Imunologia, Instituto de Ciências Biológicas, Universidade Federal de Minas Gerais, 6627-Pampulha-Belo Horizonte-MG, CEP 31270-901, Brazil
*
Authors to whom correspondence should be addressed.
†
Current address: Instituto de Ciências da Saúde, Universidade Federal da Bahia, Salvador, BA 40110-100, Brazil.
‡
Current address: Bernhard-Nocht-Institute for Tropical Medicine, Bernhard-Nocht-Strasse 74, 20359 Hamburg, Germany.
§
Current address: German Centre for Infection Research (DZIF), Partner Site Hamburg-Lübeck-Borstel-Riems, 20359 Hamburg, Germany.
Received: 10 October 2018 / Revised: 19 November 2018 / Accepted: 4 December 2018 / Published: 6 December 2018
Abstract
Arthropod vectors control the replication of arboviruses through their innate antiviral immune responses. In particular, the RNA interference (RNAi) pathways are of notable significance for the control of viral infections. Although much has been done to understand the role of RNAi in vector populations, little is known about its importance in non-vector mosquito species. In this study, we investigated the presence of an RNAi response in
Toxorhynchites amboinensis
, which is a non-blood feeding species proposed as a biological control agent against pest mosquitoes. Using a derived cell line (TRA-171), we demonstrate that these mosquitoes possess a functional RNAi response that is active against a mosquito-borne alphavirus, Semliki Forest virus. As observed in vector mosquito species, small RNAs are produced that target viral sequences. The size and characteristics of these small RNAs indicate that both the siRNA and piRNA pathways are induced in response to infection. Taken together, this data suggests that
Tx. amboinensis
are able to control viral infections in a similar way to natural arbovirus vector mosquito species. Understanding their ability to manage arboviral infections will be advantageous when assessing these and similar species as biological control agents.
View Full-Text
►

▼

Figures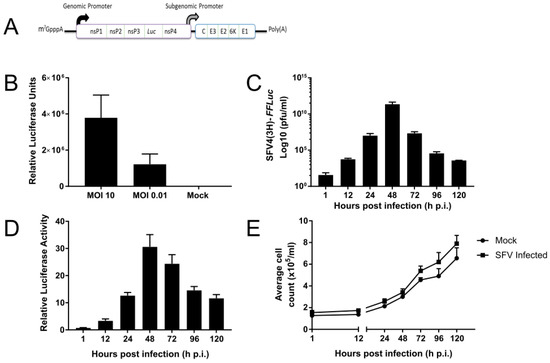 Figure 1
This is an open access article distributed under the
Creative Commons Attribution License
which permits unrestricted use, distribution, and reproduction in any medium, provided the original work is properly cited (CC BY 4.0).

Share & Cite This Article
MDPI and ACS Style
Donald, C.L.; Varjak, M.; Aguiar, E.R.G.R.; Marques, J.T.; Sreenu, V.B.; Schnettler, E.; Kohl, A. Antiviral RNA Interference Activity in Cells of the Predatory Mosquito, Toxorhynchites amboinensis. Viruses 2018, 10, 694.
Note that from the first issue of 2016, MDPI journals use article numbers instead of page numbers. See further details here.
Related Articles
Comments
[Return to top]