Open Access This article is
freely available
re-usable
Article
Pantoea
Bacteriophage vB_PagS_Vid5: A Low-Temperature Siphovirus That Harbors a Cluster of Genes Involved in the Biosynthesis of Archaeosine
1
Department of Molecular Microbiology and Biotechnology, Institute of Biochemistry, Life Sciences Centre, Vilnius University, Saulėtekio av. 7, LT-10257 Vilnius, Lithuania
2
Center for Physical Sciences and Technology, Saulėtekio av. 3, LT-10257 Vilnius, Lithuania
3
Proteomics Centre, Institute of Biochemistry, Life Sciences Centre, Vilnius University, Saulėtekio av. 7, LT-10257 Vilnius, Lithuania
*
Authors to whom correspondence should be addressed.
Received: 4 September 2018 / Accepted: 23 October 2018 / Published: 25 October 2018
Abstract
:
A novel low
-
temperature siphovirus, vB_PagS_Vid5 (Vid5), was isolated in Lithuania using
Pantoea agglomerans
isolate for the phage propagation. The 61,437 bp genome of Vid5 has a G–C content of 48.8% and contains 99 probable protein encoding genes and one gene for tRNA
Ser
. A comparative sequence analysis revealed that 46 out of 99 Vid5 open reading frames (ORFs) code for unique proteins that have no reliable identity to database entries. In total, 33 Vid5 ORFs were given a putative functional annotation, including those coding for the proteins responsible for virion morphogenesis, phage
-
host interactions, and DNA metabolism. In addition, a cluster of genes possibly involved in the biosynthesis of 7-deazaguanine derivatives was identified. Notably, one of these genes encodes a putative preQ
0
/preQ
1
transporter, which has never been detected in bacteriophages to date. A proteomic analysis led to the experimental identification of 11 virion proteins, including nine that were predicted by bioinformatics approaches. Based on the phylogenetic analysis, Vid5 cannot be assigned to any genus currently recognized by ICTV, and may represent a new one within the family of
Siphoviridae
.
Keywords:
Pantoea agglomerans
; vB_PagS_Vid5; LT bacteriophage;
Siphoviridae
; 7-deazaguanine
Supplementary Materials
The following are available online at
https://www.mdpi.com/1999-4915/10/11/583/s1
, Table S1: Bacterial strains used in this study to determine the host range of phage Vid5; Table S2: Vid5 ORFs with homologues in other viruses or cellular organisms; Table S3: Structural Vid5 proteins identified by MS; Figure S1: Effect of temperature on the efficiency of plating of phage Vid5; Figure S2: VIRFAM-generated clustering of Vid5 with the phages sharing the most similar head-neck-tail module, Figure S3: A whole-genome alignment generated using mVISTA, Figure S4: Restriction digestion patterns of phage Vid5 genomic DNA.
Author Contributions
L.T. conceived and designed the experiments; L.T., E.Š., M.Š., A.Z., M.S., and A.K. performed the experiments; L.T., E.Š., and A.K. analyzed the data; L.T., R.M., and M.V. contributed reagents/materials/analysis tools; E.Š. and L.K. wrote the paper; L.T. and R.M. reviewed and edited the paper.
Funding
This research was funded by a grant (no. SIT-7/2015) from the Research Council of Lithuania.
Conflicts of Interest
The authors declare no conflict of interest.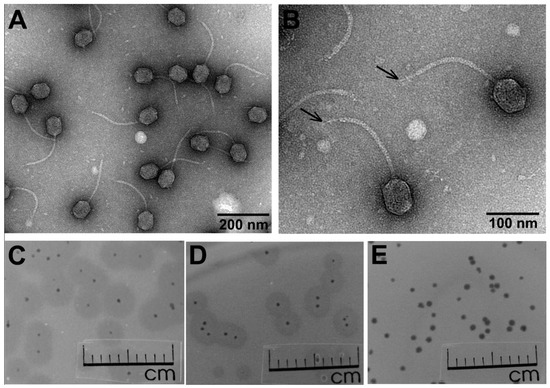 Figure 1.
Electron micrographs of vB_PagS_Vid5 (Vid5) virions, and Vid5 plaque morphology. (
A
,
B
) CsCl-purified Vid5 phage particles. Black arrows indicate central tail fibers; plaques formed by Vid5 on a lawn of
Pantoea agglomerans
strain MMG after 96 h of incubation at 4 °C (
C
), 24 h at 15 °C (
D
), and 24 h at 22 °C (
E
).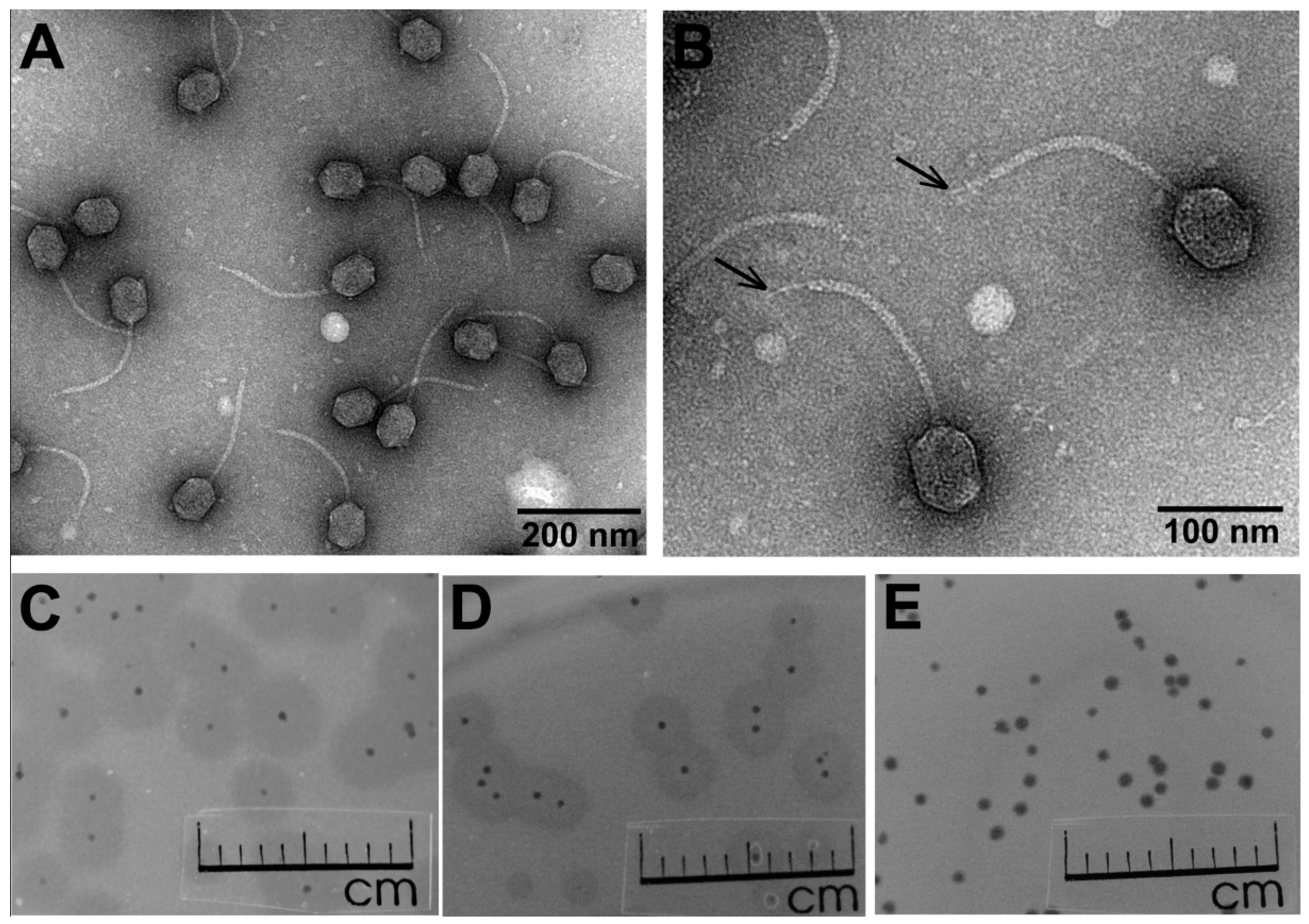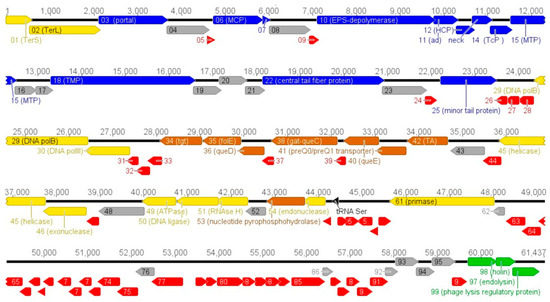 Figure 2. Functional genome map of bacteriophage Vid5. The coding capacity of the Vid5 genome is shown. The numbers indicate gene position in the genome, gene functions are assigned according to the characterized open reading frames (ORFs) in the NCBI database and HHpred analysis. The color code is as follows: yellow—DNA replication, recombination, repair, and packaging; brown—transcription, translation, and nucleotide metabolism; blue—structural proteins; purple—virion morphogenesis-related proteins; green—lysis, phage-host interaction; grey—ORFs of unknown function; red—Vid5 specific ORFs that encode unique proteins with no reliable identity to database entries, black—tRNA.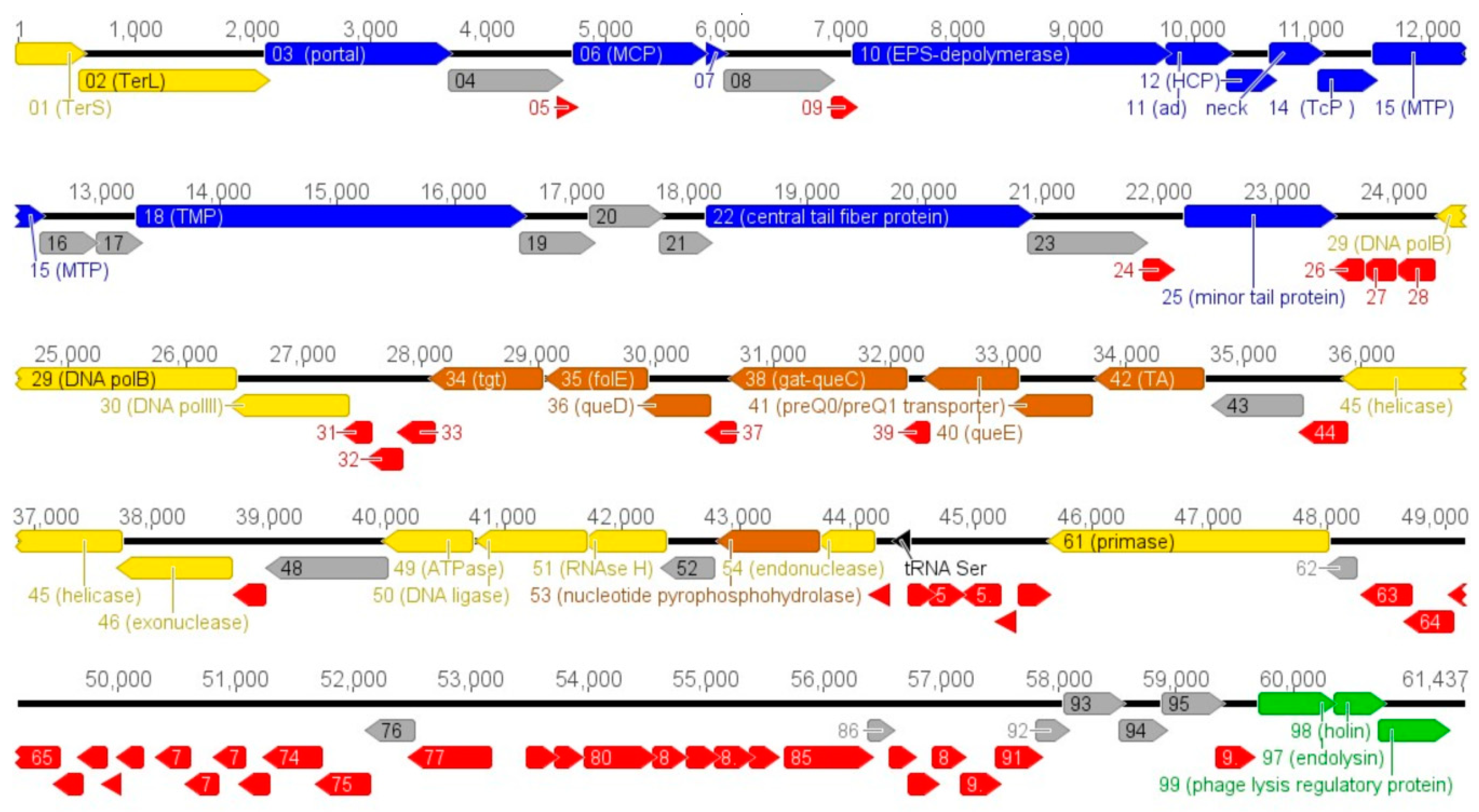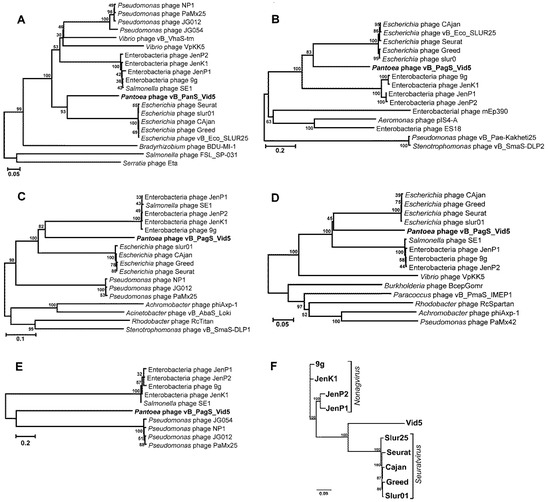 Figure 3.
Neighbor-joining tree analysis based on the alignment of the amino acid sequences of: (
A
) major capsid protein, (
B
) tape measure protein, (
C
) polymerase B, (
D
) terminase large subunit, and (
E
) glutamine amidotransferase/7-cyano-7-deazaguanine synthase (gat-queC). Phylogenetic analysis was conducted using MEGA version 5. The percentage of replicate trees in which the associated taxa clustered together in the bootstrap test is shown next to the branches. (
F
) Neighbor-joining tree based on the alignment of Vid5 as well as
Nonagvirus
and
Seuratvirus
phage genome sequences available in NCBI GenBank. The tree was constructed using Geneious v5.5.6; the numbers at the nodes indicate the bootstrap probabilities.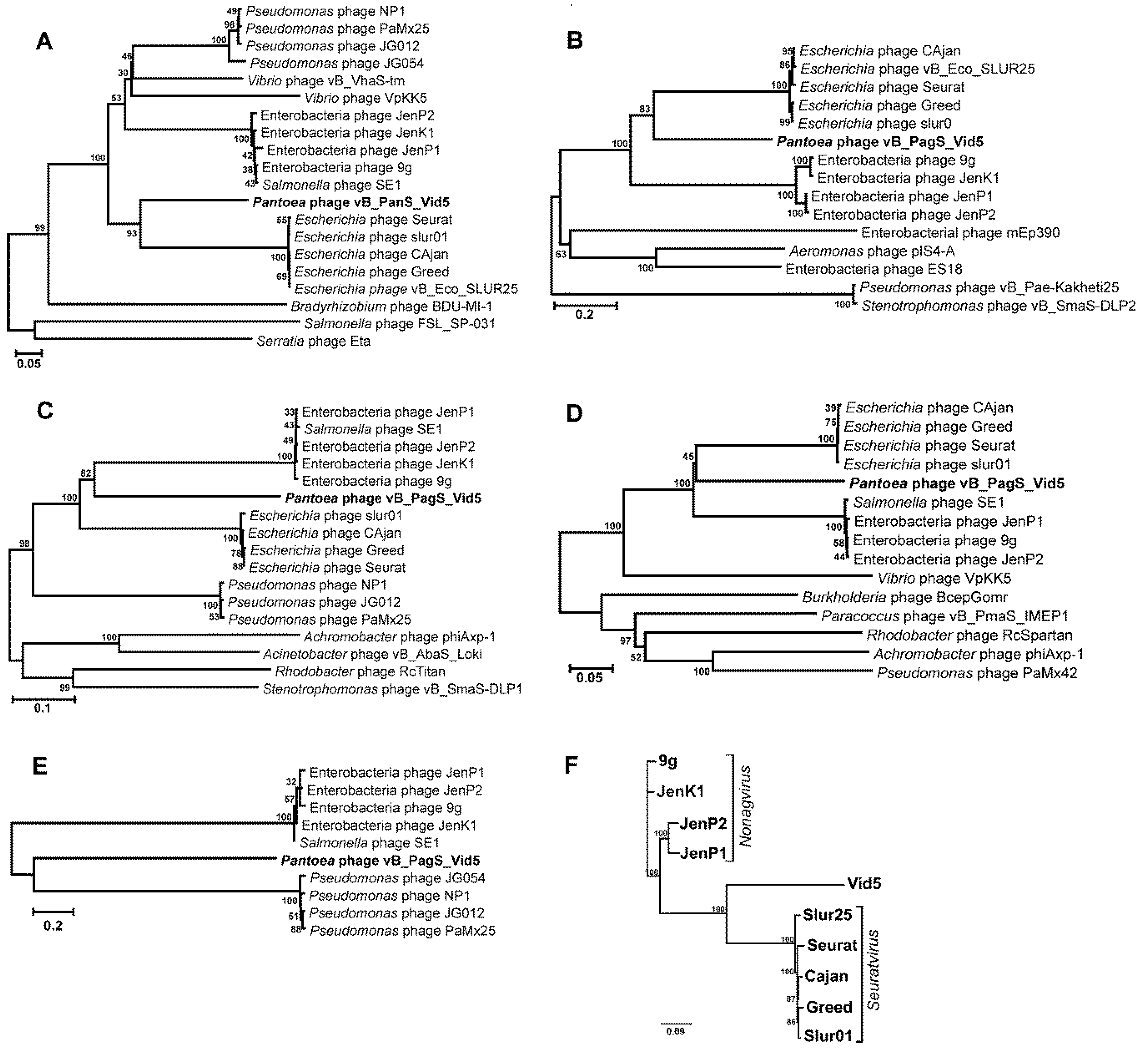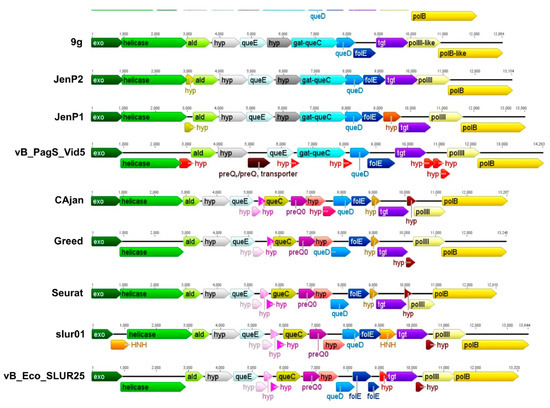 Figure 4.
Comparison of gene clusters involved in the biosynthesis of 7-deazaguanines in Vid5 and related phages.
Exo
—exonuclease;
ald
—aldolase;
hyp
—hypothetical protein;
preQ0/preQ1
—7-cyano-7-deazaguanine/7-aminomethyl-7-deazaguanine transporter;
queE
—7-carboxy-7-deazaguanine synthase;
queC
—7-cyano-7-deazaguanine synthase;
gat-queC
—glutamine amidotransferase/7-cyano-7-deazaguanine synthase;
queD
—6-carboxytetrahydropterin synthase;
folE
—GTP cyclohydrolase I;
tgt
—tRNA-guanine transglycosylase;
HNH
—homing endonuclease H;
polIII
—DNA polymerase β-subunit;
polB
—DNA polymerase B. Same color indicates ORFs that encode homologous proteins, with the exception of the color red, which indicates ORFs that encode unique proteins with no reliable identity to database entries.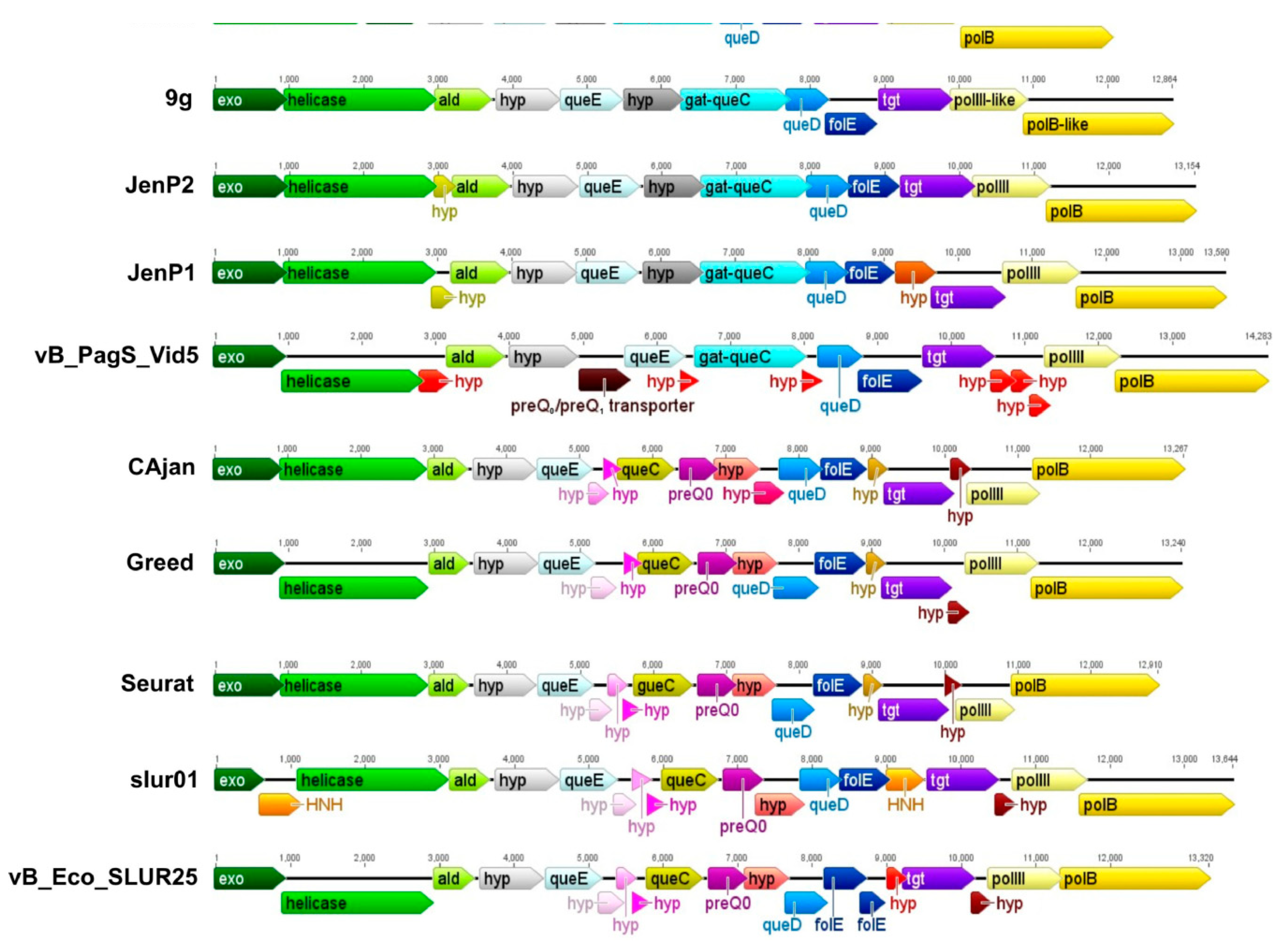 © 2018 by the authors. Licensee MDPI, Basel, Switzerland. This article is an open access article distributed under the terms and conditions of the Creative Commons Attribution (CC BY) license (http://creativecommons.org/licenses/by/4.0/).