Whole Genome Characterization of
Orthopoxvirus

(OPV) Abatino, a Zoonotic Virus Representing a Putative Novel Clade of Old World Orthopoxviruses

1

National Institute for Infectious Diseases Lazzaro Spallanzani IRCCS, via Portuense 292, 00149 Rome, Italy

2

Robert Koch Institute, Centre for Biological Threats and Special Pathogens 1, Seestraße 10, 13353 Berlin, Germany

3

Istituto Zooprofilattico Sperimentale del Lazio e della Toscana M. Aleandri, via Appia Nuova 1411, 00178 Rome, Italy

4

Parco Faunistico Piano dell'Abatino, via Capo Farfa 50, 02030 Poggio San Lorenzo, Italy

*

Author to whom correspondence should be addressed.

†

Present address: Federal Institute for Risk Assessment, Unit 46, Molecular Microbiology and Genome Analysis, 12277 Berlin, Germany.

Received: 20 September 2018 / Revised: 2 October 2018 / Accepted: 3 October 2018 / Published: 6 October 2018
Abstract
Orthopoxviruses
(OPVs) are diffused over the complete Eurasian continent, but previously described strains are mostly from northern Europe, and few infections have been reported from Italy. Here we present the extended genomic characterization of OPV Abatino, a novel OPV isolated in Italy from an infected Tonkean macaque, with zoonotic potential. Phylogenetic analysis based on 102 conserved
OPV
genes (core gene set) showed that OPV Abatino is most closely related to the Ectromelia virus species (ECTV), although placed on a separate branch of the phylogenetic tree, bringing substantial support to the hypothesis that this strain may be part of a novel OPV clade. Extending the analysis to the entire set of genes (coding sequences, CDS) further substantiated this hypothesis. In fact the genome of OPV Abatino included more CDS than ECTV; most of the extra genes (mainly located in the terminal genome regions), showed the highest similarity with cowpox virus (CPXV); however vaccinia virus (VACV) and monkeypox virus (MPXV) were the closest OPV for certain CDS. These findings suggest that OPV Abatino could be the result of complex evolutionary events, diverging from any other previously described OPV, and may indicate that previously reported cases in Italy could represent the tip of the iceberg yet to be explored.
View Full-Text
►

▼

Figures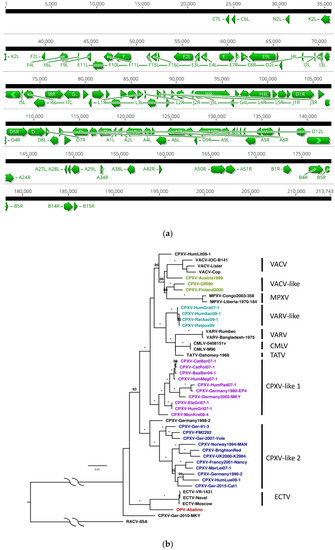 Figure 1
This is an open access article distributed under the
Creative Commons Attribution License
which permits unrestricted use, distribution, and reproduction in any medium, provided the original work is properly cited (CC BY 4.0).

Share & Cite This Article
MDPI and ACS Style
Gruber, C.E.M.; Giombini, E.; Selleri, M.; Tausch, S.H.; Andrusch, A.; Tyshaieva, A.; Cardeti, G.; Lorenzetti, R.; De Marco, L.; Carletti, F.; Nitsche, A.; Capobianchi, M.R.; Ippolito, G.; Autorino, G.L.; Castilletti, C. Whole Genome Characterization of Orthopoxvirus (OPV) Abatino, a Zoonotic Virus Representing a Putative Novel Clade of Old World Orthopoxviruses. Viruses 2018, 10, 546.
Note that from the first issue of 2016, MDPI journals use article numbers instead of page numbers. See further details here.
Related Articles
Comments
[Return to top]