Open Access This article is
freely available
re-usable
Article
Identification of Secreted Proteins Involved in Nonspecific dsRNA-Mediated
Lutzomyia longipalpis
LL5 Cell Antiviral Response
1
Laboratório de Biologia Molecular de Parasitas e Vetores, Instituto Oswaldo Cruz-Fiocruz, Av. Brasil 4365, Rio de Janeiro 21040-360, RJ, Brazil
2
Laboratório de Genômica Funcional, Instituto Carlos Chagas—Fiocruz, Rua Prof. Algacyr Munhoz Mader 3775, Curitiba 81350-010, PR, Brazil
3
Plataforma Espectrometria de Massas—RPT02H, Instituto Carlos Chagas—Fiocruz, Rua Prof. Algacyr Munhoz Mader 3775, Curitiba 81350-010, PR, Brazil
*
Authors to whom correspondence should be addressed.
Received: 11 October 2017 / Accepted: 5 December 2017 / Published: 18 January 2018
Abstract
:
Hematophagous insects transmit infectious diseases. Sand flies are vectors of leishmaniasis, but can also transmit viruses. We have been studying immune responses of
Lutzomyia longipalpis
, the main vector of visceral leishmaniasis in the Americas. We identified a non-specific antiviral response in
L. longipalpis
LL5 embryonic cells when treated with non-specific double-stranded RNAs (dsRNAs). This response is reminiscent of interferon response in mammals. We are investigating putative effectors for this antiviral response. Secreted molecules have been implicated in immune responses, including interferon-related responses. We conducted a mass spectrometry analysis of conditioned medium from LL5 cells 24 and 48 h after dsRNA or mock treatment. We identified 304 proteins. At 24 h, 19 proteins had an abundance equal or greater than 2-fold change, while the levels of 17 proteins were reduced when compared to control cells. At the 48 h time point, these numbers were 33 and 71, respectively. The two most abundant secreted peptides at 24 h in the dsRNA-transfected group were phospholipid scramblase, an interferon-inducible protein that mediates antiviral activity, and forskolin-binding protein (FKBP), a member of the immunophilin family, which mediates the effect of immunosuppressive drugs. The transcription profile of most candidates did not follow the pattern of secreted protein abundance.
Keywords:
Lutzomyia longipalpis
; embryonic LL5 cells; antiviral response; interferon-like response; poly (I:C); exoproteome
2. Material and Methods
2.1. Cell Growth
L. longipalpis
embryonic LL5 cells obtained from Dr. Robert B. Tesh (University of Texas Medical Branch, Galveston, TX, USA) were grown at 30 °C in L15 medium (Sigma, Mendota Heights, MI, USA) supplemented with 10% fetal bovine serum (FBS; Hyclone, Logan, UT, USA), 10% Tryptose Phosphate Broth, and 1% antibiotics (penicillin 100 U/mL and streptomycin 100 mg/mL, Sigma).
2.2. Transfection and Conditioned Medium Collection
For mock transfection, 4 ng/mL Lipofectin Transfection Reagent (Invitrogen, Carlsbad, CA, USA) were added to L15 medium (Leibovitz) containing 20% Tryptose Phosphate Broth (TPB). The transfection mix contained the mock transfection mix added with 2 ng/mL of polyinosinic:polycytidilic acid (poly I:C), a synthetic analog of double-stranded RNA (Invitrogen). These mixtures were added to 8 × 107 LL5 cells for 24 h and supernatant was aspirated and stored. New medium was added and supernatant was aspirated and stored after 24 h. For RNA preparation, transfected and mock-transfected cells were collected after 6, 12, 24, and 48 h incubations, as described above. Cell viability was verified by trypan blue staining. More than 98% of cells were viable in all experiments.
Protease Inhibitor Cocktail 1× (Sigma) was added to the media. Dead cells and large debris were pelleted by centrifugation at 2000×
g
for 10 min. Supernatants were centrifuged again at 10,000×
g
for 30 min to exclude remaining cell debris and microvesicles. The proteins in the supernatant were then precipitated using trichloroacetic acid (TCA).
2.3. Trichloroacetic Acid Precipitation
One volume of TCA 100% (Sigma) was added to four volumes of conditioned medium and incubated for 20 min at −20 °C. The samples were centrifuged at 10,000×
g
for 10 min. The supernatant was removed and the protein pellet was washed with cold acetone, vortexed and centrifuged at 10,000 ×
g
for 5 min. The material was submitted to mass spectrometry.
2.4. Mass Spectrometry Analysis
The pellets were suspended in 6 M urea, 2 M thiourea, and 10 mM 4-(2-hydroxyethyl)-1-piperazineethanesulfonic acid (HEPES). The proteins were reduced with 1 mM Dithiothreitol (DTT) and 50 mM ammonium bicarbonate (ABC), and alkylated with 5.5 mM iodacetamide and 50 mM ABC. Before trypsinization, the samples were purified with detergent removal spin columns (Thermo Scientific). Then, the samples were digested in 50 mM ABC with trypsin (Promega, cat. V5113, Madison, WI, USA) in a 1:50 trypsin to protein mass ratio by incubation at 24 °C for 18 h. After trypsinization, trifluoroacetic acid (TFA) was added to a final concentration of 0.5%. Peptides were desalted with homemade C18 spin columns. The peptides were analyzed in triplicate by liquid chromatography tandem-mass spectrometry (LC-MS/MS) in a Thermo Scientific Easy-nLC 1000 system coupled to a LTQ Orbitrap XL ETD (mass spectrometry facility RPT02H/Carlos Chagas Institute–Fiocruz, Curitiba, PR, Brazil). Peptide separation was carried out in 15-cm (75-µm inner diameter) fused silica, in-house packed with reversed-phase ReproSil-Pur C18-AQ 3-µm resin (Dr. Maisch GmbH, Ammerbuch-Entringen). Chromatography runs were performed in a flow rate of 250 nL/min from 5 to 40% MeCN in 0.1% formic acid in a 120-min gradient, and a voltage of 2.3 kV was applied for peptide ionization. The mass spectrometer operated in a data-dependent acquisition mode. Survey full-scan MS spectra (at a 300–1650
m
/
z
range) were acquired in the Orbitrap analyzer with resolution of 60,000 at
m
/
z
400 (after accumulation to a target value of 500,000 in the C-trap). The ten most intense ions were sequentially isolated and fragmented in the linear ion trap using collision-induced dissociation at a target value of 30,000. The "lock mass" option was enabled at 445.120025
m
/
z
in all full scans to improve mass accuracy of precursor ions [
28
]. Protein identification was performed with MaxQuant algorithm [
29
,
30
] version 1.4.1.2. Default parameters of the software were used for all analysis steps, unless stated otherwise. Proteins were searched against an
L. longipalpis
protein sequence database (containing 10,110 protein sequences from the VectorBase protein database, downloaded on 9 December 2013) and common contaminants, besides their respective reverse sequences to estimate the false discovery rate (FDR). Carbamidomethylation of cysteine was set as a fixed modification, while methionine oxidation and N-terminal acetylation (protein) were allowed as variable modifications. In addition, an FDR threshold of 0.01 was applied at both peptide and protein levels. Protein quantification was performed using a label-free approach, where the peptide peaks were detected as three-dimensional features—retention time versus signal intensity (extracted ion chromatogram, XIC) versus mass/charge—and were aligned and compared across the runs, as previously described [
31
].
2.5. In Silico Analyses
The amino acid sequences of identified secreted proteins were subjected to bioinformatic analyses. The protein signal peptide (SP) from 304 proteins was estimated using the software tool Prediction of Signal peptide "PredSi" at
http://www.predisi.de./home.html
[
32
], under standard configuration.
Protein–protein interactions were performed using the Search Tool for the Retrieval of Interacting Genes/Proteins (STRING) database V 10.0 at
http://string.embl.de/
[
33
].
2.6. RNA Extraction and cDNA Synthesis
Three biological replicates of 8 × 107 cells were transfected. The supernatant was removed 6, 12, 24, and 48 h post-transfection and the cells, after being washed three times with PBS, were resuspended in 1 mL of TRizol (Ambion, Waltham, MA, USA). The RNA was extracted following the TRizol manufacturer's instructions. Total RNA was precipitated with isopropanol, resuspended in water and stored at −70 °C. RNA was treated with DNase I (Promega) and cDNA was synthesized from 5 μg of total RNA using SuperScript III First-Strand Synthesis (Invitrogen).
2.7. qPCR
Real-time polymerase chain reaction (qPCR) was performed using SYBR Green PCR Master Mix (Applied Biosystems, Foster City, CA, USA) and the primers listed in
Table 1
. Expression levels were determined through 2(-Delta Delta C(T)) method (DDCt) [
34
], normalized using
rp49
gene expression [
35
], yielding the relative expression value. Statistical analyses were done using GraphPad Prism software, version 5.04 (GraphPad Software, Inc., San Diego, CA, USA). For comparison of the transfected and mock samples at different times after transfection, an unpaired two-tailed Student's
t
test was performed. *
p
≤ 0.05, **
p
≤ 0.01, ***
p
≤ 0.001.
2.8. Comparative Analysis of Transcript and Protein Levels
Comparative analysis of expression values was performed to verify the correlation between mRNA levels of LL5 cells (samples collected 6, 12, 24 and 48 h post transfection) evaluated by qPCR, and secreted protein levels (samples collected 24 or 48 h post transfection) evaluated by mass spectrometry. Linear regression, Pearson's correlation coefficient (r), and goodness of fit (r2) were calculated using GraphPad Prism software (version 6.05).
3. Results and Discussion
We are presently in the process of validating these findings by silencing specific genes with subsequent analysis of nonspecific antiviral response.
Acknowledgments
This work was supported by Capes, Faperj, and Fiocruz. The authors thank Daniel Borely Ferreira Torres for technical assistance as well as the Mass Spectometry Facility—RPT02H, Instituto Carlos Chagas—Fiocruz.
Author Contributions
Andrea Martins-da-Silva, Erich Loza Telleria, Yara Maria Traub-Csekö and Antonio Jorge Tempone conceived and designed the experiments; Andrea Martins-da-Silva, Erich Loza Telleria, Michel Batista and Fabricio Klerynton Marchini performed the experiments; Andrea Martins-da-Silva, Erich Loza Telleria, Michel Batista, Fabricio Klerynton Marchini, Yara Maria Traub-Csekö and Antonio Jorge Tempone analyzed the data; Fabricio Klerynton Marchini contributed analysis tools; Andrea Martins-da-Silva, Erich Loza Telleria, Fabricio Klerynton Marchini, Yara Maria Traub-Csekö and Antonio Jorge Tempone wrote the paper.
Conflicts of Interest
The authors declare no conflict of interest.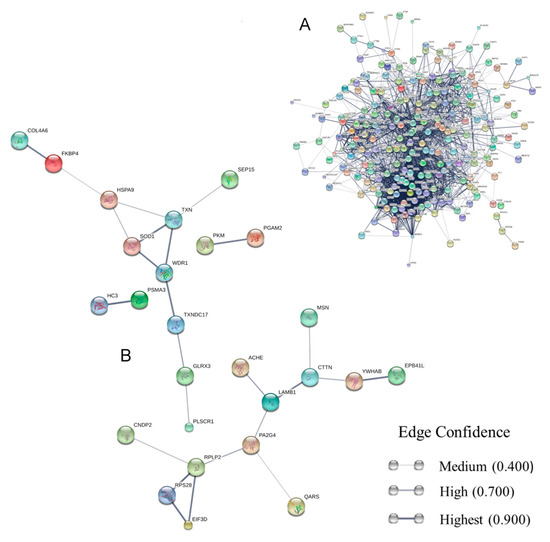 Figure 1.
Secretome networks showing predicted functional linkages between identified proteins. (
A
) Interaction map of the whole LL5 double-stranded RNA (dsRNA)-transfected cell exoproteome; (
B
) interactome map of the secreted proteins with positive variation of ≥2-fold change. The STRING interactome maps were generated using default settings (medium confidence of 0.4, with 7 criteria for linkage: neighborhood, genefusion, co-occurrence, co-expression, experimental evidence, existing databases, and textmining). Proteins were represented as nodes and their functional links were defined by solid lines. The thickness of the lines signifies the level of confidence of the reported association. The non-connected nodes were suppressed. No additional interplay proteins were added to the networks. The protein symbols and node colors are listed in
Table S2
.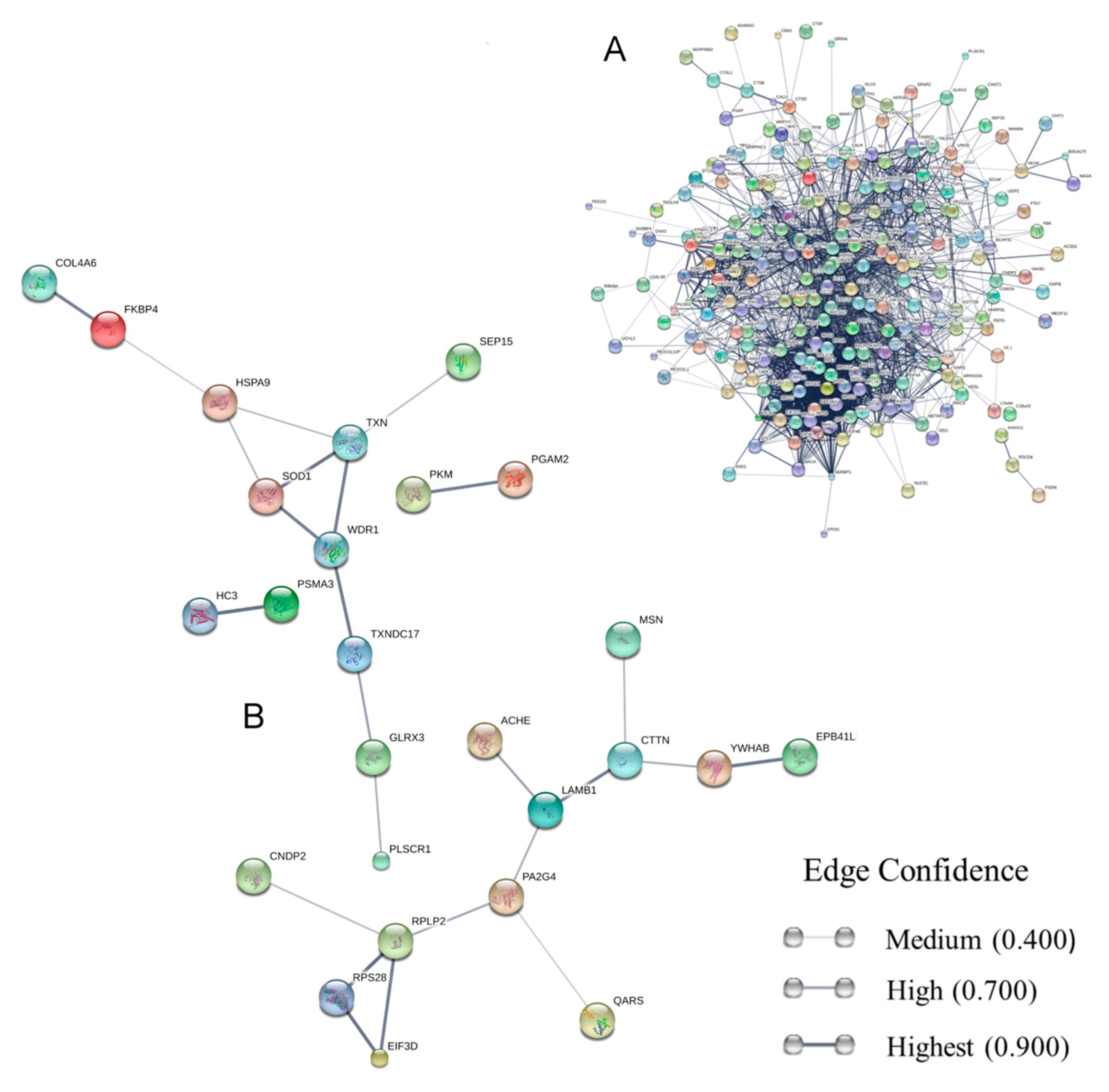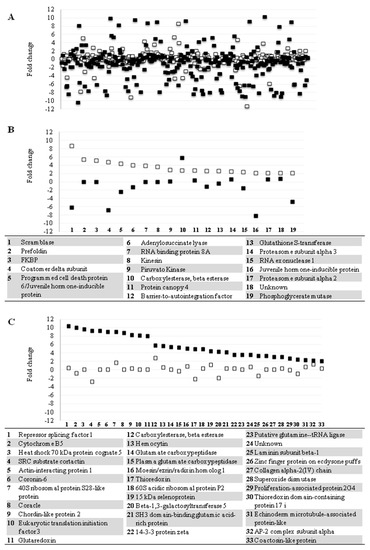 Figure 2. LL5 cells protein secretion behavior in response to dsRNA treatment. (A) Variation of relative protein abundance in the whole exoproteome of LL5-transfected cells at 24 and 48 h post-transfection; (B) secretion profile behavior of proteins with amount variation of ≥2-fold change at 24-h; (C) secretion profile behavior of proteins with amount variation of ≥2-fold change at 48-h. White squares represent the proteins' relative amount variation at 24-h after transfection. Black squares represent the proteins' relative amount variation at 48-h after transfection. Squares in the same point of the X-axis represent the same protein. Numbers below graphs (B,C) represent proteins listed in corresponding inset.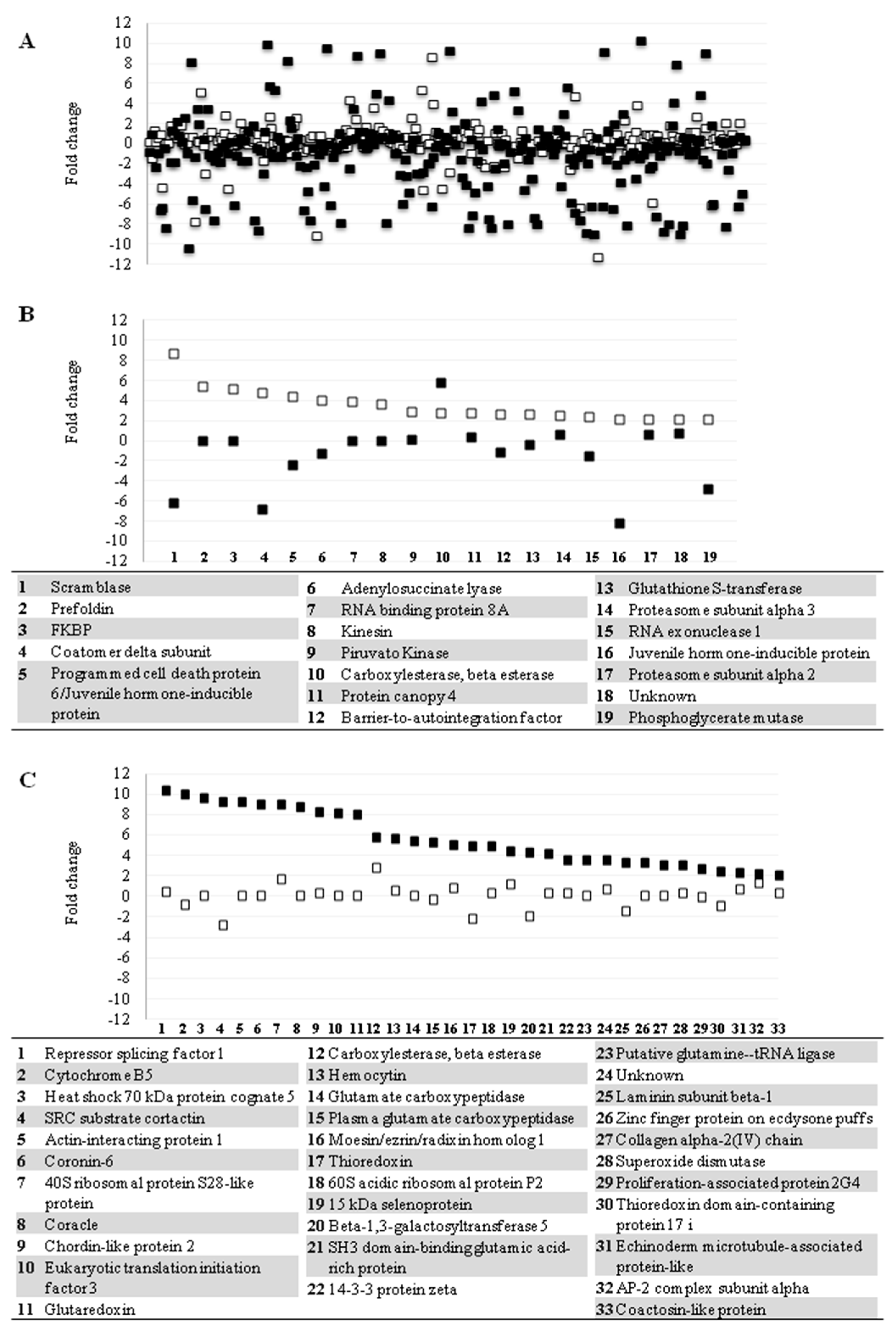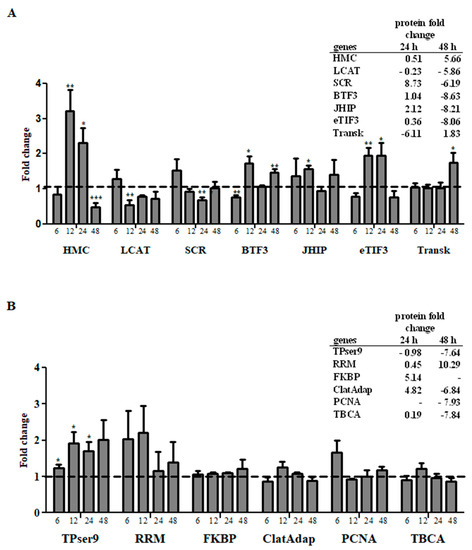 Figure 3.
Transcriptional profile of genes involved in antiviral response. (
A
) Genes with correlated transcriptional and protein secretion profiles on mass spectrometry at 24 h or 48 h post-transfection; (
B
) genes with non-correlated transcriptional and protein secretion profiles on mass spectrometry on mass spectrometry at 24 h or 48 h post-transfection. Y-axis represents fold change in gene expression relative to the mock-transfected group (horizontal traced line) normalized to the
rp49
reference gene. The X-axis represents gene name (
Table 1
) and samples collected at different time points post-transfection. Quantification was normalized relative to the house keeping gene
rp49
, and relative gene expression expressed as fold change was calculated relative to the mock group. Bars represent mean with standard error (SEM) of two biological replicates. Tables represent protein fold change corresponding to each gene name. *
p
≤ 0.05, **
p
≤ 0.01, ***
p
≤ 0.001.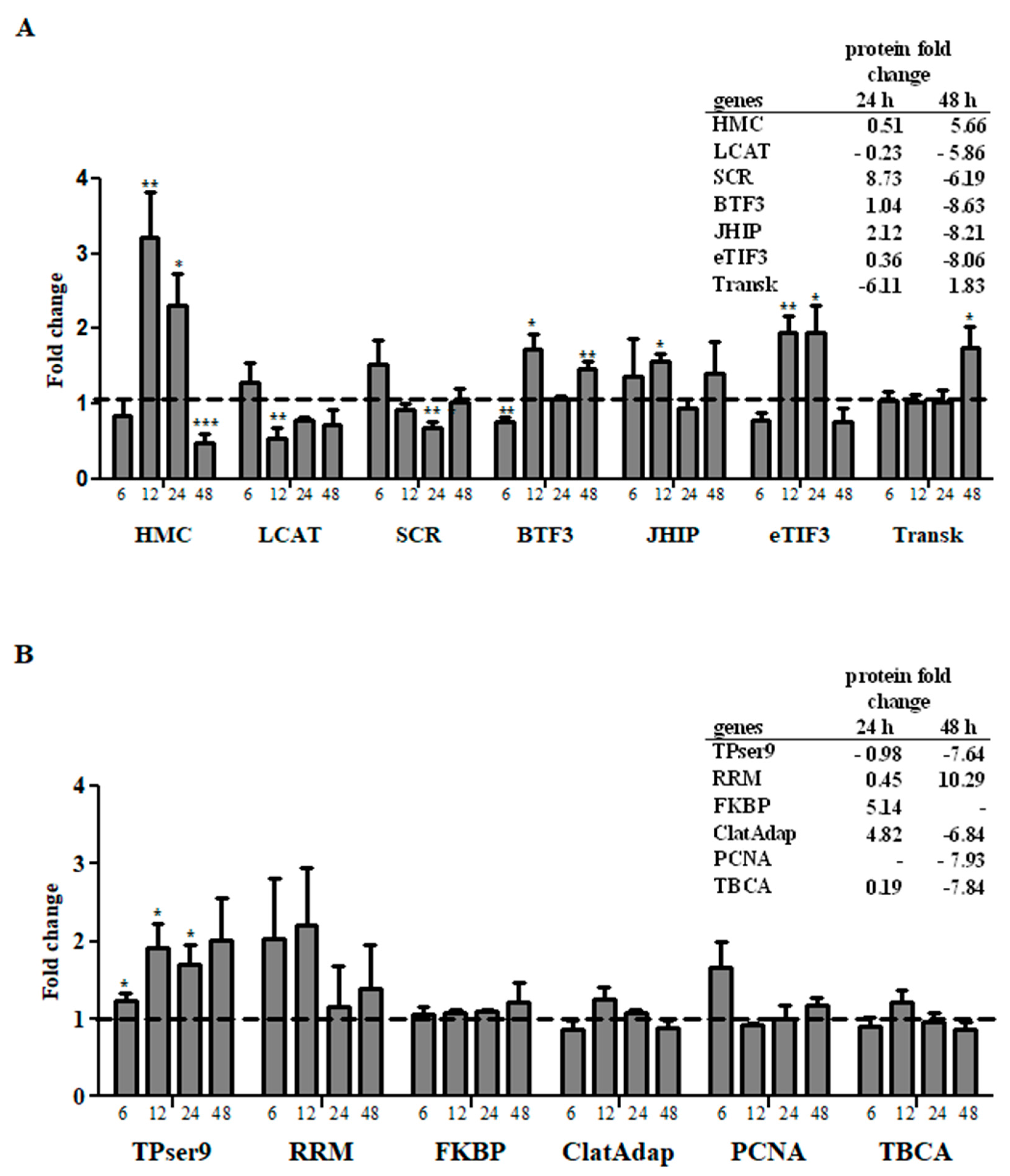 Figure 4. Comparison of transcript and secreted protein abundance. Mass spectrometry expression values (log2 ratio) of LL5 cell-secreted proteins collected at 24 h (A) or 48 h (B) post transfection were plotted on X-axis; mRNA levels obtained from qPCR (log2 ratio) of LL5 cells collected at 6 h (black circles), 12 h (red squares), 24 h (green triangles), and 48 h (blue diamonds) post-transfection were plotted on the Y-axis. Lines represent linear regression.

Gene
Primer Name
Sequences
Hemocytin
HMC-F
5′AAGGATGCCTGCAATAGGTG3′
HMC-R
5′CCTCCGGAACACAGACAAAT3′
Lecithin-cholesterol acyltransferase
LCAT-F
5′AGCCGTGAAGGTCTTTGCCATT3′
LCAT-R
5′TGCCAGGGATGGGGATGTAATTTG3′
Scramblase
SCR-F
5′CCATGCGCCCATTTGACATGAA3′
SCR-R
5′GATTGACAGCGCAATGGACGATAG3′
Basic transcription factor 3
BTF3-F
5′AGTGCATAAGCAGGCAACACCA3′
BTF3-R
5′TACGTCGCCACCGAAATGAGTT3′
Juvenile hormone-inducible protein
JHIP-F
5′CCTTGCTGAGCTCCTTGAGAAACT3′
JHIP-R
5′TACACATGGCCATTCCCATCTTCC3′
Eukaryotic translation initiation factor 3
eTIF3-F
5′TCGATAGGCATCTCACGTTTCCAC3′
eTIF3-R
5′TCTTCCCCACTGTATCCAGGATGT3′
Transmembrane protease serine 9-like
TPser9-F
5′TCCACAATCCGGATGCAGACATAG3′
TPser9-R
5′CCAACCCGATTGACGATCTCAGAA3′
Transketolase
Transk-F
5′TGTTAGCTGCGAACGTGCTGTA3′
Transk-R
5′GTATTTGGTCGGGATGTGCGAATG3′
Repressor splicing factor
RRM-F
5′AATTTGGGAAGCTCAATA3′
RRM-R
5′GAGGATGTCGCAAGCCTTCT3′
forskolin-binding protein
FKBP-F
5′TGAGTTTGAACGTGCCCAGGAT3′
FKBP-R
5′CTCCTTGATGTACTTGGCACCCTT3′
Coatomer delta subunit
ClatAdp-F
5′TAGCCGATGAGAAGTTCGGGAAGA3′
ClatAdp-R
5′CTTATCGACATTGGGGTGCGTTTG3′
Proliferating cell nuclear antigen
PCNA-F
5′CATGAATCTCGACCAGGAGCACTT3′
PCNA-R
5′TCACGGCAAATGCGTGCAAA3′
Tubulin-specific chaperone A
TBCA-F
5′CGTACGAAAAGGAAGCAGATCAGCA3′
TBCA-R
5′CTTCCTTCCGGATCACGTGTTCAT3′
Ribosomal protein 49
rp49-F
5′GACCGATATGCCAAGCTAAAGCA3′
rp49-R
5′GGGGAGCATGTGGCGTGTCTT3′

Table 2. Pearson correlation coefficient (r) and goodness of fit (r2) calculated for expression values from mRNA levels against secreted protein levels.
Samples
6 h mRNA
12 h mRNA
24 h mRNA
48 h mRNA
r
r2
r
r2
r
r2
r
r2
24 h secreted protein
0.1742
0.0304
−0.1070
0.0115
−0.2399
0.0576
−0.2265
0.0513
48 h secreted protein
0.2024
0.0410
0.3754
0.1409
−0.1197
0.0143
−0.4018
0.1615

© 2018 by the authors. Licensee MDPI, Basel, Switzerland. This article is an open access article distributed under the terms and conditions of the Creative Commons Attribution (CC BY) license (http://creativecommons.org/licenses/by/4.0/).