Open Access This article is
freely available
re-usable
Review
Interferons: Reprogramming the Metabolic Network against Viral Infection
1
Lady Davis Institute for Medical Research, Jewish General Hospital, Montreal, QC H3T 1E2, Canada
2
Department of Microbiology & Immunology, McGill University, Montreal, QC H3A 2B4, Canada
3
Department of Medicine, McGill University, Montreal, QC H3A 2B4, Canada
*
Author to whom correspondence should be addressed.
Received: 1 December 2017 / Accepted: 12 January 2018 / Published: 13 January 2018
Abstract
:
Viruses exploit the host and induce drastic metabolic changes to ensure an optimal environment for replication and the production of viral progenies. In response, the host has developed diverse countermeasures to sense and limit these alterations to combat viral infection. One such host mechanism is through interferon signaling. Interferons are cytokines that enhances the transcription of hundreds of interferon-stimulated genes (ISGs) whose products are key players in the innate immune response to viral infection. In addition to their direct targeting of viral components, interferons and ISGs exert profound effects on cellular metabolism. Recent studies have started to illuminate on the specific role of interferon in rewiring cellular metabolism to activate immune cells and limit viral infection. This review reflects on our current understanding of the complex networking that occurs between the virus and host at the interface of cellular metabolism, with a focus on the ISGs in particular, cholesterol-25-hydroxylase (CH25H), spermidine/spermine acetyltransferase 1 (SAT1), indoleamine-2,3-dioxygenase (IDO1) and sterile alpha motif and histidine/aspartic acid domain-containing protein 1 (SAMHD1), which were recently discovered to modulate specific metabolic events and consequently deter viral infection.
Keywords:
viruses; metabolism; interferons; ISGs; 25HC; IDO1; SAT1; SAMHD1
1. Introduction
Cellular metabolism is a fundamental and complex biological phenomenon. It consists of two opposite and entwined processes, catabolism that breaks down macromolecules to produce energy in the form of adenosine triphosphate (ATP) and fuel all cellular reactions and events; and anabolism that delivers nutrients such as carbohydrates, amino acids and fatty acids for macromolecular synthesis [
1
]. The fine balance of catabolic and anabolic pathways is critical for meeting diverse biological demands, thus allowing organisms to respond actively to dynamic environments.
Abnormal metabolic states are the hallmark of neurological disorders, diabetes, obesity and cancer. It is increasingly evident that viral infections not only rewire the metabolism of the host cell to the advantage of viral propagation but, can leave "metabolic footprints" causing metabolic disease [
2
]. In turn, to respond and contain viral infections, the hosts and, in particular, their immune cells, need to selectively mobilize and deploy their metabolic resources in order to mount effective innate and adaptive immune responses.
While not the focus of this review, it is well received that immune cells need to adopt distinct metabolic profiles to achieve their activation, differentiation and effector function [
3
,
4
]. Several articles have detailed the significant metabolic signatures of immune cells, such as macrophages, dendritic cells and T-cells, upon activation [
5
,
6
,
7
]. Early studies indicated a change in metabolism towards aerobic glycolysis for lipopolysaccharide (LPS)-activated macrophages, which is required to produce pro-inflammatory cytokines such as IL-1β [
5
]. This metabolic signature is also apparent in T cells, where elevated levels of aerobic glycolysis are maintained in effector T cell subsets in response to cytokines. In particular, the pro-inflammatory lymphocyte Th17 heavily depends on glycolysis for differentiation where, if glycolysis is blocked, Th17 differentiation and survival is impaired and an anti-inflammatory phenotype is favored [
8
]. Importantly, this shift to aerobic glycolysis allows immune cells to adapt, survive and acquire their effector functions when under metabolically limited conditions during infection or hypoxia.
In this review, we focus our discussion on the metabolic interplay between viruses and the innate immune response that occurs at the very early stage of viral infection of the host. We illuminate what is known about how various viruses modulate cellular metabolism by distinct mechanisms and how cells, in response to viral infections, produce interferons to alter specific metabolic pathways as one effective strategy to control viral replication.
2. Viral Rewiring of Central Carbon Metabolism
3. Diverse Antiviral Mechanisms by Interferons and Their Stimulated Genes
Type I Interferons (IFNs) were discovered over half a century ago because of their strong antiviral activity against influenza virus [
25
]. Subsequent studies have revealed the intricate signalling pathways that are triggered by IFNs, leading to the expression of hundreds of genes, collectively called interferon-stimulated genes (ISGs), many of which have been shown to inhibit a variety of viruses through diverse mechanisms [
26
]. Some ISGs directly target and impair specific steps of viral replication. For example, IFITM (interferon inducible transmembrane) proteins deter viral entry; the Mx (myxovirus resistance) proteins recognize viral capsid/nucleocapsid and impede viral genome replication; tetherin (also called BST-2 and CD137) physically links viral progenies to the surface of viral producer cells and thus blocks virus release and dissemination [
26
]. Furthermore, a group of ISGs inhibit the translation of viral RNA, thus halt viral replication. These ISGs include PKR (protein kinase R), 2′-5′-oligoadenylate synthetase (OAS)/RNAseL, IFIT1, ZAP (zinc finger antiviral protein), SLFN11 and others, which was discussed in detail in a recent review [
27
]. Our knowledge of the antiviral functions of ISGs was greatly expanded with several recent investigations that tested hundreds of ISGs for their inhibition of a wide range of viruses [
28
,
29
,
30
,
31
,
32
]. In addition to direct inhibition of viruses, some ISGs are professional viral sensors, such as RIG-I, PKR, IFI16, cGAS and others [
33
,
34
]. Beyond all these functions and mechanisms, an emerging new antiviral strategy employed by ISGs is to modulate cellular metabolic pathways, including the synthesis of cholesterol, polyamines and tryptophan.
4. 25-HC Inhibits a Variety of Viruses by Modulating Sterol Synthesis
5. IFNs Deplete Polyamines as a Strategy to Check Viral Infection
6. IFN-Mediated Depletion of Tryptophan through IDO1 Induction
7. SAMHD1 Restricts Viral DNA Synthesis by Depleting Cellular dNTP Pool
8. Targeting Metabolic Pathways for Viral Therapy: A Novel Therapeutic Approach
9. Concluding Remarks
As viruses have evolved mechanisms to target the host metabolic network to ensure survival, simultaneously, the hosts have accordingly selected distinct antiviral mechanisms to counteract these changes. The innate immune response plays a pivotal role in responding to these viral changes in effort to warrant cell survival and limit viral propagation. A robust IFN response leads to the priming of the adaptive immune response through modulating the metabolic pathways in innate immune cells (macrophages and DCs) as well as, the induction of ISGs and restriction factors which interfere with cellular metabolism. Several of these ISGs, CH25H, SAT-1, IDO1 and SAMHD1, exert antiviral activity against multiple viruses including DENV, ZIKV, HCV, HIV-1 and HSV by targeting different metabolic pathways. Currently, a limited number of ISGs have been reported to modulate cellular metabolism. Future studies, including gene expression and pathway analysis of the Interferome database, could potentially lead to discovery of more ISGs linked to metabolism.
The role of IFNs and ISGs in immunometabolism and regulating carbon metabolism has opened novel avenues for viral therapy. The development of mass-spectrometry and gene expression screening has led to a deeper understanding of virus-host metabolic interactions. However, much remains to be discovered regarding the detailed molecular mechanisms of these metabolic interactions and the potential the clinical applications. It is important to note that targeting metabolic pathways for therapeutic intervention may lead to fitness costs to the host. However, if these potential side effects are short-term and manageable, as seen in many medications that target cellular components, interfering with certain pathways may be overall beneficial and may lead to the production of broad spectrum antivirals.
Acknowledgments
This work was supported by funding from Canadian Institutes of Health Research to Chen Liang.
Author Contributions
Kavita Raniga and Chen Liang prepared the manuscript.
Conflicts of Interest
The authors declare no conflict of interests.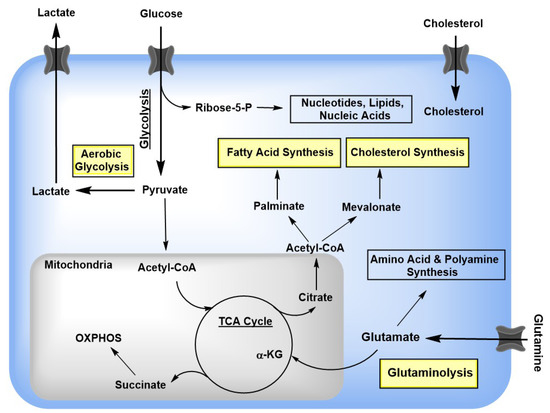 Figure 1. Host Cell Metabolism. Glucose is taken up by specific transporters (GLUT family), where it is converted to pyruvate in the cytoplasm, generating two ATP molecules (glycolysis). In the presence of oxygen, pyruvate is transported into the mitochondria and oxidized into acetyl coenzyme A (acetyl-CoA), which enters the tricarboxylic acid (TCA) cycle. Intermediates of the TCA cycle feed off for fatty acid and cholesterol synthesis. Viruses are known to alter these key cellular metabolic pathways (highlighted in yellow). Further details are outlined in the text.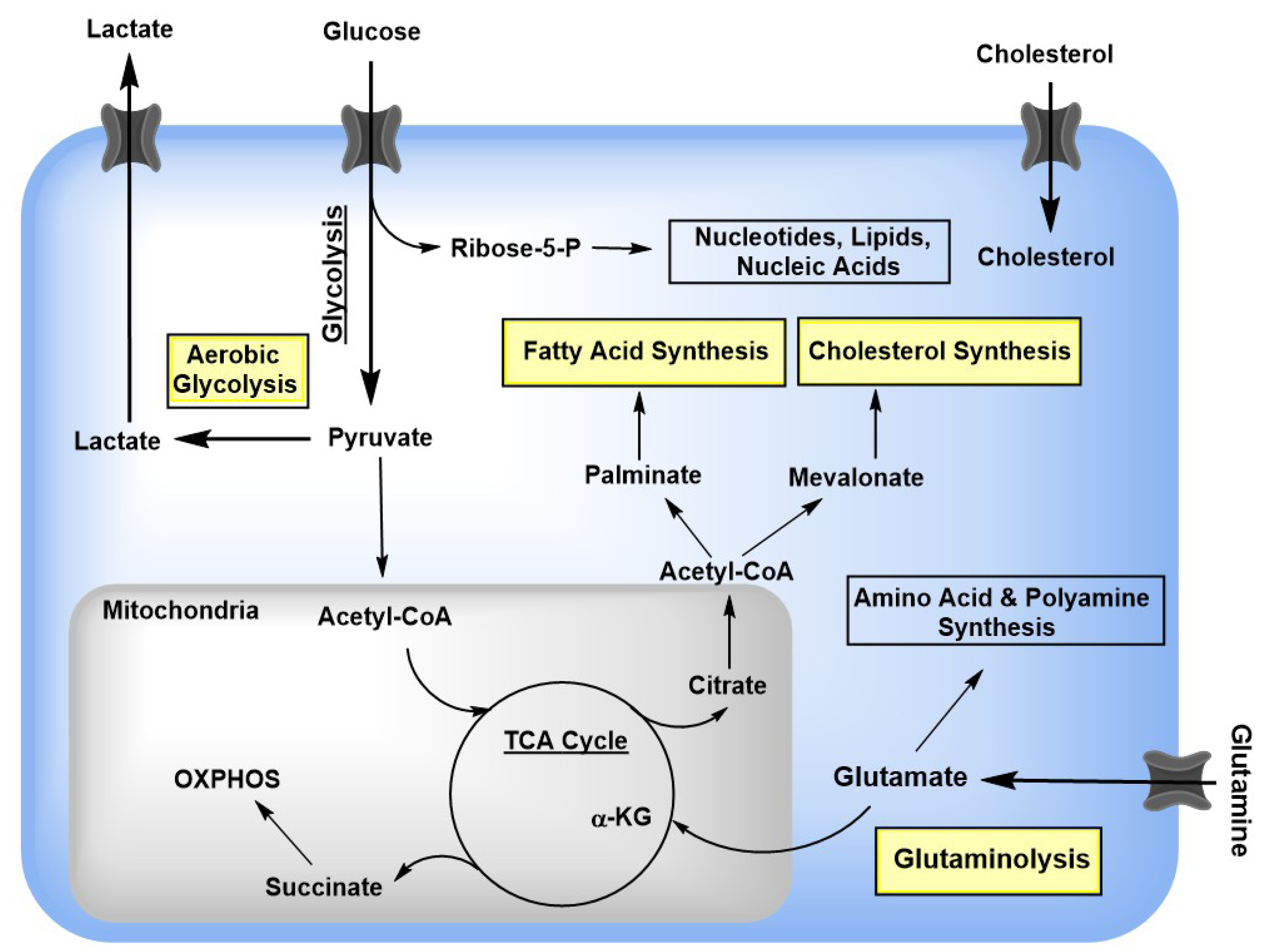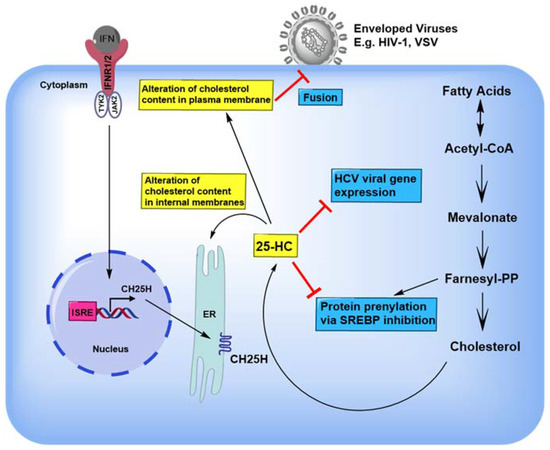 Figure 2. An overview of the antiviral activities of 25-HC. Interferon signaling leads to the expression of CH25H (cholesterol 25-hydroxylase) which catalyzes the formation of 25 hydroxycholesterol (25-HC) from cholesterol. Multiple studies have elucidated into the antiviral effects of 25-HC including, altering lipid membrane content to restrict viral fusion and entry, altering the distribution of cholesterol in internal membranes which hinders viral replication and, antagonizing endogenous protein prenylation (attachment of an isoprenoid e.g., farnesyl) thereby restricting viral replication and assembly. Yellow boxes indicate membrane alterations induced by 25-HC. Blue boxes indicate the effect of 25-HC on different viruses. T bar in red indicates inhibition. ER, endoplasmic reticulum.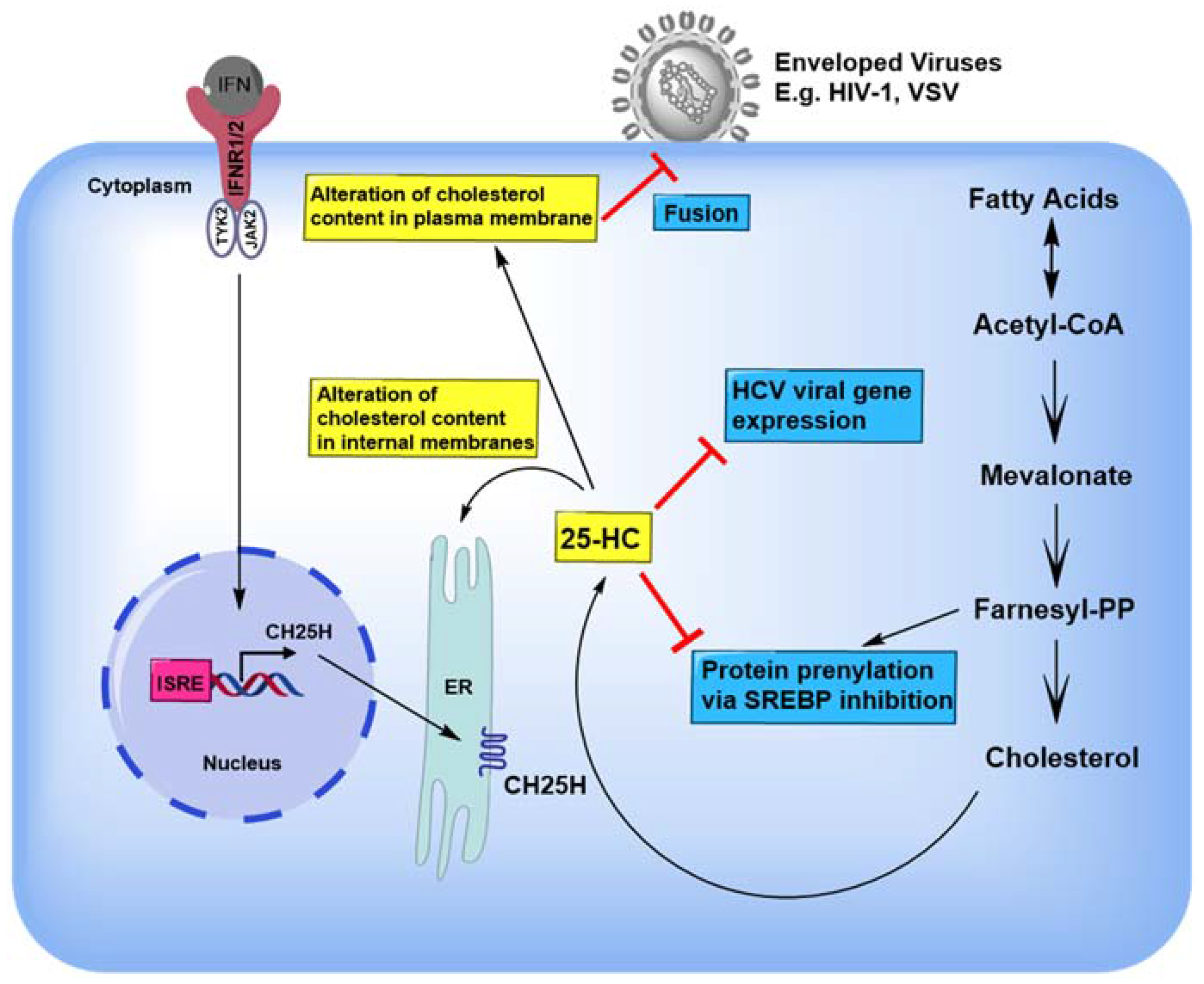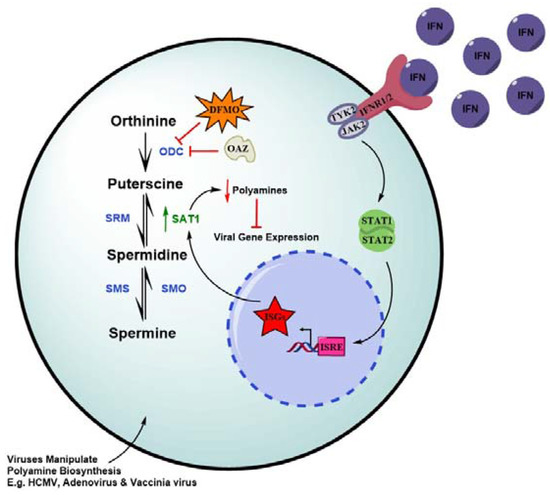 Figure 3.
Polyamine Biosynthesis. Upregulation of SAT1 by Type 1 IFNs results in polyamine depletion (red arrow). Enzymes are shown between each reaction (ODC, orthinine decarboxylase; SRM, spermidine synthase; SMS, spermine synthase; SMO, spermine oxidase; SAT1, Spermidine/spermine
N
(1)-acetyltransferase). Ornithine decarboxylase antizyme (OAZ), the first rate-limiting step in polyamine synthesis, binds and inhibits ODC. Difluoromethylornithine (DFMO), currently in clinical trials for cancer treatment, is an irreversible inhibitor of ornithine decarboxylase. T bar indicates inhibition. Blue dotted circle, nucleus. Consult text for more detail.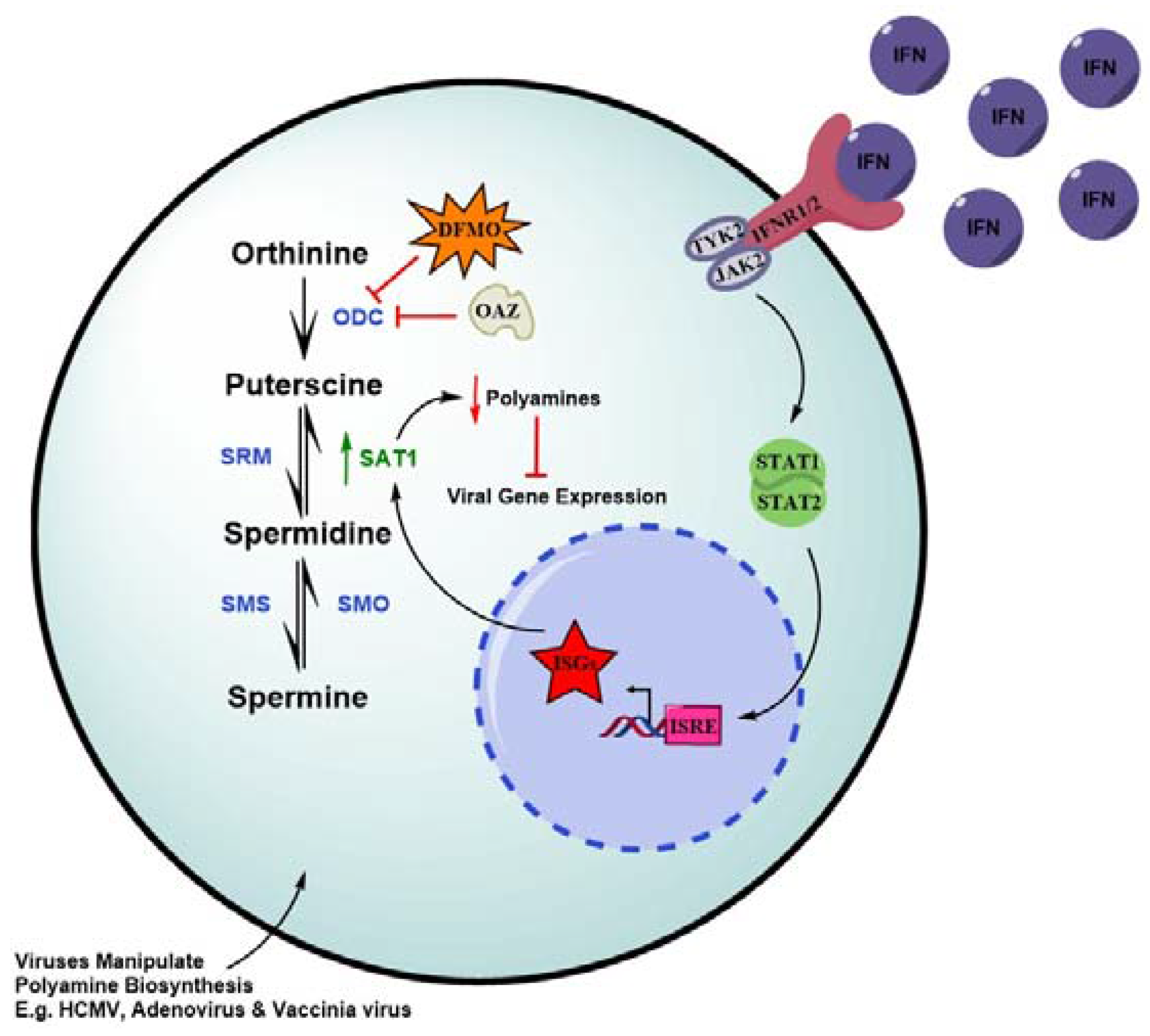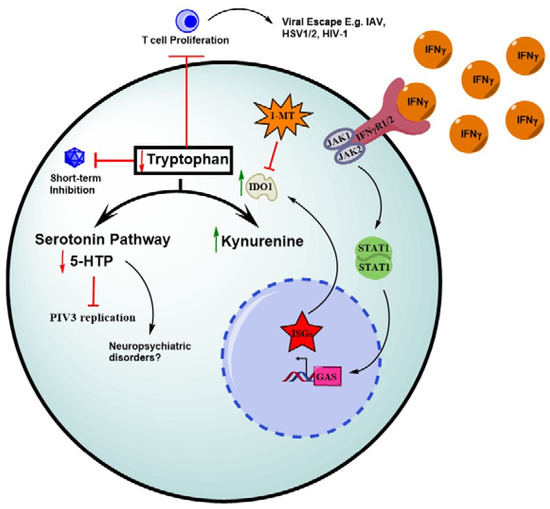 Figure 4.
IDO1-mediated Tryptophan Depletion. Tryptophan is metabolized by the serotonin and kynurenine pathway. Iindole-2,3-dioxygenase 1 (IDO1) converts tryptophan into kynurenine. IFN-induced IDO1 gene expression decreases tryptophan availability for viral replication as well as reducing melatonin/serotonin synthesis and T cell proliferation. 1-methyl-
d
-tryptophan (I-MT) inhibits IDO1 and may have applications as a facilitator to enhance the immune response. Red arrows, downregulation; green arrows, upregulation. T bar, inhibition.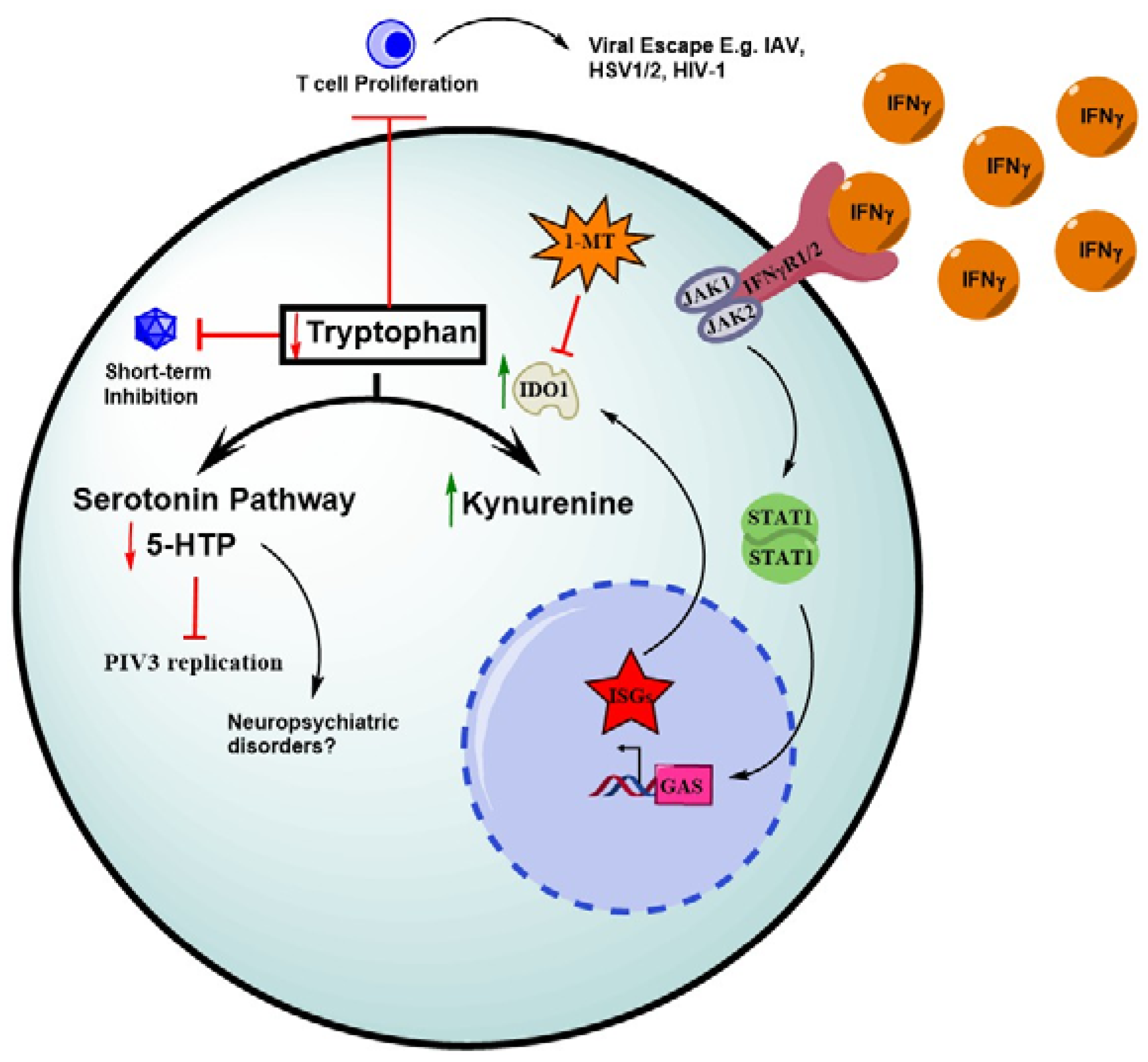 © 2018 by the authors. Licensee MDPI, Basel, Switzerland. This article is an open access article distributed under the terms and conditions of the Creative Commons Attribution (CC BY) license (http://creativecommons.org/licenses/by/4.0/).