Human Cytomegalovirus Nuclear Capsids Associate with the Core Nuclear Egress Complex and the Viral Protein Kinase pUL97
1
Institute for Clinical and Molecular Virology, Friedrich-Alexander University of Erlangen-Nürnberg, Erlangen 91054, Germany
2
Department of Histology and Embryology, Faculty of Medicine, University of Rijeka, Rijeka 51000, Croatia
3
Division of Bioinformatics, Institute of Biochemistry, Friedrich-Alexander University of Erlangen-Nürnberg, Erlangen 91054, Germany
4
Departments of Pediatrics and Microbiology, School of Medicine, University of Alabama at Birmingham, Birmingham, AL 35294, USA
5
Department of Ophthalmology, University Medical Center Erlangen, Erlangen 91054, Germany
*
Authors to whom correspondence should be addressed.
Received: 19 December 2017 / Revised: 5 January 2018 / Accepted: 10 January 2018 / Published: 13 January 2018
Abstract
The nuclear phase of herpesvirus replication is regulated through the formation of regulatory multi-component protein complexes. Viral genomic replication is followed by nuclear capsid assembly, DNA encapsidation and nuclear egress. The latter has been studied intensely pointing to the formation of a viral core nuclear egress complex (NEC) that recruits a multimeric assembly of viral and cellular factors for the reorganization of the nuclear envelope. To date, the mechanism of the association of human cytomegalovirus (HCMV) capsids with the NEC, which in turn initiates the specific steps of nuclear capsid budding, remains undefined. Here, we provide electron microscopy-based data demonstrating the association of both nuclear capsids and NEC proteins at nuclear lamina budding sites. Specifically, immunogold labelling of the core NEC constituent pUL53 and NEC-associated viral kinase pUL97 suggested an intranuclear NEC-capsid interaction. Staining patterns with phospho-specific lamin A/C antibodies are compatible with earlier postulates of targeted capsid egress at lamina-depleted areas. Important data were provided by co-immunoprecipitation and in vitro kinase analyses using lysates from HCMV-infected cells, nuclear fractions, or infectious virions. Data strongly suggest that nuclear capsids interact with pUL53 and pUL97. Combined, the findings support a refined concept of HCMV nuclear trafficking and NEC-capsid interaction.
View Full-Text
►

▼

Figures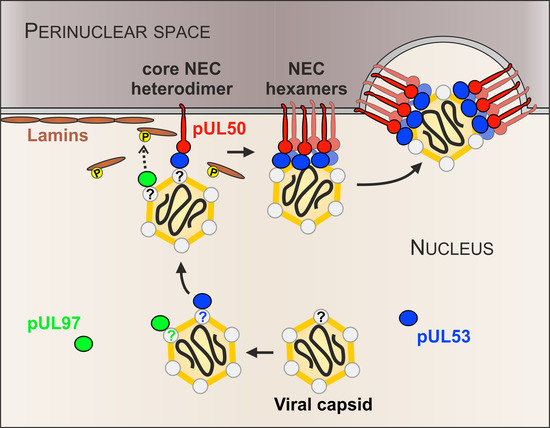 Graphical abstract
This is an open access article distributed under the
Creative Commons Attribution License
which permits unrestricted use, distribution, and reproduction in any medium, provided the original work is properly cited (CC BY 4.0).

Share & Cite This Article
MDPI and ACS Style
Milbradt, J.; Sonntag, E.; Wagner, S.; Strojan, H.; Wangen, C.; Lenac Rovis, T.; Lisnic, B.; Jonjic, S.; Sticht, H.; Britt, W.J.; Schlötzer-Schrehardt, U.; Marschall, M. Human Cytomegalovirus Nuclear Capsids Associate with the Core Nuclear Egress Complex and the Viral Protein Kinase pUL97. Viruses 2018, 10, 35.
Note that from the first issue of 2016, MDPI journals use article numbers instead of page numbers. See further details here.
Related Articles
Comments
[Return to top]