Identification of Floral Relicts Based on Spatial Distance of Isolation
1
Department of Ecology, University of Debrecen, H-4032 Debrecen, Egyetem tér 1, Hungary
2
Department of Conservation Zoology, Hortobágy National Park Directorate—University of Debrecen, H-4024 Debrecen, Sumen u. 2, Hungary
3
Hungarian Academy of Sciences—University of Debrecen Biodiversity and Ecosystem Services Research Group, H-4032 Debrecen, Egyetem tér 1, Hungary
*
Author to whom correspondence should be addressed.
Received: 12 September 2017 / Revised: 5 November 2017 / Accepted: 15 November 2017 / Published: 21 November 2017
Abstract
The identification of climatic relicts is seldom straightforward. These species are threatened owing to current climatic trends, which underlines the importance of carrying out ecological and biogeographic investigations of them. Here we introduce a novel approach to improve the identification of climatic relicts. We are focusing on thermophilic relict plants of the Pannonian biogeographic region from the Holocene Thermal Maximum (HTM). We argue that a minimal mean annual temperature difference (MATD) of the HTM compared to the recent climate allowed a continuous northward expansion for the taxa investigated. We measured latitudinal distances between the recent occurrences of relicts and those of the main distribution found further south. Regarding estimates for MATD (1.0–2.5 °C), we only consider species with a distribution which has a 150–350 km North-South gap, since a latitudinally directed distance can be translated into temperature, showing a poleward cooling trend. Of the 15 selected species, 12 were recorded with values of 1.0–1.7 °C MATD, and three with values of 1.8–2.5 °C, some of which are presumably interglacial species. Woody species are over-represented among them (four species), using the Hungarian flora as a reference. The proposed method allows the prediction of potential climate-related changes in the future distribution of species, constrained by the topographic features of their habitats.
View Full-Text
►

▼

Figures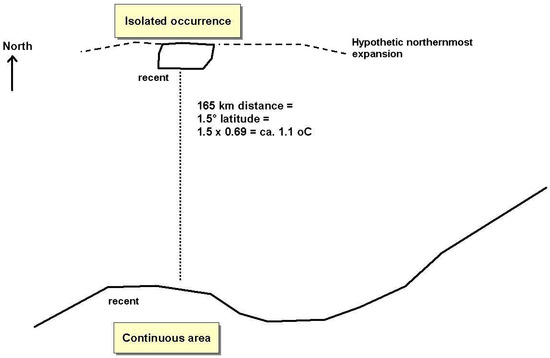 Figure 1
This is an open access article distributed under the
Creative Commons Attribution License
which permits unrestricted use, distribution, and reproduction in any medium, provided the original work is properly cited (CC BY 4.0).

Share & Cite This Article
MDPI and ACS Style
Molnár, A.; Végvári, Z.; Tóthmérész, B. Identification of Floral Relicts Based on Spatial Distance of Isolation. Forests 2017, 8, 459.
Note that from the first issue of 2016, MDPI journals use article numbers instead of page numbers. See further details here.
Related Articles
Comments
[Return to top]