Open Access This article is
freely available
re-usable
Article
Identification of Reference Genes for Quantitative Gene Expression Studies in
Pinus massoniana
and Its Introgression Hybrid
1
Key Laboratory of Forest Genetics & Biotechnology of Ministry of Education, Nanjing Forestry University, Nanjing 210037, China
2
Co-Innovation Center for Sustainable Forestry in Southern China, Nanjing Forestry University, Nanjing 210037, China
3
College of Forestry, Nanjing Forestry University, Nanjing 210037, China
*
Author to whom correspondence should be addressed.
Received: 25 July 2019 / Accepted: 8 September 2019 / Published: 11 September 2019
Abstract
:
qRT-PCR is a powerful molecular research tool to study the regulation of gene expression. However, to accurately calculate gene expression levels, an experiment should include proper reference genes that show no changes in their expression level.
Pinus massoniana
,
P. hwangshanensis
, and their introgression hybrid in Mountain Lushan, China, are an ideal model for studying introgression and speciation. Although some research on reference gene selection for
P. massoniana
has been reported before, no studies on this subject have been performed where
P. massoniana
and its introgression hybrid were evaluated simultaneously. Here, we investigated ten genes (
upLOC
,
SDH
,
ACT
,
EF
,
TOC75
,
DMWD
,
FBOX
,
PGK1
,
UBQ,
and
CL2417C7
) identified from transcriptome data of these two taxa for reference gene potential. These ten genes were then screened across multiple tissues such as cone, young and mature stems, and young needles according to qRT-PCR thermal cycling and dissociation. Correlation coefficient, amplification efficiency, and cycle threshold value (Ct) range were applied to evaluate the reliability of each gene. The stability of candidate reference gene expression was calculated using three algorithms: geNorm, NormFinder, and BestKeeper. Base on the reliability and stability, we then offered a list of genes of recommended and not recommended for seven different tissue type and species. Our results demonstrated that different sample lines require different genes as reference to evaluate.
Keywords:
Pinus massoniana
; reference gene; qRT-PCR; introgression; cone
1. Introduction
Masson pine (
Pinus massoniana
) is an economically important conifer species that is naturally distributed in southern China. Its wood is often used for standing timber and furniture manufacturing. Resin, a secretion from its canals, can be used for the maintenance of musical instrument strings, and is an ingredient in several medicines [
1
,
2
]. Because of its fast growth and high biomass, it has been planted extensively in south China during the past fifty years for rapid vegetation recovery and additional ecological purposes.
Huangshan pine (
P. hwangshanensis
) is a species native only to China. Although it grows at a considerably slower rate than
P. massoniana
, it has ornamental value as a horticultural plant in higher altitude regions.
Around the middle and lower reaches of the Yangtze River,
P. massoniana
mainly grows at an altitude below 700 m (above sea level, a.s.l.), while
P. hwangshanensis
mainly grows above 900 m (a.s.l.). On Mountain Lushan, situated in this area, both pines have their own ecological niche according to the distribution mentioned above. An introgression hybrid pine (hereafter referred to as the Z pine) can be found directly adjacent to the habitats of both
P. massoniana
and
P. hwangshanensis
(
Figure 1
). There are several morphological differences between
P. massoniana
and
P. hwangshanensis
[
3
], while the Z pine displays phenotypic characteristics of both parental pines [
4
,
5
]. However, it also shows novel phenotypes, such as an ultra-low pinecone ripening and seed germination rate, compared to both
P. massoniana
and
P. hwangshanensis
[
6
]. This distinct characteristic shows that genetic incompatibilities during the process of fertilization and/or even embryonic development might exist between both parents of the Z pine. Our previous research has shown that a group of differentially expressed genes (DEGs) related to reproduction were expressed at a much lower level in the Z pine than in
P. massoniana
, possibly causing the abnormal reproductive phenotype in the Z pine [
7
].
Understanding how the expression of certain genes of interest is regulated in space, time, and different tissues is a crucial approach to further understanding about their biological function. Various methods can be applied to study gene expression: With microarrays, northern blots, RNA-seq, and qRT-PCR (quantitative real-time polymerase chain reaction) being considered some of the more common ways, RNA-seq and qRT-PCR being the most popular. After qRT-PCR was introduced in the late twentieth century [
8
], it has been widely applied to quantify gene expression in life science research and medical diagnosis. qRT-PCR has a series of advantages, including high accuracy, sensitivity, and reproducibility. Nevertheless, due to its high sensitivity, the qRT-PCR assay might be affected by RNA or cDNA quality, primer specificity, amplification efficiency [
9
], etc. Therefore, optimal normalization methods are required for sample-to-sample comparison. A series of strategies has been introduced for normalizing qRT-PCR data [
9
,
10
,
11
,
12
,
13
]. In general, in order to evaluate the expression quantity of a gene, a reference gene is required for various samples and/or experimental conditions (e.g., developmental stages, different organs, treatments, etc.). A reference gene is a gene that shows unchanging expression among all samples and/or experimental treatments [
14
] and can then be used to normalize and calibrate results [
15
]. Therefore, obtaining a reliable reference gene is a critical step before being able to perform qRT-PCR in further research.
However, no single universal reference gene is found acceptable to evaluate all species or samples. Due to the varying PCR amplification efficiency of the target sequence, a different reference gene could be required. Reference genes with poor availability could lead to significant biases and faulty interpretation of the data. Therefore, determining a reference gene is an essential step before starting the experimental process.
Genes such as
ACT
(actin),
β-TUB
(β-tubulin),
GAPDH
(glyceraldehyde 3-phosphate dehydrogenases),
EF
(elongation factor), and
18S rRNA
have commonly been assigned as reference genes in recent research, we call them 'classical' reference genes. In addition, several novel reference genes have emerged from recent research. For example,
RPL29
(60S ribosomal protein L29) was found to be the most stable reference gene in
Bemisia tabaci
(Hemiptera: Aleyrodidae) under biotic conditions including host plant, acquisition of a plant virus, developmental stage, tissue from body region of the adult, and whitefly biotype [
16
].
RPS4
(ribosomal protein S4) and
UBQ
(ubiquitin), a novel and classical reference gene, were found to be the optimal combination of reference genes used to study turbot (
Scophthalmus maximus
) gonad development before fertilization [
17
].
TIP41
(tonoplast intrinsic protein) and
NTB
(nucleotide tract-binding protein) could serve as reliable reference genes across all tissues and at different developmental stages in bamboo (
Phyllostachys edulis
) [
18
].
As the number of transcriptomic studies on various species increased, more and more unigenes were discovered and were assigned as reference genes for non-model species. These novel transcriptomic reference genes usually expressed a better stability than their classical counterparts. Our study is the first attempt to identify reference genes in multiple tissues of
P. massoniana
and its introgression hybrid. This study could offer a guideline for reference gene identification used for research into hybridization.
2. Materials and Methods
2.1. Preparation of Samples
Cones, mature needles, and young stems of mature
P. massoniana
and the Z pine were collected. Due to existing individual variation in open-pollinated wild pine, we conducted a mix-up strategy in sample collection to minimize biological variation within each organ sample: Three to five tree individuals were assigned to be collected from, tissues were then harvested and randomized per tissue. After that the mixed materials were subpackaged into RNase-free 50 mL centrifuge tubes or ziplock bags, which were frozen in liquid nitrogen or dry ice immediately before storing in a −80 °C ultra-low temperature freezer.
Young needles were collected from seedlings of
P. massoniana
and the Z pine. Seeds of each taxa were surface sterilized for 2 h with a 0.4% (
w
/
v
) solution of KMnO
4
(potassium permanganate) and rinsed 5 times with sterile distilled water. Seeds were then moved into a germination box. A layer of cotton (saturated with sterile distilled water) was placed at the bottom of the germination box for retaining sufficient moisture, seeds were then placed on top. Germination boxes were positioned in a versatile environmental test chamber (MLR-352H, Panasonic Healthcare Co., Ltd., Ehime, Japan) under a 16:8 h day:night photoperiod cycle at 25 °C (day) and 22 °C (night), with a humidity setting of 70% (day) and 75% (night). During germination, seedlings with a root length of more than 1 cm were chosen to transfer to Pindstrup Substrate (Pindstrup Mosebrug A/S, Denmark) inside pots with 16 cm in diameter and grown under conditions identical to those used for germination. Young needles were carefully collected in RNase-free 15 mL centrifuge tubes and were frozen in liquid nitrogen, then transferred into an ultra-low temperature freezer (−80 °C) for storage.
2.2. Candidate Reference Gene Selection and Primer Design
Candidate reference genes were selected from previous transcriptome data of
P. massoniana
and Z pine cones [
7
]. These transcriptome data are available on the NCBI Sequence Read Archive (SRA) under the BioProject accession number PRJNA482692 [
7
]. Candidate reference genes were screened based on the following criteria: Their FPKM (fragments per kilobase of transcript per million fragments mapped) values were stable at different developmental stages, the coefficient of variation (CV) of the FPKM value can be no larger than 0.5.
According to these criteria, the following ten genes were chosen:
upLOC
(uncharacterized protein LOC103705956),
SDH
(succinate dehydrogenase),
ACT
(actin),
EF
(elongation factor),
TOC75
(protein
TOC75-3
),
DMWD
(dystrophia myotonica WD repeat-containing protein),
FBOX
(F-box family protein),
PGK1
(phosphoglycerate kinase 1),
UBQ
(ubiquitin), and
CL2417C7
(unigene with unknown function).
Primer-BLAST [
19
] and Beacon Designer (v7.90, PREMIER Biosoft International, Palo Alto, CA, USA) were used for primer design. The main parameter settings of Primer-BLAST were as follows: PCR product size (10–250 bp), Primer melting temperature (T
m
) (Min 59–Opt 60–Max 61 °C), Primer size (Min 18–Opt 20–Max 25 bp), Primer GC content (45%–55%), other parameters were set as default. In Beacon Designer, the main parameter setting were as follows: T
m
(60 ± 1 °C), Primer length (18–24 bp), Amplicon length (80–150 bp), GC% (30%–80%), other parameters were set as default.
Details of candidate reference genes and their corresponding primers are listed in
Table 2
.
2.3. RNA Extraction, cDNA Template Preparation, and Quantitative Real-Time PCR (qRT-PCR)
Total RNA extraction of all samples was conducted using a Bioteke Plant RNA Extraction Kit (RP3301, Bioteke Corporation, Beijing, China). The 260 nm/280 nm UV absorption value of each RNA sample was measured using a Nanodrop 2000 (Thermo Fisher Scientific, Waltham, MA, USA) to confirm its purity. The RIN (RNA integrity number) was measured using an Agilent 2100 Bioanalyzer (Agilent Technologies, Santa Clara, CA, USA).
cDNA templates were synthesized using the Vazyme HiScript II Q RT SuperMix for qPCR (R223-01, Vazyme Biotech Co.,Ltd., Nanjing, China). A total of 1 μg RNA was chosen for cDNA synthesis of each sample. After that, each reaction (20 μL) was diluted to 200 μL (10-fold diluted) and stored at −20 °C.
An Applied Biosystems 7500 PCR cycler (Thermo Fisher Scientific Corporation, CA, USA) was used to run the qRT-PCR. The Vazyme ChamQ SYBR qPCR Master Mix (Q331-02, Vazyme Biotech Co.,Ltd., Nanjing, China) was chosen as reaction reagent kit. For each qRT-PCR sample, 4 μL cDNA was added to a 20 μL reaction volume, containing 10 μL of 2× ChamQ SYBR qPCR Master Mix (Low ROX Premixed) and 0.4 μL of each primer. Thermal cycling was performed with an auto increment step of 30 s at 95 °C, and followed by 40 cycles of 10 s at 95 °C, 34 s at 60 °C. Dissociation analysis was performed with a default step of 15 s at 95 °C, and followed by 60 s at 60 °C, then 15 s at 95 °C. After running the thermal cycling and dissociation, the amplification and melting curves were obtained for evaluating the quality of the candidate reference genes amplification product. Each sample was tested with three technical replicates.
To assess the qRT-PCR amplification efficiency, the original cDNA solution was diluted 10-, 50-, 250-, 1250-, 6250-fold, respectively. All these solutions were used as templates for qRT-PCR amplification. A standard curve for each reference gene was drawn by using the average value of the three Ct (cycle threshold) technical replicates and its corresponding log solution concentration. The amplification efficiency was calculated using a standard Formula (1), where
AE
is the amplification efficiency and
slope
is the slope of the standard curve. The slope and correlation coefficient were automatically computed by Microsoft Office Excel when drawing the standard curve.
2.4. Stability Evaluation of Candidate Reference Genes
Three different algorithms, including geNorm [
20
], NormFinder [
21
], and BestKeeper [
22
] were assigned as tools to evaluate the stability of each candidate reference gene. All three algorithms are operated in Microsoft Office Excel, where geNorm and NormFinder need to enable 'Macros' in Excel to launch, while BestKeeper does not need this operation. The Ct relative expression value was the only correct data format to put into geNorm and NormFinder before evaluating, while in BestKeeper the Ct value can be put in directly.
The Excel Add-in geNorm searches for the one or two most stable reference genes by computing the gene expression normalization factor, an
M
value, according to the geometric mean of a series of candidate reference genes. The
M
value indicates the stability level of every single gene, with the least stable gene having the maximum
M
value and the most stable gene the minimum
M
value. Usually, genes with an
M
value higher than 1.5 would be identified as unstable. Furthermore, a pairwise variation value offered by geNorm determines how many genes should be chosen as additional reference gene. The pairwise variation has a
v
n
/
v
n+1
form value: If this value is bigger than 0.15 (threshold of default), then the ideal number of combinations would be 'n+1′. Otherwise it would be 'n' as recommended.
The Excel-based VBA (Visual Basic for Applications) applet NormFinder provides an algorithm evaluating stability of a group of genes. It can assess the expression variation of entire groups of genes with intra- and inter-group comparisons simultaneously. Like geNorm, it uses an
M
value to indicate the stability of a gene, with a lower number equating to better stability.
Finally, the Excel-based tool BestKeeper, computes a series of indicators such as standard deviation, correlation coefficient, coefficient of variable, aiming to find which genes are more stable. Here, we adopted the correlation coefficient as a single parameter to decide the most stable gene, the closer to 1 the better.
3. Results
3.1. Reference Gene Evaluation
Ten candidate reference genes were tested in different
P. massoniana
and Z pine tissues (cone, young stem, mature needle, and young needle). The PCR product melting curves showed that all genes and primers had their unique amplification specificity (
Figures S1–S8
). Correlation coefficient (R), slope and amplification efficiency (AE) of each gene under every tissue were calculated (
Figures S1–S8
), also. The correlation coefficient ranged from 0.9610 to 0.9999, while the amplification efficiency range is 1.22 to 2.86. Concerning the correlation coefficient, in both species and all tissues,
EF
was greater than 0.99, while
ACT
,
PGK1
, and
CL2417C7
were greater than 0.985. One sample, amplification of the
FBOX
gene in MYN tissue, had the lowest correlation coefficient at 0.9610. The
SDH
and
FBOX
genes showed the highest amplification efficiency across all samples, while
upLOC
,
ACT
,
TOC75
,
PGK1
, and
CL2417C7
had a lower value (
Figure 3
).
3.2. Z pine Has a Higher Expression Abundance than P. massoniana Across Ten Candidate Genes
The expression level of ten candidate reference genes in all assayed tissues (cone, young stem, mature needle, young needle) of
P. massoniana
and Z pine has a wide range according to their Ct (~16 to ~28 for both species) (
Figure 4
).
EF
has the lowest Ct value in both species, indicating that it shows the highest expression abundance. The
FBOX
Ct value is the highest, indicating that it has the lowest expression abundance. In addition, Ct fluctuations in
PGK1
are smallest in
P. massoniana
, while
TOC75
and
UBQ
expression varies the least in Z pine, indicating that their expression abundance is very similar across different organs for their respective species.
SDH
shows the highest variation in expression level among all genes tested, which was not really to serve as a reference gene anymore. Overall, Ct values from
P. massoniana
are significantly higher than those of the Z pine, possibly reflecting that the Z pine has a higher basic expression abundance. All genes show a Ct distribution range between 15 and 30, which is an acceptable range for a potential reference gene.
3.3. Candidate Reference Genes Show Variable Stability Across Sample Lines
5. Conclusions
In this study we tested ten candidate reference genes, both classic and novel, from the transcriptome data of
P. massoniana
and Z pine cones. Our results show that
ACT
and
upLOC
are the most consistently well behaving reference genes taken across all tissue types and species, while
PGK1
is the most stably expressed specifically in young stem samples. Our study has further shown that reference genes should be chosen carefully, for no single gene can fit every tissue even in the same or closely related species.
Supplementary Materials
The following are available online at
https://www.mdpi.com/1999-4907/10/9/787/s1
, specificity of primers and standard curves tested in Figure S1: cone of
P. massoniana
(MCN), Figure S2: young stem of
P. massoniana
(MYS), Figure S3: mature needle of
P. massoniana
(MMN), Figure S4: young needle of
P. massoniana
(MYN), Figure S5: cone of Z pine (ZCN), Figure S6: young stem of Z pine (ZYS), Figure S7: mature needle of Z pine (ZMN), Figure S8: young needle of Z pine (ZYN); Table S1: Ranking of three algorithms in sample lines.
Author Contributions
Conceptualization, J.X., T.Y. and J.S.; Formal analysis, J.M., W.J. and L.Y.; Funding acquisition, J.X. and J.S.; Investigation, J.M. and W.J.; Project administration, J.X.; Writing-original draft, J.M.; Writing-review & editing, J.M.
Funding
This research was funded by National Natural Science Foundation of China (31270661) and the Priority Academic Program Development of Jiangsu Higher Education Institutions (PAPD).
Acknowledgments
The authors are grateful to Youxin Du, Qiang Huang and Benzhong Zhou of the Lushan Botanical Garden, Jiangxi Province and Chinese Academy of Sciences, for assistance with sample collection on Mountain Lushan. The authors are also indebted to two reviewers for their insightful comments on this article. Special thanks go to editors for their help in formulating the revisions.
Conflicts of Interest
The authors declare no conflict of interest.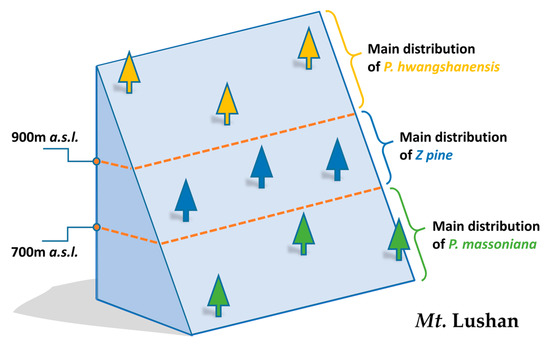 Figure 1.
Schematic indicating the main distribution areas of
P. massoniana
,
P.hwangshanensis
, and their introgression hybrid, the Z pine, on Mt. Lushan, Jiangxi Province, China. a.s.l.: above sea level.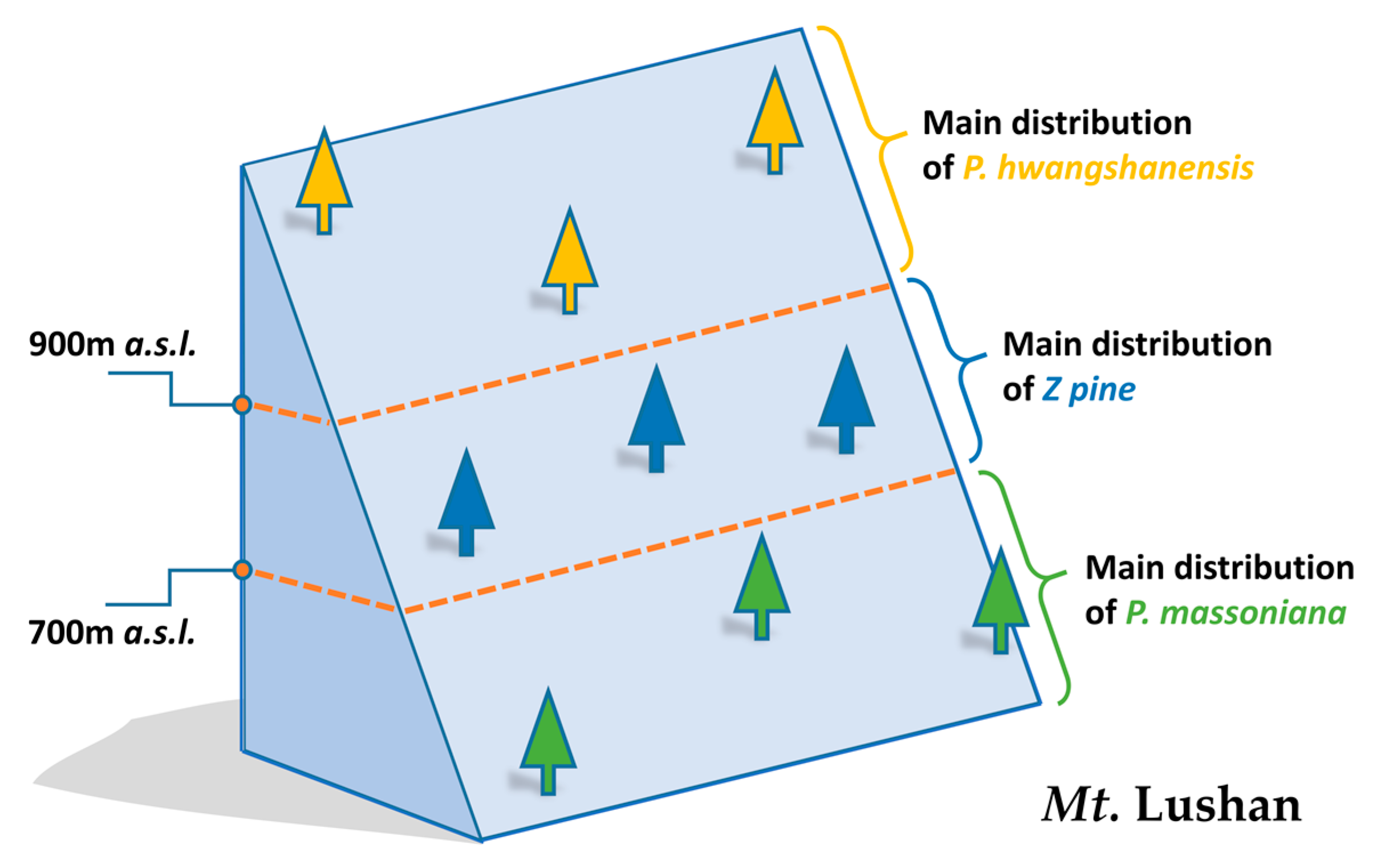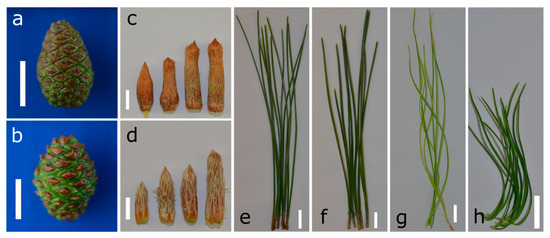 Figure 2.
Representative images of tissue samples collected. (
a
)
P. massoniana
cone (MCN); (
b
) Z pine cone (ZCN); (
c
) young stem of
P. massoniana
(MYS); (
d
) young stem of Z pine (ZYS); (
e
) mature needle of
P. massoniana
(MMN); (
f
) mature needle of Z pine (ZMN); (
g
) young needle of
P. massoniana
(MYN); (
h
) young needle of Z pine (ZYN). Scale = 10 mm.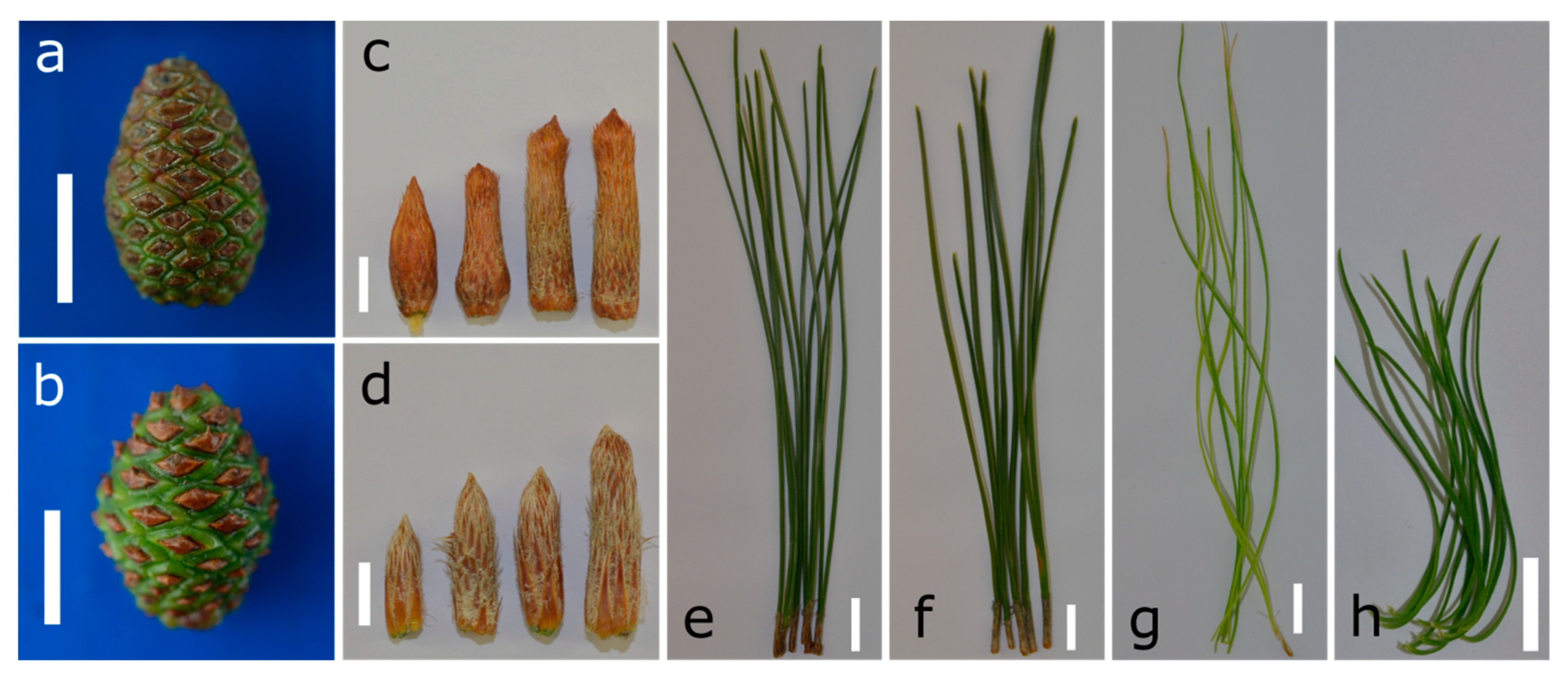 Figure 3.
Correlation coefficient and amplification efficiency of ten candidate reference genes across all samples. (
a
) Correlation coefficient; (
b
) amplification efficiency. The legend on the right displays colored sample code information, see
Table 1
.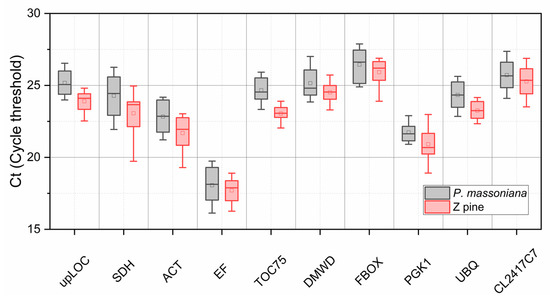 Figure 4.
Range of Ct values for ten reference gene candidates across different
P. massoniana
and Z pine tissues. Ct distribution is presented as a box-plot, indicating the interquartile range (box), median (horizon line in box), average (small square), maximum and minimum value (upper and lower whisker cap).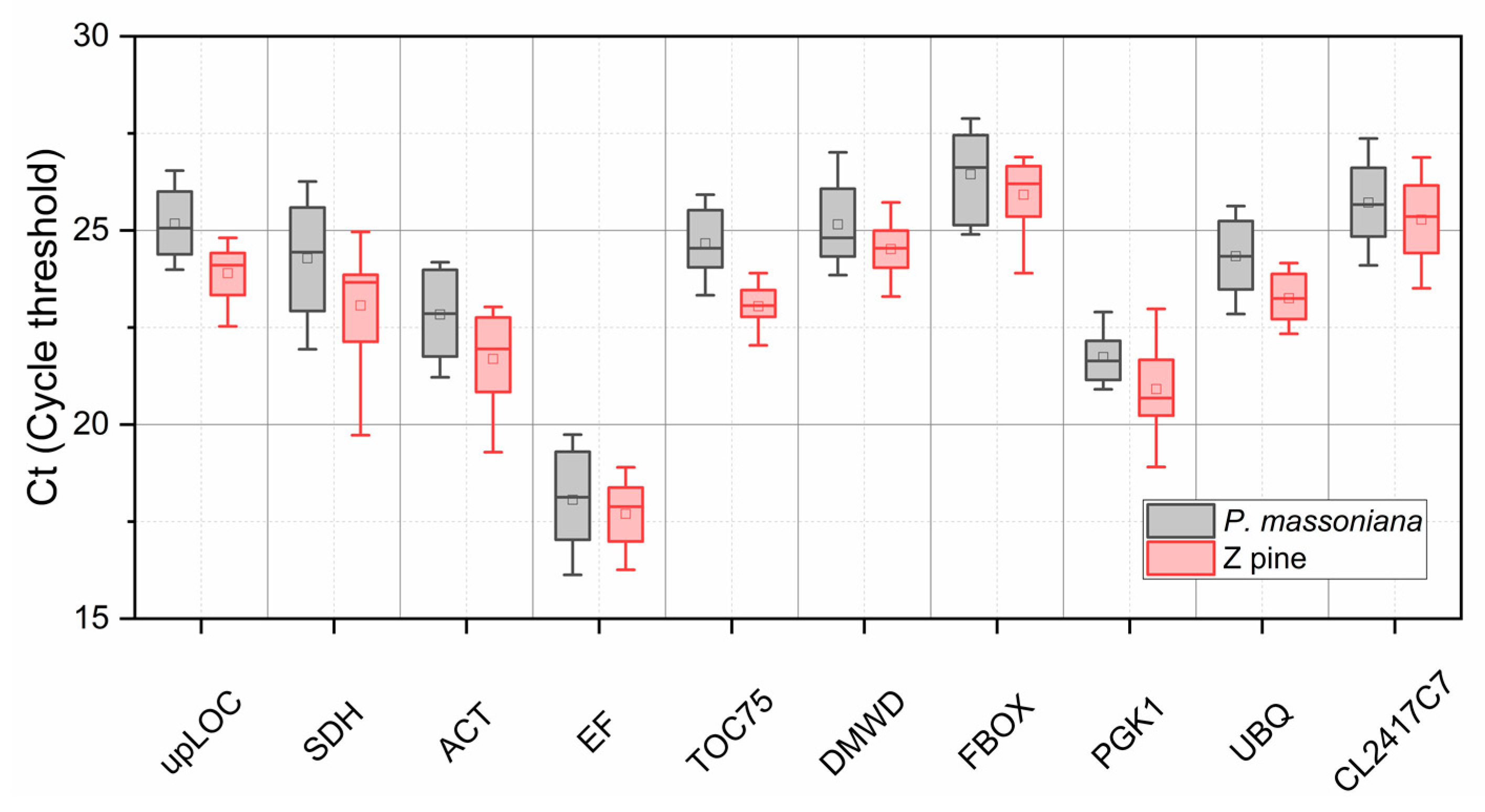 Figure 5.
Stability values per gene as calculated using three separate algorithms (geNorm, NormFinder, and BestKeeper). Figures display the stability value data per gene of: (
a
) MCN+ZCN; (
b
) MYS+ZYS; (
c
) MMN+ZMN; (
d
) MYN+ZYN; (
e
) all
P. massoniana
samples; (
f
) all Z pine samples; (
g
) all
P. massoniana
and Z pine samples; and (
h
) pairwise variation calculated by geNorm.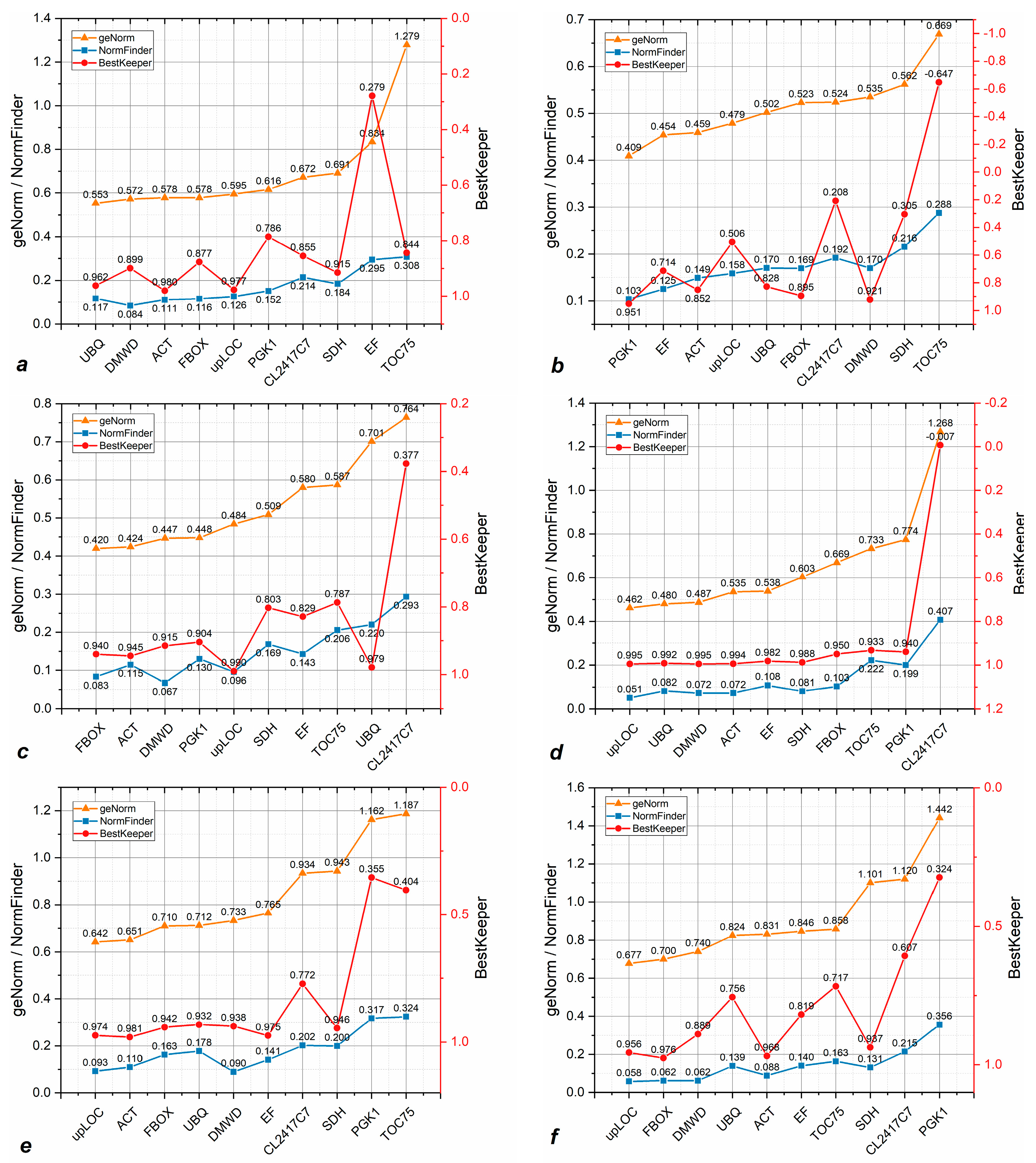 Taxon
Sample Code
Sample Detail
Environmental Information

P. massoniana

MCN
cone
116.04 E, 29.50 N, 78 m (a.s.l. 1)
MYS
young stem
MMN
mature needle
MYN
young needle
VETC 2
Z pine
ZCN
cone
115.98 E, 29.54 N, 730 m (a.s.l. 1)
ZYS
young stem
ZMN
mature needle
ZYN
young needle
VETC 2
1 a.s.l.: above sea level; 2 VETC: versatile environmental test chamber.
Gene Code
Gene Name
Primer Sequence (5′–3′)
Product Size (bp)
Accession Number

upLOC

uncharacterized protein LOC103705956
F: CACCTTCCGCTTCTTCTA
95
MN172175
R: TTGAATGACTCTTCTTGATGG

SDH

succinate dehydrogenase
F: AGACCTTGATGTTAAGAATGC
127
MN172176
R: TTCCTGTCCAGCCTTATC

ACT

actin
F: ATTCTCCTCACCGAAGCACC
188
MN172177
R: ATGGGAACTGTGTGGCTGAC

EF

elongation factor
F: TTGGGACTGTGCCTGTTGGT
206
MN172178
R: AGATGCCACGTAACCACGCT

TOC75

protein TOC75-3
F: TGAAGGAGGAATAATTGTTGAG
128
MN172179
R: CACCTGGCTGAATTGAAG

DMWD

dystrophia myotonica WD repeat-containing protein
F: GGACTTGGTGATGGATGA
133
MN172180
R: TGGAGCAGATTGAAGAAGA

FBOX

F-box family protein
F: TTGCTTCCTTGTAACATCTG
81
MN172181
R: CACCTCTTAATATCCAACTCTAC

PGK1

phosphoglycerate kinase 1
F: TGCCAAGGTTATTCTTACAAG
136
MN172182
R: CGGTCCAATACAATCATCTG

UBQ

ubiquitin
F: CTTATGACGATGTTGTGGAG
122
MN172183
R: TCTGAATCTGATGGCTTGA

CL2417C7

unknown
F: TCAATCTAAGCCTTCTAGCA
87
MN172184
R: TCCGTCATACCAACATCTT
Sample
Recommended
NOT Recommended
MCN + ZCN

ACT

TOC75, EF

MYS + ZYS

PGK1

TOC75

MMN + ZMN

upLOC

,

ACT

,

DMWD

CL2417C7

MYN + ZYN

upLOC

CL2417C7

M_ALL

upLOC

,

ACT

TOC75

Z_ALL

upLOC

PGK1

MZ_ALL

upLOC

,

ACT

PGK1
M_All: all

P. massoniana

samples (MCN+MYS+MMN+MYS); Z_All: all Z pine samples (ZCN+ZYS+ZMN+ZYN); MZ_All: all

P. massoniana

and Z pine samples; details of sample code please see Table 1.

© 2019 by the authors. Licensee MDPI, Basel, Switzerland. This article is an open access article distributed under the terms and conditions of the Creative Commons Attribution (CC BY) license (http://creativecommons.org/licenses/by/4.0/).