Open Access This article is
freely available
re-usable
Article
Fractional Cover Mapping of Invasive Plant Species by Combining Very High-Resolution Stereo and Multi-Sensor Multispectral Imageries
1
Département des Sciences Fondamentales, Université du Québec à Chicoutimi, Saguenay, QC G7H 2B1, Canada
2
Department of Civil Engineering, Geomatics Engineering Division, Indian Institute of Technology, Roorkee 247667, India
3
Department of Photogrammetry and Remote Sensing, Faculty of Geodesy and Geomatics Engineering, K. N. Toosi University of Technology, Tehran 19967-15433, Iran
4
Department of Remote Sensing, University of Würzburg, D-97074 Würzburg, Germany
5
Key Laboratory of Vegetation Restoration and Management of Degraded Ecosystems, Guangdong Provincial Key Laboratory of Applied Botany, South China Botanical Garden, Chinese Academy of Sciences, Guangzhou 510650, China
*
Authors to whom correspondence should be addressed.
Received: 21 May 2019 / Accepted: 26 June 2019 / Published: 27 June 2019
Abstract
:
Invasive plant species are major threats to biodiversity. They can be identified and monitored by means of high spatial resolution remote sensing imagery. This study aimed to test the potential of multiple very high-resolution (VHR) optical multispectral and stereo imageries (VHRSI) at spatial resolutions of 1.5 and 5 m to quantify the presence of the invasive lantana (
Lantana camara
L.) and predict its distribution at large spatial scale using medium-resolution fractional cover analysis. We created initial training data for fractional cover analysis by classifying smaller extent VHR data (SPOT-6 and RapidEye) along with three dimensional (3D) VHRSI derived digital surface model (DSM) datasets. We modelled the statistical relationship between fractional cover and spectral reflectance for a VHR subset of the study area located in the Himalayan region of India, and finally predicted the fractional cover of lantana based on the spectral reflectance of Landsat-8 imagery of a larger spatial extent. We classified SPOT-6 and RapidEye data and used the outputs as training data to create continuous field layers of Landsat-8 imagery. The area outside the overlapping region was predicted by fractional cover analysis due to the larger extent of Landsat-8 imagery compared with VHR datasets. Results showed clear discrimination of understory lantana from upperstory vegetation with 87.38% (for SPOT-6), and 85.27% (for RapidEye) overall accuracy due to the presence of additional VHRSI derived DSM information. Independent validation for lantana fractional cover estimated root-mean-square errors (RMSE) of 11.8% (for RapidEye) and 7.22% (for SPOT-6), and
R
2
values of 0.85 and 0.92 for RapidEye (5 m) and SPOT-6 (1.5 m), respectively. Results suggested an increase in predictive accuracy of lantana within forest areas along with increase in the spatial resolution for the same Landsat-8 imagery. The variance explained at 1.5 m spatial resolution to predict lantana was 64.37%, whereas it decreased by up to 37.96% in the case of 5 m spatial resolution data. This study revealed the high potential of combining small extent VHR and VHRSI- derived 3D optical data with larger extent, freely available satellite data for identification and mapping of invasive species in mountainous forests and remote regions.
Keywords:
Lantana camara
; SPOT-6; RapidEye; 3D; DSM; Fractional cover analysis
1. Introduction
Various studies have revealed the importance of plant biodiversity for the functioning of an ecosystem, which is closely connected with human activities [
1
,
2
]. However, apart from its significance for terrestrial ecosystems, it is much more important to emphasize the qualitative and quantitative changes or threats to plant biodiversity [
3
]. A proper regular and effective monitoring system is evidently required to characterize these changes. With the ability to view terrestrial vegetation from space, remote sensing has tremendous potential to provide long-term, continuous solutions at different spatial, temporal and spectral resolutions [
4
,
5
,
6
]. Satellite remote sensing datasets can represent a great opportunity when field-based observations are impossible or hampered [
7
,
8
,
9
]. High-resolution satellite data have enabled the development of species-level distribution maps along with three-dimensional (3D) information on forest structural traits such as species composition, canopy diameter, and distribution of age-classes [
10
]. In recent years, interest in employing multi-spectral, multi-temporal high and very high spatial resolution data to study biological invasions in plant communities has grown considerably [
11
].
Topographic information derived from remote sensing data enhances differentiation of plant or tree species that are spectrally similar. However, during the last decade, airborne laser scanning has been the primary data source to capture 3D information on forest vertical structure [
12
,
13
,
14
]. This tool is expensive, and possibly unavailable for developing countries [
15
]. In recent years, the improvement in space technology has reduced the gap in terms of spatial resolution (up to 30 cm ground sample distance) between aerial and satellite imagery [
16
]. Moreover, high-resolution digital surface models (DSM) are now more widely available through stereo imaging capacities and a worldwide access to very high-resolution (VHR) satellite data.
Over the last decade, satellite data for large areas provide information only on presence or absence of forests types or tree cover percentages. Prominently, AVHRR, MODIS or Landsat-based continuous (fractional) land-cover maps are available at coarser and medium spatial resolutions for forest cover change [
17
,
18
,
19
]. Other products also provide information, such as NDVI-derived vegetation fractional cover data of Oceansat-2 Ocean Color Monitor [
20
] for India and European initiative coordinated information on the environment (CORINE) derived land cover inventory data for coniferous and broadleaf tree species groups [
21
]. A review and comparison of various land cover products derived from satellite data can be found in [
21
]. These data provide an overview of forest types and species distribution at coarser (250 m to 1 km) and medium (30 m) spatial resolutions, but detailed information at finer spatial levels like plant species or trees is still lacking.
Previous studies analyzed detailed level species distribution for mapping and identification, utilizing VHR remote sensing data such as IKONOS or WorldView-2 (WV2) [
22
,
23
,
24
,
25
,
26
,
27
]. Similarly, a few studies with spatial resolution <5 m addressed mapping of invasive plant species using IKONOS [
28
], Cartosat-I [
29
] and Pléiades -1A [
30
] in the western Himalayan region of India. However, such studies can be only implemented in small areas, due to the high cost and scarcity of VHR and VHR stereo imagery (VHRSI) data compared with medium and coarser spatial resolution data. Thus, detailed studies covering larger geographic areas at higher spatial resolutions are still lacking [
31
], in particular across the high-altitude, species-rich Indian Himalayan region [
32
].
An alternative is to develop approaches to estimate the fraction of land cover within each optical pixel, by linking freely available medium spatial resolution (larger extent) with VHR (smaller extent) data. Fractional cover analysis has been subjected to intensive research using different satellite and aerial imageries. Recent studies combined VHR WV-2 with time series Landsat [
33
], IKONOS with Landsat [
34
,
35
] and GeoEye-1 with Landsat data [
36
] for generation of high spatial resolution fractional cover maps for larger geographical areas. It is thus practically crucial to utilize the combination of VHR with freely available medium spatial resolution datasets such as Landsat or MODIS due to their larger spatial coverage.
In this study, the potential of new-generation VHRSI and VHR multispectral satellite data was tested for classification and fractional cover analysis of an invasive shrub, lantana (
Lantana camara
L.), which extensively affects the western Himalayan forest in India. Fractional cover analysis was suggested to address the issue of estimating lantana distribution in Doon Valley. We aimed to (i) classify VHR SPOT-6 and RapidEye with additional 3D information from VHRSI SPOT-6 generated DSM; (ii) model the statistical relationship between fractional cover and spectral reflectance derived from high spatial resolution maps, and predict the fractional cover of lantana in a larger area based on the spectral reflectance of Landsat 8 imagery; and (iii) compare model performance between Landsat 8—SPOT-6 (1.5 m) and Landsat 8—RapidEye (5 m) fractional cover maps. We expected that Landsat-8-based upscaled lantana species information derived from input classified VHR imageries would provide an appropriate baseline for a fractional cover analysis approach for different types of forest regimes.
2. Materials and Methods
2.1. Study Area
The study area is located in the western Himalayan region of Doon valley, Uttarakhand, India (29,055′ to 30,030′ N and 77,035′ to 78,024′ E), at elevations ranging between 500 and 800 m above sea level (
Figure 1
). The climate is humid sub-tropical [
37
]. The temperature ranges between 16.7 and 36 °C during summer, and between 5.2 and 23.4 °C in winter [
38
]. Average annual rainfall is 2025 mm, and is mainly concentrated in the period between June and September. The Doon valley encompasses subtropical moist deciduous forests (MDF) dominated by sal trees (
Shorea robusta
G.) and
Mallotus philippensis
Lam., with
Clerodendrum infortunatum
L. and lantana in the understory. The Lachhiwala and Thano forest areas within the Doon valley were selected for this analysis due to availability of GPS observations of lantana locations in these forest sites.
2.2. Satellite Data
We acquired satellite remote sensing data during April 2013, because shedding of leaves of overstory vegetation and visibility of understory vegetation (i.e., lantana) culminates in this month [
39
,
40
]. Orthorectified Level-3A, cloud free and pre-processed SPOT-6 imageries (multispectral and Panchromatic (PAN) stereo pair) and RapidEye (multispectral) were acquired (
Table 1
). The RapidEye sensor has an additional red-edge band with a spectral range of 690–730 nm; further details on the specifications of the RapidEye are given in [
41
]. We applied atmospheric corrections to convert DN values into surface reflectance using ATCOR 3 [
42
]. Selected vegetation indices (NDVI, MSAVI2 and NDRE) were generated from the surface reflectance values. Pre-processed Level-2, Landsat-8 OLI data were acquired from USGS (United States Geological Survey) for wider coverage (
Figure 1
). In this paper, four spectral bands (Blue, Green, Red and NIR) of Landsat-8 OLI were applied (
Table 1
).
2.3. High-Resolution DSM
The DSM generation algorithm was adopted from [
43
]. The process comprised the following steps: tie points that were common to stereo pair images were generated using an automatic tie point generation tool. In the case of SPOT-6 imagery, RPC file was used as an input for tie point generation [
44
]. Tie points appearing within the overlap portion of the left and right images were identified. The resulting output consisted of the image location of tie points appearing within stereo pair rasters. Point cloud data were generated from stereo pairs using the image-matching point cloud generation algorithm eATE (Enhanced Automatic Terrain Extraction), which is an area-based method and uses a normalized cross correlation strategy [
15
,
45
] in Erdas Imagine (2015). The point cloud data were then interpolated into raster DSM [
46
,
47
] at a spatial resolution of 1.5 m by a triangulation technique implemented within ArcGIS (2015).
2.4. Image Classification and Generation of Reference Fractional Cover Data
2.5. Estimation of Fractional Cover for Larger Extent Using Landsat-8
Fractional cover maps of lantana for the Lachhiwala and Thano forests were generated by RF after creation of a reference dataset [
33
]. Fractional cover analysis was performed by taking the classified RapidEye and SPOT-6 imagery into account as predictors (
Figure 2
). We used the routine implemented within the RStoolbox [
50
]. Fractional cover extracts pixel values in a classified VHR image that corresponds to a random selection of medium spatial resolution pixels. It then calculates the percentage of classified image pixels that represent the cover type of interest. For example, with the 1.5 m pixel size of SPOT-6 VHR imagery and 30 m spatial resolution of Landsat-8, the sampling process uses 400 blocks of the 1.5-m resolution pixels corresponding to a single 30-m pixel and calculates the percentage of 1.5-m pixels that belong to the area covered by lantana. That is, with 100 pixels of lantana and 300 other class pixels, the value given for the output pixel would be 0.25, since 25% of the total amount of pixels belongs to lantana cover.
3. Results and Discussion
3.1. Classification of Combined Multispectral VHR and VHRSI DSM Data
3.2. Variable Importance
As expected from frequent field visits, DSM-derived elevation was among the most significant contributors to classification performance, although its influence was somewhat more pronounced when classifying RapidEye data. The overall importance of elevation was in line with a previous study [
71
] that applied Landsat multi-spectral data with ancillary data such as elevation (10 m contour interval), slope, and aspect for land-cover classification of mountainous areas. Accordingly, the DSM-derived elevation and slope combined with NDVI were the most important predictors for discriminating lantana (
Figure 5
). Whereas topographic information could be derived from a variety of 3D data sources, here we relied on those extracted from VHRSI due to a general absence of crown-penetrating LiDAR data across our study region. However, this was entirely due to a practical rationale; a recent study [
74
] also suggested that DSMs derived from VHRSI (WV-3 with 0.5 m spatial resolution) during leaf-off conditions were generally comparable to the LiDAR bare-earth DTM and may be used in land cover classification of vegetation during leaf-off seasons. In addition, red-edge spectral information of RapidEye data was ranked high when discriminating understory lantana from agriculture and built-up land cover, compared with texture parameters. Similar results were observed in a previous study that combined red-edge and texture parameters for paddy-rice crop classification [
75
]. Nevertheless, our study suggested that additional spectral information introduced by the red-edge band of RapidEye has the potential to discriminate invasive plants from other land-cover classes in relatively complex heterogeneous forest environments. However, future tests are suggested with freely available Sentinel-2 multispectral data featuring three red-edge bands.
3.3. Landsat-8-Based Fractional Cover Maps for SPOT-6 and RapidEye
The RF models based on the results of SPOT-6 calibrated with larger extent Landsat-8-based predictors explained 64.38% of the variance for lantana, and 71.67% for sal trees. Moreover, 37.96% variance for lantana and 55.63% variance for sal trees were observed with RapidEye fractional reference map as an input (
Table 5
). The lower spatial resolution of Rapideye (5 m) compared with SPOT-6 (1.5 m) data resulted in lower observed variance when RapidEye was calibrated with larger extent Landsat-8. Furthermore, 40% fractional coverage of lantana was observed in lower elevation zones (400 to 500 m) from the classifications of Landsat-based upscaled maps (
Figure 6
) for both SPOT-6 and RapidEye fractional reference inputs. This result is in agreement with previous studies [
30
,
63
] that observed the dominance of lantana in open lowland (400–500 m a.s.l.) areas compared to the high-elevation (>500 m a.s.l.) sal-dominated areas.
The most important variables for lantana estimation were the spectral reflectance of Landsat-8 (NIR, green and red) and April NDVI. Similar features were important for the sal trees models, with the main difference being the increased importance of NDVI. Higher
R
2
and lower RMSE were observed for reference fractional cover data of SPOT-6 when compared to RapidEye for both lantana and sal trees (
Table 5
). The accuracy of fractional cover maps increased when higher spatial resolution maps (1.5 m) were used as a reference. This approach is in line with a previous study [
33
], which also suggested developing fractional cover maps for European spruce (
Picea abies
L.) and Scots pine (
Pinus sylvestris
L.) using RF regression by combining VHR WV-2(2 m) and medium spatial resolution Landsat time series data.
Our results were able to generate fractional cover maps in a heterogeneous environment when other classes were mixed with sal trees, especially soil-dominated and understory land covers such as lantana, agriculture and bare soil in the dry season. This was in agreement with an earlier study focusing on canopy fractional cover degradation mapping in a heterogeneous tropical forest of Brazil by combining Landsat ETM+ and VHR IKONOS data [
35
]. This research suggested the importance of reducing the mixed pixel problem in medium spatial resolution classification and the necessity of calibrating Landsat-derived results by the established model based on the combination of Landsat, SPOT-6, and RapidEye. The combination of open Landsat TM (30 m) and MODIS (250 m) were also used by [
76
] to map a forest and extract three fractions of vegetation, shadow and soil, to highlight deforestation. Since our approach included expensive VHR data, time series analysis could be limited by high cost. However, this type of analysis could be tested for a combination of open time series Sentinel-2 (10–20 m spatial resolution) and Landsat-8 (30 m spatial resolution) datasets.
4. Conclusions
This study presented a fractional cover approach to predicting the proportion of lantana cover for a large area based on the spectral reflectance of medium spatial resolution multispectral Landsat-8 imagery in a Western Himalayan region of India. Training data for fractional cover analysis was classified with smaller extent VHR SPOT-6 (1.5 m) and RapidEye (5 m) imageries by adding VHRSI information derived from SPOT-6 data. Results of VHR maps showed 87.38% and 85.27% overall accuracy for SPOT-6 and RapidEye, respectively. Our observations suggested that 3D information from VHRSI optical satellite data played a crucial role in distinguishing understory (in our case lantana) from upperstory vegetation, being also a valid alternative to costly LiDAR data. We conclude that classification accuracy improves at increasing spatial resolution, with decreasing mixed pixel problems for fractional cover maps when spatializing data on larger geographical areas. This approach is consistent and reliable for large mountainous biodiversity hotspots, where direct field observations are prevented by harsh climatic conditions. This approach may be implemented for other species mapping over larger areas by combining freely available Sentinel-2 and Landsat datasets.
Author Contributions
S.K., H.L., and S.R. designed the research. S.K. and H.L. provided the satellite and other required data sources. S.K. conducted the data processing. S.K., H.L. and S.R. performed the analysis of the results and the statistical interpretation. S.K. performed the code programming, supported by H.L., S.K. and H.L. wrote the first draft of paper. H.L., S.R. and S.K.G. commented on the draft and all authors finalized it. H.L. and S.K. were corresponding authors.
Funding
The SPOT-6 multispectral and stereo pair dataset were funded by European Space Agency (ESA) with project id: 33429 and and RapidEye datasets were funded by RapidEye Science Archive (RESA) with project id: 00184.
Acknowledgments
We thank U.S. Geological Survey (USGS) EROS data center for Landsat-8 data, Department of Remote Sensing of University of Wuerzburg, Germany for providing a research residency to S. Khare, and A. Garside for checking the English text.
Conflicts of Interest
The authors declare no conflict of interest. The funders had no role in the design of the study; in the collection, analyses, or interpretation of data; in the writing of the manuscript, or in the decision to publish the results.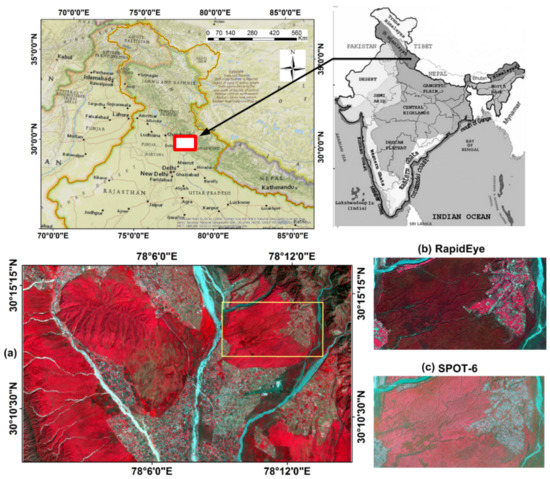 Figure 1. Study area location (a) Landsat-8 imagery with larger extent and yellow box showing the smaller extent of (b) RapidEye and (c) SPOT-6 multispectral imageries.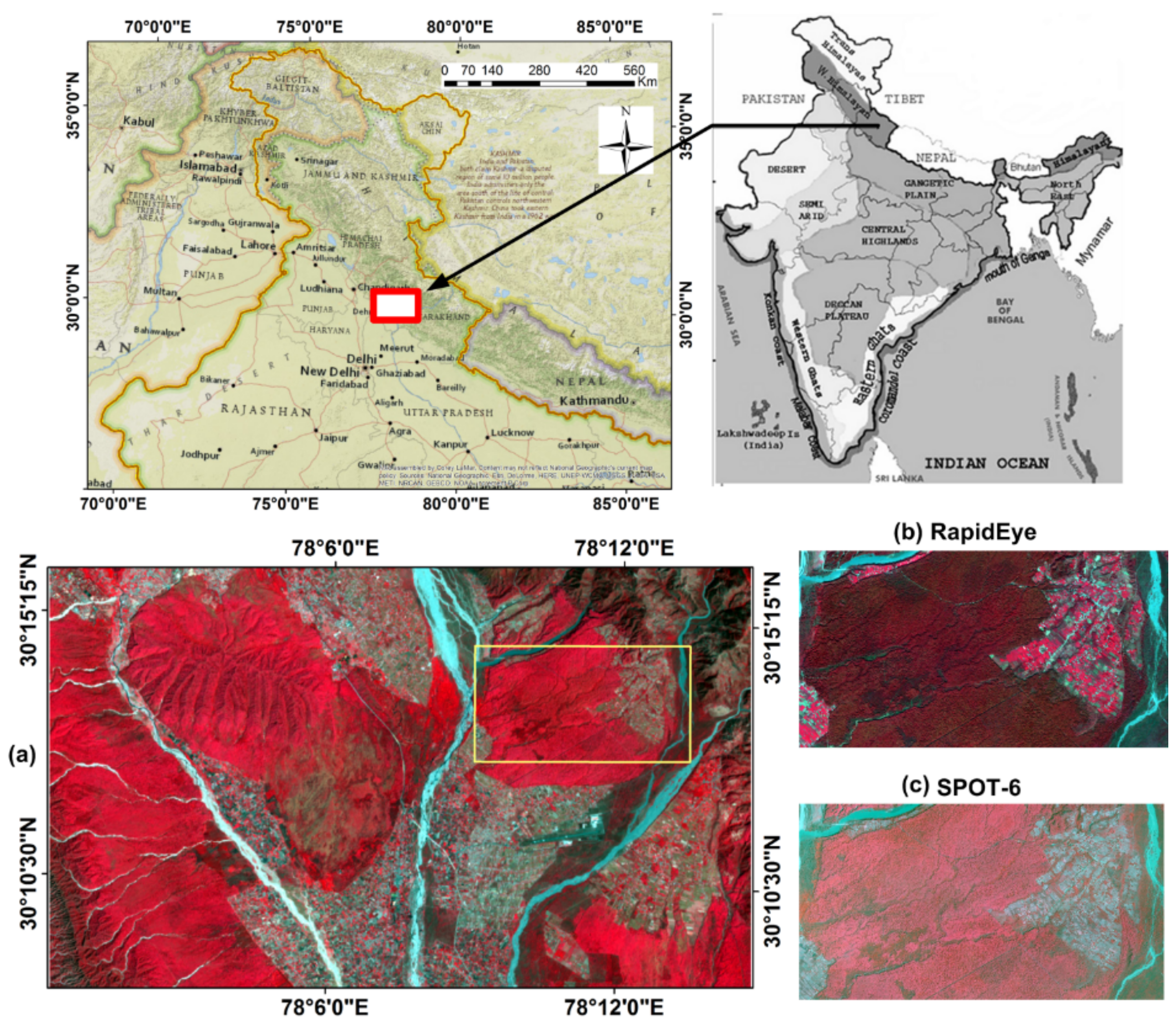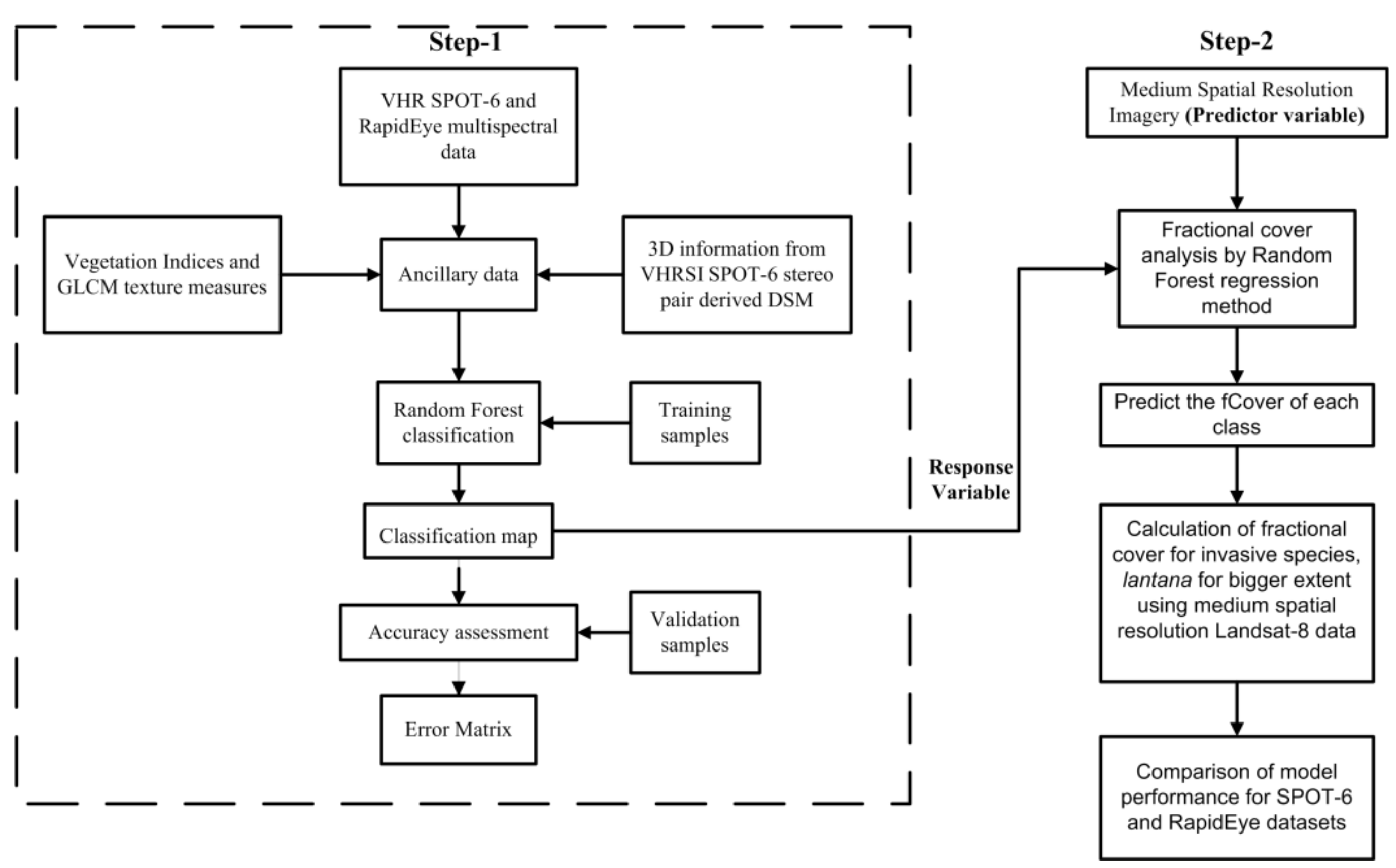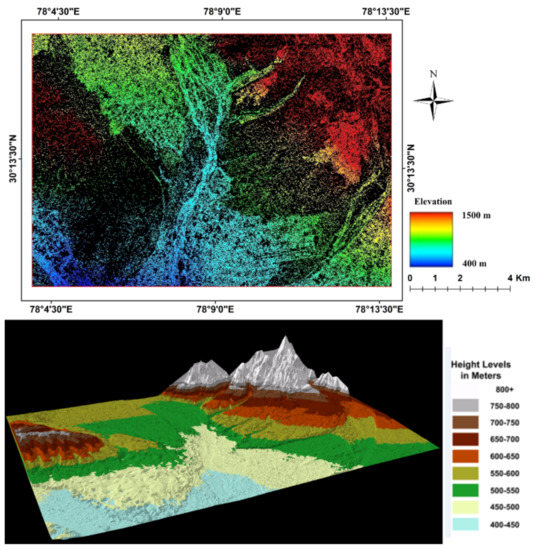 Figure 3. DSM of the study area represented by point cloud data (panel a) and 3D view (panel b). Black color in point cloud data represent NA values.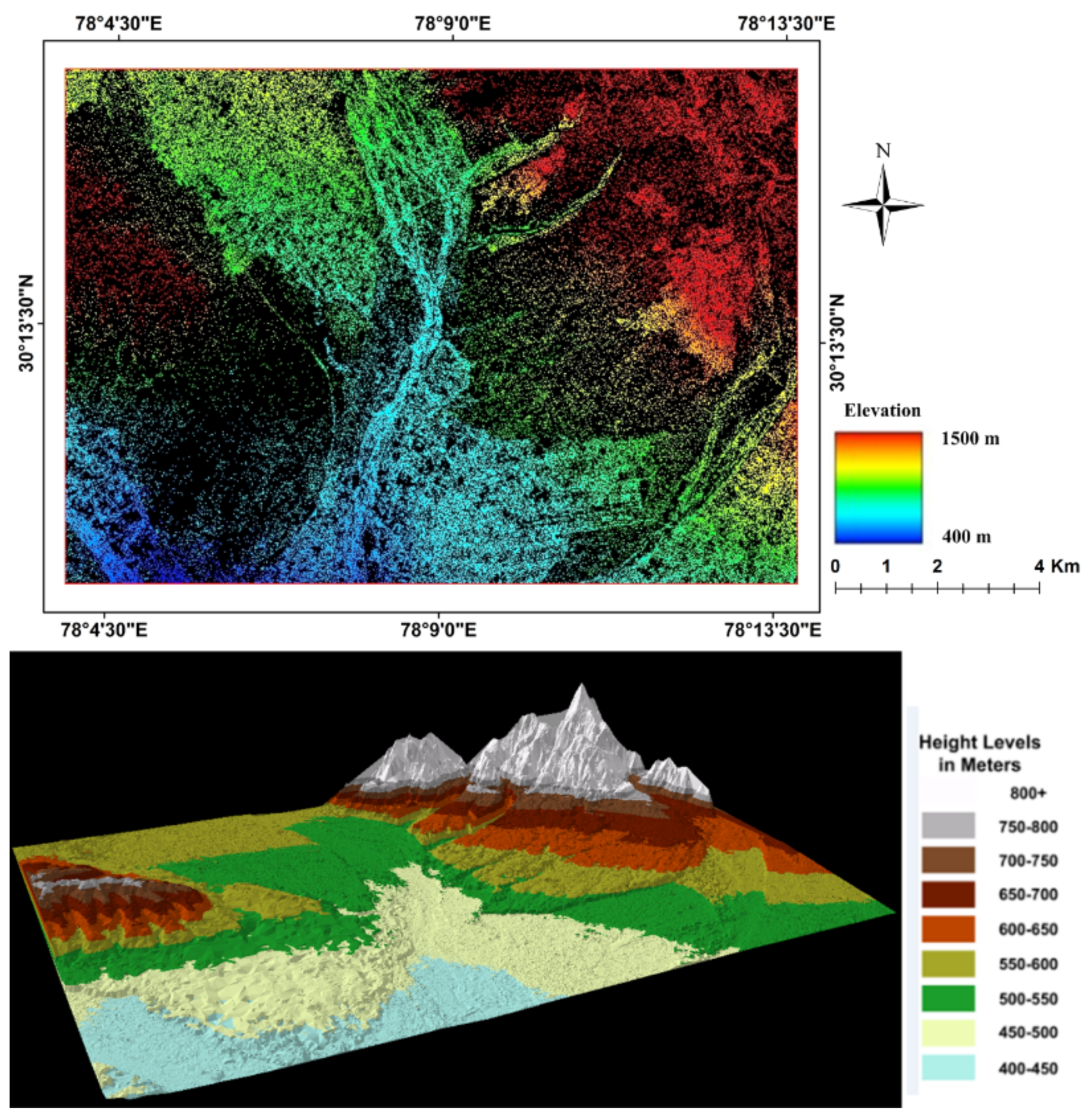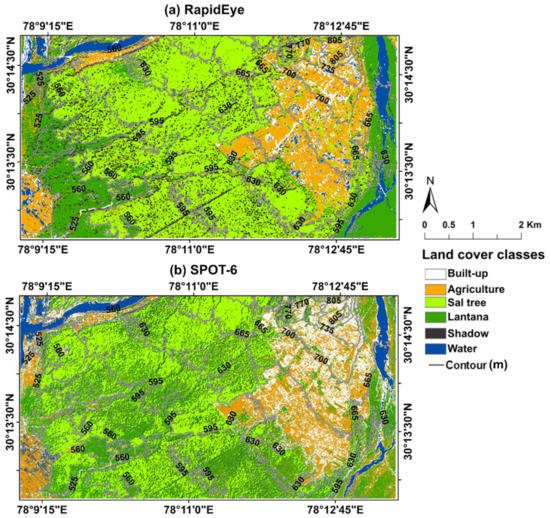 Figure 4. RF classification of (a) RapidEye and (b) SPOT-6 multispectral imageries for smaller extent.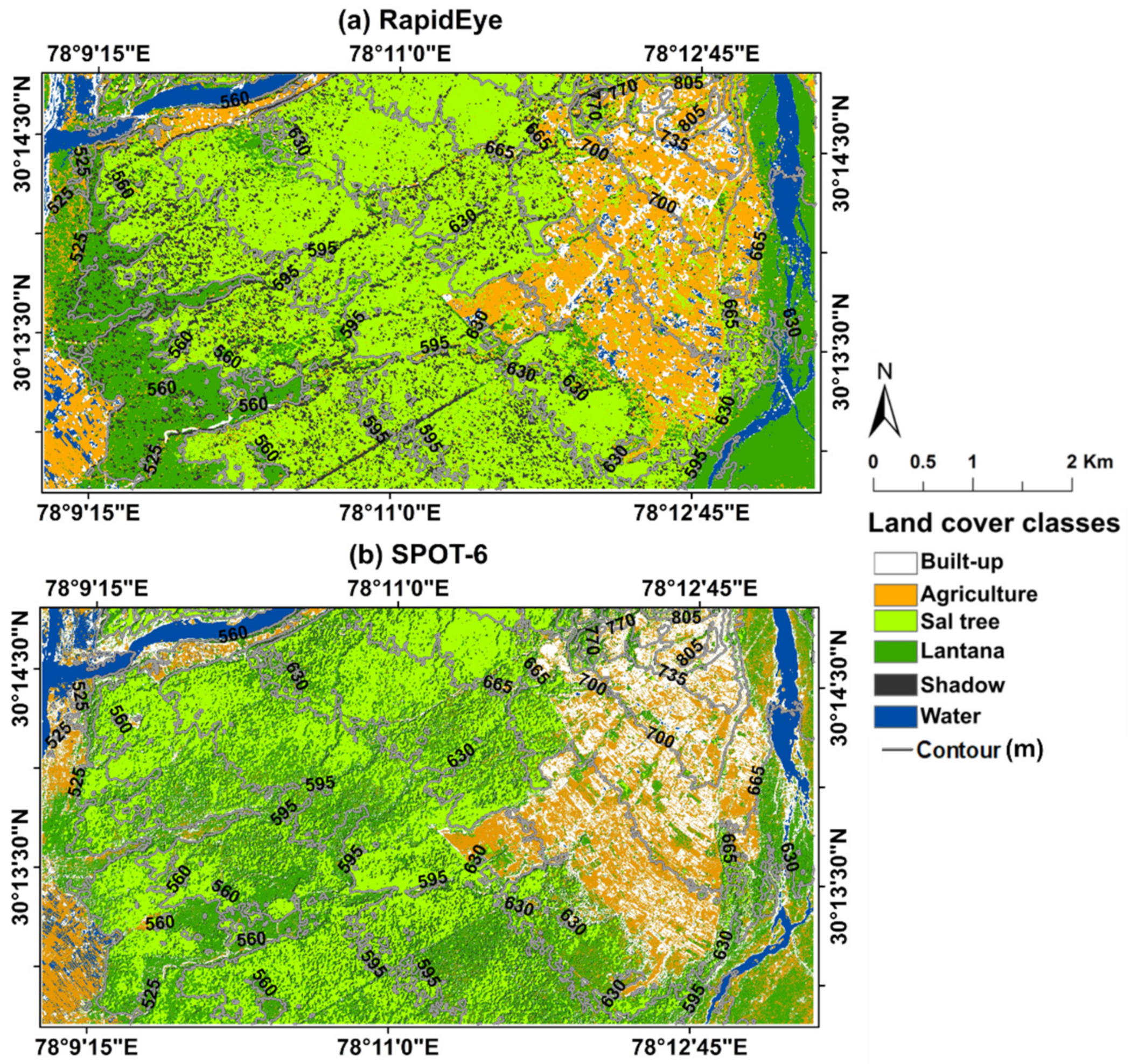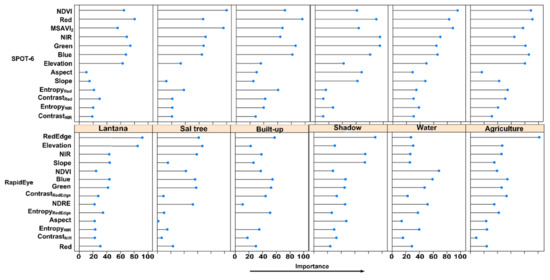 Figure 5. Variable importance shown as mean accuracy decrease (% decrease in overall accuracy) for SPOT-6 and RapidEye-based classification.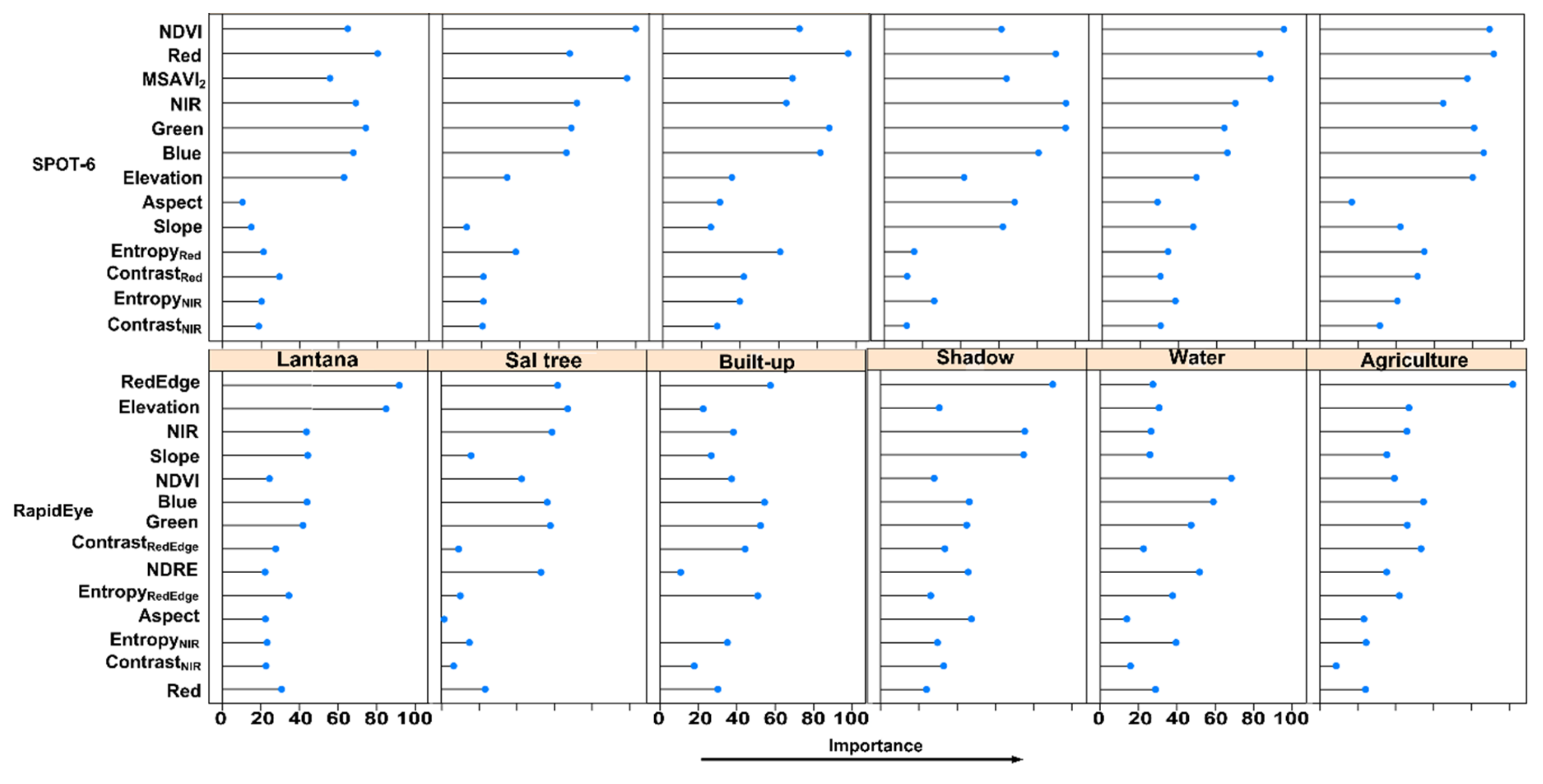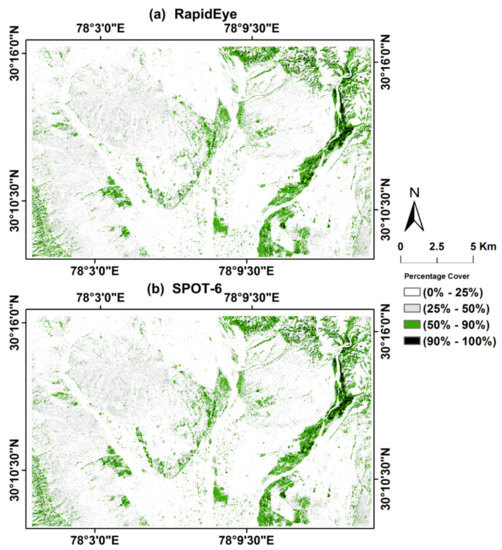 Figure 6. Landsat-8 classification for lantana within fractional cover thresholds (0%–25%, 25%–50%, 50%–90%, 90%–100%) for (a) RapidEye and (b) SPOT-6 data.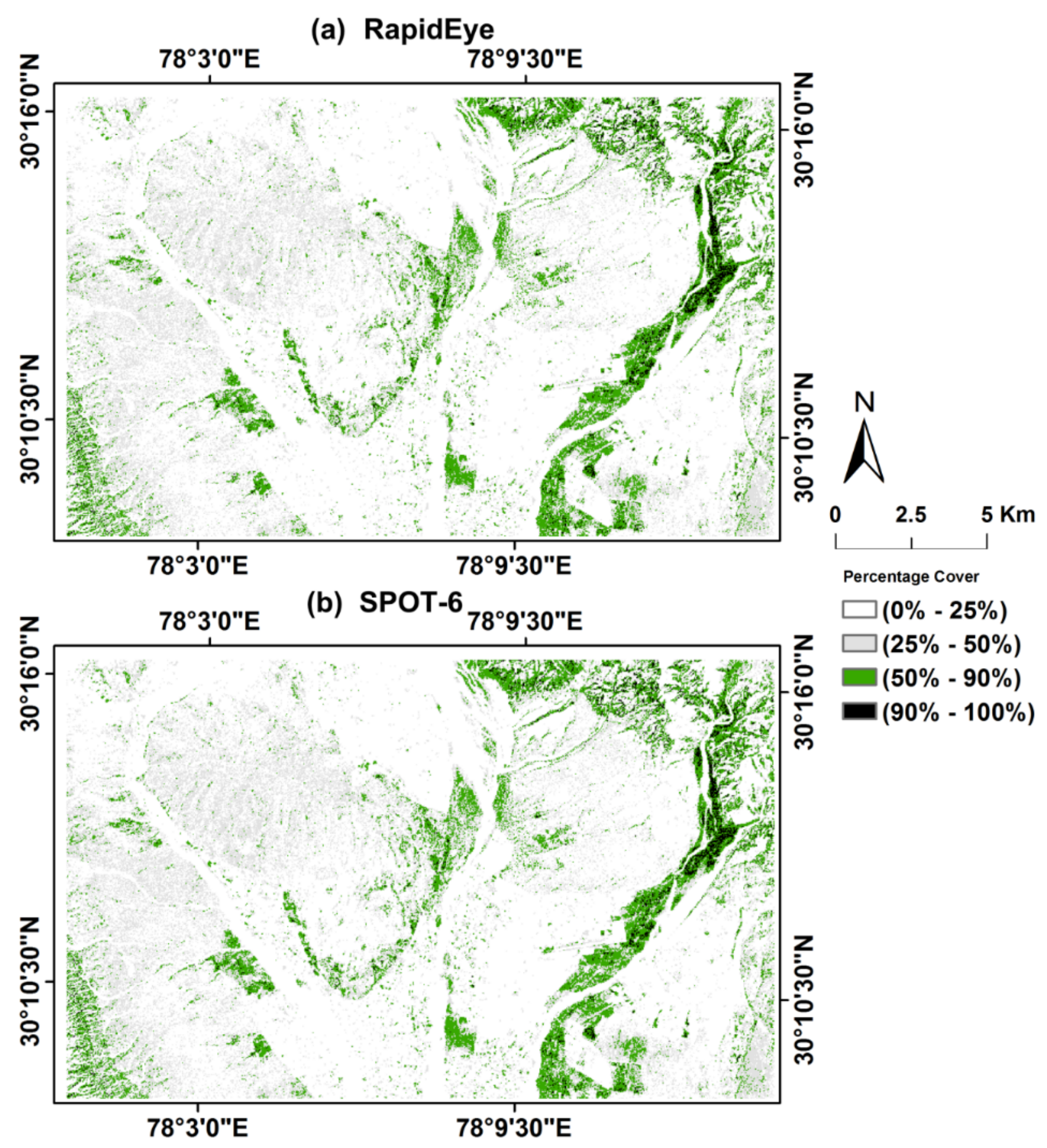 | Satellite | Sensors | Date of Acquisitions | Spatial Resolution (m) |
| --- | --- | --- | --- |
| SPOT-6 | (Stereo pair PAN) | 5 April 2013 | 1.5 |
| SPOT-6 | (Blue, Green, Red and NIR) | 25 April 2013 | 1.5 |
| RapidEye | (Blue, Green, Red, Red-Edge and NIR) | 12 April 2013 | 5 |
| Landsat-8 OLI | (Blue, Green, Red and NIR) | 11 April 2013 | 30 |
| Variables for Ancillary Data | Associated Satellite Data |
| --- | --- |
| DSM (1.5m)-elevation, slope and aspect | SPOT-6 |
| Resampled DSM (5m)-elevation, slope and aspect | RapidEye |
| NDVI | SPOT-6 and RapidEye |
| MSAVI2 | SPOT-6 |
| NDRE | RapidEye |
| Texture measure (Entropy, Contrast) | SPOT-6 (NIR, Red bands) and RapidEye (NIR, Red-edge bands) |
Reference Data
Predicted Data
Row Total
Producer's Accuracy (%)
User's Accuracy (%)
Class Error (%)
Built-Up
Agri-culture
Sal Tree

Lantana

Shadow
Water
Built-up
945
44
0
1
0
11
1001
94.41
78.16
3.59
Agri-culture
179
806
8
1
7
0
1001
80.52
85.47
1.79
Sal tree
0
1
985
13
2
0
1001
98.40
80.94
3.67

Lantana

12
3
224
703
60
0
1002
70.16
96.30
1.68
Shadow
0
81
0
5
770
0
856
89.95
91.78
1.29
Water
73
8
0
7
0
913
1001
91.21
98.81
2.98
Column Total
1209
943
1217
730
839
924
5122
Reference Data
Predicted Data
Row Total
Producer's Accuracy (%)
User's Accuracy (%)
Class Error (%)
Built-Up
Agri-culture
Sal Tree

Lantana

Shadow
Water
Built-up
261
7
8
1
0
0
277
94.22
93.55
2.28
Agri-culture
4
522
48
1
0
7
582
89.69
97.57
2.29
Sal tree
7
3
935
37
19
0
1001
93.41
69.11
2.69

Lantana

0
3
350
601
48
0
1002
59.98
92.60
5.31
Shadow
0
0
12
9
53
0
74
71.62
41.09
13.60
Water
7
0
0
0
9
986
1002
98.40
99.30
2.88
Column Total
279
535
1353
649
129
993
3358

Table 5.
Fractional cover statistics for lantana and forest classes. Probability of significant relevance codes are 0.05 <
p
: ***,
p
< 0.001.
Class
SPOT-6
RapidEye

R

2
RMSE (%)
Variance (%)

R

2
RMSE (%)
Variance (%)
Lantana
0.92 ***
7.22
64.38
0.85 ***
11.8
37.96
Sal trees
0.94 ***
7.73
71.67
0.86 ***
12.1
55.63

© 2019 by the authors. Licensee MDPI, Basel, Switzerland. This article is an open access article distributed under the terms and conditions of the Creative Commons Attribution (CC BY) license (http://creativecommons.org/licenses/by/4.0/).