Open Access This article is
freely available
re-usable
Review
What Makes the Wood? Exploring the Molecular Mechanisms of Xylem Acclimation in Hardwoods to an Ever-Changing Environment
Forstbotanik und Baumphysiologie, Georg-August Universität Göttingen, Büsgenweg 2, 37077 Göttingen, Germany
*
Author to whom correspondence should be addressed.
Received: 28 February 2019 / Accepted: 23 April 2019 / Published: 25 April 2019
Abstract
:
Wood, also designated as secondary xylem, is the major structure that gives trees and other woody plants stability for upright growth and maintains the water supply from the roots to all other plant tissues. Over recent decades, our understanding of the cellular processes of wood formation (xylogenesis) has substantially increased. Plants as sessile organisms face a multitude of abiotic stresses, e.g., heat, drought, salinity and limiting nutrient availability that require them to adjust their wood structure to maintain stability and water conductivity. Because of global climate change, more drastic and sudden changes in temperature and longer periods without precipitation are expected to impact tree productivity in the near future. Thus, it is essential to understand the process of wood formation in trees under stress. Many traits, such as vessel frequency and size, fiber thickness and density change in response to different environmental stimuli. Here, we provide an overview of our current understanding of how abiotic stress factors affect wood formation on the molecular level focussing on the genes that have been identified in these processes.
Keywords:
wood formation; abiotic stress; nutrition; gene regulation; tree
1. Introduction: The Xylem Keeps the Stream of Life Flowing
The main function of the xylem besides granting plant stability is to ensure long-distance water transport driven by water transpiration from the leaves to the atmosphere [
1
,
2
]. Therefore, xylem vessels are connected to each other in order to form a large conduit system throughout the plant. During vessel formation, the cell wall between two adjacent vessel cells is degraded to build a continuum. A measure for the water transport capacity within the xylem is xylem hydraulic conductance, which is, among other factors, determined by the size of the xylem vessels. Vessels with higher diameter facilitate faster water transport, thereby resulting in a higher hydraulic conductance. The volumetric flow rate is proportional to the fourth power of the vessel radius according to the Hagen-Poiseuille law [
3
,
4
]. Thus, a small reduction in vessel lumen already results in a large reduction of hydraulic conductivity. A severe danger for plant viability is a disruption of this water flow, called embolism, which primarily occurs at the bordered pits [
5
,
6
]. When the conduits are filled with air or vapor instead of xylem sap, cavitation stops further water flux. This process is considered as one of the most life-threatening phenomena for plants [
3
,
7
]. Cavitation results in non-functional water conduits, which leads to a reduction in hydraulic conductivity and stomatal closure, thereby reduced photosynthetic activity, which finally can lead to the plant´s death [
5
,
8
]. It is therefore crucial for plants to develop mechanisms to prevent cavitation by modulating their xylem structure. The major adjustment is to form vessels with smaller diameter to reduce the risk of cavitation. An additional mechanism is to increase vessel stability, achieved by increasing vessel cell wall thickness [
9
]. As a result, vessel lumina decrease [
9
]. To counteract the reduction in hydraulic conductivity per vessel plants can increase the number of vessels in their xylem [
9
,
10
,
11
]. In this review, we will summarize the current knowledge on the molecular regulation of xylem acclimation in angiosperms with the focus on
Populus
species and identify knowledge gaps.
2. Anatomy and Molecular Biology of Wood Formation
2.1. What Makes the Stem?
2.2. Molecular Mechanism of Wood Formation
This rough overview on the regulatory mechanisms and main processes that are required for the main cell wall compounds provides only a glimpse into the complexity of the underlying processes. The composition of wood is important for its further use, e.g., as construction material, where durable material is necessary and for paper making, where fibers of a certain length are favorable, or for secondary biofuel production where easily accessible cellulose is needed. Therefore, it is not only important to know how wood is being produced, but also to understand how wood properties are changed in response to environmental cues.
3. Abiotic Stresses Affecting Wood Formation
3.1. Drought Severely Changes Xylem Anatomy
Drought has a major impact on wood and wood formation processes. Since the xylem is the tissue that enables water transport throughout the whole tree, it is pertinent to keep the xylem architecture intact and to acclimate it to changing water supply to prevent embolism [
44
,
45
]. The effects of drought on xylogenesis have been studied on several angiosperm species over the last decade. Poplar, in particular, was intensely studied [
46
,
47
]. Cambial cell layers are reduced under drought compared to well-watered plants [
10
,
48
]. When growth is still possible under water-limited conditions, poplars, regardless of whether they originate from dry or moist habitats, show reduced vessel lumina and an increased number of vessels compared to non-stressed plants (
Populus
x
canescens
, [
49
];
Populus euphratica
, [
11
]; different
Populus nigra
genotypes originating from dry and moist areas, [
10
]),
Figure 3
). Moreover, Schreiber and colleagues reported a strong correlation between vessel diameter and cavitation resistance in five hybrid poplar clones in Alberta, Canada [
50
]. However, these acclimatory anatomical changes are not only confined to water-spending trees species like poplar but also to more drought tolerant species such as oak depending on the level of acclimation (
Quercus pubescens
>
Quercus robur
>
Quercus petraea
, [
51
]). The importance of this safety strategy is further corroborated by a study on dead trees performed in Italian forests [
52
]. Here, the authors compared the wood anatomy of dead trees to that of surviving trees of the same age. They found that dead trees had formed wide early vessels and no vessels with reduced lumen during dry periods in contrast to trees that survived this period [
52
].
Taken together, these studies suggest that angiosperms have developed a common mechanism to acclimate their xylem to increasing drought. The xylem, as stated earlier, is formed by vessels and fibers, with the vessels forming the pipe system that facilitates water transport [
26
]. Under drought the plant has to fortify the vessels by thickening the secondary cell wall to prevent cavitation, which results in a reduced water transportation rate due to diminished vessel lumina [
11
]. To compensate the loss in vessel lumen, more vessels are formed to restore the water transportation rate that is necessary for tree growth (
Figure 3
). Improving the resistance against drought-induced xylem cavitation is a crucial acclimation mechanism of plants to dry environments [
8
,
53
]. It is notable that these alterations resemble those of seasonal acclimation of wood to shorter day lengths and cold, which lead to the formation of tree rings. Tree rings are a result of changes in the activity of xylem building processes [
54
]. Interestingly, Arend and Fromm observed in 2007 that trees responded to drought with smaller vessel lumina only during the main growth season but not in fall, when late wood with small lumina was formed [
48
]. Still, controlled experiments to disentangle temperature and day lengths effects on wood anatomy and the impact of drought under these conditions are lacking.
3.2. Drought Leads to Major Transcriptional Remodelling
3.3. Phytohormones Mediate Xylem Changes under Drought
3.4. Salt Severely Affects Wood Formation
4. Conclusions
Trees respond to environmental stress factors like drought and salt with the adjustment of xylem formation primarily to maintain the hydraulic function of the wood. These responses are strongly affected by nutrients, especially by major cations (K+, Ca2+) and by nitrogen availability. Interestingly, the anatomical changes in response to different environmental cues are quite similar and characterized by a reduction in xylem vessel lumina and fortification of secondary cell walls in vessels and fibers. However, the molecular regulations that act between the initial stimulus and the output, i.e., modified wood, are just poorly understood. It has become apparent that phytohormones play a crucial role in mediating those stress stimuli by modulating xylogenesis related genes like the NAC and MYB master switch regulators, which lead to stress specific gene transcription. Yet, this review shows that our picture of the processes leading to wood acclimation is far from being complete. In order to put the puzzle together, it will be important to not only continue investigating specific stimulus responses, but also to integrate the information of all processes to get a complete picture of wood stress acclimation. Transcriptome analyses helped us a lot in getting a better picture of the processes during stress acclimation, yet they mostly focus on gene clusters build by GO term or KEGG analyses. It will be crucial to exploit this powerful resource more in-depth in the future to get to the key genes involved in those regulatory mechanisms. Identification and functional characterization of candidate genes improving stress tolerance and/or growth under nutrient-limiting conditions will promote the generation of new genotypes either by improving trees by genetic engineering or by smart breeding. Significant advances have been made over recent years to build up an effective toolbox for the characterization of candidate genes, especially in poplar. While overexpression of candidate genes has been well established for years, the generation of loss-of-function mutants has always been difficult. However, recent advances in the CRISPR/Cas9 technology have provided researchers with a powerful tool to investigate gene function and to generate genetically modified trees.
Author Contributions
C.E., S.S., L.K., D.Y., G.J.S., A.K. and A.P. wrote the draft manuscript, C.E. and A.P. reviewed, edited and finalized the manuscript.
Funding
We are grateful for financial support in the frame of WATBIO (Development of improved perennial biomass crops for water stressed environments), which is a collaborative research project funded from the European Union's Seventh Programme for research, technological development and demonstration under grant agreement No. 311929. S.S. acknowledges financial support by the DAAD, D.Y. by the C.S.C., and A.K. and G.J.S. by the graduate programme MaFO-Holz funded by the Lichtenberg programme of the country Lower Saxony.
Acknowledgments
We thank Merle Fastenrath for technical support with the anatomical studies used to prepare the figures in this review.
Conflicts of Interest
The authors declare no conflict of interest.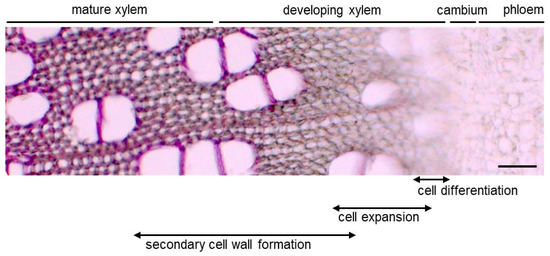 Figure 1. Cross-section of a 3 month old poplar stem illustrating the different steps of wood formation. Cross-section has been stained with Phloroglucinol/HCl. Purple color indicates lignification. Bar = 50 µm.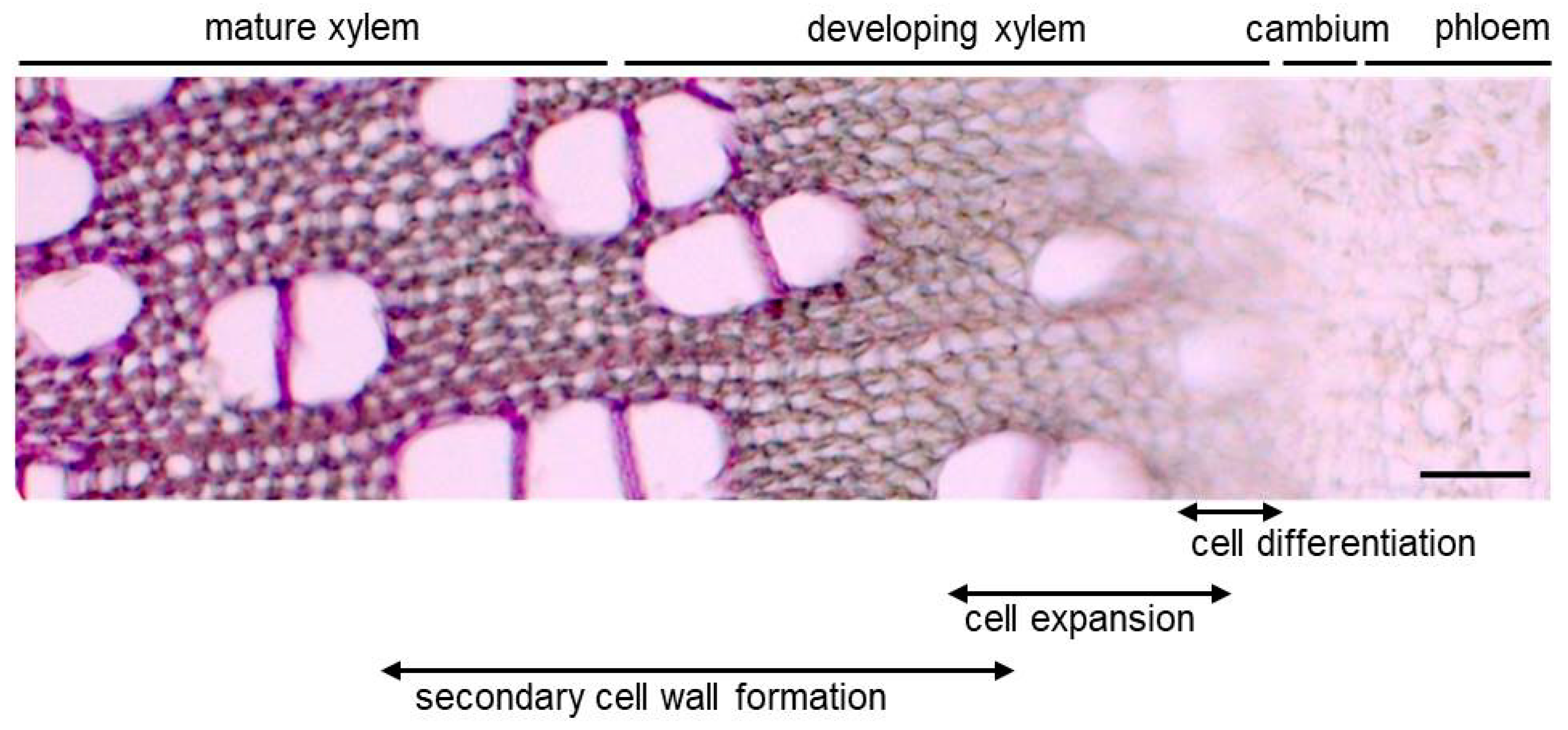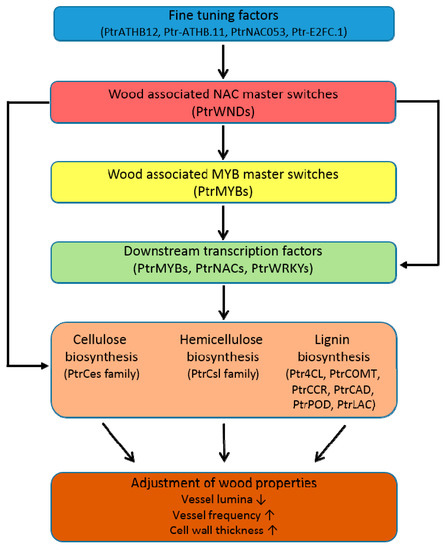 Figure 2. Schematic representation of the molecular mechanisms and gene families leading to xylem formation and acclimation under various stresses.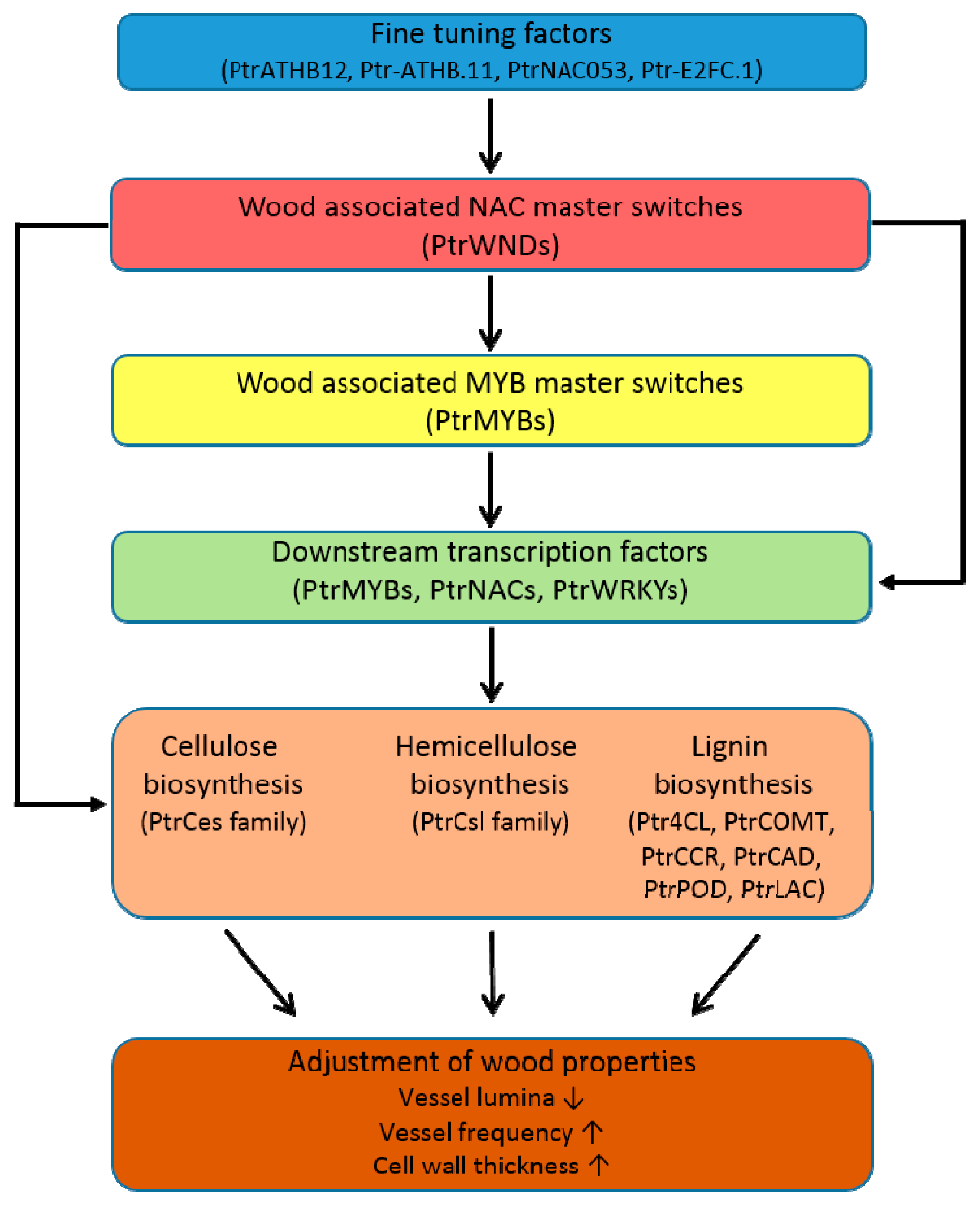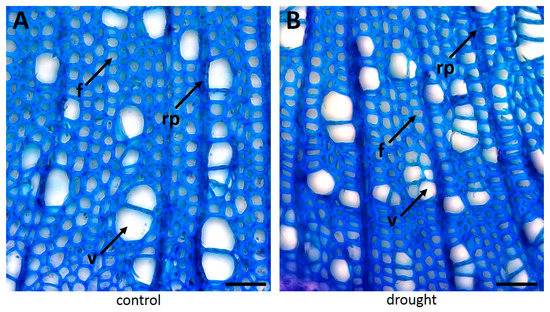 Figure 3.
Comparison of non-stressed (
A
) and drought-stressed (
B
) xylem tissue of
Populus tremula
x
tremuloides
. B shows vessels with reduced size but increased vessel frequency. v: vessel cells, f: fiber cells, rp: ray parenchyma. Bar = 50 µm.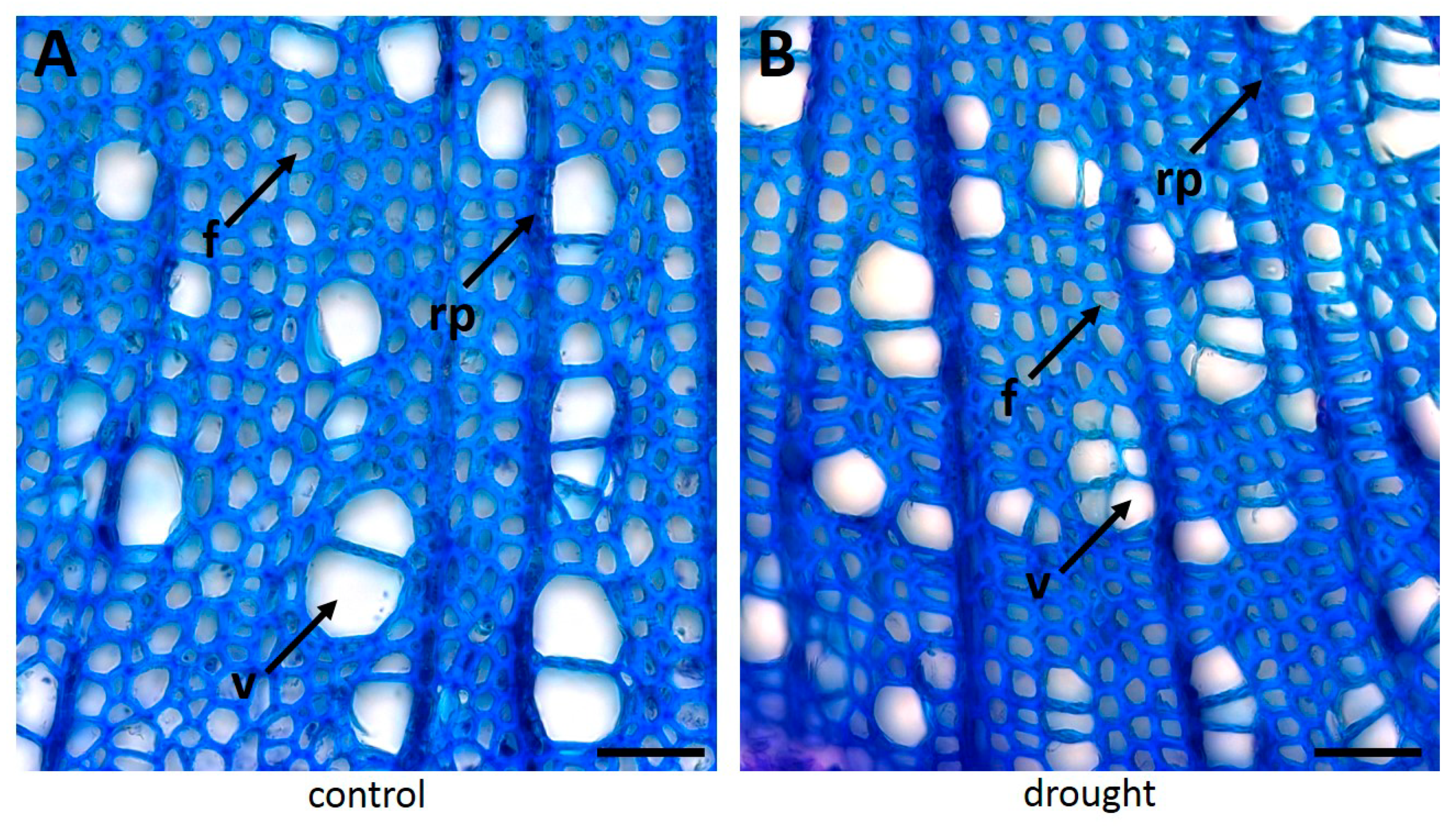 Table 1.
List of orthologs of
Arabidopsis thaliana
wood-formation associated transcription factors present in
Populus trichocarpa
.
Gene Function
Potri ID
Populus Gene Name
AGI ID
Arabidopsis Gene Name
Fine-tuning factors
Potri.001G188800

Ptr-ATHB.12

At1G52150

AtHB15

/

AtCNA

/

AtICU4

Potri.003G050100

Ptr-ATHB.11

At1G52150

AtHB15

/

AtCNA

/

AtICU4

Potri.001G197000
AT3G13890

AtMYB26

no annotated ortholog
At3G32090

AtWRKY12

Potri.002G023400

Ptr-E2FC.1

/

E2Fc

At1G47870

AtE2Fc

Potri.001G061200

PtrNAC053

AT5G13180

AtVNI2/AtANAC083

Master regulators (NAC)
no annotated ortholog
At1G32770

AtNST3/AtSND1/AtANAC012

Potri.001G448400

PtrWND1B/NAC063

/

PtVNS11

At2G46770

AtANAC043

/

AtNST1

Potri.002G178700

PtrWND2B

/

NAC061

/

PtVNS10

AT2G46770

AtANAC043

/

AtNST1

Potri.011G153300

PtrWND1A

/

NAC068

/

PtVNS12

AT2G46770

AtANAC043

/

AtNST1

Potri.014G104800

PtrWND2A

/

NAC065

/

PtVNS09

AT2G46770

AtANAC043

/

AtNST1

Potri.015G127400

PtrWND3A

/

NAC050

/

PtVNS05

AT1G12260

AtANAC007

/

AtNAC007

/

ATVND4

Potri.012G126500

PtrWND3B

/

NAC037

/

PtVNS06

AT1G12260

AtANAC007

/

AtNAC007

/

ATVND4

Potri.001G120000

PtrWND4A

/

NAC038

/

PtVNS03

AT1G12260

AtANAC007

/

AtNAC007

/

ATVND4

Potri.003G113000

PtrWND4B

/

NAC046

/

PtVNS04

AT1G12260

AtANAC007

/

AtNAC007

/

ATVND4

Potri.007G014400

PtrWND5A

/

NAC025

/

PtVNS01

AT2G18060

AtANAC037

/

AtVND1

Potri.005G116800

PtrWND5B

/

NAC039

/

PtVNS02

AT2G18060

AtANAC037

/

AtVND1

Potri.013G113100

PtrWND6A

/

NAC055

/

PtVNS07

AT1G71930

AtANAC030

/

AtVND7

Potri.019G083600

PtrWND6B

/

NAC060

/

PtVNS08

AT1G71930

AtANAC030

/

AtVND7

Potri.015G002900

PtrNAC147

AT1G71930

AtANAC030/AtVND7

no annotated ortholog
At3G61910

AtNST2

Potri.004G107200
At5G62380

AtVND6

Potri.004G107400
At5G62380

AtVND6

Potri.005G082700

PtrNAC144

At5G62380

AtVND6

Potri.006G231300
At5G62380

AtVND6

Potri.014G163600
At5G62380

AtVND6

no annotated ortholog
At4G36160

AtVND2

/

AtANAC076

no annotated ortholog
At5G66300

AtVND3

/

AtANAC105

no annotated ortholog
At1G62700

AtVND5

Second Level Regulators (MYB)
Potri.001G258700

PtrMYB2

At5G12870

AtMYB46

Potri.009G053900

PtrMYB21

At5G12870

AtMYB46

Potri.001G267300
At3G08500

AtMYB83

Potri.009G061500
At3G08500

AtMYB83

Third Level Regulators
Potri.004G049300
AT4G28500

AtSND2

/

AtANAC073

Potri.007G135300
AT4G28500

AtSND2

/

AtANAC073

Potri.011G058400
AT4G28500

AtSND2

/

AtANAC073

Potri.017G016700
AT4G28500

AtSND2

/

AtANAC073

no annotated ortholog
AT1G28470

AtSND3

no annotated ortholog
At1G63910

AtMYB103

Potri.002G073500
At1G17950

AtMYB52

Potri.005G186400

PtrMYB158

/

PtrMYB.50

At1G17950

AtMYB52

Potri.007G134500

PtrMYB161

/

PtrMYB.43

At1G17950

AtMYB52

Potri.012G039400

PtrMYB167

/

PtrMYB.41

At1G17950

AtMYB52

Potri.015G033600

PtrMYB090

/

PtrMYB.38

At1G17950

AtMYB52

no annotated ortholog
At3G48920

AtMYB45

no annotated ortholog
At1G16490

AtMYB58

Potri.005G096600
At1G79180

AtMYB63

Potri.007G067600
At1G79180

AtMYB63

Potri.019G118900
At1G79180

AtMYB63

Potri.015G129100
At4G22680

AtMYB85

Potri.001G112200

PtrKNAT7.1

At1G62990

AtKNAT7

© 2019 by the authors. Licensee MDPI, Basel, Switzerland. This article is an open access article distributed under the terms and conditions of the Creative Commons Attribution (CC BY) license (http://creativecommons.org/licenses/by/4.0/).