An RNA Sequencing Transcriptome Analysis and Development of EST-SSR Markers in Chinese Hawthorn through Illumina Sequencing
1
Beijing Key Laboratory of Ornamental Germplasm Innovation and Molecular Breeding, China National Engineering Research Center for Floriculture, College of Landscape Architecture, Beijing Forestry University, Beijing 100083, China
2
College of Horticulture, Shenyang Agricultural University, Shenyang 110866, China
3
Plant Research Institute, Beijing Botanical Garden, Beijing 100094, China
*
Author to whom correspondence should be addressed.
Received: 6 December 2018 / Revised: 15 January 2019 / Accepted: 18 January 2019 / Published: 22 January 2019
Abstract
Chinese hawthorn (
Crataegus pinnatifida
) is an important ornamental and economic horticultural plant. However, the lack of molecular markers has limited the development and utilization of hawthorn germplasm resources. Simple sequence repeats (SSRs) derived from expressed sequence tags (ESTs) allow precise and effective cultivar characterization and are routinely used for genetic diversity analysis. Thus, we first reported the development of polymorphic EST-SSR markers in
C. pinnatifida
with perfect repeats using Illumina RNA-Seq technique. In total, we investigated 14,364 unigenes, from which 5091 EST-SSR loci were mined. Di-nucleotides (2012, 39.52%) were the most abundant SSRs, followed by mono- (1989, 39.07%), and tri-nucleotides (1024, 20.11%). On the basis of these EST-SSRs, a total of 300 primer pairs were designed and used for polymorphism analysis in 70 accessions collected from different geographical regions of China. Of 239 (79.67%) pairs of primer-generated amplification products, 163 (54.33%) pairs of primers showed polymorphism. Finally, 33 primers with high polymorphism were selected for genetic diversity analysis and tested on 70 individuals with low-cost fluorescence-labeled M13 primers using capillary electrophoresis genotyping platform. A total of 108 alleles were amplified by 33 SSR markers, with the number of alleles (Na) ranging from 2 to 14 per locus (mean: 4.939), and the effective number of alleles (Ne) ranging from 1.258 to 3.214 (mean: 2.221). The mean values of gene diversity (He), observed heterozygosity (Ho), and polymorphism information content (PIC) were 0.524 (range 0.205–0.689), 0.709 (range 0.132–1.000), and 0.450 (range 0.184–0.642), respectively. Furthermore, the dendrogram constructed based on the EST-SSR separated the cultivars into two main clusters. In sum, our study was the first comprehensive study on the development and analysis of a large set of SSR markers in hawthorn. The results suggested that the use of NGS techniques for SSR development represented a powerful tool for genetic studies. Additionally, fluorescence-labeled M13 markers proved to be a valuable method for genotyping. All of these EST-SSR markers have agronomic potential and constitute a scientific basis for future studies on the identification, classification, and innovation of hawthorn germplasms.
View Full-Text
►

▼

Figures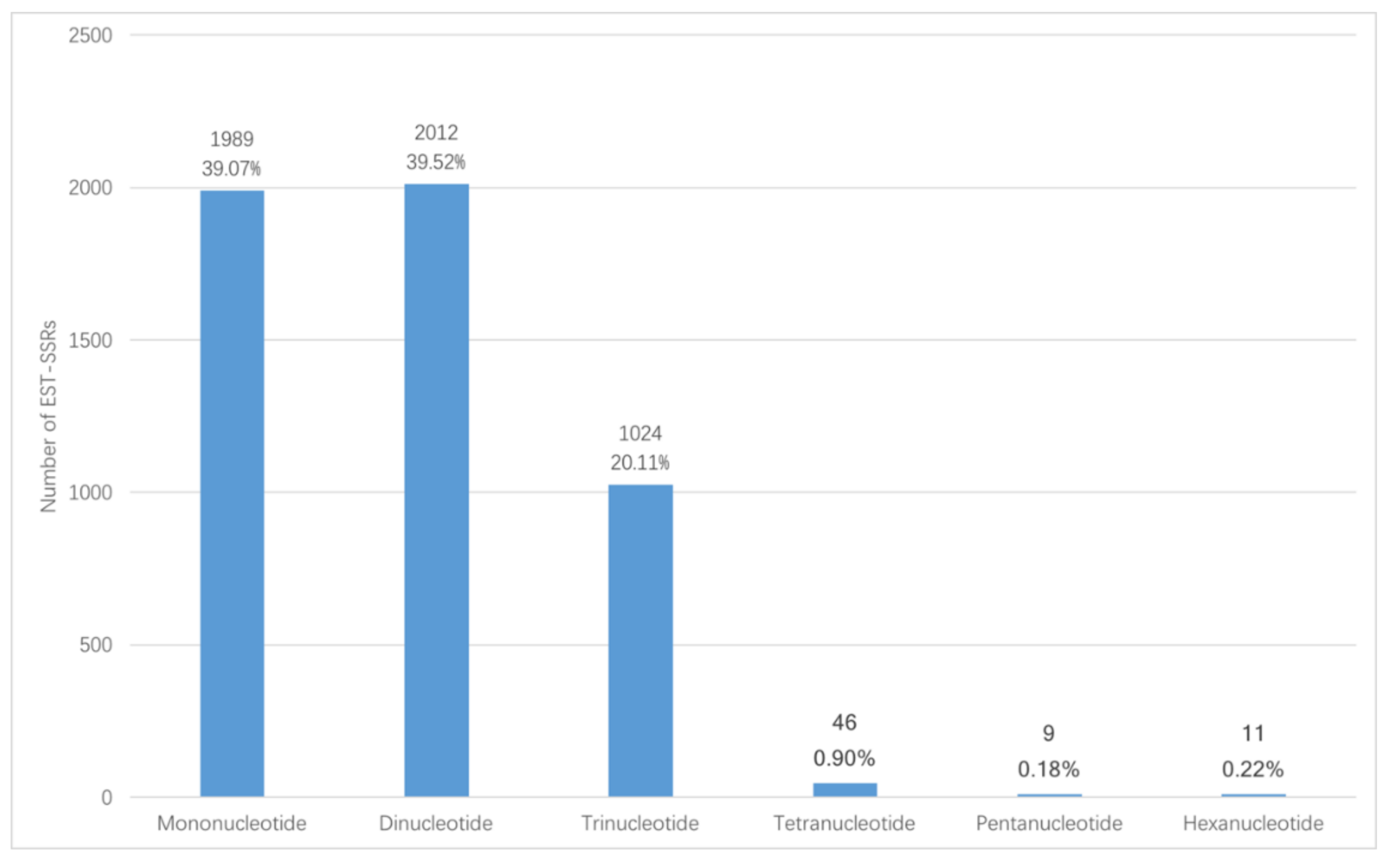 Figure 1
This is an open access article distributed under the
Creative Commons Attribution License
which permits unrestricted use, distribution, and reproduction in any medium, provided the original work is properly cited (CC BY 4.0).

Share & Cite This Article
MDPI and ACS Style
Ma, S.; Dong, W.; Lyu, T.; Lyu, Y. An RNA Sequencing Transcriptome Analysis and Development of EST-SSR Markers in Chinese Hawthorn through Illumina Sequencing. Forests 2019, 10, 82.
Note that from the first issue of 2016, MDPI journals use article numbers instead of page numbers. See further details here.
Related Articles
Comments
[Return to top]