Exhaustive Enumeration of Kinetic Model Topologies for the Analysis of Time-Resolved RNA Folding
1
Computational and Structural Biology Department, Wadsworth Center, Albany, NY 12208, USA
2
Biomedical Sciences Program, School of Public Health, SUNY, Albany, NY 12201, USA
*
Author to whom correspondence should be addressed.
Received: 1 December 2008 / Revised: 16 January 2009 / Accepted: 24 January 2009 / Published: 10 February 2009
Abstract
Unlike protein folding, the process by which a large RNA molecule adopts a functionally active conformation remains poorly understood. Chemical mapping techniques, such as Hydroxyl Radical (·OH) footprinting report on local structural changes in an RNA as it folds with single nucleotide resolution. The analysis and interpretation of this kinetic data requires the identification and subsequent optimization of a kinetic model and its parameters. We detail our approach to this problem, specifically focusing on a novel strategy to overcome a factorial explosion in the number of possible models that need to be tested to identify the best fitting model. Previously, smaller systems (less than three intermediates) were computationally tractable using a distributed computing approach. However, for larger systems with three or more intermediates, the problem became computationally intractable. With our new enumeration strategy, we are able to significantly reduce the number of models that need to be tested using non-linear least squares optimization, allowing us to study systems with up to five intermediates. Furthermore, two intermediate systems can now be analyzed on a desktop computer, which eliminates the need for a distributed computing solution for most mediumsized data sets. Our new approach also allows us to study potential degeneracy in kinetic model selection, elucidating the limits of the method when working with large systems. This work establishes clear criteria for determining if experimental ·OH data is sufficient to determine the underlying kinetic model, or if other experimental modalities are required to resolve any degeneracy.
View Full-Text
►

▼

Figures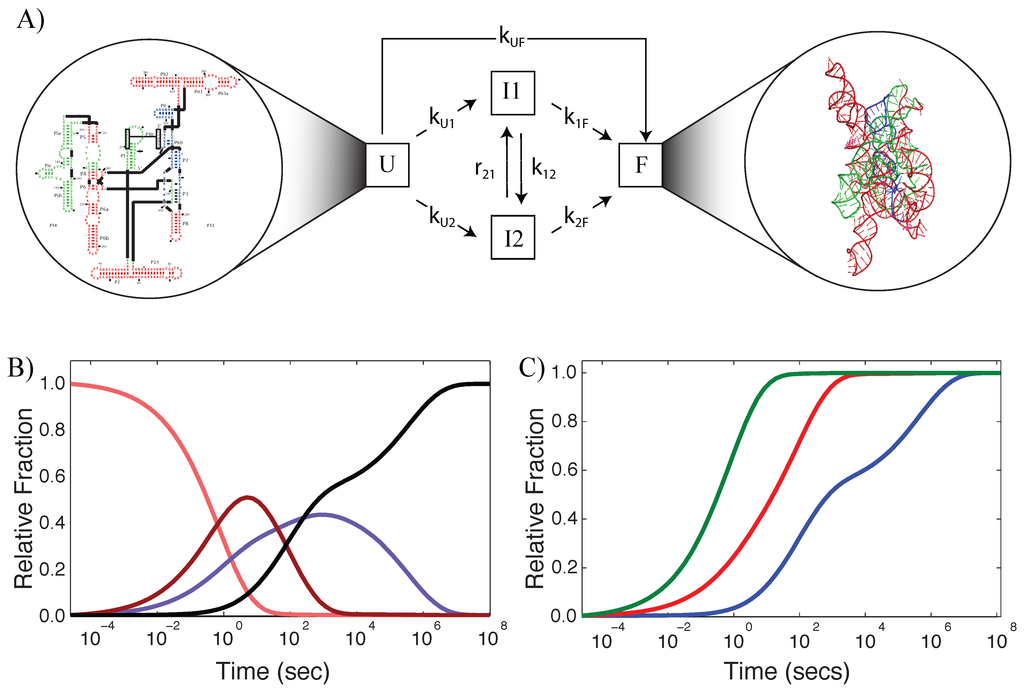 Figure 1

Share & Cite This Article
MDPI and ACS Style
Martin, J.S.; Simmons, K.; Laederach, A. Exhaustive Enumeration of Kinetic Model Topologies for the Analysis of Time-Resolved RNA Folding. Algorithms 2009, 2, 200-214.
Related Articles
Comments
[Return to top]