Open Access This article is
freely available
re-usable
Article
Compression Challenges in Large Scale Partial Differential Equation Solvers
Zuse Institute Berlin, Takustr. 7, 14195 Berlin, Germany
*
Author to whom correspondence should be addressed.
Received: 28 June 2019 / Accepted: 14 September 2019 / Published: 17 September 2019
Abstract
:
Solvers for partial differential equations (PDEs) are one of the cornerstones of computational science. For large problems, they involve huge amounts of data that need to be stored and transmitted on all levels of the memory hierarchy. Often, bandwidth is the limiting factor due to the relatively small arithmetic intensity, and increasingly due to the growing disparity between computing power and bandwidth. Consequently, data compression techniques have been investigated and tailored towards the specific requirements of PDE solvers over the recent decades. This paper surveys data compression challenges and discusses examples of corresponding solution approaches for PDE problems, covering all levels of the memory hierarchy from mass storage up to the main memory. We illustrate concepts for particular methods, with examples, and give references to alternatives.
Keywords:
partial differential equation; data compression; floating point compression; lossy compression
MSC:
65-02; 65M60; 65N30; 68-02; 68P30
Author Contributions
Conceptualization, methodology, software, writing–original draft preparation, writing–review and editing, project administration, visualization: S.G. and M.W.; supervision, funding acquisition: M.W.
Funding
This work has been partially supported by the German Ministry for Eduction and Research (BMBF) under project grant 01IH16005 (HighPerMeshes).
Acknowledgments
We thank Florian Wende for implementing mixed-precision preconditioners, Alexander Kammeyer for implementation and testing of checkpoint/restart, and Thomas Steinke for many helpful discussions.
Conflicts of Interest
The authors declare no conflict of interest.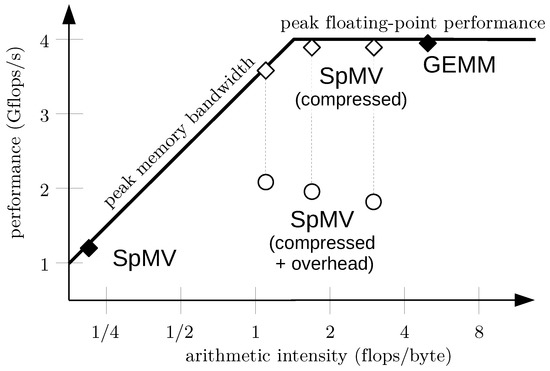 Figure 1. Naive roofline model showing achievable performance vs. the arithmetic intensity. Some computations, e.g., dense matrix-matrix multiplication (GEMM), perform many flops per byte fetched or written to memory, such that their execution speed is bounded by the peak floating point performance. Others, such as sparse matrix-vector multiplication (SpMV), require many bytes to be fetched from memory for each flop, and are therefore memory-bound (filled diamonds). Data compression methods for memory-bound computations can reduce the amount of data to be read or written, and therefore increase the arithmetic intensity. Different compression schemes can achieve different compression factors (empty diamonds on top) and thus different arithmetic intensities. The computational overhead of compression and decompression can, however, reduce the performance gain (empty circles bottom), depending on the complexity of the compression method used.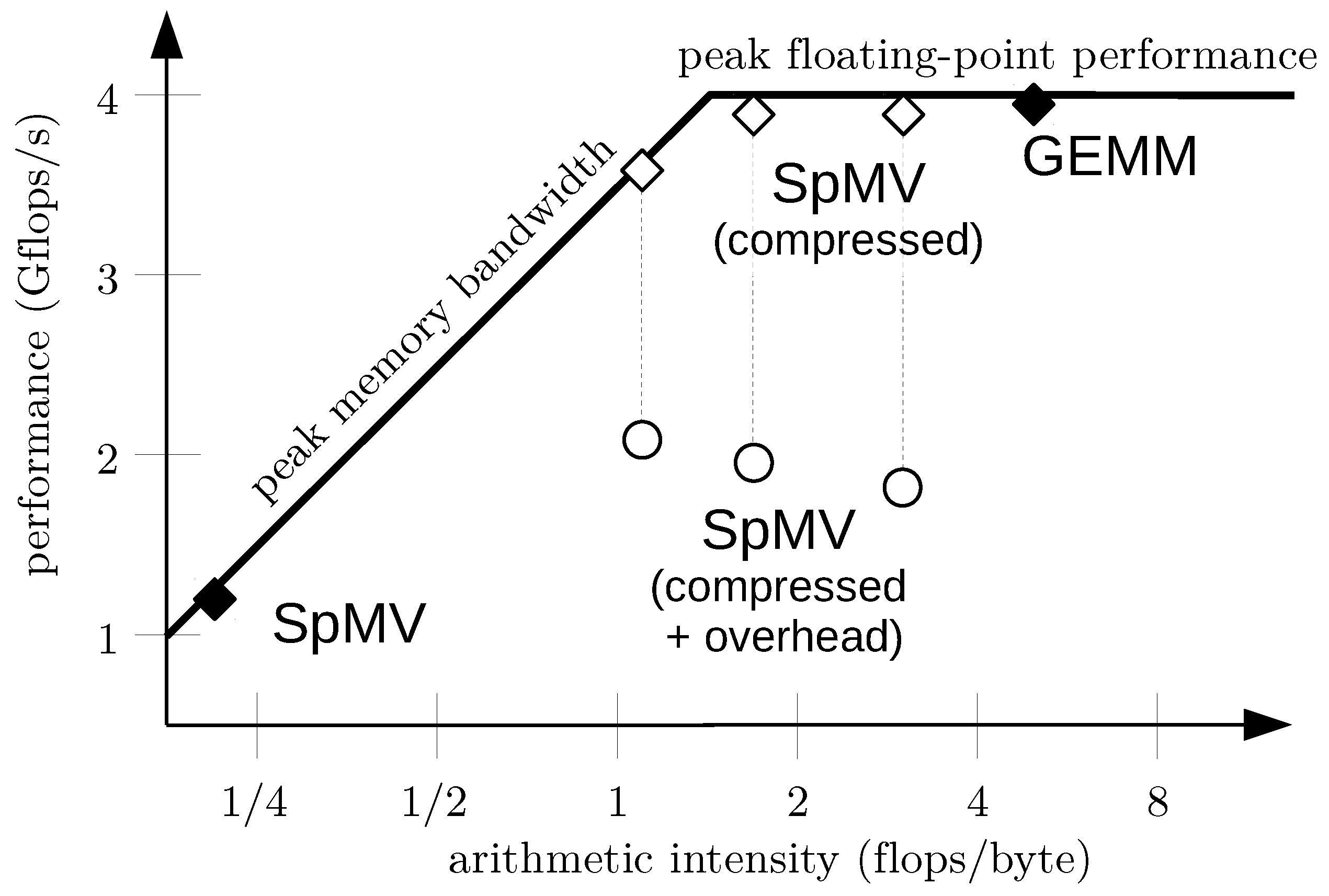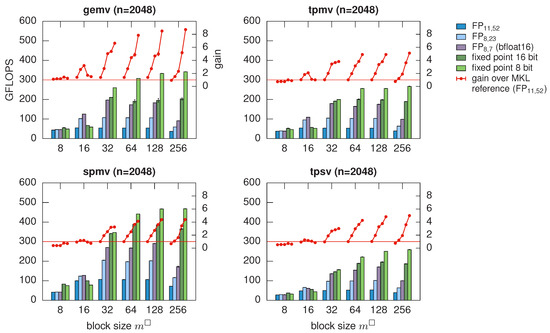 Figure 2.
Run times of BLAS level 2 operations on -matrices for overlapping Schwarz smoothers with mixed precision. Depending on the access patterns, a speedup over the Intel Math Kernel Library (MKL) almost on par with the compression factor can be achieved [
38
].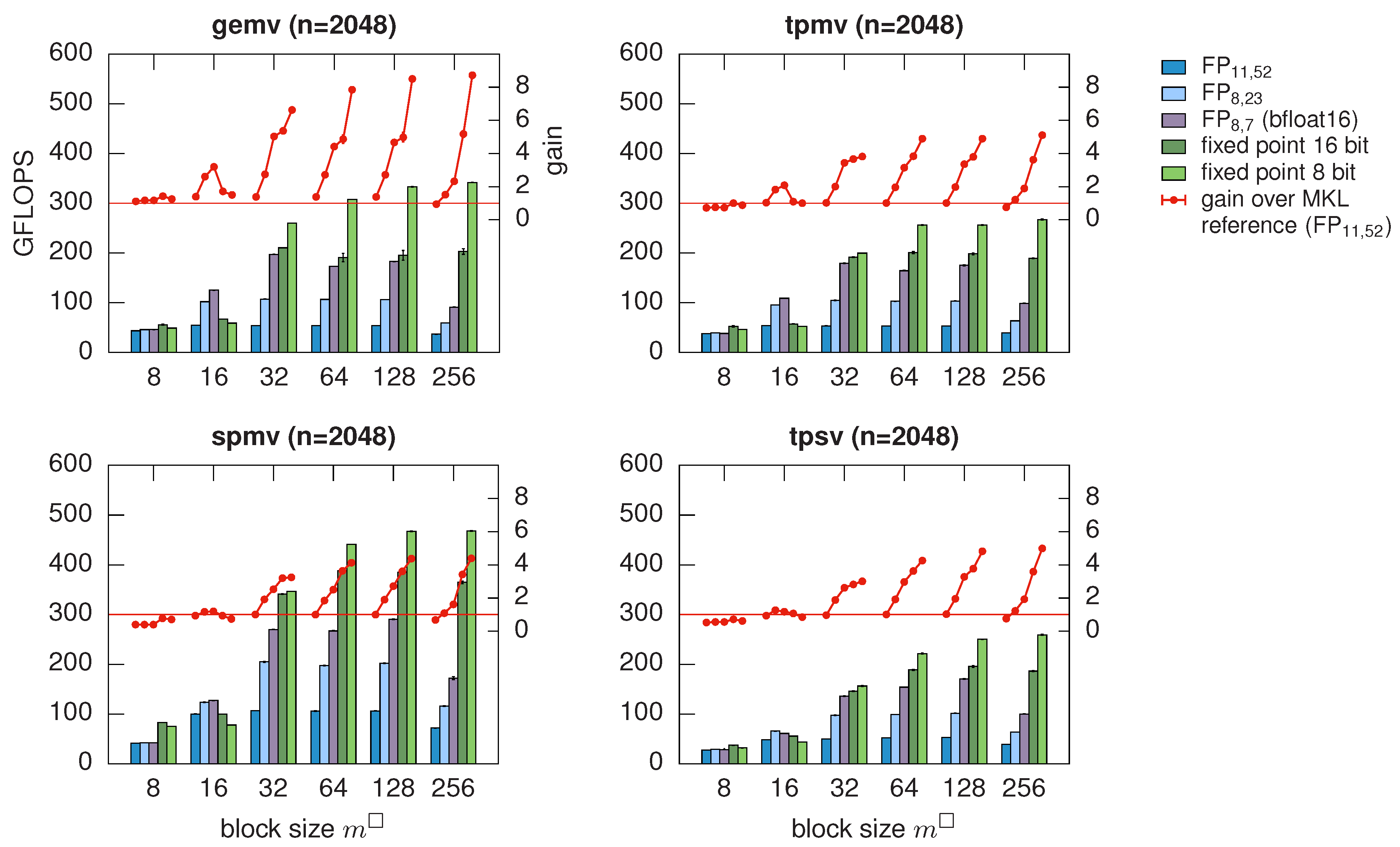 Figure 3.
Theoretically estimated parallel efficiency for variation of different parameters around the nominal scenario (marked by *).
Left:
varying communication bandwidth in terms of the communication time for uncompressed data.
Right:
varying requested tolerance.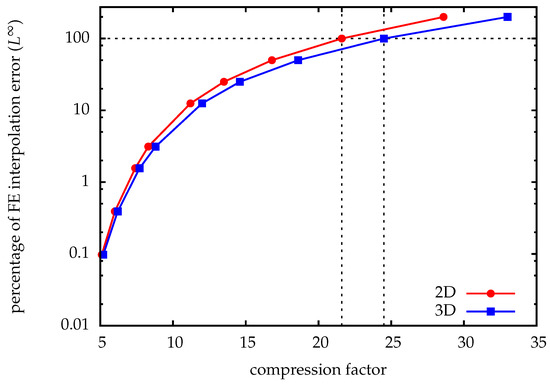 Figure 5.
Error vs. compression factor: A priori estimates for transform coding of finite element functions with hierarchical basis transform, cf. [
21
].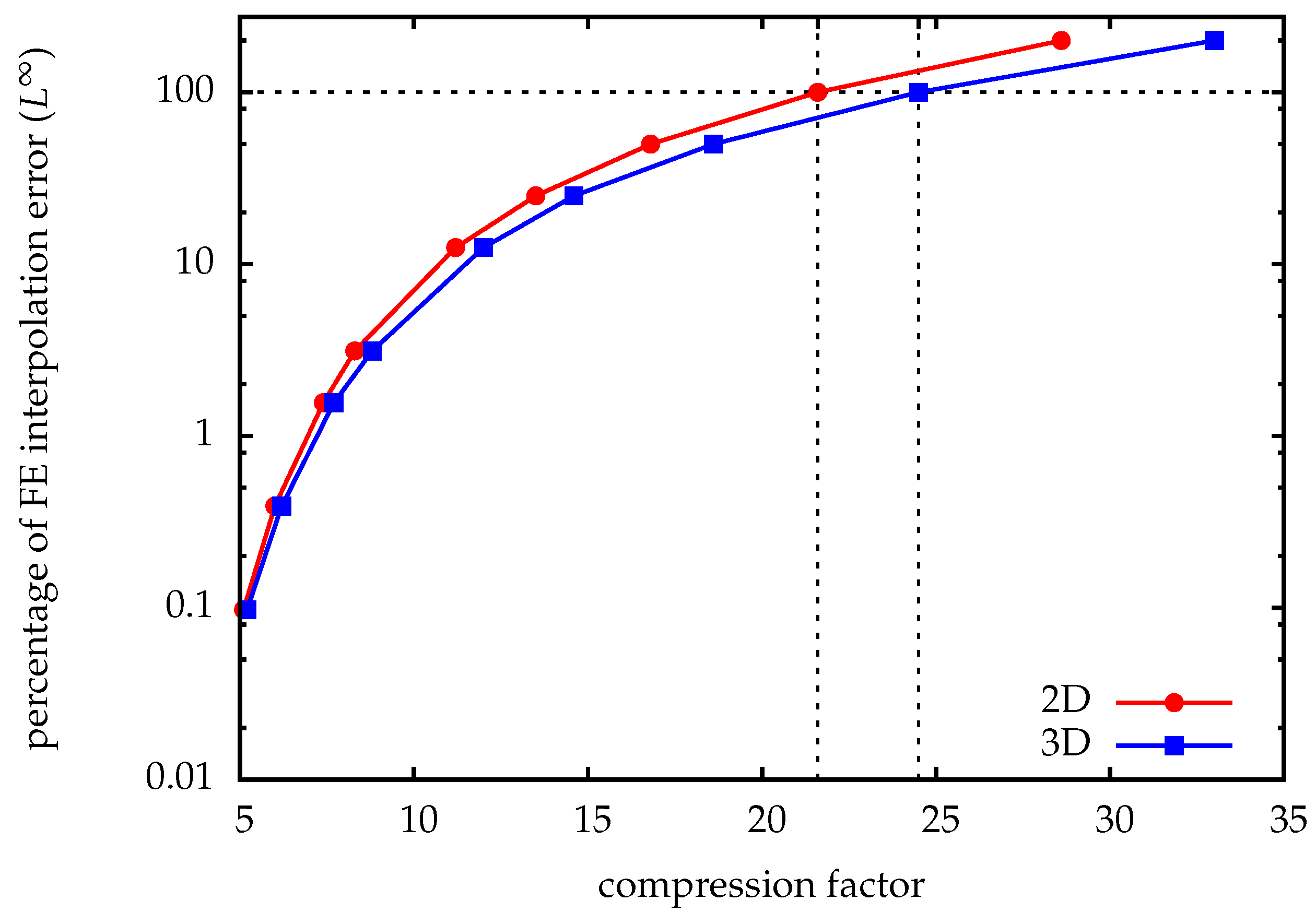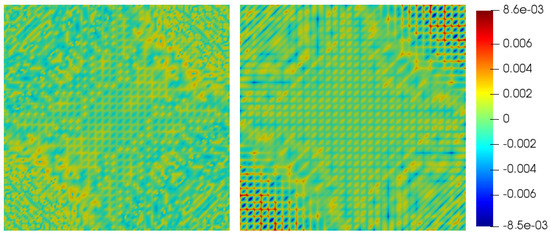 Figure 6. Comparison of quantization errors, i.e., error in the reconstructed solution yielding the same error norm. Left: hierarchical basis. Right: wavelets. Using the norm to measure the error allows larger pointwise absolute reconstruction errors compared to the error metric, thus higher compression factors.Comparison of quantization errors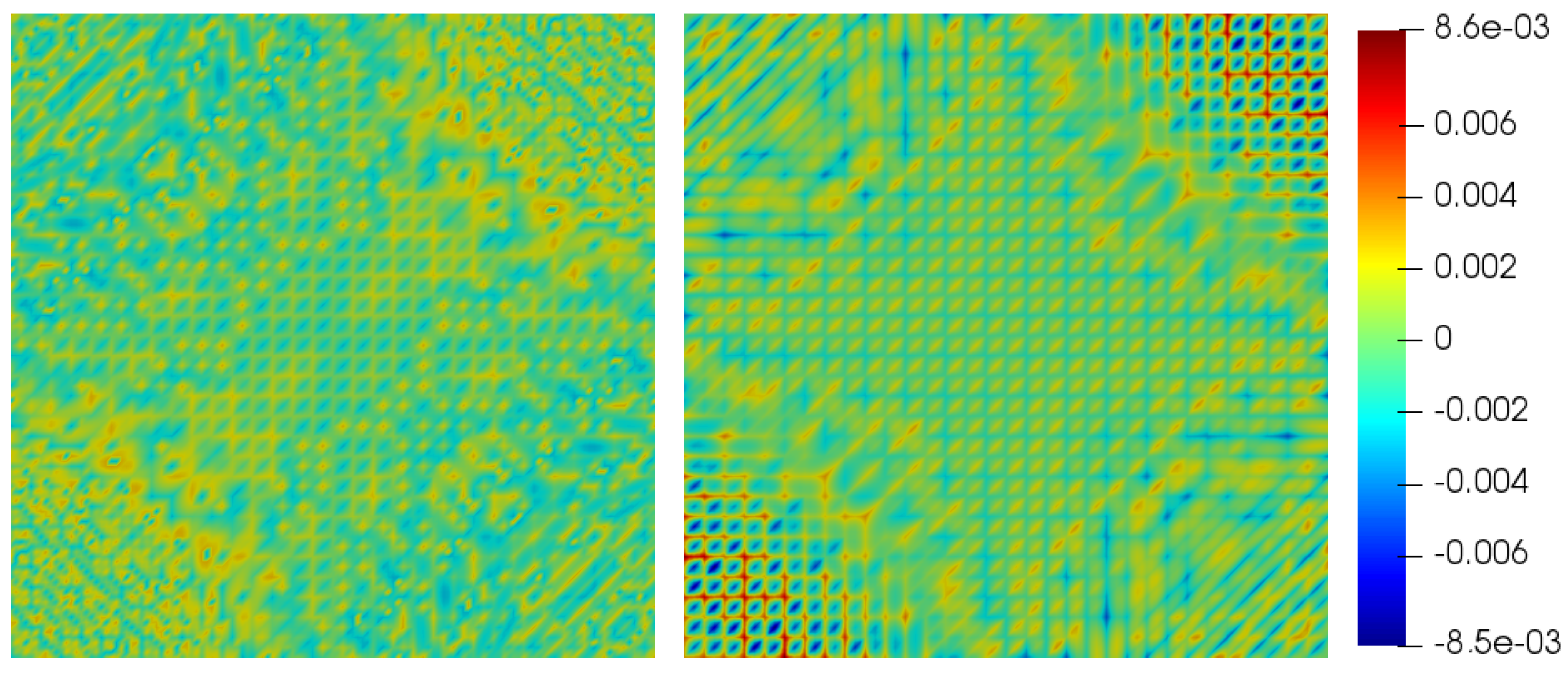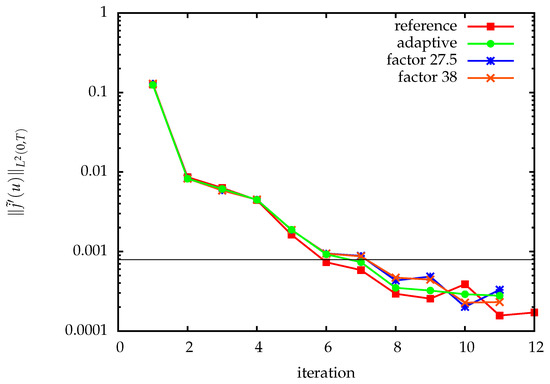 Figure 7.
Optimization progress of Broyden, Fletcher, Goldfarb, and Shanno (BFGS) for the monodomain example (
9
), (
10
), using different quantization tolerances for the state trajectory. No delta-encoding between timesteps was used. The horizontal line shows the approximate discretization error of the reduced gradient. See also [
34
].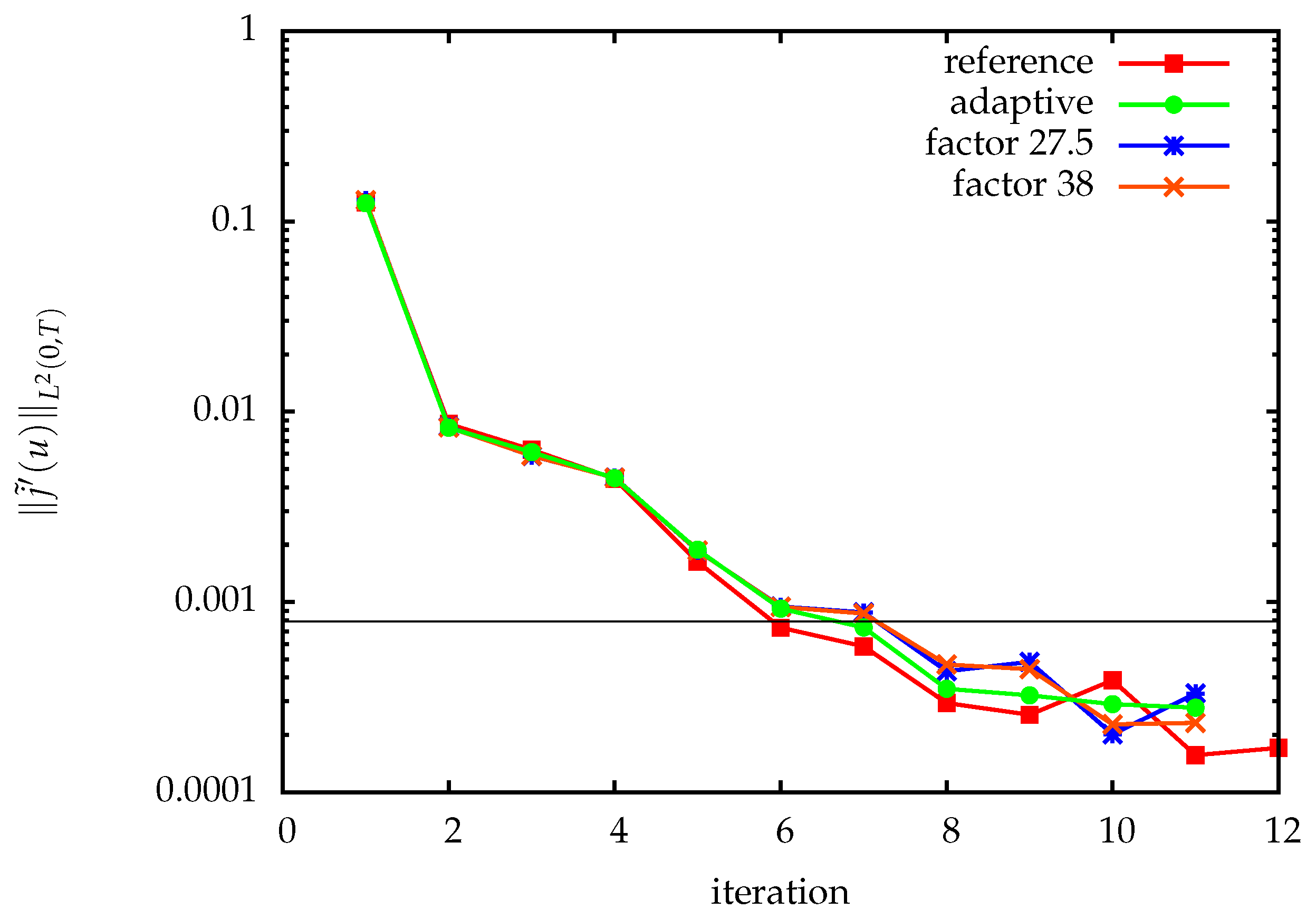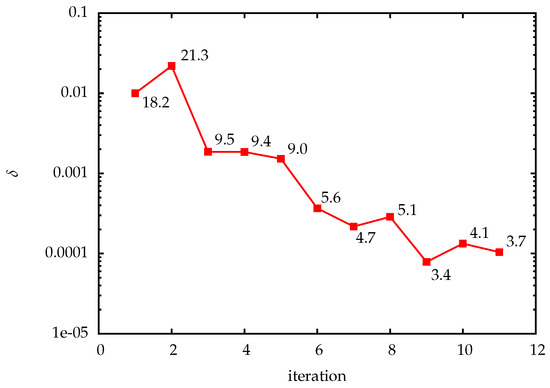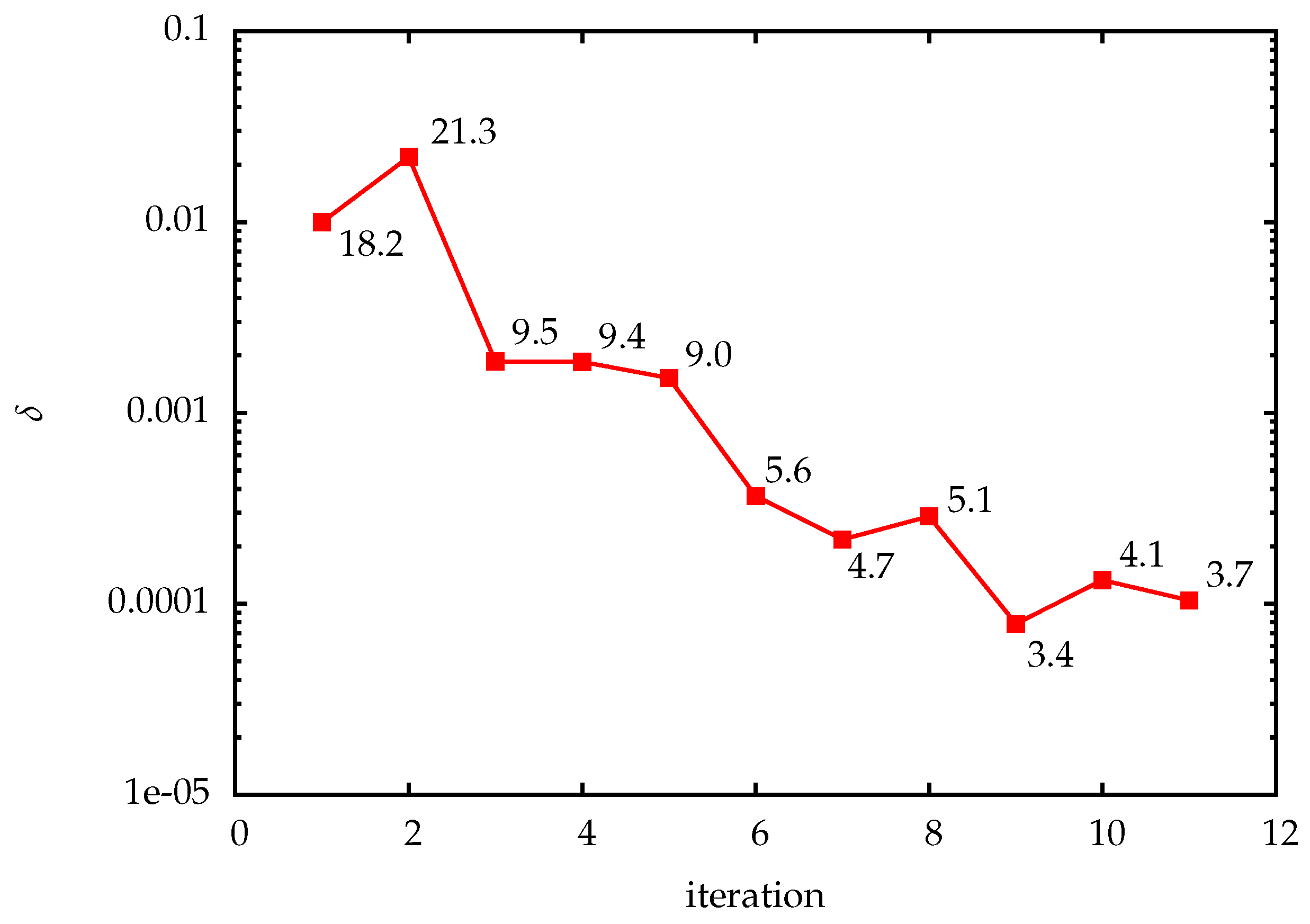 Figure 9.
Goal-oriented error estimation: generated meshes with (left) and without (middle) compression (with compression factor up to 32) for Example 3b in [
87
]. Meshes were generated using weights according to Weiser [
87
]. Estimated errors (right) are shown for weights due [
87
] (ws) and to Becker et al. [
85
] (bkr), both with and without compression. Differences between estimated errors with and without compression are barely visible, and negligible compared to the differences between the two error concepts.


Figure 10.
Left:
highly local peak function.
Right:
adaptively refined mesh with 4237 vertices for minimal finite element interpolation error. A uniform grid with the same local resolution has 263,169 vertices.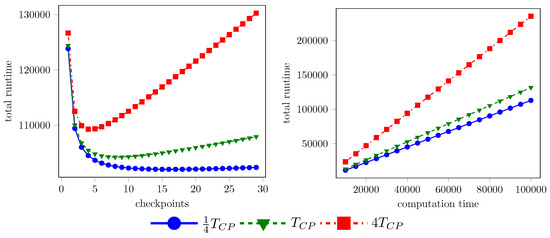 Figure 11.
Influence of , comparing the nominal scenario (green) to scenarios with reduced (blue) and increased (red) by a factor 4.
Left:
overall runtime vs. number of checkpoints for and = 100,000 s.
Right:
overall runtime vs. actual computation time for . In both cases , and were used. While the runtimes were measured for the parallel-in-time solution of a 3D heat equation on the HLRN-III Cray XC30/XC40 supercomputer (
www.hlrn.de
), the probability of failure was determined from HLRN-III logfiles.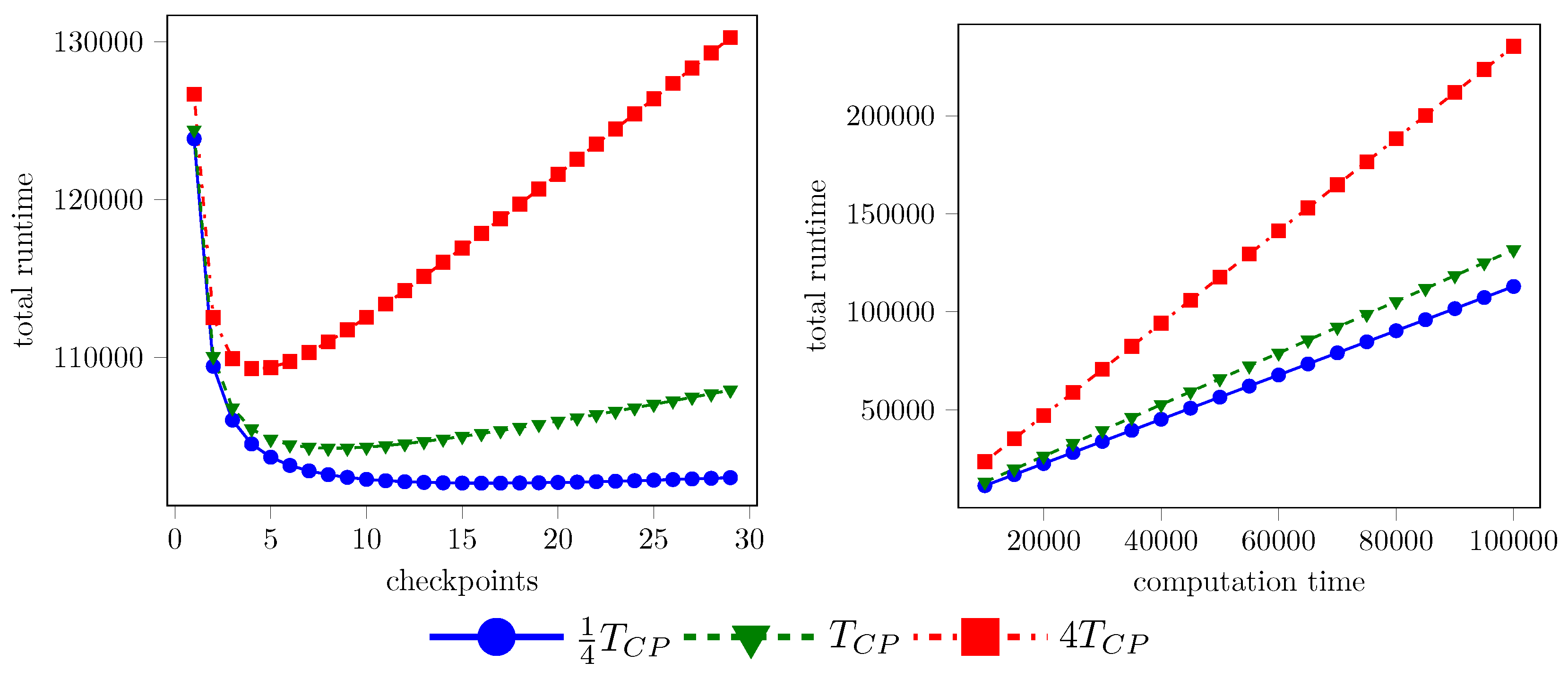 Table 1.
Compression factors for adaptive mesh refinement and transform coding of the peak function shown in
Figure 10
. Adaptive and uniform mesh refinement yield the same interpolation error; the same error tolerance for lossy compression was used in the two cases.
| | Double | Transform Coding |
| --- | --- | --- |
| uniform | 1 | 54 |
| adaptive | 62 | 744 |
| | | | |
| --- | --- | --- | --- |
| n | number of checkpoints | | time for actual computation [s] |
| N | number of compute cores | | time to write/read a checkpoint [s] |
| | probability of failure | | time to recover data structures [s] |
| | per unit time and core [1/s] | | recovery time [s] |
| | number of restarts | | time for restart [s] |
| T | overall runtime (wall clock) [s] | b | |

© 2019 by the authors. Licensee MDPI, Basel, Switzerland. This article is an open access article distributed under the terms and conditions of the Creative Commons Attribution (CC BY) license (http://creativecommons.org/licenses/by/4.0/).