Open Access This article is
freely available
re-usable
Article
Solving Integer Linear Programs by Exploiting Variable-Constraint Interactions: A Survey
1
Institute of Logic and Computation, Vienna University of Technology, 1040 Vienna, Austria
2
Department of Computer Science, University of Sheffield, Western Bank, Sheffield S10 2TN, UK
*
Authors to whom correspondence should be addressed.
Received: 29 September 2019 / Accepted: 20 November 2019 / Published: 22 November 2019
Abstract
:
Integer Linear Programming (ILP) is among the most successful and general paradigms for solving computationally intractable optimization problems in computer science. ILP is NP-complete, and until recently we have lacked a systematic study of the complexity of ILP through the lens of variable-constraint interactions. This changed drastically in recent years thanks to a series of results that together lay out a detailed complexity landscape for the problem centered around the structure of graphical representations of instances. The aim of this survey is to summarize these recent developments, put them into context and a unified format, and make them more approachable for experts from many diverse backgrounds.
Keywords:
integer linear programming; parameterized complexity; treewidth; treedepth
Author Contributions
Conceptualization, R.G. and S.O.; Writing—original draft, R.G. and S.O.
Funding
Robert Ganian acknowledges support from the Austrian Science Fund (FWF, Project P31336).
Acknowledgments
Open Access Funding by the Austrian Science Fund (FWF).
Conflicts of Interest
The authors declare no conflict of interest.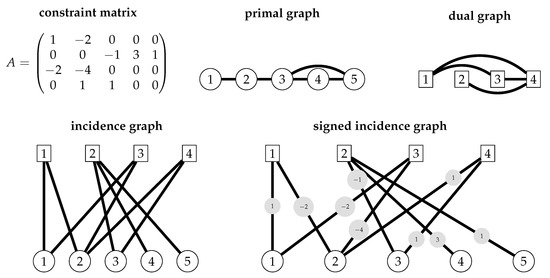 Figure 2. The primal, dual, incidence, and signed incidence graph of the constraint matrix shown in the top left corner. Vertices corresponding to variables (constraints) of the matrix are indicated by circles (rectangles). The label of a vertex corresponds to its row/column-index in the constraint matrix.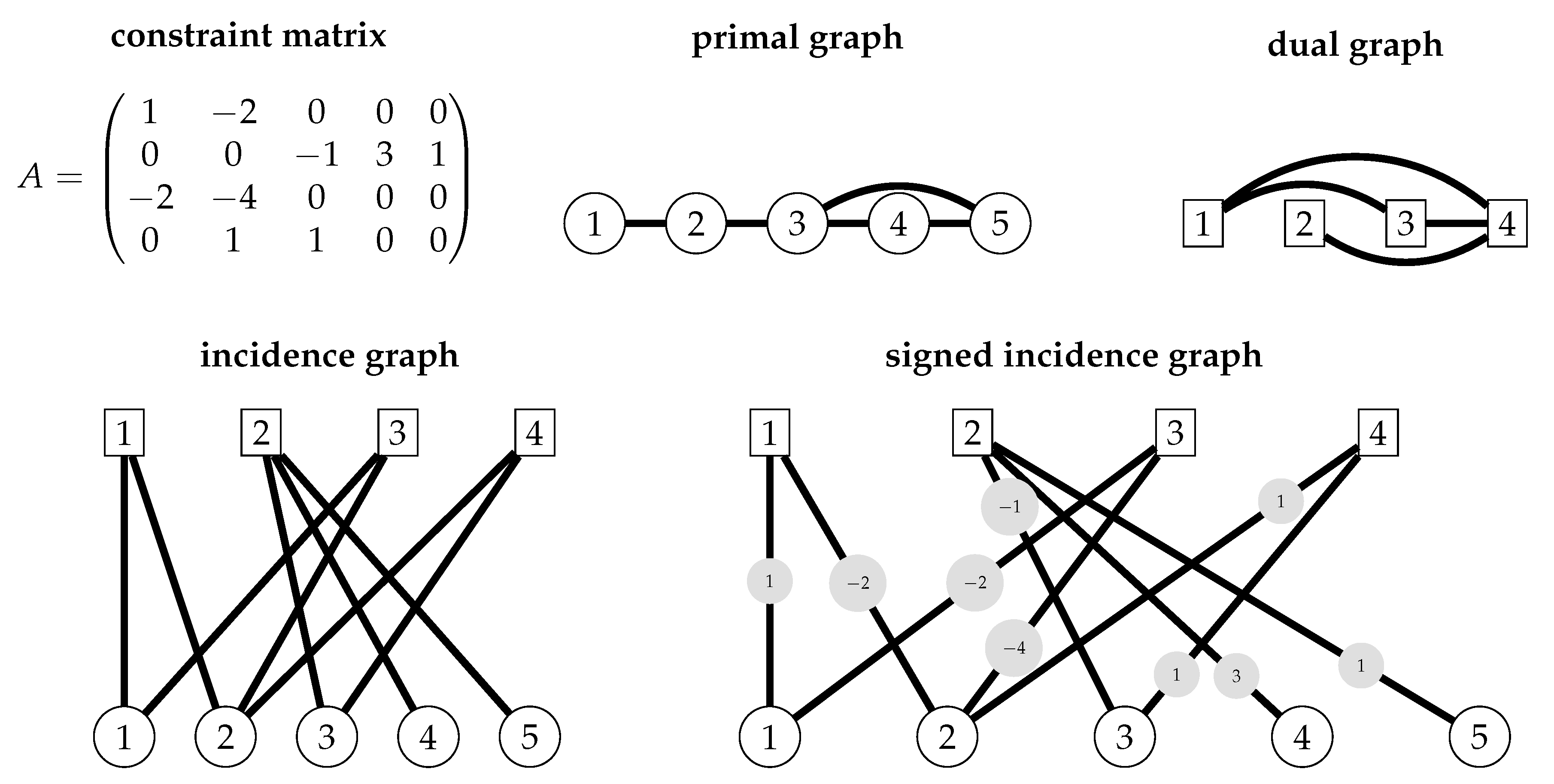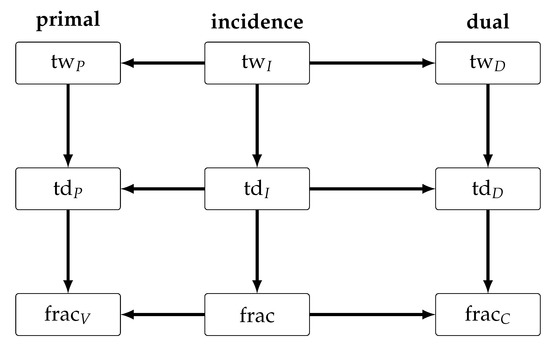 Figure 3.
The relationship between the structural parameters treewidth, treedepth, and fracture number for the primal, dual, and incidence graph. An arc from one parameter to another indicates that the former is a more general parameter, i.e., whenever the later is bounded so is the former. The variable, constraint, and mixed fracture number are defined in
Section 5
.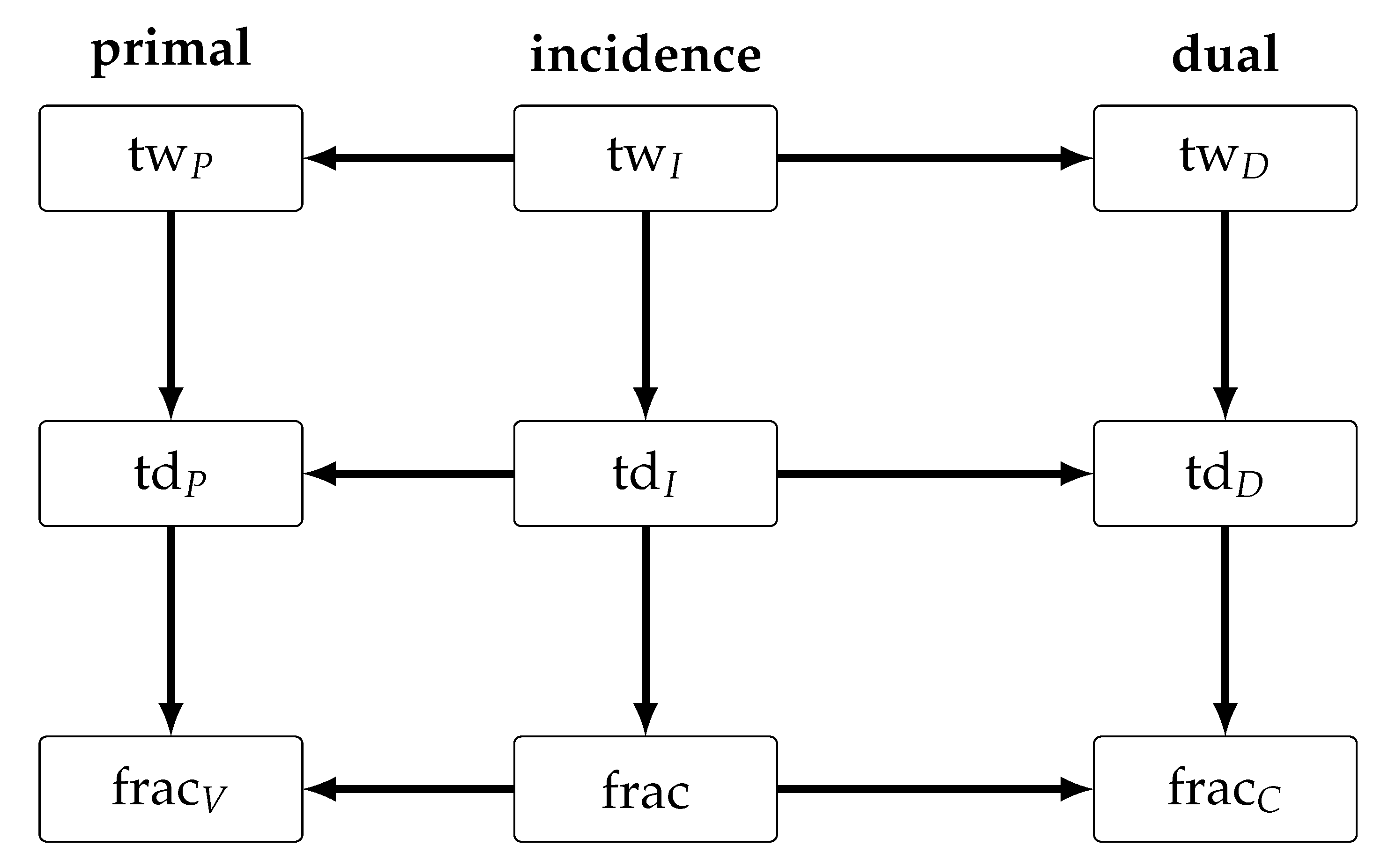 Table 1.
The complexity map for
ILP
for unary instances (first row), instances whose coefficients are encoded in unary (second row), and instances with unary bounded domain (third row). Without these restrictions, the problem becomes intractable due to the simple acyclic structure of the classical encoding of
Subset Sum
into
ILP
.
Acyclic Primal Graph
Acyclic Incidence Graph
ILPF
ILP

Unary

P
P
P

Unary-C

NP-hard
P
NP-hard

Unary-D

P
P
NP-hard

© 2019 by the authors. Licensee MDPI, Basel, Switzerland. This article is an open access article distributed under the terms and conditions of the Creative Commons Attribution (CC BY) license (http://creativecommons.org/licenses/by/4.0/).