Immobilization of Trypsin in Lignocellulosic Waste Material to Produce Peptides with Bioactive Potential from Whey Protein
1
Faculdade de Ciências Farmacêuticas, UNESP—Univ. Estadual Paulista, 14800-903, Departamento de Alimentos e Nutrição, Araraquara-SP, Brazil
2
Instituto de Química, UNESP—Univ. Estadual Paulista, 14800-060, Departamento de Bioquímica e Tecnologia Química, Araraquara-SP, Brazil
3
Faculdade de Ciências Farmacêuticas, UNESP—Univ. Estadual Paulista, 14800-903, Departamento de Bioprocessos e Biotecnologia, Araraquara-SP, Brazil
4
Fundación Centro Nacional de Investigaciones Cardiovasculares Carlos III, Melchor Fernández Almagro, Madrid 28029, Spain
*
Authors to whom correspondence should be addressed.
Academic Editors: Jalel Labidi and Susana C. M. Fernandes
Received: 30 March 2016 / Revised: 3 May 2016 / Accepted: 4 May 2016 / Published: 12 May 2016
Abstract
In this study, trypsin (Enzyme Comission 3.4.21.4) was immobilized in a low cost, lignocellulosic support (corn cob powder—CCP) with the goal of obtaining peptides with bioactive potential from cheese whey. The pretreated support was activated with glyoxyl groups, glutaraldehyde and IDA-glyoxyl. The immobilization yields of the derivatives were higher than 83%, and the retention of catalytic activity was higher than 74%. The trypsin-glyoxyl-CCP derivative was thermally stable at 65 °C, a value that was 1090-fold higher than that obtained with the free enzyme. The trypsin-IDA-glyoxyl-CCP and trypsin-glutaraldehyde-CCP derivatives had thermal stabilities that were 883- and five-fold higher, respectively, then those obtained with the free enzyme. In the batch experiments, trypsin-IDA-glyoxyl-CCP retained 91% of its activity and had a degree of hydrolysis of 12.49%, while the values for trypsin-glyoxyl-CCP were 87% and 15.46%, respectively. The stabilized derivative trypsin-glyoxyl-CCP was also tested in an upflow packed-bed reactor. The hydrodynamic characterization of this reactor was a plug flow pattern, and the kinetics of this system provided a relative activity of 3.04 ± 0.01 U·g
−1
and an average degree of hydrolysis of 23%, which were suitable for the production of potentially bioactive peptides.
View Full-Text
►

▼

Figures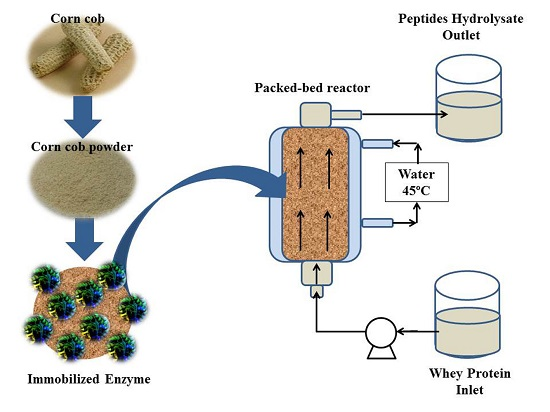 Graphical abstract
This is an open access article distributed under the
Creative Commons Attribution License
which permits unrestricted use, distribution, and reproduction in any medium, provided the original work is properly cited (CC BY 4.0).

Share & Cite This Article
MDPI and ACS Style
Bassan, J.C.; De Souza Bezerra, T.M.; Peixoto, G.; Da Cruz, C.Z.P.; Galán, J.P.M.; Vaz, A.B.S.; Garrido, S.S.; Filice, M.; Monti, R. Immobilization of Trypsin in Lignocellulosic Waste Material to Produce Peptides with Bioactive Potential from Whey Protein. Materials 2016, 9, 357.
Note that from the first issue of 2016, MDPI journals use article numbers instead of page numbers. See further details here.
Related Articles
Comments
[Return to top]