Intrinsic Flame-Retardant and Thermally Stable Epoxy Endowed by a Highly Efficient, Multifunctional Curing Agent
1
School of Materials Science and Engineering, South China University of Technology, Guangzhou 510640, China
2
School of Chemistry and Chemical Engineering, Lingnan Normal University, Zhanjiang 524048, China
3
Silverage Engineering Plastics (Dongguan) Co., Ltd., Dongguan 523187, China
*
Authors to whom correspondence should be addressed.
Academic Editor: De-Yi Wang
Received: 2 November 2016 / Revised: 30 November 2016 / Accepted: 5 December 2016 / Published: 12 December 2016
Abstract
It is difficult to realize flame retardancy of epoxy without suffering much detriment in thermal stability. To solve the problem, a super-efficient phosphorus-nitrogen-containing reactive-type flame retardant, 10-(hydroxy(4-hydroxyphenyl)methyl)-5,10-dihydrophenophosphazinine-10-oxide (HB-DPPA) is synthesized and characterized. When it is used as a co-curing agent of 4,4′-methylenedianiline (DDM) for curing diglycidyl ether of bisphenol A (DGEBA), the cured epoxy achieves UL-94 V-0 rating with the limiting oxygen index of 29.3%. In this case, the phosphorus content in the system is exceptionally low (0.18 wt %). To the best of our knowledge, it currently has the highest efficiency among similar epoxy systems. Such excellent flame retardancy originates from the exclusive chemical structure of the phenophosphazine moiety, in which the phosphorus element is stabilized by the two adjacent aromatic rings. The action in the condensed phase is enhanced and followed by pressurization of the pyrolytic gases that induces the blowing-out effect during combustion. The cone calorimeter result reveals the formation of a unique intumescent char structure with five discernible layers. Owing to the super-efficient flame retardancy and the rigid molecular structure of HB-DPPA, the flame-retardant epoxy acquires high thermal stability and its initial decomposition temperature only decreases by 4.6 °C as compared with the unmodified one.
View Full-Text
►

▼

Figures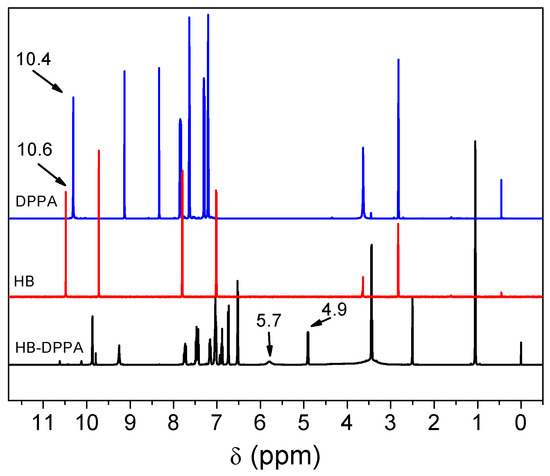 Figure 1
This is an open access article distributed under the
Creative Commons Attribution License
which permits unrestricted use, distribution, and reproduction in any medium, provided the original work is properly cited (CC BY 4.0).

Share & Cite This Article
MDPI and ACS Style
Dong, C.; Wirasaputra, A.; Luo, Q.; Liu, S.; Yuan, Y.; Zhao, J.; Fu, Y. Intrinsic Flame-Retardant and Thermally Stable Epoxy Endowed by a Highly Efficient, Multifunctional Curing Agent. Materials 2016, 9, 1008.
Note that from the first issue of 2016, MDPI journals use article numbers instead of page numbers. See further details here.
Related Articles
Comments
[Return to top]