Aminopropyl-Silica Hybrid Particles as Supports for Humic Acids Immobilization
1
Faculty of Chemistry and Chemical Engineering, Babes-Bolyai University, Arany János Street, No.11, Cluj-Napoca 400028, Romania
2
National Research & Development Institute for Chemistry and Petrochemistry—ICECHIM, Splaiul Independentei No.202, 6th district, PO Box 35-174, Bucharest 060021, Romania
3
NMR Laboratory, Institute of Materials Engineering, University of Pannonia, Egyetem Street, No. 10, Veszprém 8200, Hungary
*
Author to whom correspondence should be addressed.
Academic Editor: Silvia Gross
Received: 18 November 2015 / Revised: 18 December 2015 / Accepted: 5 January 2016 / Published: 8 January 2016
Abstract
A series of aminopropyl-functionalized silica nanoparticles were prepared through a basic two step sol-gel process in water. Prior to being aminopropyl-functionalized, silica particles with an average diameter of 549 nm were prepared from tetraethyl orthosilicate (TEOS), using a Stöber method. In a second step, aminopropyl-silica particles were prepared by silanization with 3-aminopropyltriethoxysilane (APTES), added drop by drop to the sol-gel mixture. The synthesized amino-functionalized silica particles are intended to be used as supports for immobilization of humic acids (HA), through electrostatic bonds. Furthermore, by inserting beside APTES, unhydrolysable mono-, di- or trifunctional alkylsilanes (methyltriethoxy silane (MeTES), trimethylethoxysilane (Me
3
ES), diethoxydimethylsilane (Me
2
DES) and 1,2-bis(triethoxysilyl)ethane (BETES)) onto silica particles surface, the spacing of the free amino groups was intended in order to facilitate their interaction with HA large molecules. Two sorts of HA were used for evaluating the immobilization capacity of the novel aminosilane supports. The results proved the efficient functionalization of silica nanoparticles with amino groups and showed that the immobilization of the two tested types of humic acid substances was well achieved for all the TEOS/APTES = 20/1 (molar ratio) silica hybrids having or not having the amino functions spaced by alkyl groups. It was shown that the density of aminopropyl functions is low enough at this low APTES fraction and do not require a further spacing by alkyl groups. Moreover, all the hybrids having negative zeta potential values exhibited low interaction with HA molecules.
View Full-Text
►

▼

Figures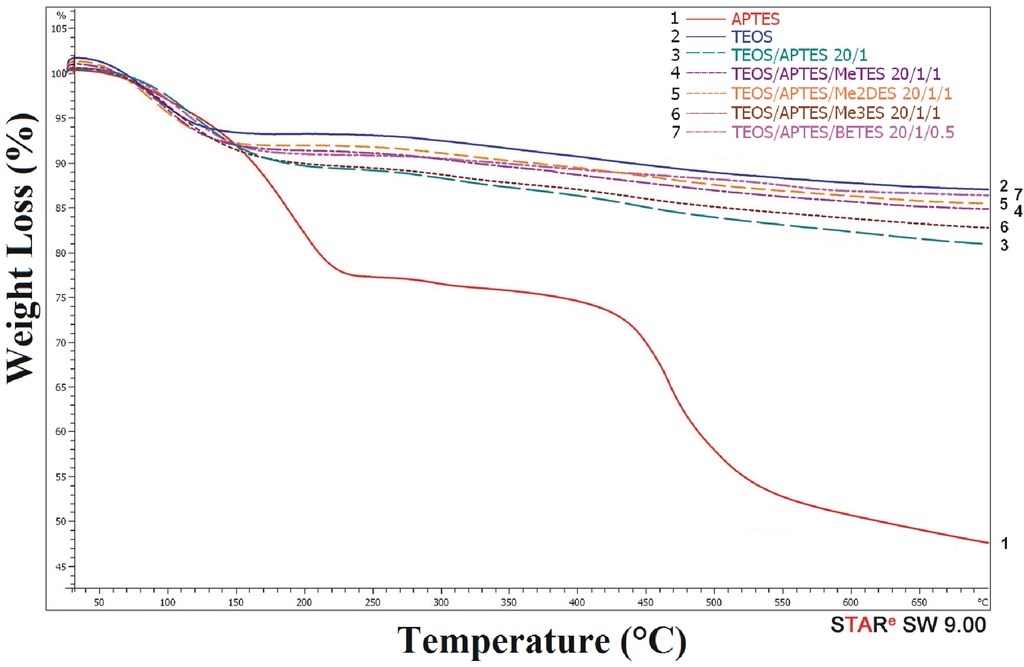 Figure 1
This is an open access article distributed under the
Creative Commons Attribution License
which permits unrestricted use, distribution, and reproduction in any medium, provided the original work is properly cited (CC BY 4.0).

Share & Cite This Article
MDPI and ACS Style
Sándor, M.; Nistor, C.L.; Szalontai, G.; Stoica, R.; Nicolae, C.A.; Alexandrescu, E.; Fazakas, J.; Oancea, F.; Donescu, D. Aminopropyl-Silica Hybrid Particles as Supports for Humic Acids Immobilization. Materials 2016, 9, 34.
Note that from the first issue of 2016, MDPI journals use article numbers instead of page numbers. See further details here.
Related Articles
Comments
[Return to top]