UNS S31603 Stainless Steel Tungsten Inert Gas Welds Made with Microparticle and Nanoparticle Oxides
Institute of Materials Engineering, National Pingtung University of Science and Technology, No. 1, Hseuhfu Rd., Neipu, Pingtung 91201, Taiwan
*
Author to whom correspondence should be addressed.
Received: 13 February 2014 / Revised: 19 March 2014 / Accepted: 12 June 2014 / Published: 20 June 2014
Abstract
The purpose of this study was to investigate the difference between tungsten inert gas (TIG) welding of austenitic stainless steel assisted by microparticle oxides and that assisted by nanoparticle oxides. SiO
2
and Al
2
O
3
were used to investigate the effects of the thermal stability and the particle size of the activated compounds on the surface appearance, geometric shape, angular distortion, delta ferrite content and Vickers hardness of the UNS S31603 stainless steel TIG weld. The results show that the use of SiO
2
leads to a satisfactory surface appearance compared to that of the TIG weld made with Al
2
O
3
. The surface appearance of the TIG weld made with nanoparticle oxide has less flux slag compared with the one made with microparticle oxide of the same type. Compared with microparticle SiO
2
, the TIG welding with nanoparticle SiO
2
has the potential benefits of high joint penetration and less angular distortion in the resulting weldment. The TIG welding with nanoparticle Al
2
O
3
does not result in a significant increase in the penetration or reduction of distortion. The TIG welding with microparticle or nanoparticle SiO
2
uses a heat source with higher power density, resulting in a higher ferrite content and hardness of the stainless steel weld metal. In contrast, microparticle or nanoparticle Al
2
O
3
results in no significant difference in metallurgical properties compared to that of the C-TIG weld metal. Compared with oxide particle size, the thermal stability of the oxide plays a significant role in enhancing the joint penetration capability of the weld, for the UNS S31603 stainless steel TIG welds made with activated oxides.
View Full-Text
►

▼

Figures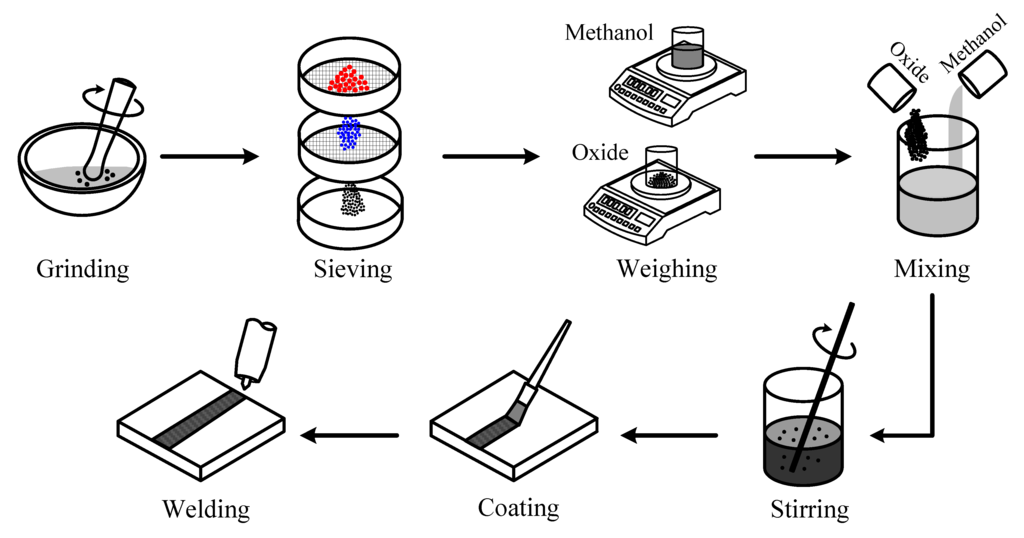 Figure 1

Share & Cite This Article
MDPI and ACS Style
Tseng, K.-H.; Lin, P.-Y. UNS S31603 Stainless Steel Tungsten Inert Gas Welds Made with Microparticle and Nanoparticle Oxides. Materials 2014, 7, 4755-4772.
Related Articles
Comments
[Return to top]