Open Access This article is
freely available
re-usable
Review
Laser Peening Process and Its Impact on Materials Properties in Comparison with Shot Peening and Ultrasonic Impact Peening
1
Department of Mechanical and Industrial Engineering, Concordia University, 1455 De Maisonneuve Blvd. W., Montreal, QC H3G 1M8, Canada
2
Department of Mechanical and Materials Engineering, Masdar Institute, Masdar City, P.O. Box 54224, Abu Dhabi, UAE
*
Author to whom correspondence should be addressed.
External Editor: Douglas Ivey
Received: 17 October 2014; in revised form: 18 November 2014 / Accepted: 27 November 2014 / Published: 10 December 2014
Abstract
: The laser shock peening (LSP) process using a Q-switched pulsed laser beam for surface modification has been reviewed. The development of the LSP technique and its numerous advantages over the conventional shot peening (SP) such as better surface finish, higher depths of residual stress and uniform distribution of intensity were discussed. Similar comparison with ultrasonic impact peening (UIP)/ultrasonic shot peening (USP) was incorporated, when possible. The generation of shock waves, processing parameters, and characterization of LSP treated specimens were described. Special attention was given to the influence of LSP process parameters on residual stress profiles, material properties and structures. Based on the studies so far, more fundamental understanding is still needed when selecting optimized LSP processing parameters and substrate conditions. A summary of the parametric studies of LSP on different materials has been presented. Furthermore, enhancements in the surface micro and nanohardness, elastic modulus, tensile yield strength and refinement of microstructure which translates to increased fatigue life, fretting fatigue life, stress corrosion cracking (SCC) and corrosion resistance were addressed. However, research gaps related to the inconsistencies in the literature were identified. Current status, developments and challenges of the LSP technique were discussed.
Keywords:
laser shock peening; shot peening; ultrasonic impact peening; compressive residual stresses; hardness; microstructure; fatigue life
1. Introduction
Improvement of material surfaces has become an integral part of industrial operations; this is to improve the mechanical and metallurgical properties such as fatigue life, corrosion resistance, and wear and erosion resistance. However, among the recently advanced surface modification techniques is laser shock peening (LSP). LSP which dates back to late 60s and early 70s [1,2,3,4,5,6,7,8] has been described as a cold working process where pulses hit the surface through high power intensity and shock waves are generated. Experiments on materials using pulsed laser beam were first done at the Battelle Institute (Columbus, OH, USA) from around 1968 to 1981 [6,7]. The research work was carried out on aluminum and steel alloys for aerospace applications [7]. Subsequent experiments were carried out in laboratories in France such as CLFA (Cooperation Laser Franco-Allemande-Arcueil Cedex), LALP (Laboratoire d'Application des Lasers de Puissance-Arcueil Cedex) and LULI (Laboratoire d'Utilisation des Lasers Intenses-Ecole Polytechnique, Palaiseau Cedex) to further explore the industrial applicability of the process [6]. The process became known to the industry through two key patents. The first patent was registered in the United States by Industrial Materials Limited, 1973. The other patent was by Battelle Development Corporation, 1983. Later on, General Electric Company was credited with 23 US patents between 1996 and 2001 based on LSP [6]. Further historical perspective of LSP can be found in [7,9,10]. LSP is a versatile process able to modify different materials such as hard metals, soft metals and thin films. This technique is considered to be a potential substitute to the conventional shot peening (SP) process because of higher depth of residual stresses into the material surface reaching about 4–5 times deeper and higher intensity with uniformity across the surface. Furthermore, the LSP provides good surface finish as compared to SP where the roughness needs to be reduced by surface grinding or polishing for typical processes and applications that encounter wear [6,11,12,13]. Areas such as notches and fillets not accessible during shot peening can be treated by LSP [14,15]. More so, LSP can be compared with ultrasonic impact/shot peening (UIP/USP) [16,17,18,19,20,21,22,23,24,25,26] or ultrasonic impact treatment (UIT) [27,28,29,30,31,32,33,34,35,36,37,38,39,40] which has received considerable attention due to its ability to induce compressive residual stresses. This is achieved via electro-mechanical method where stress waves are generated in the materials by plastically deforming the surface [34,41]. For this process, handheld tools consisting of vibrating steel pins configured to frequency controller are employed to induce such stress waves [40,41]. UIP was initially developed in Russia in 1970s [35] and applied on welded joints in order to reduce welding residual stresses thereby enhancing the fatigue life [19,31,32]. Furthermore, the physics and mechanism of UIP/UIT has been addressed [19,34,35].
The applications of the LSP include improvement of fatigue life, stress corrosion cracking/corrosion resistance and wear resistance [42,43,44]. Similar to LSP, UIP has also been employed in enhancing fatigue life [16,25,27,29,30,33,39], fatigue strength [17,19,28,31,32], refinement of microstructure [20,22,23,24,36,38,39] and improvement of mechanical properties such as hardness [20,21,38]. Another application of LSP is the surface enhancement of thin membered sections as reported by Vaccari [9], Dane et al. [12] and Mannava et al. [45,46]. Potentially, the process can be integrated in the production line with high degree of automation [15]. LSP has also shown the suitability of treating complex geometries [47] due to laser beam delivery technology [48] whereas using UIP, this might be difficult to attain. This can be attributed to the handheld equipment usually used in UIP and the difficulty of having full contact with the surface [40,41].
It is worth mentioning that other review papers [6,7,9,49,50,51,52] tackling different aspects of the LSP process could be found in the literature. For instance, Fabbro et al. [51] and Peyre and Fabbro [7] reviewed the physics and applications of the laser shock process; whereas, Clauer [50] reported the fatigue resistance of material via laser shock peening, and Montross et al. [6] reviewed the LSP process with emphasis on its effect on microstructure and properties of metal alloys. This critical review discusses in more details the LSP process with emphasis on; shock wave generation, process parameters, characterization of laser peened specimens, current and future applications as well as the challenges for the LSP process. The effect of LSP process conditions on residual stress profiles, microstructure, surface roughness and mechanical properties are also considered. This paper also identified a wider spectrum of peened materials not previously mentioned in the aforementioned review articles. Furthermore, a comparative study between SP and LSP and UIP and LSP was performed, when possible. For instance, residual stress profile, surface roughness, stress relaxation, mechanical properties and applications were compared. The next section discusses how laser shock waves are generated, the process parameters, laser peened materials and characterization of laser peened samples.
2. Laser Shock Peening
LSP is a mechanical (cold working) process where pulses hit the surface with high power intensity and shock waves are generated [6,7,50,53]. These waves plastically deform the surface and compressive stresses are extended into the subsurface [7,53,54,55,56,57]. These dynamic compressive stresses are highest on the surface and decrease with depth into the material [58]. The next sub-section discusses how these shock waves are generated.
2.1. Generation of Laser Shock Waves
The basic steps for laser shock wave generation can be described as the following sequence; (a) the target surface is covered with an absorbent (sacrificial) coating. This layer vaporizes, forming plasma on the surface with short duration pulse pressure. Absorbent layer prevents melting and laser ablation [3,6] while maintaining high surface quality [59] and without this layer, the energy conversion from pressure to shock cannot be made effectively [6]. This layer can be aluminum [53,60,61,62], copper [63], lead [4], vinyl tape [64,65,66], zinc [62] or black paint [6,11,54]. Hong et al. [64] showed experimentally that black paint layer has the best absorption ability to laser; where almost 100% laser energy is absorbed by black paint as compared to 80% absorption by Al. This means that when a target is irradiated, almost 100% of the laser intensity is used to generate the plasma; (b) transparent overlay (tamping layer) is applied to prevent the plasma from expanding away off the surface thereby increasing the intensity of the shock wave. These overlays, also known as the confining medium, can be water [11,52,53,54,65], quartz [4,5,64,67] or glass [64,68,69]. Other confining media are K9 glass [70], Pb glass [64], perspex [64] or silicon rubber [64]. The choice of confining medium solely depends on the substrate material, density and acoustic velocity which gives the so-called "acoustic impedance effect". Finally, plastic deformation occurs when the shock wave stress exceeds the strength (dynamic yield strength, ) of the metal [6,8,12,53,71]. This LSP process is schematically shown in Figure 1. The plastic deformation results in high dislocation multiplication and movements which affect the microstructure and properties of the material [6]. Peyre et al. [7] showed that increasing laser shock pressure increases the depth of plastic deformation. The description of how shock waves are generated is simple compared to the complexity of the process parameters and optimization. The next sub-section discusses the parameters involved in the LSP process and how the processing parameters can be a challenge to optimize.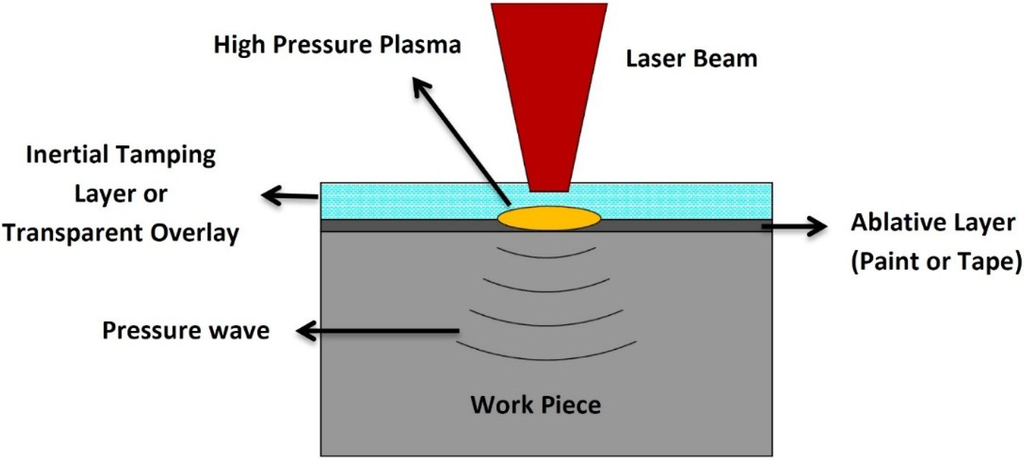 2.2. Process Parameters for Laser Shock Peening
Effective shock peening process depends on the material (target), laser and beam parameters as well as the absorbent and transparent overlays properties. Typical requirements are: Q-switched laser system based on neodymium such as Nd-doped glass (Nd:Glass), yttrium aluminum garnet (Nd:YAG), yttrium orthovanadate (Nd:YVO4) or ytterbium-doped YAG (Yb:YAG) lasers. Different laser wavelengths of 1054 nm (infra-red), 532 nm (green), and 355 nm (ultraviolet) are used. Additionally, time duration of shock wave pressure (laser pulse length) ranges from 10 to 100 ns [6,52] with energy of 1–100 J per shot, and spot (diameter) size of 1–6 mm [6]. For the laser spot geometry; circular [4,11,65,71,72], elliptical [72,73], rectangular [73] and square [13,72] geometries have been studied with square showing better uniformity in intensity and good overlapping rate [72]. A frequency of less than 1 kHz and power density (I) in the range of 0.1–106 GW/cm2 [6] are also required. Comparing with UIP, a higher frequency of 15–100 kHz [19] is employed. Furthermore, the most important LSP process parameters and equations have been summarized. Power density is expressed as a function of frequency, pulse time, power and spot area as given in Equation (1). Other parameters are the laser fluence as given in Equation (2), the load or pressure (P), which must exceed the dynamic yield strength for plastic deformation given by different authors in Equations (3)–(9). Equation (10) shows the reduced shock impedance (Z) for the target material (Z1) and confining medium (Z2) which is related to the density and speed of sound in the material. Table 1 lists typical values of acoustic shock impedance for various confining media and target materials. Furthermore, Equation (11) shows the Hugoniot Elastic Limit (HEL), which is the ultimate stress a material can withstand under compression without internal rearrangement [74]. The process optimization could be more complicated especially when many parameters are involved. For instance, shock pressure representation was inconsistent as found in the literature. Equations (3)–(9) indicate how the constants were varied based on the experimental observations. The variation of constants were attributed to the type of coating [7], confining medium [75] and target material properties [76,77]. This suggests that selecting the most effective processing parameters is paramount. The parameter selection can be achieved by extensive experimental work and simulations. Attempt has been made by Society of Automotive Engineers (SAE) to issue recommended parameters for laser peening of metals [47]. Most importantly, successful laser peening experiments and simulations have been conducted using different processing parameters as summarized in Table 2.

Intensity [54]:

Laser Fluence [78]:

Reduced Impedance [77]:

Hugoniot Elastic Limit (HEL) [77]:

where, is the laser power density in GW/cm2, is the average power output in W, is the laser frequency in Hz, is the pulse time in ns,

a

is the laser spot area in cm2,

B

is 21 or 10.1 for glass- or water-confined modes, respectively,

A

is absorption coefficient for surface coating,

M

is transmission coefficient for transparent overlay, is the ratio of thermal to internal energy, is the reduced shock impedance of the target material and confinement medium, is Poisson's ratio and is dynamic yield strength at high strains.
Table 1. Typical values of

Z

1 and

Z

2 as reported by different authors.
Target material

Z

1 × 106 (g/cm2s) (Reference)
Confining medium

Z

2 × 106 (g/cm2s) (Reference)
Ti-6Al-4V
2.75 [65]
Water
0.17 [65]
AA7050-T7451
1.50 [77]
Perpex
0.32 [64]
SS304
3.61 [68]
Silicon rubber
0.47 [64]
Mg-Ca
0.88 [79]
K9 Glass
1.14 [64], 1.5 [68]
AISI 4140
3.96 [69]
Quartz Glass
1.31 [64]
Cu
0.16 [80]
Pb Glass
1.54 [64]
SS321
4.00 [81]
BK Glass
1.44 [69]
Typical processing parameters presented in Table 2 are power density, pulse duration, absorbent coating and transparent overlay. However, despite the fact that the same material is laser peened, the processing parameters varied for different authors. This indicates that the choice of processing parameters is solely confined to laser type, substrate condition and target application. The characterization of LSP treated surface will be instrumental in understanding the LSP process. The next section identifies some of the materials that have been laser peened.
2.3. Laser Peened Materials
Several materials have been peened successfully proving the effectiveness of LSP and the associated residual stresses induced. Typical research studies conducted are influence of LSP process on residual stress prolife, microstructure, mechanical properties, fatigue life, fretting fatigue life, corrosion and stress corrosion cracking behavior, as discussed in Section 3. Recent LSP studies have shown that laser peening technique can be used for shaping and forming of metals [47] and inspection of coatings [80] as discussed in Section 4. The materials laser peened include titanium alloys [11,13,53,54,55,65,66,71,72,82,83,84,85,86,87,88,89,90], aluminum alloys [3,5,60,61,62,64,75,76,90,91,92,93,94,95,96,97,98,99,100,101,102,103,104], different steel grades [8,66,69,70,79,97,105,106,107,108,109,110,111,112,113,114,115,116,117,118,119,120,121,122,123,124,125], copper alloys [126,127,128], zinc [67], nickel based alloys [116,129,130,131], super alloys [115,132,133], brass [91], magnesium alloys [80,134,135], bulk metallic glass [136] and other materials [4,63,137,138,139]. Comparatively, similar materials have been treated by the UIP technique such as soft steel [18], 304SS [33], Type 35 carbon steel [38], 316L SS [22], Inconel 718 [23], naturally exfoliated Al7075-T6511 [27], AlSi11Mg [31], Al2024-T351 [36], Al matrix composite reinforced with AlCuFe or Ti fine powders [20], Ti alloy [16], welded joints of steel grade 345W [28], steel grade A36 [29], 16Mn steel [17] and 304SS [19,37]. Despite treating similar materials only a few researchers [79,140] compared LSP and UIP processes. These comparisons will be addressed when possible in subsequent sections. Furthermore, Table 2 shows some of the process parameters and remarks made by different authors after laser peening on a variety of materials. The next section discusses the characterization of laser peened materials.

Table 2. Typical LSP processing parameters from the literature used for different materials with concluding remarks.
Table 2. Typical LSP processing parameters from the literature used for different materials with concluding remarks.
Material (Reference)
Power density (GW/cm2)
Pulse duration (ns)
Absorbent coating
Transparent overlay
Remarks
Ti-6Al-4V [53]
5
10
Al Foil
Water
The fatigue life was improved by 22.2% and 41.7% for one and two successive laser shocks respectively as compared to as-received sample.
Ti-17 [82]
3, 6, 9
9, 27
Al
Water
It was found that all LSP parameters had influence on the residual stress profile. LSP had no influence on roughness, little effect on work hardening and large effect on hardness due to the compressive stresses induced.
AA2195 [60]
5
18
Al
Water
The fatigue crack growth rate of stir welded joint was reduced using LSP as compared to SP. Furthermore, the reduced crack growth rate was comparable with unwelded material.
Al2024 T3 [83]
5
18
Black paint
Water
LSP specimen showed resistance to fatigue crack growth for various notch geometries as compared to unpeened specimen.
4140 Steel [84]
3
5
Al
BK7 Glass
WLSP and DSA showed improved fatigue life due to enhanced cyclic stability of compressive RS. The stability and reliability were attributed to the enhanced dislocation pinning effect associated with the WLSP and DSA process.
316 L SS [85]
2.5
10
No coating
Water
The potentiodynamic polarization investigation showed improvement in corrosion potential (

Ecorr

) and corrosion current density (

Icorr

) with increase in laser pulse density. LPwC specimen showed 30%–40% increase in microhardness than unpeened specimen.
2204 Duplex SS [86]
900, 1600, 2500 pul/cm2
8
No
Water
Greater RS were observed with higher pulse density. LSP showed improved crack growth rate resistance and fracture toughness as compared to untreated specimen.
Cu 15 µm foil [87]
6
10
Black paint
Water
The microscale laser dynamic forming (µLDF) showed that, materials are strengthened due to refined grains and large dislocation density which were dominant in the microstructure.
Alloy 22 [88]
10
25
Al
Water
Slitting method was used to establish a relationship between LSP parameters and RS on flat coupons. While contour method measured the spatial RS on critical geometrical features.
Inconel 600 [89]
10 J/cm2
12
-
Water Jacket
Tilted column microstructure was observed due to overlapping of laser spots during scanning. Spherical nanoparticles with 60 nm diameter were seen due to laser ablation.
Fe-3%Si [4]
0.1–1
25–200
Pb
Quartz
Laser shocking showed that quartz plus lead overlay gave the most deformation for a given power density. The deformation occurred by slip and twining mechanism. Most of the samples showed surface melting for 200 ns pulses.
Mg-Ca [79]
78
5 to 7
Black paint
Water
Sequential peening showed an increase in the tensile pile up region up to 50% which was considered applicable for orthopaedic applications.
AZ31B Mg [90]
5
23
Al7075
Water
Sub-grain sizes of 5.8 µm were obtained after four laser impacts. The RS near the surface increased with number of impacts. LSP showed retardation to SCC crack initiation and propagation.
Brass H62 [91]
1000, 2000, 3000 Pulses/cm2
10
-
Water
LSP showed that, the higher the pulse density the higher the microhardness, roughness and wear resistance. No observable features in the microstructure after LSP.
CMSX, AM1, Astroloy [92]
12–150, 90, 25
25, 33, 40
Black paint
Water, Glass
The deformation microstructure and macroscopic mechanical phenomenon studies were envisioned to provide optimum process parameters applied to fatigue and fretting fatigue specimens.
2.4. Characterization of Laser Shock Peened Materials
Due to the high strain rates of 106·s−1 [76] involved in the laser shock peening process, it is usually accompanied with changes in microstructure and mechanical properties (hardening and strengthening). Despite the high strain rates during LSP, the total induced strain is much less than in the case of shot peening. Furthermore, these microstructural changes are characterized and investigated by means of TEM and SEM for the surface and sub-surface morphologies and features. For the TEM technique, typical information revealed are dislocation structure [11,79,91,141,142], dislocation entanglement [3,105,143], dislocation band [69] and precipitate structure [69,91,105]. SEM technique on the other hand, provides surface and subsurface features such as surface microcracks [82,83], macrocracks [144], fretting cracks [71], mild indentations [93], melting due to ablation [95] and other surface irregularities from the LSP process [54]. The measured compressive residual stress induced during the LSP is an important indicator of the effectiveness of the LSP process. Since residual stresses cannot be measured directly due to its extrinsic nature, strain in the crystal lattice which is an intrinsic property is usually measured. The residual stress are calculated from the strain while assuming a linear elastic distortion of the crystal lattice [145]. Several methods have been used to quantify the residual stress profile in the material. Among these methods are X-ray diffraction sin2ψ [85,145,146,147], hole drilling [85,92,93,148], slitting [86,129,130], neutron diffraction [129,130] and contour methods [60,61,94,106,130]. X-ray diffraction sin2ψ method is the most commonly used method to quantify the residual stresses. In this method, the strains are measured at particular diffraction angles and lattice planes where Bragg's law is satisfied. Material constants such as Young's modulus, Poison's ratio as well as different tilt angles "ψ" are further employed to quantify the stress. For in-depth or subsurface residual stress profiles, measurements after material removal by electropolishing is used extensively [82,107]. The step-by-step material removal is in the order of microns and more details of this procedure have been reported in [145,146,147]. For the hole drilling method, a hole is drilled and variations of stresses are measured as a function of depth by a strain gage rosette [6,107]. Surface roughness measurement after LSP has been reported [8,76,86,108,149,150,151] as the arithmetic average (Ra) using surface profilometers such as Talysurf contacting surface [71] and electronic contact (stylus) [140]. The roughness can be areas of stress concentration and crack initiation sites which have adverse effect on fatigue life of components. Microhardness [54,62,82,95,108,109,110,134] and nanohardness [96,111,126,137] across the irradiated surface are also measured and reported in the literature. Increase in measured hardness has been attributed to plastic deformation resulting in dislocation multiplication and movement [49,76,85,128]. For in-depth or subsurface hardness measurements, nanohardness is a more reliable approach as compared to microhardness. This is because of the compressed layer thickness which might pose measurement difficulty when measuring microhardness. However, these characterization techniques give researchers an insight regarding the changes and modifications due to LSP processing. The general improvements can be further quantified after a series of mechanical testing depending on the application, such as test for fatigue resistance, fretting fatigue resistance, stress corrosion cracking, and water erosion resistance. The effect of LSP process on residual stress profile, microstructure, mechanical properties, stress corrosion cracking and corrosion behaviors will be discussed in the following section.
3. Effect of Laser Shock Peening
4. Applications of Laser Shock Peening: Present and Future Status
Since inception, LSP has shown great potential and applicability at the industrial level especially for critical components. The technique has significantly improved the mechanical properties and performance of many engineering materials due to the increase in compressive RS depth and process control as discussed in Section 3.4 to Section 3.5. Several patents were issued and still increasing in number, for instance, GE Company was credited with 23 US patents between 1996 and 2001 [6]. Due to the advancement in the LSP technology, service providers such as Metal Improvement Company (MIC) [47] have now the capability to laser peen on- and off-site components [177] due to the advanced methods of laser beam delivery which included fixed beam for moving parts, moving beam for stationary part and scanning beam for large panels [48]. Furthermore, size of components ranging from small fuel injector to a hundred inch long wing panel can be successfully laser peened [48].
Industries such as aerospace have embraced the LSP for both commercial and military aircraft engines to mitigate fatigue failures. For instance, LSP has been applied to military aircraft engines such as F101-102-B-1B bomber, F110-129, F110-100, F110-132–F-16 fighter, F119-F-22 fighter, F118-100-B-2 bomber, F414-F/A-18E/F hornet and commercial engines such as CFM 56-B737, A320 Trent 500–Airbus, 340 Trent 800–Boeing 777, Trent 1000–Boeing 787, BR710–Gulfstream 500/550 BR725–Gulfstream 650 [184]. Laser peening of gas and steam turbine blades in power generation sector has also become a common practice [184]. Since 1991, Toshiba adapted underwater LSP in its nuclear power plant to peen 8 Japanese boiling water reactors (BWRs) and 2 Japanese pressure water reactors (PWRs) [177]. Potential application of LSP in biomedical implant components could be a feasible approach as demonstrated for Mg-Ca alloys [79] and proposed work by Kamkarrad et al. [185]. However, the compatibility of body tissues and induced compressive layers will require more understanding through research.
Recent technological development in laser beam is the use of squared shaped laser beam. This approach has shown efficient coverage, overlapping, uniform packing and improved surface quality for a layer of treatment as compared to the round shaped beams [6,13,48,72,114,130]. Figure 23a,b show a typical square shaped beam pattern as well as a peened component respectively [47]. Geometrical limitations such as fillets, notches, shape edges could be challenging as most of reported works were on simple flat shaped geometries. More understanding in the aspect of beam shape and geometry is still required.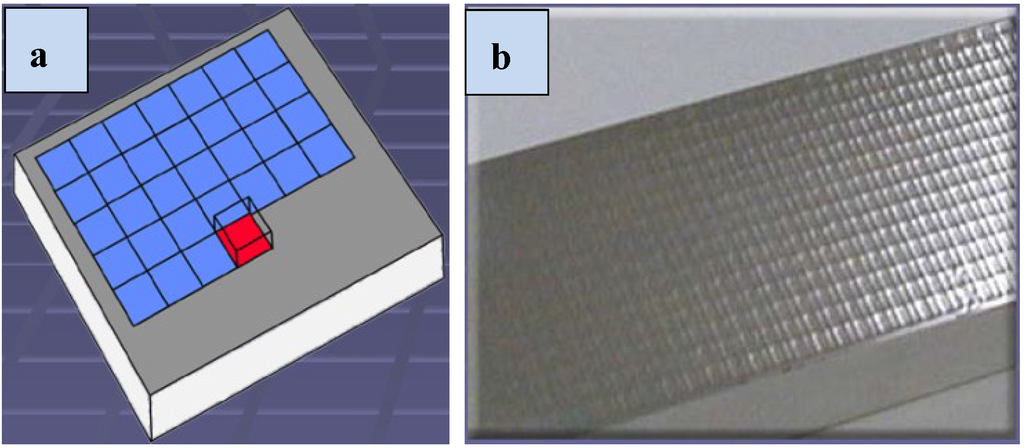 Figure 23.
Square shaped beam pattern (
a
) and a peened component (
b
) [
47
].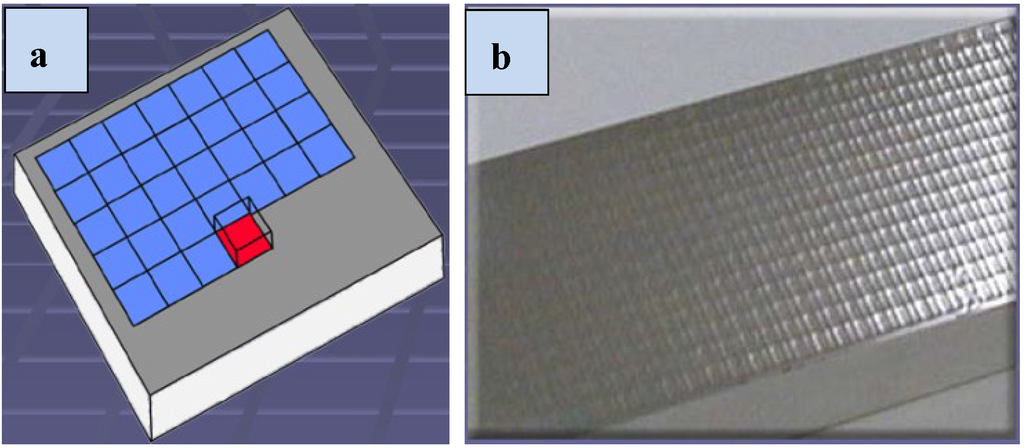 Researchers have successfully addressed the simulation of LSP process in a number of approaches. For instance, laser-material interactions to predict the pressure pulse magnitude and shape, residual stress profiles/distribution [66,72,88,186,187,188,189,190,191,192], laser non-conduction-limited heating [93], plastic strain [93], residual elastic strain [193], microcracking, surface deformation [158,194], material behavior near water-coating interface [195], powder compaction [184], and dislocation behavior [63] have been studied extensively. Fatigue crack propagation, thermal relaxation of residual stresses [65] and indentation profiles on the substrate [66] have been successfully modeled. The numerical models and experimental works have shown good agreements [131,196] especially for thick sections though little discrepancies might be identified. However, for thin sections, the modeling might be difficult due to the cyclic plastic deformation at the section center caused by complex wave pattern.
LSP on welded joints has shown enhancements in the hardness [61], yield strength [3,94,141], crack growth rate resistance [60] and fatigue life with a patent issued to Mannava et al. [46]. Further work by Sakino et al. [128] showed significant improvement in fatigue life [172] of laser peened fillet and butt welded joints of SM490 steel. Similar observations have been seen in UIP treated joints [19,31,32]. This indicates that compressive residual stresses are beneficial to welded joints irrespective of the technique.
Warm laser shock peening (WLSP) is another new emerging technology integrating the merits from the conventional LSP process, dynamic strain aging (DSA) and dynamic precipitation (DP) to enhance material performance. The WLSP process is carried out at a relatively high temperature. The selection of peening temperature depends on the material and the confining medium. Recently, Cheng's group at Purdue University, USA applied the WLSP on Al6061-T6 [101] at 160 °C and 4140 steel at 250–300 °C [84] to investigate the effect of WLSP on fatigue behavior. The report [105,182] suggests that the WLSP showed better fatigue properties than the conventional LSP due to higher surface strength, deeper compressive residual stress and higher stability of dislocations. The improvements were attributed to the improved cyclic stability of compressive residual stress and locking of mobile dislocations due to DSA and DP. This observation is in accord with the work of Ren et al. [197] on laser peened ASTM:410L 00Cr12. More research studies on WLSP will further augment their [91,105] efforts in establishing this new approach.
Unlike WLSP, LSP can also be performed at a lower temperature in what is known as cryogenic laser shock peening (CLSP). This promising method produces severe plastic deformation (SPD) that generates nanotwinned microstructure thereby enhancing the properties. For instance, Ye et al. [198] explored this technique on copper in a liquid nitrogen (LN2) tank. They [198] showed increase in hardness and strength while preserving the ductility. This was attributed to the high dislocation density, nanograins and nanotwins from the CLSP. However, the CLSP will require more experimental investigations with regards to the cooling medium and target material. For example, the (LN2) used by Ye et al. [198] might have adverse effect on other materials. More so, in comparing CLSP with WLSP, materials processed using WLSP will show better properties due to the inherent enhancement by heat treatment.
LSP technique has showed the feasibility of shaping and forming of metal components using high energy laser pulses. This allows forming of thicker sections and tighter curves due to the deep compressive residual stresses as compared to other techniques such as shot peening [47,59]. Due to the induced stresses, elongation of the peened region occurs and consequently bending the overall shape [59]. Unlike the conventional mechanical forming, the forming force induces undesirable tensile residual stresses which may lead to stress corrosion cracking and fatigue failure [59] as shown in Figure 24. To demonstrate this, Metal Improvement Company formed a 10 mm thick Al7050 by laser peening and a radius of about 230 mm was achieved as shown in Figure 25. Similar forming processes have been studied in Cu [133], and Fe78Si9B13 [138]. However, more research studies are still required to simulate real working conditions such as high temperature applications where stresses might be relaxed.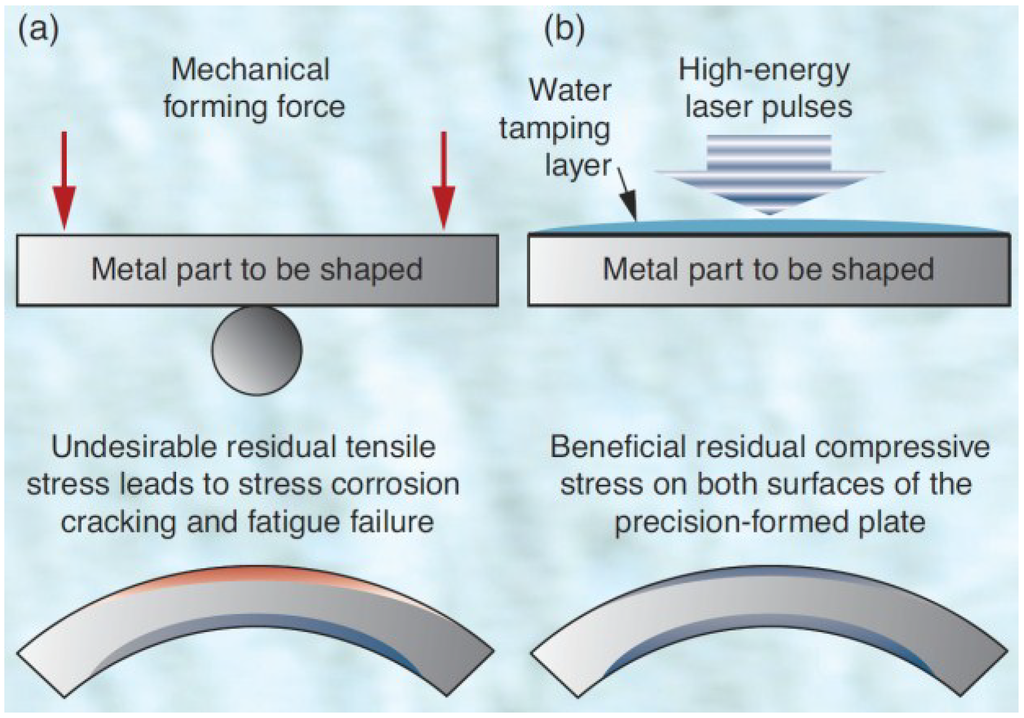 Figure 24.
Comparison of (
a
) conventional and (
b
) Laser shot precision metal forming process [
59
].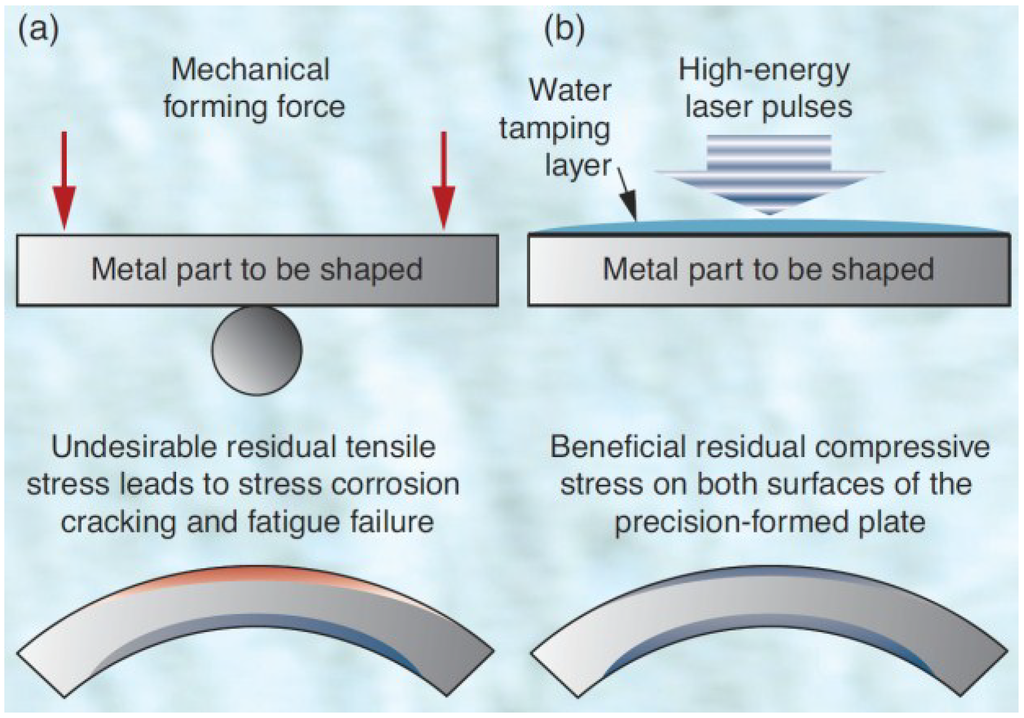 Figure 25.
A 0.4 inch (10 mm) thick piece of Aluminum 7050 formed by laser peening [
47
].

Furthermore, Cheng et al. [87] used the laser dynamic forming (LDF) approach to form Cu foils. The LDF is a hybrid forming process that integrates the advantages of LSP and metal forming. Typical set-up of the process is depicted in Figure 26. Studying the substructure using electron backscatter diffraction (EBSD), they [87] found that high dislocation density and refined grains dominated the microstructure after LDF. This improved the strength of the components.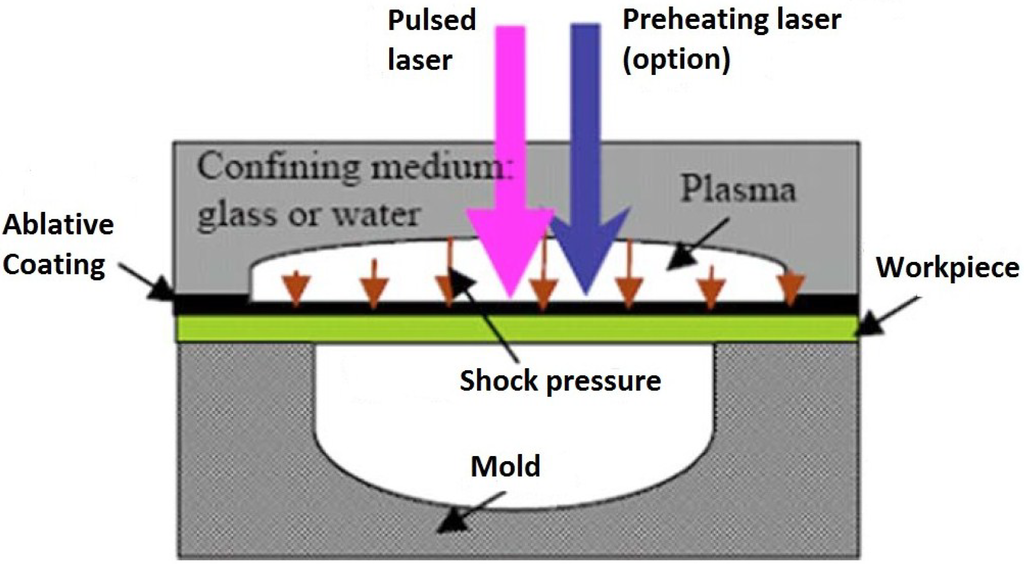 Figure 26.
Schematic setup of the laser dynamic forming process [
87
].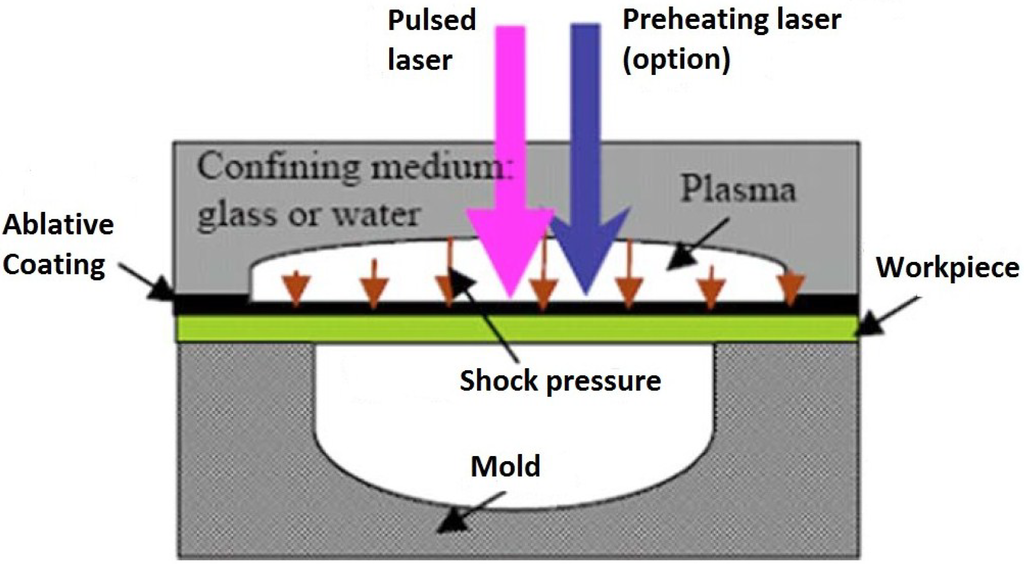 Yu et al. [199] further studied the LDF of laminated composites on patterned 3-D surface. They [199] reported that the polymers absorbed the shock energy and had no adverse effect on the composite structure. Further investigation into the effect of surface defects and irregularities, variation in mechanical properties, and substrate conditions are essential for further improvement of the LDF technique. De-shaping after relaxation of stress could pose potential challenges in this new approach. Furthermore, the precision of the technique could be alarming as different forming and LSP process parameters could result in different patterns. For example, Jiang et al. [70] studied the precision control of metal sheet forming using 3J53 Ni alloy in a semi concave die with the typical set-up shown in Figure 27. Laser shock wave mechanical effect was used to plastically deform the metal sheet. The Nd:Glass laser type process parameters used were 10–40 J, 22 ns, and 6 mm spot diameter. Black paint and K9 glass were used as absorbent and confining media respectively. Jiang et al. [70] showed that the optimal laser pulse energy was 15 J for precision control in semi die forming using laser shock wave as depicted in Figure 28. It is evident from this figure that for the different pulse energies used, the outline and matching of the concave die produced different features. The 15 J-experiment gave the best outline of the concave die. However, more fundamental understanding on how the process affects the mechanical properties and microstructure such as spring back effect, reverse deformation is still needed. Furthermore, extending the macroforming to microforming scale [87] will be an interesting area of research especially in applications such as bulge forming, welding and bending [184]. Since macroforming or microforming requires high precision control, the use of UIP technique might not be beneficial especially for complex geometries due to the handheld apparatus employed. Again, the use of SP technique might not be suitable due to the high level of cold working thereby leading to high stress relaxation. These reasons will entail having variation in dimensions, microstructure as well as properties.

Figure 27.
Schematic set-up of metal sheet laser shock forming with concave die [
70
].


Figure 28.
Appearance of semi die formed samples using 12 J (L), 15 J (M) and 18 J (R) [
70
].

Use of laser shock wave for adhesion testing of coatings is yet another interesting application. Bolis et al. [80] investigated the debonding mechanism of electroplated 70–90 µm non-porous and non-rough Ni coating deposited on a pure Cu substrate (120–190 µm). Simulation codes SHYLAC [51,81] and HUGO [80] were employed to further validate the result. Both the experimental and simulation works showed that the interface debonding and debonding fatigue can be determined. However, from application point of view, more studies are required in order to verify the efficiency and accuracy of the technique. Bossi et al. [200] also inspected the surface of composites and other joints using the laser bond inspection technique. They [200] elucidated promising results for the 23 mm thick samples but thicker samples pose challenges to the applicability of the technique. However, more investigations are needed for complex coatings such as multi layered coatings, process optimization and holistic quantitative evaluation of the adhesion.
While significant improvements on corrosion and stress corrosion cracking behavior of materials via LSP have been reported, no reports could be found in the literature on the improvement of water droplet erosion (WDE) resistance via LSP. However, attempts are being made by the authors of this paper at Concordia University, Canada to investigate the water erosion behavior of laser peened materials such as Ti-6Al-4V used in compressor blades of gas turbines. Preliminarily, the on-going research shows that the LSP process might be a potential solution in enhancing the WDE behavior of materials. The WDE is a special form of erosion with high velocity liquid droplets on a solid surface [201]. The mechanism of the impingement process is complex by virtue of the many parameters involved including: impact velocity, impact angle, droplet size and size distribution, droplet shape, frequency of impacts and condition of the tested material. Other laser surface treatments such as laser surface alloying and laser nitriding have shown improvement against water erosion. For instance, Robinson and Reed [202] used continuous wave CO2 laser to modify the surface of Ti-6Al-4V in both inert and dilute nitrogen atmospheres. An improvement of 10% in micro-hardness and homogeneity of the microstructure improved the water erosion resistance after 25 h erosion. A mass loss of the laser treated sample is about 20%–25% as compared to the untreated sample. Therefore, due to the unavailability of the LSP-WDE information, fundamental and experimental understanding on how the LSP process can improve this resistance is needed. This approach will drive to check which factors (hardness, depths of compressive residual stresses, multiple laser shots, and overlaps) affect the water erosion resistance significantly. Microstructural analysis can be instrumental in understanding the different stages of the erosion process such as incubation, acceleration, deceleration and terminal stages. The synergistic investigation can provide a more systematic and scientific explanation of the improvement against water erosion using LSP. Based on the aforementioned applications, one can argue that the LSP technique has a more promising future over the UIP and SP techniques. This can be attributed to the higher depth of compressive RS, low level of cold working, precision and repeatability of the process. However, in certain applications such as reduction of welding residual stress, UIP can be competitive with LSP due to lower cost and more flexibility as compared to the high cost of operation when employing LSP. This is one of the challenges and drawbacks of the LSP process that will be addressed in the following section.
5. Challenges for the LSP Process
So far the LSP technique has shown numerous advantages over the conventional SP, but one cannot ignore the drawbacks and shortcomings related to the technique. This section discusses some of the challenges pertinent to LSP.
LSP induces deep compressive RS which must be equally balanced with tensile stresses. This is a challenge especially when thin regions are peened and tensile stresses reside beneath the peened surface [98]. This phenomenon is usually observed when the compressive RS does not pass through the entire section thickness [203]. Possible solution is to peen both sides of the component which is mostly found in turbine airfoil applications [65,203,204]. In fact, this approach has been applied successfully in investigating the foreign object damage (FOD) of leading edge of turbine blades made of Ti-6Al-4V [11,83,205,206,207]. Another possibility is to constrain the tensile stresses to dwell in non-critical locations. General Electric Infrastructure-Aviation (GEA) applies mathematical design optimization to tackle this point [203].
Dimensional variation is another challenge posed by the LSP process which leads to distortion of the components. This could be related to the thickness, LSP processing and other geometrical constraints. For instance, studies have shown the lengthening of the leading edge in an airfoil in the radial direction due to compressive stresses while the other parts distorting as a result of tensile stresses [203,207]. GEA further demonstrated that for airfoils, less twisting was expected for the root due to the large thickness than at the tip. Further investigation on the effect of distortion of components will add much needed technical information necessary for the industry to adopt additional use of LSP.
The lack of non-destructive testing technology for quality control and quality assurance (QA/QC) is a major challenge for laser peened sections. This technology will be very useful for the LSP process validation. Presently, destructive testing such as high or low fatigue testing at different operating conditions are the only ways used to evaluate most materials [203] and to validate the suitability of LSP process. The harmonious agreement between the destructive and non-destructive testing will boost the confidence level of the process in many applications.
Due to the desire to have maximum magnitude of compressive RS, it has been reported that the LSP process could induce internal rupture of components due to over-processing [203]. Cracks of less than 0.002 inch wide normal to the stress wave propagation result from such over processing [82,87,118,203]. Process optimization and careful selection of the process parameters will be paramount to eliminate the possibility of having such cracks which can be a defect in critical components.
Despite the fact that LSP has shown less thermal relaxation of stresses at elevated temperatures compared to SP technique due to little cold working, the relaxation is profound in laser peened components at high temperatures exceeding 540 °C. This is a challenge in high pressure compressors where 15% reduction in fatigue life was reported for thermally cycled Ti alloys at temperature of >540 °C for over 200 h [203]. This could be attributed to the relaxed compressive stresses at such elevated temperature and exposure time [65,180]. However, recent research studies by [69,91,105] showed that peening at an elevated temperature reduced such relaxations due to stability of the compressive RS.
For every new technical concept, the cost of conducting research and applying it in industry is a major challenge and LSP is not an exception in this regard. LSP is a high-cost technology as compared to SP [150] and UIP especially when the component efficiency and in-service performance are very essential for the application [203]. For this reason, when considering high scale production, companies will find it difficult to laser peen fabricated components. However, the integration of LSP technology at a strategic point during the production line could help minimize the cost. More so, investigations using modeling might further minimize the experimental cost by reducing the need to do all the parametric combinations [82,208].
6. Summary
Laser peening process has been seen to induce compressive residual stresses reaching about 4–5 times deeper and higher intensity with uniformity across material surface than the conventional shot peening technique. However, the SP has not been replaced by the laser peening especially in applications were coatings are used. Some researchers are of the opinion that both techniques have their distinct merits and challenges. However, LSP has shown superior improvements in fatigue life, fretting fatigue life and SCC due to the refined microstructure and enhanced mechanical properties. These enhancements have been shown in commercially available structural materials such as low carbon steels, nickel based alloys, stainless steels, titanium alloys, magnesium alloys and aluminum alloys. Recent studies on laser forming, warm laser peening show that researchers have gone beyond the initial fatigue life improvement concept to a more widen approach, although more studies are required.
Despite the enhancements associated with the LSP technique, more research studies are still needed for complete understanding. For instance, the lack of standardized LSP process parameters is still an issue, however, the Society of Automotive Engineers had attempted to provide optimized process parameters for various materials but till date no such report is published. However, this could be due to the multi factors associated with the peening process such as the laser type, and peening and substrate (target) conditions.
With the numerous compressive residual stress measurement techniques such as X-ray diffraction, neutron diffraction, hole drilling, contour and slitting compliance methods, there are still discrepancies in quantifying the surface and in-depth residual stresses. This might be due to the extrinsic nature of the residual stresses measured from the strains in the materials and the associated correction methods that should be used. However, with more experimental and simulation works, accurate predictions of the residual stresses with special attention given to the geometrical constraints can be established.
In spite of the fact that medical implant materials can be laser peened with enhanced properties, there is still lack of experimental data to substantiate this fact. More research findings on the compatibility of laser treated surfaces with body tissues are still missing.
The introduction of temperature effect into the LSP process in what is known as warm or thermal engineered LSP has just emerged with few publications to date. This process integrates the advantages of the LSP with dynamic strain aging and dynamic precipitation. Surface properties and fatigue life of steel and aluminum have been enhanced due to dislocation pinning effect during the dynamic precipitation. Furthermore, WLSP has shown that, stress relaxation can be greatly reduced while enhancing the material properties and this can be a solution to the stress relaxation challenges posed by the conventional LSP. However, this can only be achieved with more fundamental understanding and experimental works on the careful choice of processing temperature and confining medium as water might not be applicable at elevated temperatures.
The feasibility of forming complex and curved geometries via the laser shock processing has shown that the conventional metal forming processes can potentially be replaced to some extent. This is due to the fact that the tensile stress leading to SCC is totally eliminated by inducing compressive residual stresses. However, only a few investigations have shown this approach and more research addressing issues such as temperature limitation, angle variations, spring back phenomenon are still needed. It is worth mentioning that the feasibility of forming using SP might be difficult due to high level of cold working which results in significant stress relaxation. More so, the use of UIP could also pose the difficulty of having dimensional accuracy due to the handheld apparatus employed in the process.
UIP process has also shown similar to improvements offered by LSP especially in the fatigue life enhancement of welded joints. However, only a few comparisons were made between the two processes. Notwithstanding, when considering the cost of operation and location of operation such as treatment in austere environment, UIP will be a better candidate than LSP due to the simplicity and transportability of the process and equipment respectively.
Remarkable improvements in corrosion and stress corrosion cracking behavior of materials via laser peening have been reported. This was attributed to the refined microstructure and induced compressive residual stresses. More so, this peening process is expected to enhance the water droplet erosion behavior of materials, this research has not been explored but attempts are being made by the authors of this paper. The experimental results and discussion from the work will be published in due course.
Acknowledgments
The authors gratefully acknowledge the financial support provided by the Frederick Lowy Scholars Fellowship Award, Graduate Student Support Program (GSSP) and Research Assistantship (RA) Funds by Concordia University, Canada. The technical advice and discussions rendered by Lloyd Hackel (Metal Improvement Company, Livermore, CA, USA) regarding the laser peening process is also acknowledged.
Author Contributions
Abdullahi K. Gujba is a candidate who prepared the manuscript while Mamoun Medraj is the supervisor who corrected and commented on various aspects during the manuscript preparation and submission.
Conflicts of Interest
The authors declare no conflict of interest.
© 2014 by the authors; licensee MDPI, Basel, Switzerland. This article is an open access article distributed under the terms and conditions of the Creative Commons Attribution license (http://creativecommons.org/licenses/by/4.0/).