Synthesization, Characterization, and
in Vitro

Evaluation of Cytotoxicity of Biomaterials Based on Halloysite Nanotubes

1

Instituto Tecnológico de Estudios Superiores de Monterrey, Eugenio Garza Sada 2501, Col. Tecnológico, 64849 Monterrey, NL, Mexico

2

Departamento de Ingeniería, Universidad de Monterrey, Ave. Morones Prieto 4500 Pte., Col. Jesús M. Garza, 66238 San Pedro Garza García, NL, Mexico

3

Departamento de Ciencias Básicas, Universidad de Monterrey, Ave. Morones Prieto 4500 Pte., Col. Jesús M. Garza, 66238 San Pedro Garza García, NL, Mexico

4

Departamento de Bioquímica y Medicina Molecular, Facultad de Medicina, Universidad Autónoma de Nuevo León, Jesús Aguirre Pequeño esq. Av. Madero, 64460 Monterrey, NL, Mexico

*

Author to whom correspondence should be addressed.

Received: 25 August 2014 / Revised: 16 October 2014 / Accepted: 7 November 2014 / Published: 4 December 2014
Abstract
Halloysite is an aluminosilicate clay that has been widely used for controlled drug delivery, immobilization of enzymes, and for the capture of circulating tumor cells (CTCs). Surface modification of halloysite by organosilanes has been explored to improve their properties. In this study halloysite clay nanotubes (HNTs) were functionalized by two different organosilanes: Trimethoxy(propyl)silane (TMPS), and Triethoxy(octyl)silane (EOS). Untreated and modified samples were characterized by scanning electron microscopy (SEM), X-ray diffractometry (XRD), thermogravimetrical analysis (TGA), and Fourier transform infrared spectroscopy (FTIR). Results showed a strong interaction of organosilanes with the chemical groups present in HNTs. Biocompatibility and cytotoxicity of these nanomaterials were determined using C6 rat glioblastoma cells. Our results indicate that prior to functionalization, HNTs show a high biocompatibility and low cytotoxicity. However, HNTs functionalized with EOS and TMPS showed high cytotoxicity by inducing apoptosis. These results allow the identification of potential applications in biomedical areas for HNTs.
View Full-Text
►

▼

Figures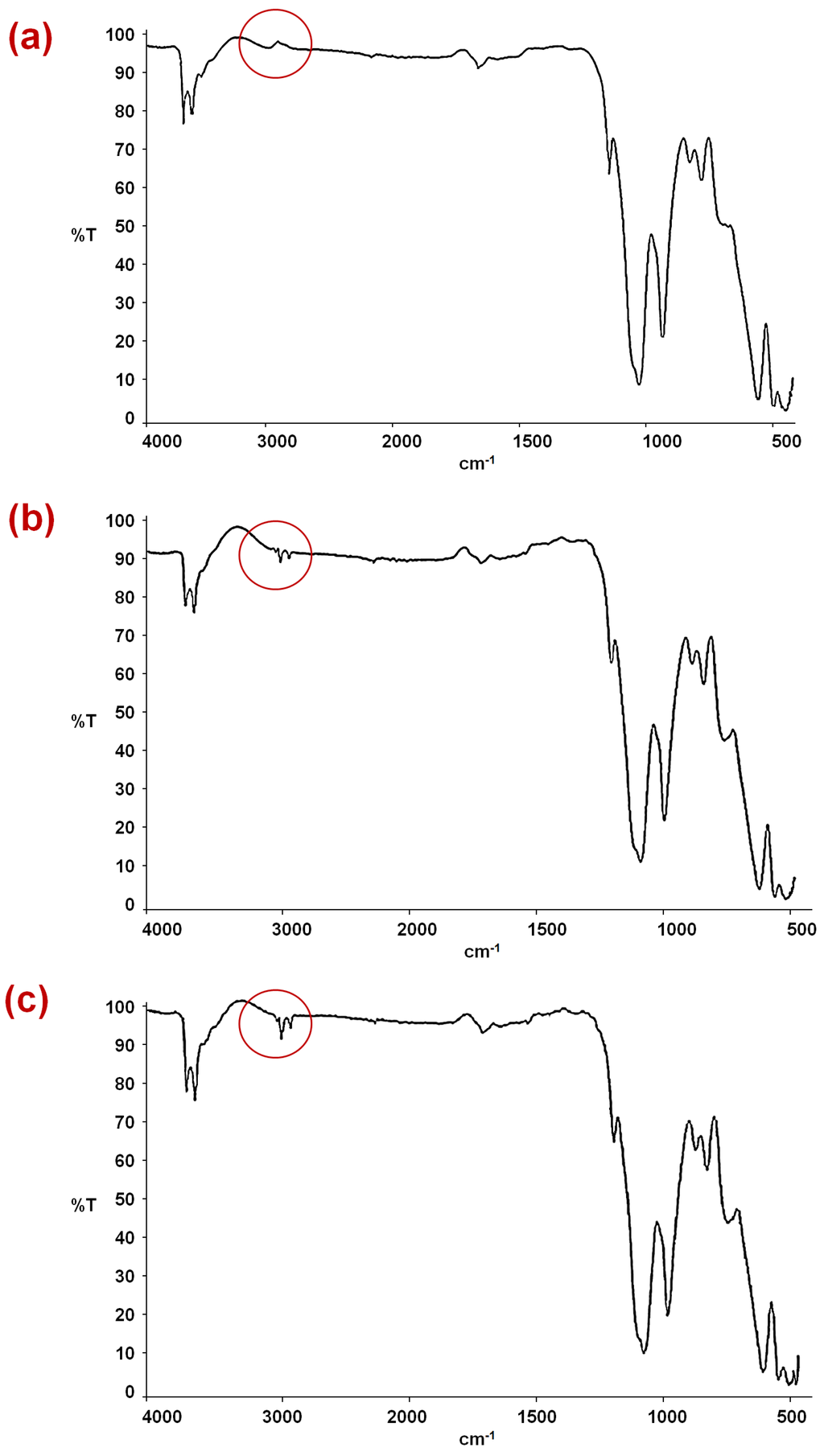 Figure 1
This is an open access article distributed under the
Creative Commons Attribution License
which permits unrestricted use, distribution, and reproduction in any medium, provided the original work is properly cited (CC BY 4.0).

Share & Cite This Article
MDPI and ACS Style
Sánchez-Fernández, A.; Peña-Parás, L.; Vidaltamayo, R.; Cué-Sampedro, R.; Mendoza-Martínez, A.; Zomosa-Signoret, V.C.; Rivas-Estilla, A.M.; Riojas, P. Synthesization, Characterization, and in Vitro Evaluation of Cytotoxicity of Biomaterials Based on Halloysite Nanotubes. Materials 2014, 7, 7770-7780.
Related Articles
Comments
[Return to top]