Development of Screen-Printed Texture-Barrier Paste for Single-Side Texturization of Interdigitated Back-Contact Silicon Solar Cell Applications
1
Department of Chemistry, National Cheng Kung University, Tainan 70101, Taiwan
2
Department of Electro-Optical Engineering, National Formosa University, Huwei, Yunlin 63201, Taiwan
3
Institute of Mechanical and Electro-Mechanical Engineering, National Formosa University, Huwei, Yunlin 63201, Taiwan
*
Authors to whom correspondence should be addressed.
Received: 10 July 2013 / Revised: 8 October 2013 / Accepted: 12 October 2013 / Published: 17 October 2013
Abstract
Continuous cost reduction of silicon-based solar cells is needed to lower the process time and increase efficiency. To achieve lower costs, screen-printed texture-barrier (SPTB) paste was first developed for single-side texturization (ST) of the interdigitated back-contact (IBC) for silicon-based solar cell applications. The SPTB paste was screen-printed on silicon substrates. The SPTB paste was synthesized from intermixed silicate glass (75 wt %), a resin binder (ethyl cellulose ethoce: 20 wt %), and a dispersing agent (fatty acid: 5 wt %). The silicate glass is a necessity for contact formation during firing. A resin binder and a dispersing agent determine the rheology of the SPTB paste. In this work, by modulating various parameters, including post SPTB firing, alkali texturing, and removal of the SPTB, the ST of IBC silicon solar cells was achieved. Since the advantages of the SPTB paste include low toxicity and prompt formation of the texture-barrier, SPTB is potentially suited for simple fabrication at low-cost for solar cell applications. The cost of the SPTB is around $100/kg which is lower than the SiH
4
/NH
3
gas ambient used in plasma-enhanced chemical vapor deposition (PECVD). Thus, the expensive Si
3
N
4
film deposited by PECVD using SiH
4
and NH
3
gas ambient for silicon solar cells can be replaced by this SPTB.
View Full-Text
►

▼

Figures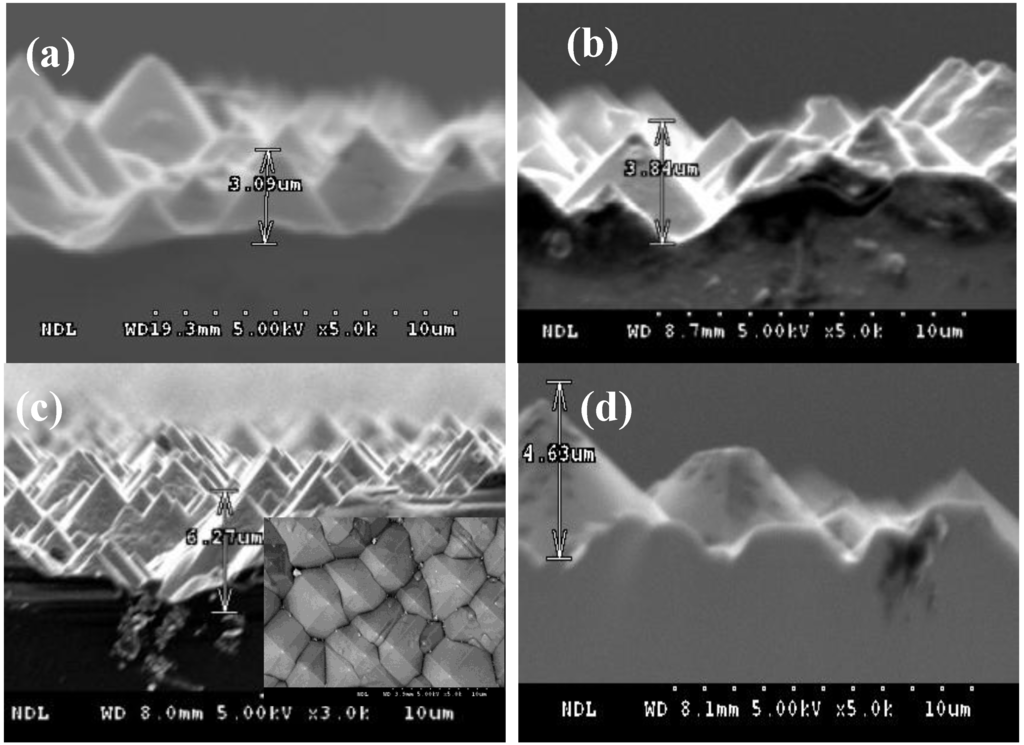 Figure 1

Share & Cite This Article
MDPI and ACS Style
Chiu, Y.-S.; Cheng, C.-L.; Whang, T.-J.; Chen, C.-C. Development of Screen-Printed Texture-Barrier Paste for Single-Side Texturization of Interdigitated Back-Contact Silicon Solar Cell Applications. Materials 2013, 6, 4565-4573.
Related Articles
Comments
[Return to top]