New Development in the Preparation of Micro/Nano-Wires of Molecular (Magnetic) Conductors
1
Department of Chemistry, Graduate School of Science, Osaka Prefecture University, Osaka 599-8570, Japan
2
Nanotechnology Research Institute, AIST, Tsukuba 305-8565, Japan
3
CNRS, LCC (Laboratoire de Chimie de Coordination), F-31077 Toulouse, France
4
Université de Toulouse, UPS, INPT, LCC, F-31077 Toulouse, France
*
Author to whom correspondence should be addressed.
Received: 19 January 2010 / Revised: 10 February 2010 / Accepted: 3 March 2010 / Published: 8 March 2010
Abstract
A lot of molecular (magnetic) conductors are prepared largely using charge-transfer (CT) salts of donor molecules with acceptor molecules or nonmagnetic or magnetic anions such as metal halides and oxides; their CT salts are usually obtained as bulk crystals, which are used to elucidate the electrical conducting (magnetic) properties. In contrast, a small number of micro/nano-crystals of the molecular (magnetic) conductors, especially micro/nano-wires, are known, of which highly conducting nanowires are necessary as a key component in the development of the next generation of nano-size transistors and spin-transistors. Very recently, we succeeded in preparing highly conductive micro/nano-wires of CT salts between bent donor molecules developed by one of the author's group and magnetic FeX
4
–
(X = Cl, Br) ions: (1) by electrochemical oxidation of the bent donor molecules with a silicon wafer electrode coated with a phospholipid multi-lamellar structure as well as, (ii) by electrochemical oxidation of the bent donor molecules with a large arc structure, in the presence of NBu
4
FeX
4
supporting electrolytes. This article reviews template-free and template-assisted methods developed so far for the preparation of micro/nano-wires of molecular (magnetic) conductors along with our new methods. The conducting properties of these micro/nano-wires are compared with those of the corresponding bulk crystals.
View Full-Text
►

▼

Figures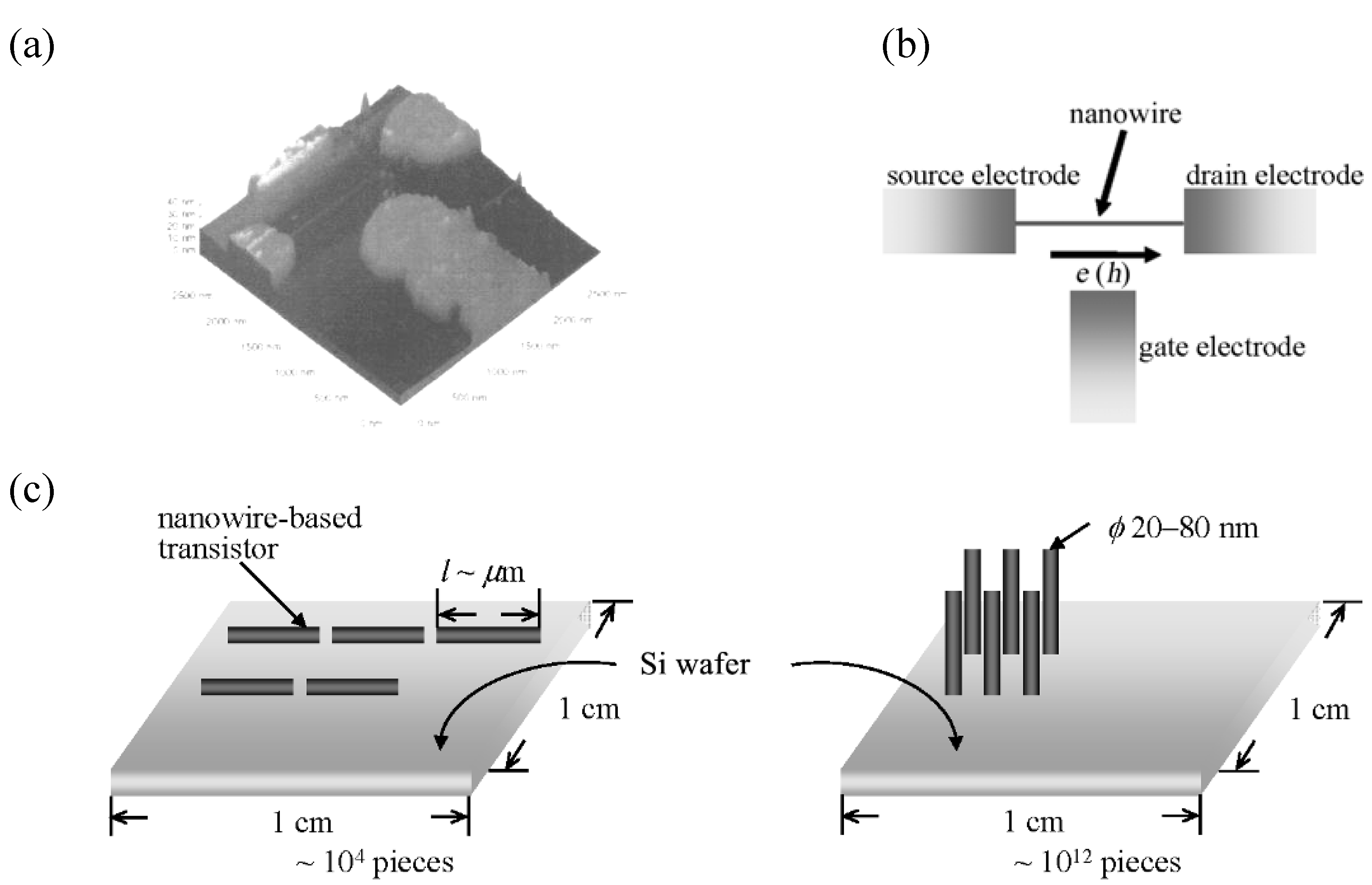 Figure 1

Share & Cite This Article
MDPI and ACS Style
Sugimoto, T.; Tanaka, H.; De Caro, D.; Valade, L. New Development in the Preparation of Micro/Nano-Wires of Molecular (Magnetic) Conductors. Materials 2010, 3, 1640-1673.
Related Articles
Comments
[Return to top]