Parameter Study of Superabsorbent Polymers (SAPs) for Use in Durable Concrete Structures
1
Magnel Laboratory for Concrete Research, Department of Structural Engineering, Ghent University, Tech Lane Ghent Science Park, Campus A, Technologiepark Zwijnaarde 60, B-9052 Ghent, Belgium
2
ChemStream bvba, Drie Eikenstraat 661, B-2650 Edegem, Belgium
3
Polymer Chemistry and Biomaterials Group, Centre of Macromolecular Chemistry, Department of Organic and Macromolecular Chemistry, Ghent University, Krijgslaan 281, Building S4-bis, 9000 Ghent, Belgium
*
Author to whom correspondence should be addressed.
Received: 10 April 2019 / Revised: 3 May 2019 / Accepted: 6 May 2019 / Published: 10 May 2019
Abstract
Superabsorbent polymers (SAPs) can be added to a concrete mixture to provide internal curing and reduce the risk for early-age shrinkage cracking. Hence, they can help to increase the overall durability of concrete structures. The type, swelling characteristics, kinetics of water release, amount and particle size of the SAPs will dictate their effectiveness for this purpose. In this paper, SAPs with different cross-linking degrees, particle sizes and amount of solubles are investigated. By varying these parameters, insight can be gained on the influence of each of these parameters on SAP properties such as the swelling capacity. In a next step, the SAPs can be implemented in mortar to assess their influence on mortar properties like workability, compressive strength or hydration kinetics. Based on these results, the 'ideal' SAP with tunable properties for a specific concrete application can be selected. For this purpose, an anionic SAP was synthesized with varying amounts of cross-linker and ground to particle sizes with d
50
varying between 10 and 100 µm. The swelling capacity in demineralised water of 40 µm SAP particles increased with a decreasing degree of cross-linker from 66 g/g SAP with 1 mol% cross-linker to 270 g/g SAP in case of 0.15 mol% cross-linker, and was about three to four times larger than the swelling capacity in the prepared cement filtrate. The SAPs were tested for their effect on mortar workability, cement hydration kinetics and mechanical properties of the hardened mortar. With proper compensation for the absorbed water by the SAPs, the mortar workability was not negatively affected and the reduction in flow over the first two hours remained limited. The SAPs with the lowest swelling capacity, resulting in the smallest total amount of macro pores formed, showed the smallest negative effect on mortar compressive strength (a reduction of 23% compared to the reference after 28 days for an addition of 0.5 m% SAP) and a negligible effect on cement hydration. The difference in strength with the reference decreased as a function of mortar age. When using SAPs with particle sizes in the range of 10–100 µm, no significant differences between the studied particle sizes were found concerning the mortar properties. With the ease of upscaling in mind, the need to purify the SAPs and to remove the non-cross-linked soluble fraction was further investigated. It was shown that the solubles had no effect on the mortar properties, except for increasing the setting time with almost 100%.
View Full-Text
►

▼

Figures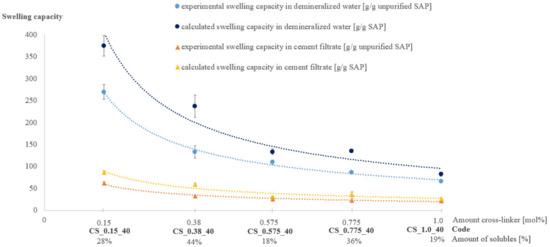 Figure 1
This is an open access article distributed under the
Creative Commons Attribution License
which permits unrestricted use, distribution, and reproduction in any medium, provided the original work is properly cited (CC BY 4.0).

Share & Cite This Article
MDPI and ACS Style
De Meyst, L.; Mannekens, E.; Araújo, M.; Snoeck, D.; Van Tittelboom, K.; Van Vlierberghe, S.; De Belie, N. Parameter Study of Superabsorbent Polymers (SAPs) for Use in Durable Concrete Structures. Materials 2019, 12, 1541.
Note that from the first issue of 2016, MDPI journals use article numbers instead of page numbers. See further details here.
Related Articles
Comments
[Return to top]