Copper Iodide Interlayer for Improved Charge Extraction and Stability of Inverted Perovskite Solar Cells
1
L.A.S.E.—Laboratory for Advanced Solar Energy, National University of Science and Technology "MISiS", Leninskiy prospect 6, Moscow 119049, Russia
2
Laboratory "Electronic and photon processes in polymer nanomaterials", Russian Academy of Sciences A.N. Frumkin Institute of Physical chemistry and Electrochemistry, Leninskiy prospect 31k4, Moscow 119071, Russia
3
Department of Functional Nano Systems and High-Temperature Materials, National University of Science and Technology "MISiS", Leninskiy prospect 4, Moscow 119049, Russia
4
Department of Semiconductor Electronics and Device Physics, National University of Science and Technology "MISiS", Krymskiy val 3, Moscow 119049, Russia
5
CHOSE—Centre for Hybrid and Organic Solar Energy, Department of Electronic Engineering, University of Rome Tor Vergata, via del Politecnico 1, 00133 Rome, Italy
*
Author to whom correspondence should be addressed.
Received: 28 March 2019 / Revised: 22 April 2019 / Accepted: 27 April 2019 / Published: 30 April 2019
Abstract
Nickel oxide (NiO) is one of the most promising and high-performing Hole Transporting Layer (HTL) in inverted perovskite solar cells due to ideal band alignment with perovskite absorber, wide band gap, and high mobility of charges. At the same time, however, NiO does not provide good contact and trap-free junction for hole collection. In this paper, we examine this problem by developing a double hole transport configuration with a copper iodide (CuI) interlayer for efficient surface passivation. Transient photo-current (TPC) measurements showed that Perovskite/HTL interface with CuI interlayer has an improved hole injection; CuI passivation reduces the concentration of traps and the parasitic charge accumulation that limits the flow of charges. Moreover, we found that CuI protect the HTL/perovskite interface from degradation and consequently improve the stability of the cell. The presence of CuI interlayer induces an improvement of open-circuit voltage V
OC
(from 1.02 V to 1.07 V), an increase of the shunt resistance R
SH
(100%), a reduction of the series resistance R
S
(−30%), and finally a +10% improvement of the solar cell efficiency.
View Full-Text
►

▼

Figures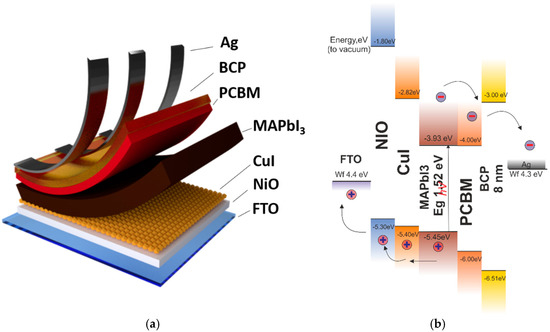 Figure 1
This is an open access article distributed under the
Creative Commons Attribution License
which permits unrestricted use, distribution, and reproduction in any medium, provided the original work is properly cited (CC BY 4.0).

Share & Cite This Article
MDPI and ACS Style
Saranin, D.; Gostischev, P.; Tatarinov, D.; Ermanova, I.; Mazov, V.; Muratov, D.; Tameev, A.; Kuznetsov, D.; Didenko, S.; Di Carlo, A. Copper Iodide Interlayer for Improved Charge Extraction and Stability of Inverted Perovskite Solar Cells. Materials 2019, 12, 1406.
Note that from the first issue of 2016, MDPI journals use article numbers instead of page numbers. See further details here.
Related Articles
Comments
[Return to top]