Open Access This article is
freely available
re-usable
Review
Phase Change Materials for Energy Efficiency in Buildings and Their Use in Mortars
1
Innovation Engineering Department, University of Salento, Prov.le Lecce-Monteroni, 73100 Lecce, Italy
2
Institute of Archaeological Heritage—Monuments and Sites, CNR–IBAM, Prov.le Lecce-Monteroni, 73100 Lecce, Italy
*
Author to whom correspondence should be addressed.
Received: 28 March 2019 / Accepted: 15 April 2019 / Published: 17 April 2019
Abstract
:
The construction industry is responsible for consuming large amounts of energy. The development of new materials with the purpose of increasing the thermal efficiency of buildings is, therefore, becoming, imperative. Thus, during the last decades, integration of Phase Change Materials (PCMs) into buildings has gained interest. Such materials can reduce the temperature variations, leading to an improvement in human comfort and decreasing at the same time the energy consumption of buildings, due to their capability to absorb and release energy from/in the environment. In the present paper, recent experimental studies dealing with mortars or concrete-containing PCMs, used as passive building systems, have been examined. This review is mainly aimed at providing information on the currently investigated materials and the employed methodologies for their manufacture, as well as at summarizing the results achieved so far on this subject.
Keywords:
thermal energy storage (TES); phase change material (PCM); building materials; passive building systems; mortar; concrete
1. Introduction
This paper presents a literature review of the recent research works dealing with PCMs, taking as an example the production of mortars or concrete-containing phase change materials. After a general summary of the classification and properties of PCMs, the incorporation methods and the applications in the building sector are illustrated. The characteristics and features of different PCMs in mortar or concrete are, then, introduced, highlighting the main differences between the various mortars containing PCMs and describing the different methods employed for their production.
2. Classification of PCMs
3. Properties of PCMs
Among all possible candidates, the most appropriate PCM for a specific application must be selected taking into account some characteristics that will determine its effectiveness. For any thermal energy storage application in buildings, in fact, a careful examination of the overall properties of a PCM should be made, comparing the advantages and disadvantages displayed by each available system and, possibly, admitting a certain degree of compromise.
4. PCMs in Building Materials
Although this review mainly focuses on passive building systems for thermal energy storage based on the integration of PCM in building materials, a short overview of all the available solutions is presented.
Generally speaking, the possible introduction of PCMs in building materials is described as follows [
4
,
5
,
34
,
35
,
36
].
Free cooling. This system requires a storage unit to accumulate the thermal energy and use it in heat absorption and in heat release. In this way, the storage medium is used to maintain a cold temperature, when the ambient temperature is lower than room temperature. This process is carried out during the night; the cold air flows through the storage unit, removes heat from the liquid PCM through an electrical fan; at this point, the PCM starts to solidify. When the room temperature rises above a comfortable level, the cold stored in PCM is released. Thus, the PCM absorbs heat from the air, starting the transformation from solid to liquid state [

23

,

26

,

30

,

37

,

38

].

Peak load shifting. This method is based on the use of PCMs that shift the peak energy request far from the peak hours of electrical demand; the peak load may be split throughout the day reducing the highest peaks [

5

,

13

,

39

]. The cooling/heating stored in off-peak hours is used during an on-peak load [

40

]. Peak cooling load reductions can range from 10 to 57% [

4

].

Active building systems. The storage capability of PCMs can be used in systems such as solar heat pump systems, heat recovery systems, and floor heating systems. An example of incorporating PCMs in an active system is radiant floors [

5

]. These systems consist of a lightweight piped radiant floor, where an integrated PCM layer is aimed at buffering internal gains during the summer season without affecting the winter warming capacity [

22

].

Passive building systems. For passive applications, PCMs are integrated into building materials to increase their thermal mass. The incorporated PCM melts during the daytime and solidifies during the night: this process can warm the environment during the day.
4.1. Typical Applications
Among all potential applications of PCMs in buildings, the incorporation in construction materials (passive building system), aimed at modifying their thermal properties, has proven to be the most interesting. The combination of building materials with PCMs is an efficient way to increase the thermal energy storage capacity of construction elements. Thereby, wallboards, floors, roof, concrete and other parts are integrated with PCMs in order to improve the thermal performance of the building. The most common solution for implementing PCMs in buildings is the installation of PCM into the interior side of the building envelope. Thus, the use of suitable PCMs in the interiors of the construction allows to absorb and release heat in any room during a large part of the day. Several experimental investigations showed how this strategy positively affects indoor climate and energy use.
4.2. Methods of Incorporation
5. PCMs in Mortars: Potential and Issues
The incorporation of phase-change materials in mortars employed in the interiors of buildings appears the most attractive solution in an attempt to minimize the massive energetic consumption related to building conditioning. Such an approach allows the regulation of the temperature inside buildings through latent heat energy storage, using only solar energy as a resource, thus, reducing the need of heating/cooling equipment. Incorporation of PCMs in mortar and concrete can be an efficient method due to the large heat exchange area surfaces; furthermore, the final functional material can be adapted in a wide variety of shapes and sizes. Being mortar and concrete widely used as construction materials, such PCM composites can be employed in any practical application. In addition, quality control can be easily achieved in the produced materials.
In recent years, the research on mortars containing PCMs has been mainly focused on cement and gypsum compositions, due to the good mechanical and thermal properties of these binders. At first, cement-based mortars employed in masonry were taken into consideration and PCMs incorporated into these cementitious systems were examined, analyzing their capability to improve the energy efficiency of building envelopes. The results of these studies have shown that the incorporation of PCM appreciably decreased the mechanical properties of the composite, especially in the case of cement pastes [
70
,
71
,
72
,
73
]. For such a reason, the research has moved towards the investigation on mortars for interior and/or exterior coatings, where high values of mechanical strength are not required. More recently, other PCM-mortar systems based on different binders, such as aerial lime [
73
,
74
,
75
,
76
,
77
,
78
,
79
,
80
,
81
,
82
,
83
,
84
,
85
,
86
,
87
], hydraulic lime [
71
,
88
,
89
], and, in some cases, geopolymers [
90
,
91
,
92
,
93
], have been developed and studied [
74
,
78
,
80
,
83
,
90
,
92
].
Generally speaking, both the amount of heat stored as well as the thermal conductivity of the final material increased upon the addition of a PCM in a mortar [
75
,
89
,
90
,
91
,
94
,
95
,
96
]; the PCM reduces the fluctuations in temperature and the use of the composite material can efficiently improve the indoor temperature comfort [
79
,
97
,
98
,
99
]. The concurrent use of other additives (e.g., TiO
2
nanoparticles) allows to obtain multifunctional materials [
95
] to prevent the accumulation of dirt and growth of microorganisms on the surfaces; they can even degrade pollutants.
5.1. Effects of PCM's Type and Content
5.2. Influence on the Porosity and Mechanical Properties of the Mortar
Mortars have shown better performance using microcapsules containing a PCM, in amounts from 15 to 20 wt.% (by total mass), with an excellent compromise between mechanical strengths, shrinkage, thermal efficiency, and costs [
76
,
78
,
82
,
86
,
91
,
113
,
117
]. In such cases, a strong reduction of macroporosity, rather than a decrease of total porosity, leads to an improvement in mechanical strength [
76
]. Usually, a lower total open porosity and a higher number of smaller pores are obtained in a PCM-modified mortar in comparison to the reference material [
87
,
88
,
89
]. The incorporation of PCM, in fact, produces a filling effect that reduces the number of macropores [
76
,
88
]. In a few cases, even though the pore size increases upon the addition of a PCM, the compressive strength rises due to the crystallization of minerals (such as aragonite) able to enhance the resistance of the mortar [
75
]. Leakage of the PCM into the mortar could increase its porosity [
110
] with a consequent reduction in mechanical properties. Large amounts of PCM (i.e., higher than 20 wt.%) have been found not useful, due to the great amounts of water required in these mortar mixes [
79
] causing a high porosity [
78
]. On the other hand, it has been found that a high PCM content does not necessarily imply an increase in the latent heat transfer [
127
], proving that the internal porosity plays an important role in this process [
65
,
76
,
82
,
83
]. The presence of nanopores leads to a decrease in the heat transfer capability, even though the PCM content is close to the optimal value.
The mechanical strength of mortars containing PCMs is strongly related to the microstructural characteristics of the material, that are, in turn, influenced by the nature/dosage of the components and by the amount of added water [
74
,
95
]. However, the content of PCM, rather than the type of binder, is the key factor affecting the mechanical behavior of the final mortar. The added PCMs are likely to behave more like voids than as aggregates in mortars and concretes; therefore, they do not contribute to the compressive strength [
72
]. When mechanical properties lower than those displayed by pristine materials are obtained [
73
,
100
,
120
,
127
], this result is mainly ascribed to the increased required amount of water due to incorporation of PCM [
71
,
81
,
95
], rather than to the relatively poor interface compatibility [
120
]. A greater strength is generally obtained when a lower amount of PCM is used [
100
,
112
]. A reduction in mechanical properties can also be observed when the addition of PCMs produces a decrease in hydration heat and/or a delay in the hydration kinetics [
73
,
120
,
126
]. Even though the PCM does not take part in the hydration processes, it can sequester water, thus, hindering hydration of the mortar. These effects influence the curing and, as a consequence, the mechanical properties of mortars that, especially at early stages, are lower when a PCM is added [
110
]. Furthermore, by increasing the content of the PCM, a greater number of incorporated PCM particles can be broken during shearing failure (
Figure 8
); the so formed void space, previously occupied by the un-broken PCM, causes an increase in the porosity of the matrix [
113
] and, consequently, lower shear strength and stiffness can be measured [
70
,
91
,
117
].
5.3. Main Issues: Shrinkage, Cracking, and Leaking
The addition of microcapsules of PCM significantly affects the shrinkage of the mortar [
71
,
79
]; the higher the amount of PCM, the higher the shrinkage. To avoid cracking, the shrinkage phenomena taking place during the curing process must be limited. To this aim, small amounts of PCM and a low water/binder ratio are usually recommended [
95
]. Some works also examined the capability of PCMs to mitigate early-age temperature rise in cementitious materials caused by exothermic cement hydration and the resultant risk of thermal cracking [
138
,
139
,
140
].
Damage of the PCM particles, taking place even during the initial mechanical mixing, may cause a lower heat capacity [
73
,
119
] and can also reduce the resistance of the mortar to fire [
110
].
The use of lightweight aggregates (LWAs) as a support for the PCM can reduce the interferences with the hydration reactions [
123
,
126
] as well as the leakage of PCM from the composite [
122
]. Furthermore, the addition of fiber and/or gypsum has been found to be a good solution to solve problems related to cracking caused by the incorporation of microcapsules in lime-based mortars [
78
,
79
,
80
,
81
,
82
]. The inclusion of stiff quartz can also significantly reduce shrinkage due to the aggregate restraint effects [
119
].
5.4. Analytical Characterization and Simulations by Prototypes
6. Economic and Environmental Evaluation of Mortar with PCMs
Some considerations can be done on the overall costs of mortars containing PCM and on their applications in constructions. Starting from the assumption that using PCMs in buildings should lead to a reduction in energy consumption, thus, to an economic saving, there are different aspects to take into account. Usually, inorganic PCMs are cheaper than organic ones; among all the techniques used to incorporate PCMs in building materials, the micro- and macro-encapsulations are costly compared to the other methods (direct incorporation, direct impregnation). The shape- or form-stabilization techniques are promising, but still expensive, unless waste materials are used to produce PCM composite systems.
7. Outlook for Future Works
Future research works on mortar/concrete containing PCMs are still needed to refine the methods of preparation, mitigate the strength reduction and overcome the durability issues. Possibly, different sustainable, green PCMs/support couples should be identified along with eco-efficient and low costly methods for the production of mortar/concrete containing PCMs. Very few studies have investigated the utility of geopolymers, even though this kind of mortar is eco-friendly and offers economic advantages, since industrial by-products and mine wastes can be used for their production.
Further studies should also be focused on economic and environmental assessments due to the presence of PCMs in building materials, since the current state-of-the-art about these topics is still lacking.
Experimental studies conducted in the field would be useful to document the performance and potential of the PCM in a real context. On the basis of these tests in real full-scale buildings, numerical models to assess the advantages and disadvantages of structures with or without PCMs (in advance) could be elaborated. Moreover, it would be desirable to develop simple but certified simulation tools that easily replicate the service conditions of PCM integrated into mortar or concrete in order to assess, using few tests, both the performance and durability of these materials.
8. Conclusions
In this paper, the use of PCMs in building materials was reviewed, especially for passive building systems, with the aim to outline their advantages in terms of thermal effects and thermal efficiency. In the first part of the paper, the main characteristics of PCMs were reported, describing the different and possible ways to introduce them in building materials. In the second part, a review of recently published experimental is presented, focusing on examples of PCMs introduced in mortars or concrete. Through this literature survey, the used materials and the supports, the preparation procedures (i.e., the different methods used to incorporate PCMs in building materials), the tests performed to analyze the final product, and the main results obtained in these studies are presented and discussed.
Thus, the following conclusions can be drawn.
▪

As far as the current world energy consumption is concerned, it is important to find alternative ways of saving energy and preserving the environment.

▪

PCMs are generally considered efficient materials that can improve thermal comfort in a building.

▪

The selection of the appropriate PCM for a specific construction material and/or a definite application must start from its properties (thermo-physical, chemical, functional, environmental and economic).

▪

Among all the available methods to incorporate PCMs in building materials, the micro-encapsulation is the most used due to its advantages; however, in the last years, the form-stabilization method has gained popularity thanks to its low costs of production. Moreover, the latter is a promising technique due to the possibility to employ waste materials as a support for PCMs.

▪

Concretes and mortars are considered suitable construction materials to incorporate PCMs since they are largely present in building constructions; furthermore, mortars can be applied in a building even after its construction.

▪

The most widespread PCMs in building materials are organic in nature and have a melting temperature in a range between 20° and 40 °C.

▪

The performance of micro-encapsulated PCM and those of pure PCM have been scarcely compared so far.

▪

Chemical properties, thermal properties, and thermal stability are the main properties analyzed for PCMs. On the other hand, mortars/concretes with the addition of PCMs have been mainly studied in terms of their morphology, mechanical properties and thermal conductivity.
Author Contributions
Conceptualization, M.F.; analysis of literature, A.S. and M.L.; data curation, A.S. and M.L.; writing—original draft preparation, A.S.; writing—review and editing, M.L. and M.F.; supervision, M.F.
Funding
This research received no external funding.
Conflicts of Interest
The authors declare no conflict of interest.

Figure 1. Energy consumptions in the building sector. (a) Energy consumption in each sector; (b) consequent CO2 emissions.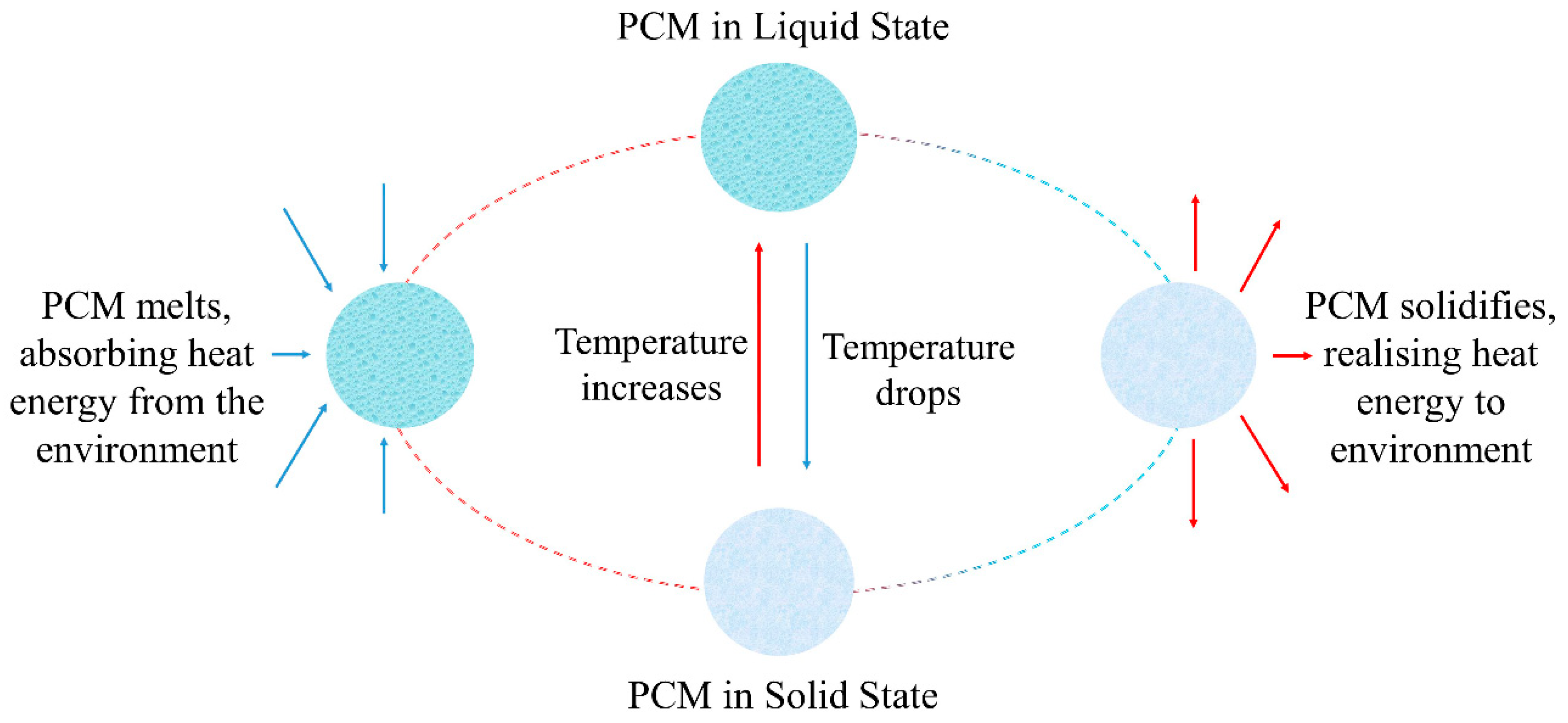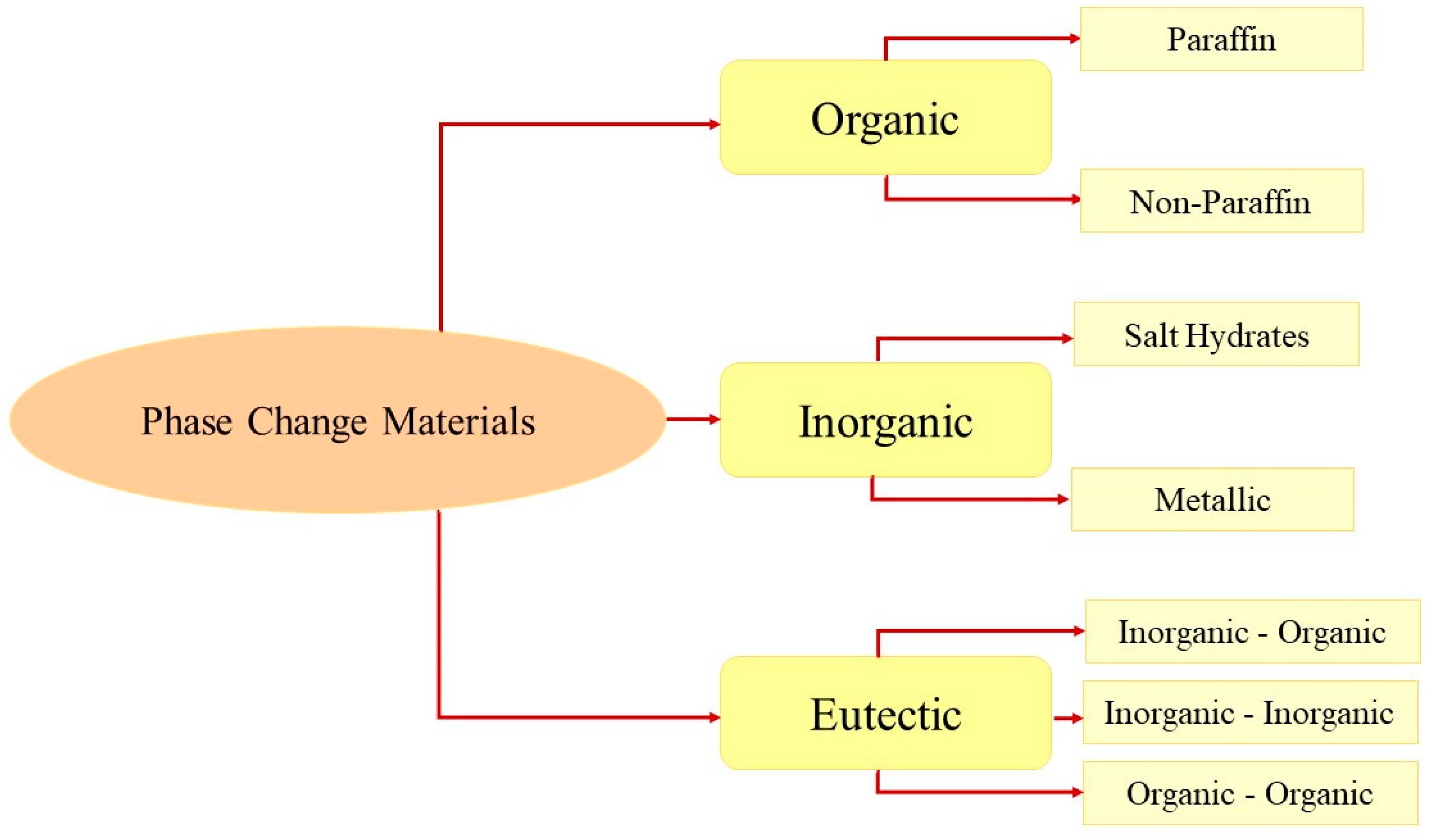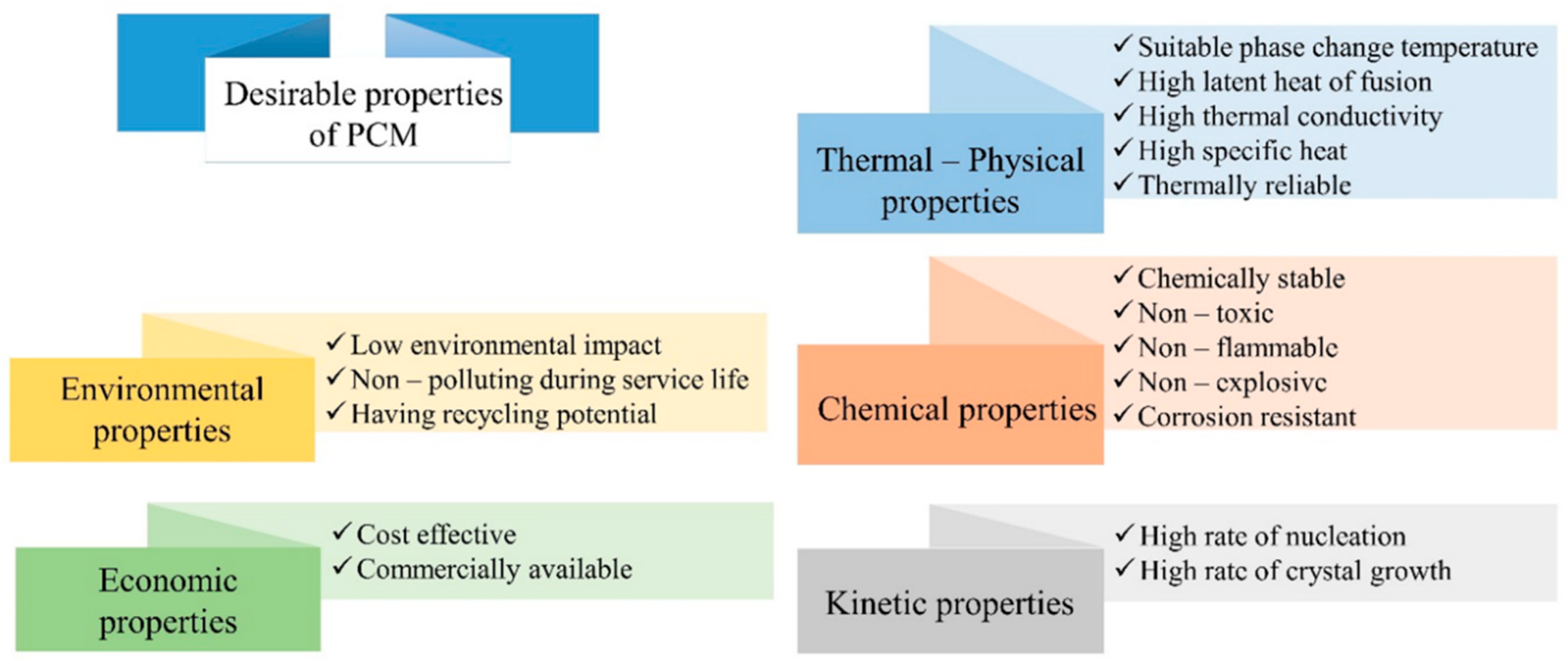 Figure 5.
Examples of commercial PCMs: (
a
) micro-encapsulated PCM dispersed in a liquid; (
b
) micro-encapsulated PCM in powder form; (
c
) macro-encapsulated PCM in spherical form. Reprinted with permission from [
5
]. Elsevier (2015).

Figure 6.
Example of shape-stabilized composite PCMs. Adapted with permission from [
55
]. Copyright 2015 Elsevier.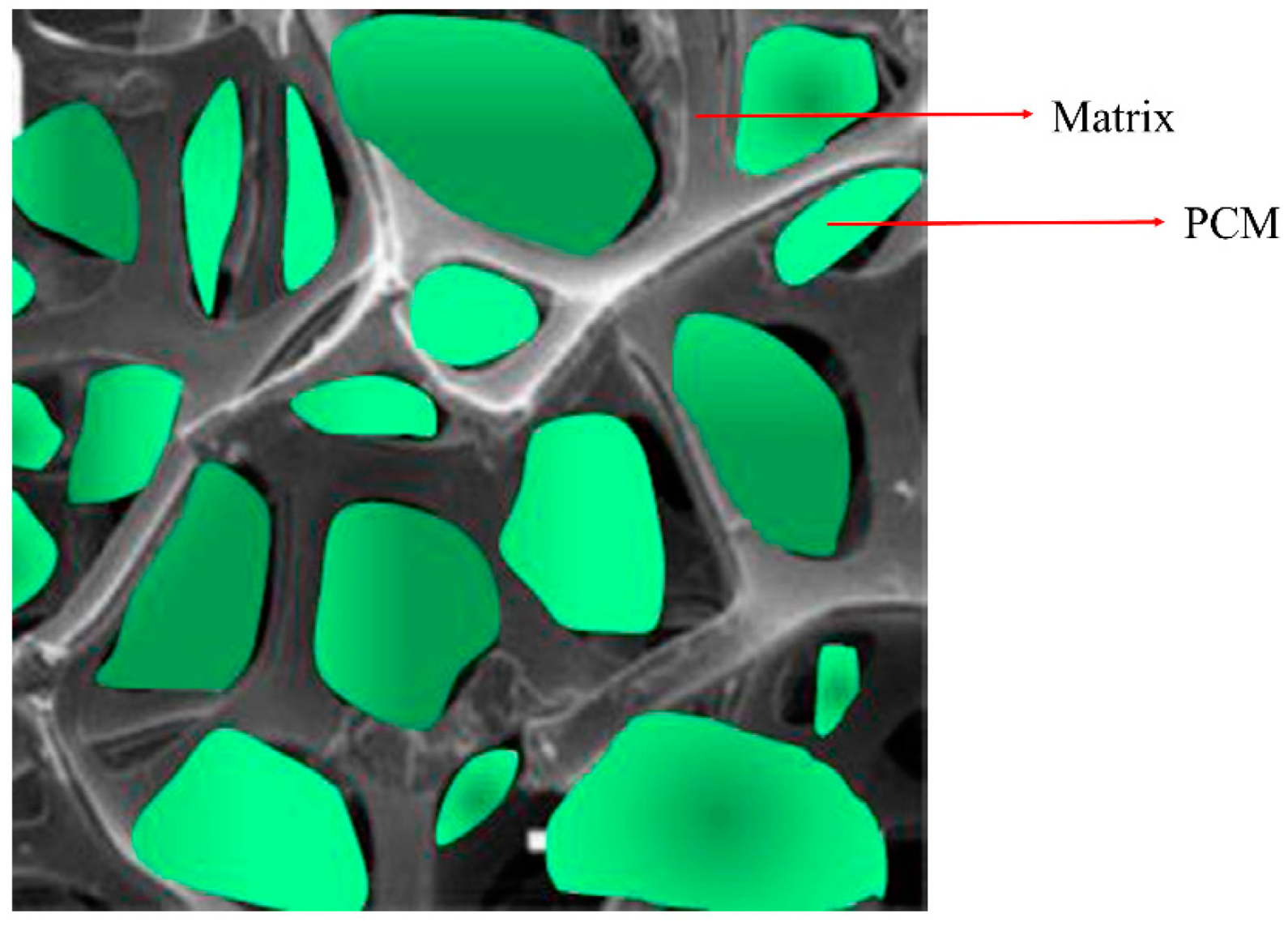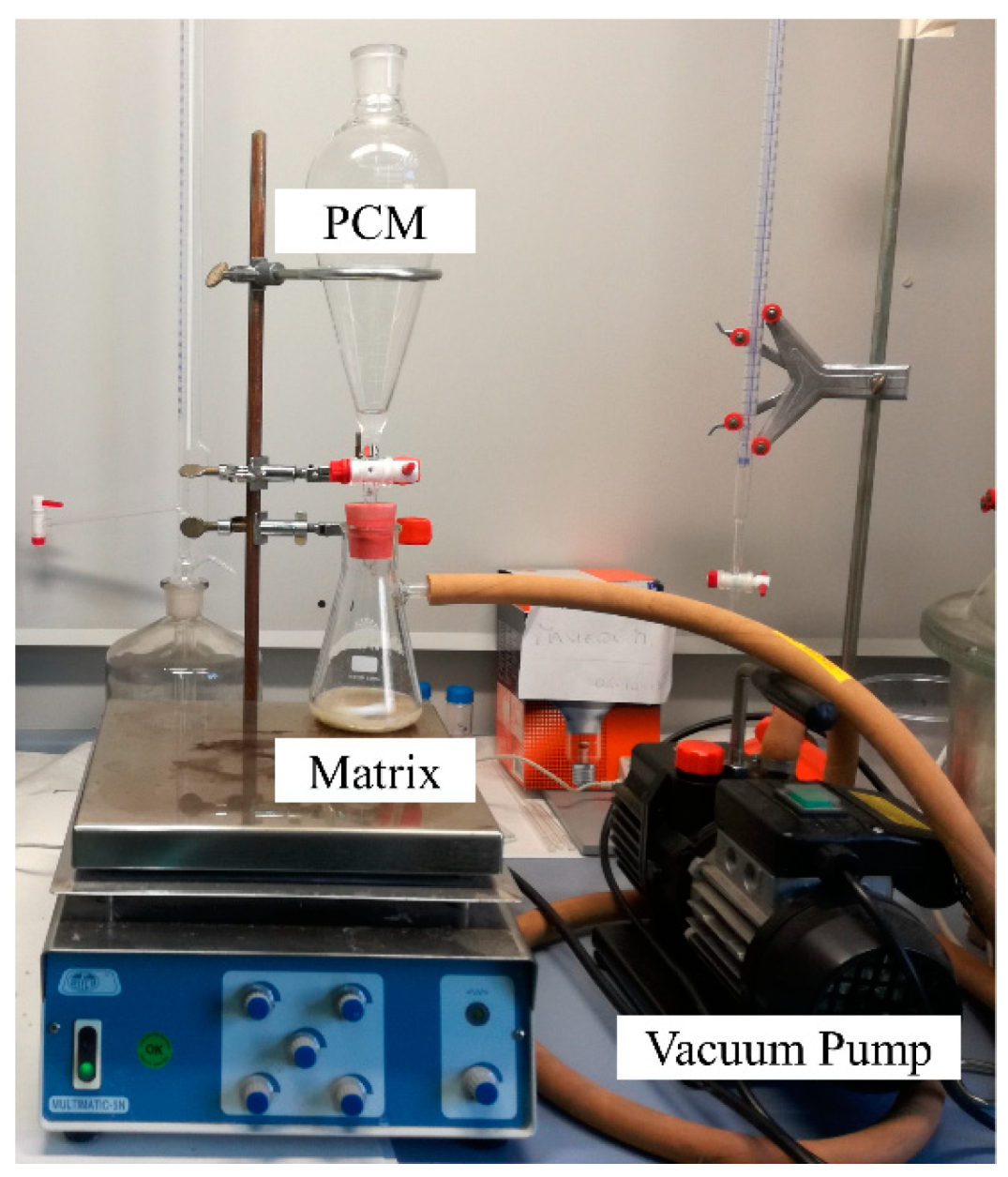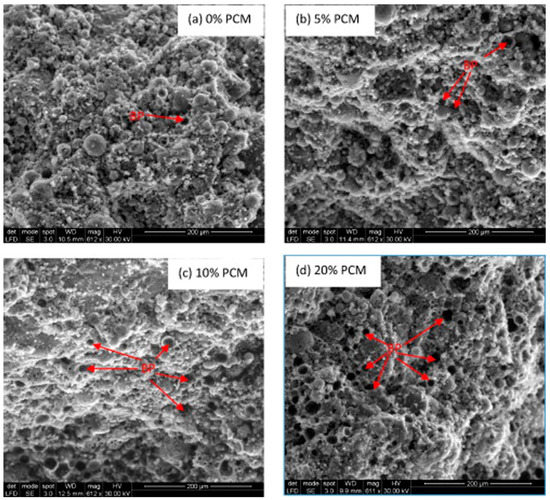 Figure 8.
SEM image of failure surface of mortar specimens containing (
a
) 0% PCM, (
b
) 5% PCM, (
c
) 10% PCM, and (
d
) 20% PCM (BP = broken particles). Reprinted with permission from [
91
]. Elsevier (2015).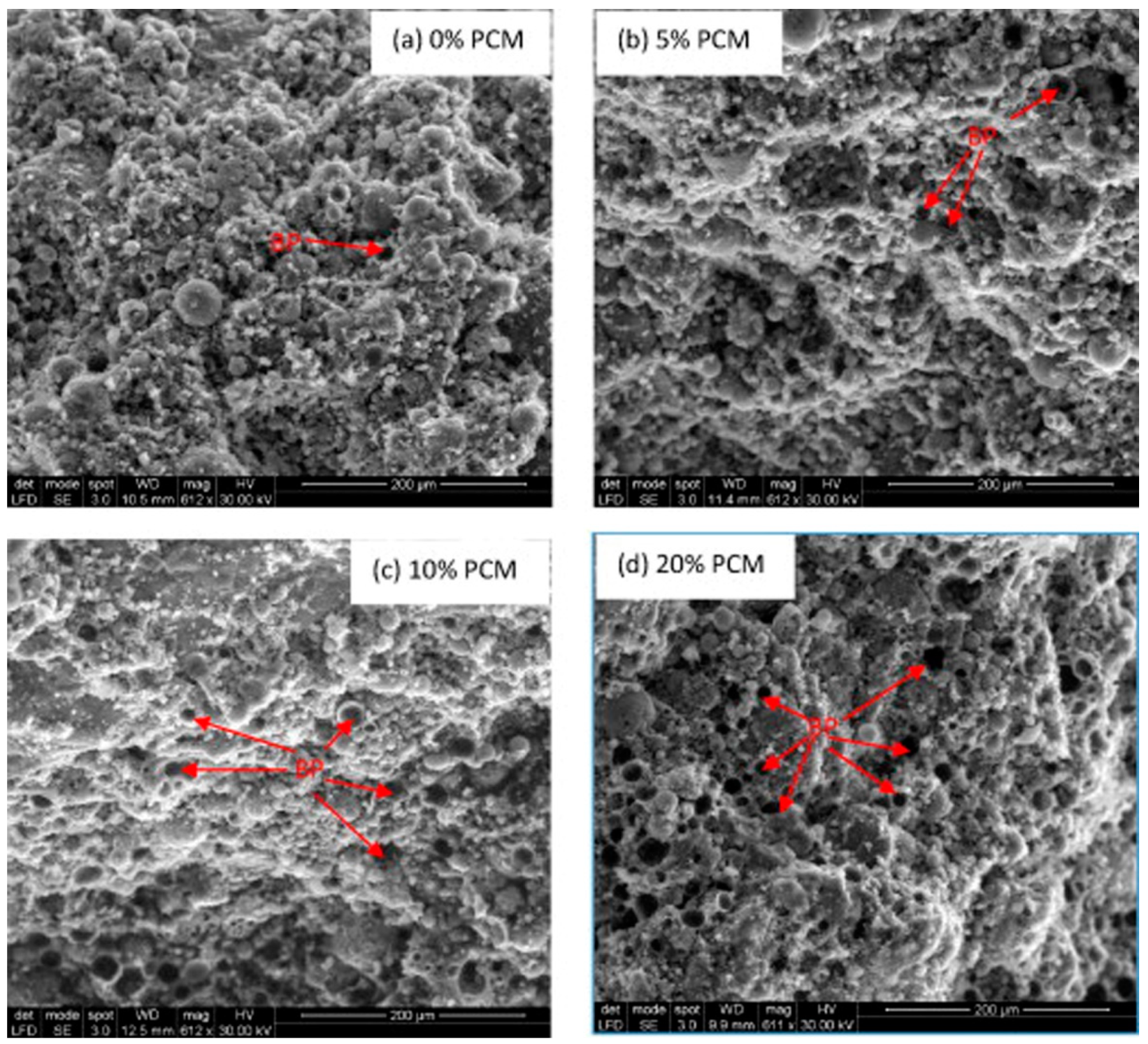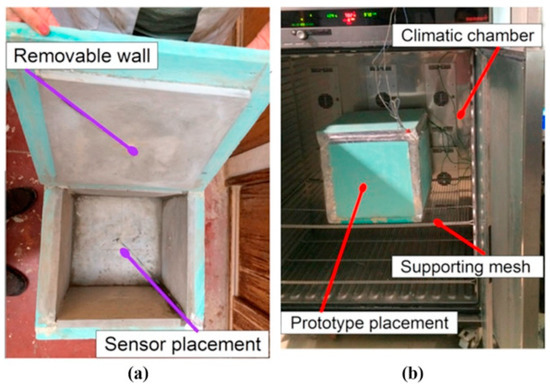 Figure 9.
Prototype test cell including a PCM plastering mortar: (
a
) internal walls; (
b
) set-up within the climatic chamber for thermo-hygrometric cycles. Reprinted with permission from [
116
]. Elsevier (2015).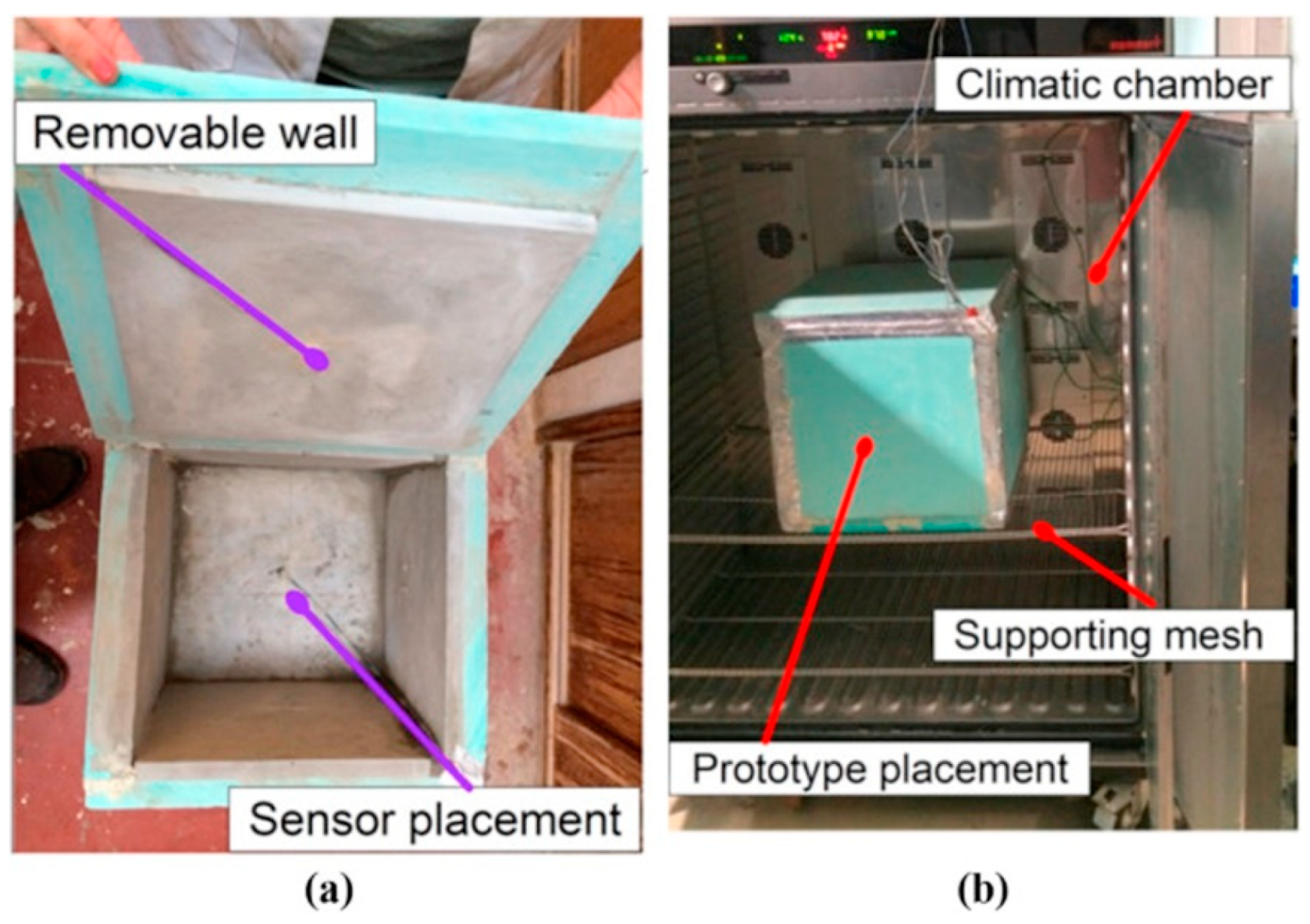 Type of PCM
Composition
Melting Temperature (°C)
Heat of Fusion
(J/kg K)
Cost
Organic
Paraffin
−12–71
190–260
Costly
Non-Paraffin
8–187
130–250
Highly costly
Inorganic
Salt hydrates
11–120
100–200
Low Cost
Metallic
30–96
25–90
Costly
Eutectic
Paraffin
4–93
100–230
Costly
Non-Paraffin
−12–71
190–260
Costly
Type of PCM
Advantages
Disadvantages
Organic

▪

Available in a large temperature range;

▪

Chemically inert;

▪

Do not undergo phase segregation;

▪

Thermally stable for repeated freeze/melt cycles;

▪

Low vapor pressure in the melt form;

▪

Relatively small melting heat;

▪

Non-corrosive, or mildly corrosive (fatty acids);

▪

Compatible with construction materials;

▪

Small volume change during phase transitions;

▪

Little or no super-cooling effect during freezing;

▪

Innocuous (usually non-toxic and non-irritant; non-paraffin type may have various levels of toxicity);

▪

Stable below 500 °C (non-paraffin type shows instability at high temperatures;

▪

Recyclable.

▪

Low thermal conductivity (around 0.2 W/m K);

▪

Moderately flammable;

▪

Non-compatible with plastic containers.

Inorganic

▪

High volumetric storage heat;

▪

High melting heat;

▪

High thermal conductivity (0.5 W/m K);

▪

Cheap and readily available;

▪

Nonflammable;

▪

Compatible with plastic containers;

▪

Sharp phase change;

▪

Low environmental impact;

▪

Potentially recyclable.

▪

Super-cooling during freezing;

▪

Phase segregation during transitions;

▪

Corrosive to metals;

▪

Irritant;

▪

High vapor pressure (inducing water loss and progressive changes in thermal behavior during thermal cycles);

▪

Low durability (possible long term degradation when exposed to environmental agents);

▪

Moderate chemical stability;

▪

High volume change.

Eutectic

▪

Sharp melting temperature;

▪

High volumetric thermal storage capability (slightly lower than organic PCMs).

▪

Limited data available on their thermo-physical properties.

Table 3. PCMs for building applications: composition, category, melting temperature and melting heat.
PCM
Type
Melting Temperature
(°C)
Melting Heat
(J/kg K)
Glycerin
O
18
198.7
Hexadecane
O
18.1
236
KF∙4H2O
I
18.5
231
Butyl stearate
O
19
140
Propyl palmitate
O
19
186
Paraffin C16–C18
O
20–22
152
Heptadecane
O
20.8–21.7
171–172
Dimethyl sebacate
O
21
120–135
Octadecyl 3-mencaptopropylate
O
21
143
Lithium chloride ethanolate
O
21
188
FeBr3∙6H2O
I
21
105
Paraffin C17
O
21.7
213
Erythritol palmitate
O
21.9
201
Polyglycol E600
O
22
127.2
Isopropyl stearate
O
22.1
113
Paraffin C13–C24
O
22–24
189
34%C14H28O2 + 66%C10H20O2
E
24
147.7
50%CaCl2 + 50%MgCl2∙6H2O
E
25
95
Octadecane + docosane
E
25.5–27
203.8
Mn(NO3)2∙6H2O
I
25.8
125.9
Octadecane + heneicosane
E
25.8-26
173.93
Octadecyl thioglycolate
O
26
90
Lactic acid
O
26
184
1-Dodecanol
O
26
200
50%CH3CONH2+50%NH2CONH2
E
27
163
Vinyl stearate
O
27–29
122
Paraffin C18
O
28
244
Octadecane
O
28–28.1
244–250.7
Methyl palmitate
O
29
205
CaCl2∙12H2O
I
29.8
174
CaCl2∙6H2O
I
29-30
171–192
LiNO3∙3H2O
I
30
296
Ga
I
30
80.9
47%Ca(NO3)2∙4H2O + 53%Mg(NO3)2∙6H2O
E
30
136
Capric acid
O
30.1
158
60%Na(CH3COO)∙H2O + 40%CO(NH2)2
E
30–31.5
200.5–226
Tridecanol
O
31.6
223
Na2SO4∙10H2O
I
31–32.4
251.1–254
Na2SO4∙3H2O
I
32
251
Na2CO3∙10H2O
I
32–36
246.5–247
CaBr2∙6H2O
I
34
115.5
LiBr2∙2H2O
I
34
124
Zn(NO3)2∙6H2O
I
35–36
265–281
Na2HPO4∙12H2O
I
36–36.4
146.9–147
FeCl3∙6H2O
I
37
223
Tetradecanol
O
37.8
225
Camphenilone
O
39
205
Docasyl bromide
O
40
201
Caprylone
O
40
259
O = Organic; I = Inorganic; E = Eutectic.

Table 4. Advantages and disadvantages of different methods for incorporation of PCMs into building materials.
| Method of Incorporation | Advantages | Disadvantages |
| --- | --- | --- |
| Direct incorporation | Simple and cheap | Possible leakage of PCM in the melting state; flammability of the impregnated elements is possible, as well as incompatibility between the materials. |
| Direct impregnation | Simple, practical and cheap | Leakage and incompatibility can occur, affecting the mechanical properties and durability of the construction elements. |
| Micro-encapsulated PCM | Reduced leakage of PCM during phase transition; higher heat transfer rate; improved chemical stability and thermal reliability. | The capsules are expensive; their rigidity may prevent natural convection and reduce the heat transfer rate; the mechanical properties of the construction materials may be affected. |
| Macro-encapsulated PCM | A significant quantity of PCM is packed in the container; easiness and suitability for any specific application. | Poor thermal conductivity and tendency to solidification at the edges; introduction in the structure must be carried out in situ. |
| Shape-stabilized PCM | Large apparent specific heat; suitable thermal conductivity; ability to maintain the shape of PCM during the phase-change; thermal reliability over a long period of time; reduced leakage phenomena. | Complex equipment is needed for their preparation; need to use additives to improve the thermal conductivity. |
| Form-stable composite | Very cheap; retaining of high amount of PCM without leakage above its melting point. | Complex equipment is needed for their preparation. |

© 2019 by the authors. Licensee MDPI, Basel, Switzerland. This article is an open access article distributed under the terms and conditions of the Creative Commons Attribution (CC BY) license (http://creativecommons.org/licenses/by/4.0/).