Open Access This article is
freely available
re-usable
Article
Design of Polarization-Independent and Wide-Angle Broadband Absorbers for Highly Efficient Reflective Structural Color Filters
1
Department of Physics, Inha University, Incheon 22212, Korea
2
Department of Mechanical Engineering, Ajou University, San 5, Woncheon-Dong, Yeongtong-Gu, Suwon 16499, Korea
3
Department of Energy Systems Research, Ajou University, San 5, Woncheon-Dong, Yeongtong-Gu, Suwon 16499, Korea
4
Department of Electrical and Computer Engineering, Ajou University, San 5, Woncheon-Dong, Yeongtong-Gu, Suwon 16499, Korea
5
Department of Chemical Engineering, Inha University, Incheon 22212, Korea
†
These authors contributed equally to this work.

Received: 8 February 2019 / Accepted: 25 March 2019 / Published: 30 March 2019
Abstract
:
We propose a design of angle-insensitive and polarization-independent reflective color filters with high efficiency (>80%) based on broad resonance in a Fabry–Pérot cavity where asymmetric metal-dielectric-metal planar structures are employed. Broadband absorption properties allow the resonance in the visible range to remain nearly constant over a broad range of incident angles of up to 40° for both s- and p-polarizations. Effects of the angles of incidence and polarization state of incident light on the purity of the resulting colors are examined on the CIE 1931 chromaticity diagram. In addition, higher-order resonances of the proposed color filters and their electric field distributions are investigated for improved color purity. Lastly, the spectral properties of the proposed structures with different metallic layers are studied. The simple strategy described in this work could be adopted in a variety of research areas, such as color decoration devices, microscopy, and colorimetric sensors.
Keywords:
absorbers; structural colors; resonators; Fabry–Pérot
1. Introduction
Color filters, which transmit or reflect wavelengths in the visible portion of the spectrum, have played a vital role in a wide variety of fields such as displays, decorations, imaging sensors, anti-counterfeiting and light-emitting devices. Conventional color filters, however, have used chemical pigments that are highly sensitive to constant ultraviolet (UV) light illumination, many chemicals, moisture and high temperature, all of which can cause a gradual degradation of their performance over time [
1
]. In order to address these challenges, many researchers have proposed and experimentally demonstrated various nanostructures that exploit optical interference effects in a thin-film configuration [
2
,
3
,
4
,
5
,
6
], photonic crystals [
7
,
8
,
9
], guided-mode resonances (GMRs) in subwavelength grating waveguides [
10
,
11
,
12
,
13
] and surface plasmon resonances (SPRs) in nanocavities patterned at the subwavelength scale [
14
,
15
,
16
,
17
,
18
,
19
,
20
,
21
,
22
,
23
,
24
,
25
,
26
,
27
]. These colors, called structural colors, have attracted substantial attention for their potential in creating distinctive colors with capabilities of achieving much improved efficiency, slim dimension, long-lasting stability and great scalability. Moreover, such structural color filters typically employ nanostructures with an ultrathin thickness, thereby providing distinct possibilities for realizing flexible display systems, reducing material usage and simplifying fabrication processes. Although numerous nanostructures have been studied intensively in recent years for color generation, there have been great difficulties in retaining highly efficient optical properties over a wide angle of incidence. Various strategies that rely on a localized resonance in patterned nanostructures [
28
,
29
], a phase compensation [
30
,
31
,
32
], a small refraction in photonic crystals [
33
,
34
] and a strong interference effect in nanocavities [
35
,
36
,
37
,
38
,
39
] have been reported in order to mitigate angle-dependent properties. However, many complicated fabrication steps need to be involved to create the nanostructures with the subwavelength patterns, which limit their large-scale applications. Most of the materials with high index of refraction also have a large absorption coefficient, thus causing a significant reduction in color efficiency. In addition to the angle-sensitive performance, a variety of the structural colors in previous reports use one-dimensional (1D) periodic grating structures that only work for a certain polarization state of incident light. Therefore, there is a crucial need for developing a new approach with novel functionalities that can resolve the aforementioned issues at the same time.
In this work, a scheme of wide-angle, polarization-independent and high-efficiency reflective structural color filters that exploit a broad optical resonance in an asymmetric planar cavity configuration is proposed. Broad spectral properties lead to the angle invariant performance, keeping highly-efficient colors over a broad angle of incidence up to 40° regardless of polarization state of incident light. Moreover, the dependence of optical properties and their resulting colors on the incident angles, polarizations and higher-order resonances is rigorously investigated, which is studied on the CIE chromaticity diagram. Furthermore, effects of top and bottom metallic mirrors on the optical properties are explored. The proposed approach holds promise for diverse applications, including microscopy, color-selective optoelectronics and decorative solar panels.
2. Results and Discussion
3. Conclusions
In conclusion, we have shown a scheme of creating highly efficient (>80%) reflective RGB colors with angle-insensitive and polarization-independent properties exploiting broad optical resonances in ultrathin planar nanostructures simply consisting of four layers. The resonant wavelengths of the proposed color filter structures remain nearly constant over a broad range of incident angles for both s- and p-polarizations, which are ascribed to the broad optical resonance effects. Besides, it is shown how both incident angles and polarizations have influence upon the reflection spectrum and hence the colors produced by the nanostructures. It is also demonstrated that improving color purity for a certain color is enabled by employing higher-order resonances. Furthermore, the dependence of the spectral reflection properties on different metallic layers is examined. The approach proposed here potentially paves the way towards numerous applications such as colored solar cells, color decorations, and wavelength-selective photodetectors.
Author Contributions
The manuscript was conceived by all authors. K.-T.L. and D.K. performed the simulations and K.-T.L., D.K., H.J.P., D.H.P. and S.H. analyzed the results. K.-T.L. and D.K. wrote the draft manuscript which was edited by H.J.P., D.H.P. and S.H.
Acknowledgments
This work was supported by the Ajou University research fund. This work was supported by the Ministry of Trade, Industry and Energy (MOTIE, No. 10051565 & 20000512) and Korea Display Research Corporation (KDRC) support program for the development of future devices technology for display industry. This work was partially supported by the GRRC program of Gyeonggi province (GRRC AJOU 2016B03, Photonics-Medical Convergence Technology Research Center). This work was supported in part by the Basic Science Research Program through the National Research Foundation of Korea (NRF) funded by the Ministry of Science, ICT and Future Planning (Grant no. 2017R1A2B1009314 & 2016R1C1B1009689). S.H. was supported by the National Research Foundation of Korea (NRF) grant funded by the Korea government (MSIT) (No.2019R1C1C1007629).
Conflicts of Interest
The authors declare no conflict of interest.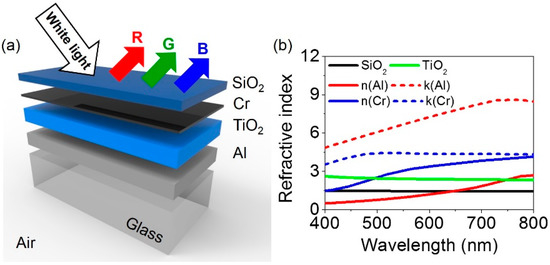 Figure 1. (a) Schematic diagram of the proposed nanostructures that can absorb a broad wavelength range of visible light to produce reflective colors that are insensitive with respect to both incident angles and polarizations. The structure is simply comprised of alternating multiple layers of dielectric and metallic films with different combinations on a glass substrate. (b) Refractive indices of materials used in the simulations.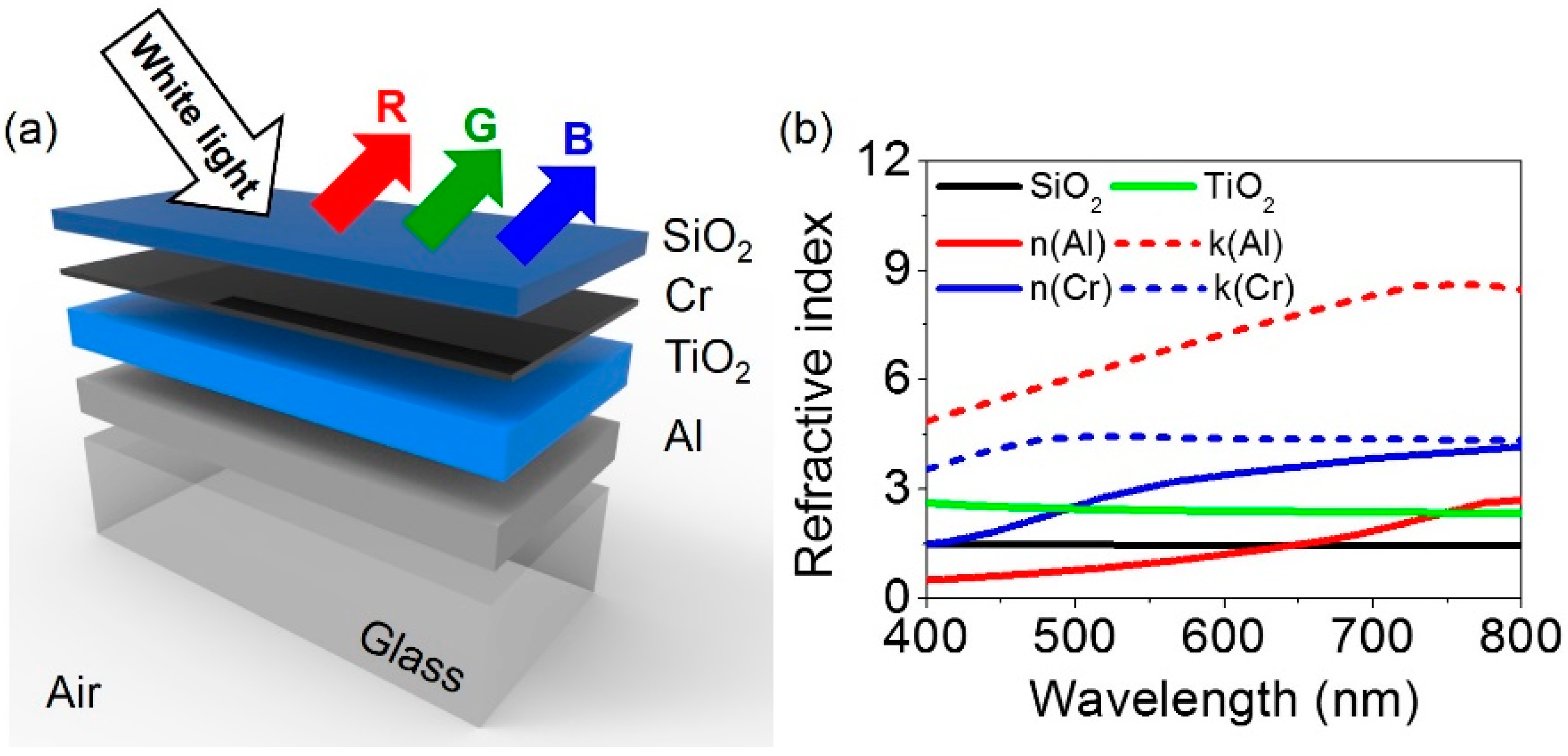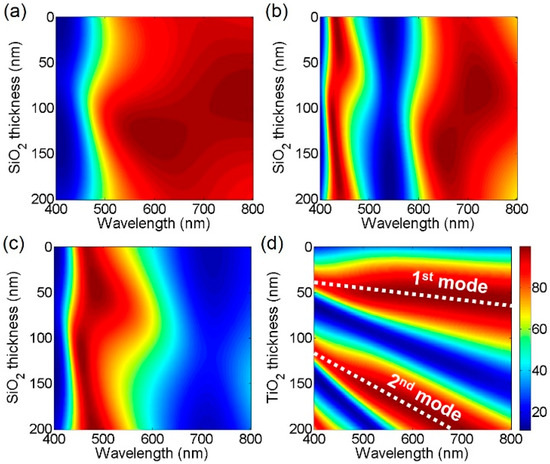 Figure 2. 2D contour plots of optical absorptions as a function of a wavelength and a SiO2 layer thickness for (a) blue, (b) green and (c) red colors. (d) 2D contour map of absorptions as a function of a wavelength and a thickness of TiO2.

Figure 3. Simulated spectral reflectance curves at normal incidence for (a) blue, (b) green and (c) red colored structures. Black, red, blue and green solid lines represent the reflection spectrum obtained from the structures consisting of TiO2 (B: 65 nm, G: 100 nm, R: 140 nm)/Al (100 nm), Cr (5 nm)/TiO2 (B: 65 nm, G: 100 nm, R: 140 nm)/Al (100 nm), SiO2 (80 nm)/Cr (5 nm)/TiO2 (B: 65 nm, G: 100 nm, R: 140 nm)/Al (100 nm) and SiO2 (80 nm)/Cr (5 nm)/TiO2 (B: 180 nm, G: 210 nm, R: 250 nm)/Al (100 nm), respectively.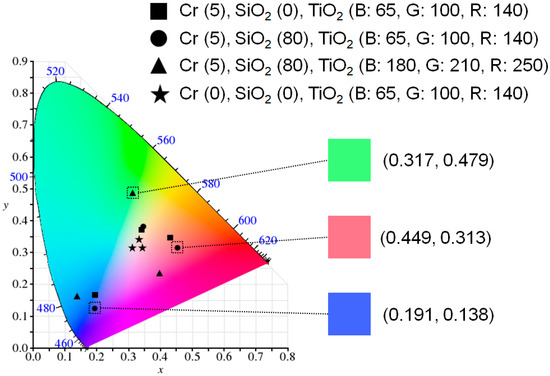 Figure 4.
A representation of color coordinates calculated from the reflection spectra studied in
Figure 3
illustrated on the CIE 1931 chromaticity diagram.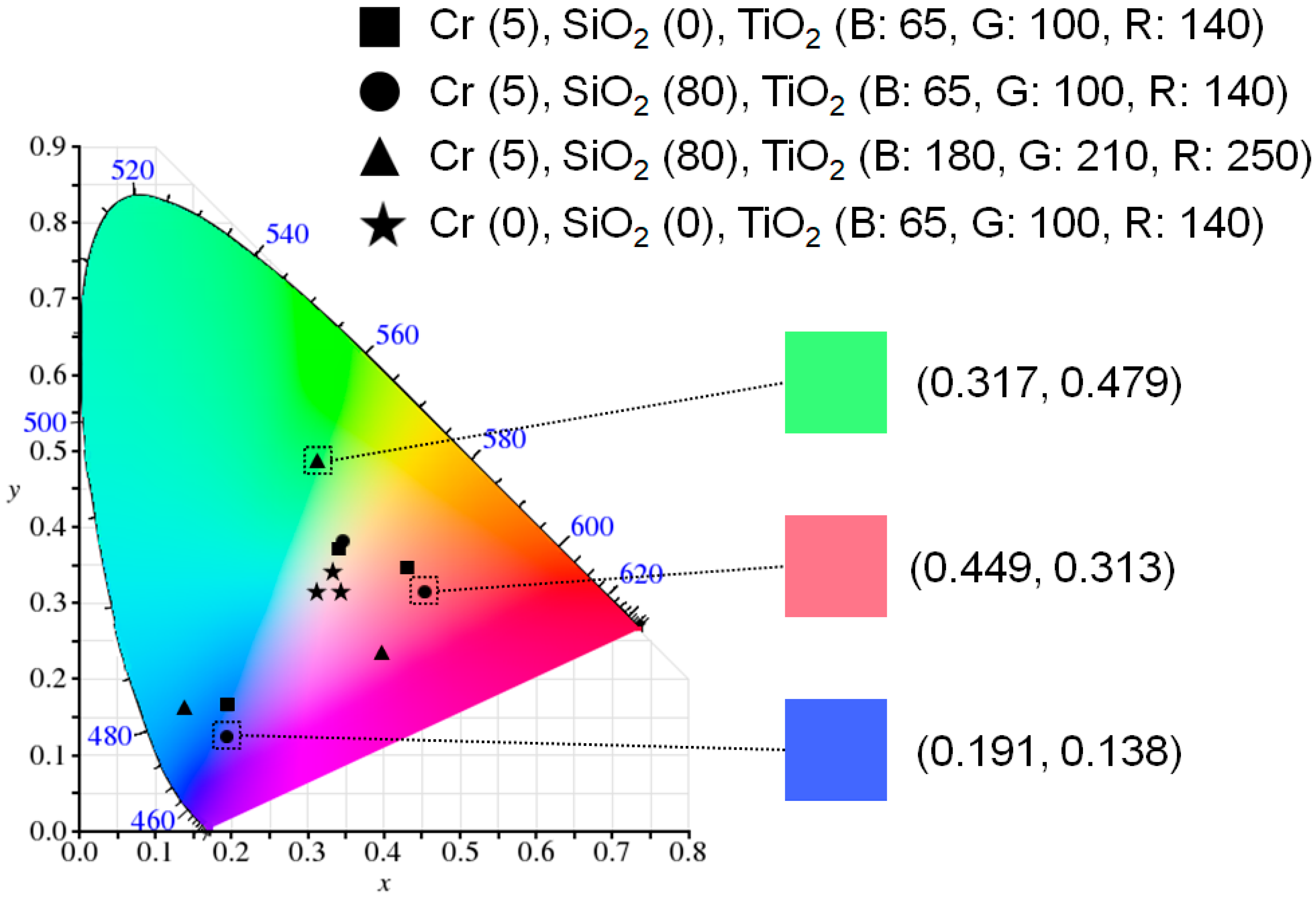 Figure 5. Normalized intensity distributions of electric field into the proposed structures where the thickness of TiO2 layer is (a) 100 nm and (b) 210 nm with fixed thicknesses of SiO2, Cr and Al at 80, 5 and 100 nm.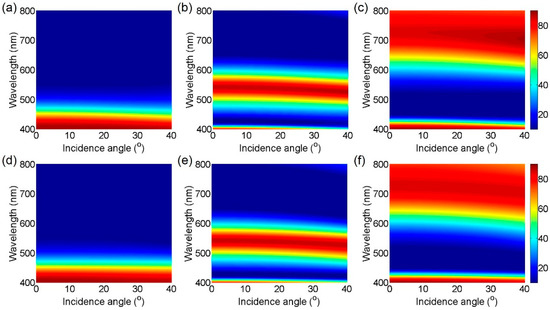 Figure 6. Simulated 2D contour plots of reflection as a function of a wavelength and an angle of incidence displaying that the reflection peaks are insensitive to incident angles up to 40° for (a–c) s- and (d–f) p-polarizations. The broad optical resonance effects result in both polarization-independent and angle-invariant characteristics. Red and blue colors represent high and low reflection efficiency in color maps.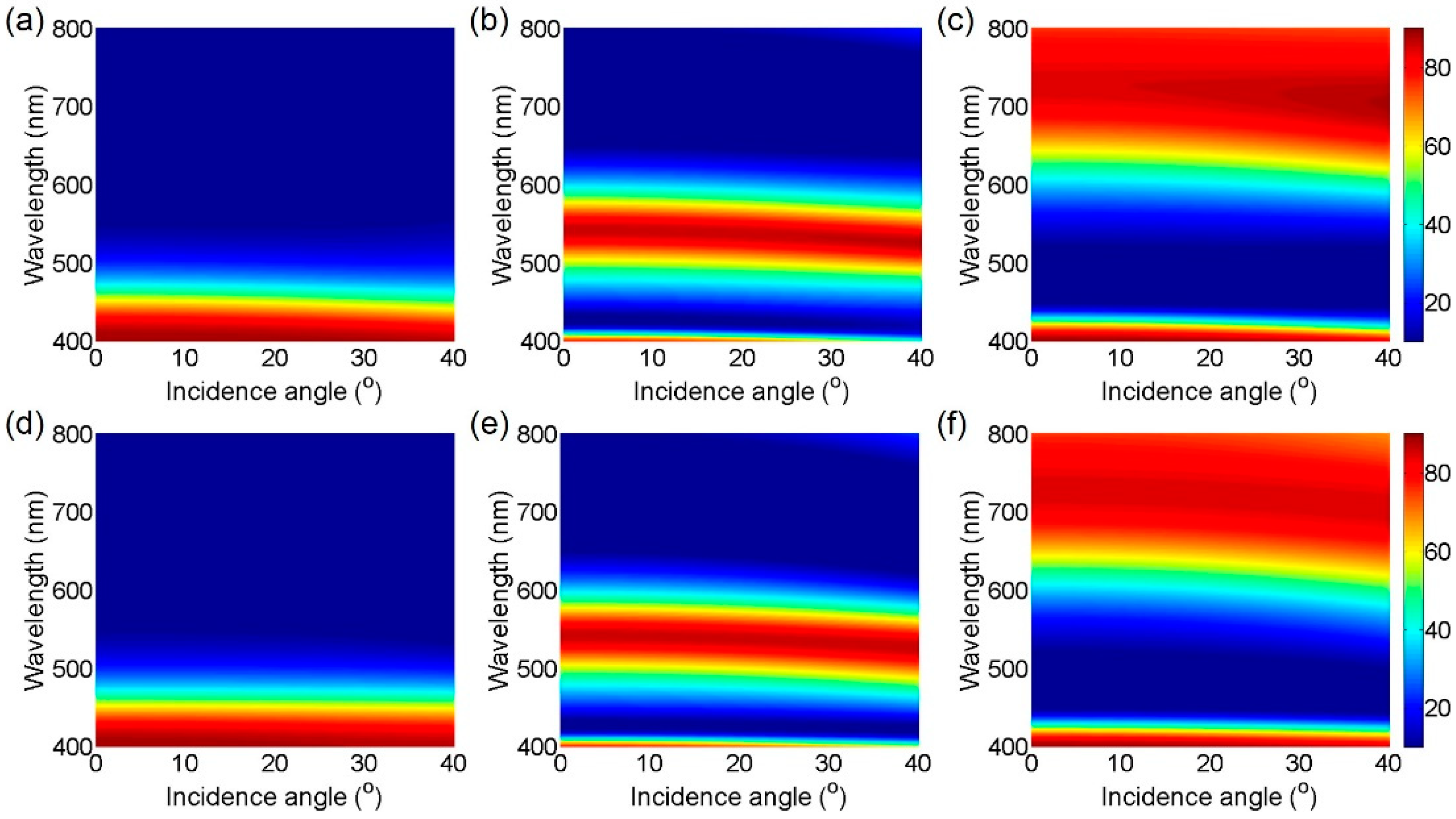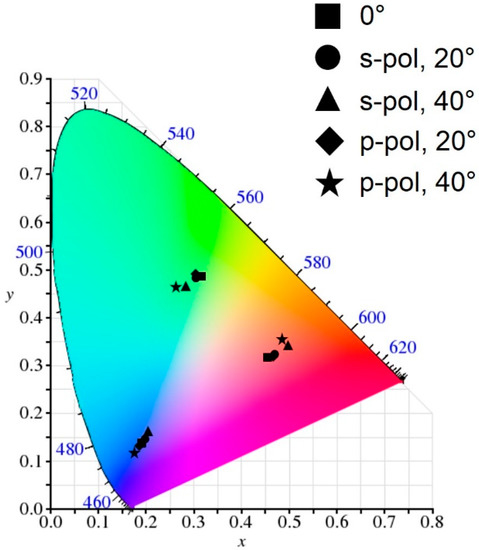 Figure 7.
An illustration of color coordinates attained from the angle-resolved reflection spectra in
Figure 6
for several oblique angles of incidence under s- and p-polarized light illumination, which is described on the CIE 1931 chromaticity diagram.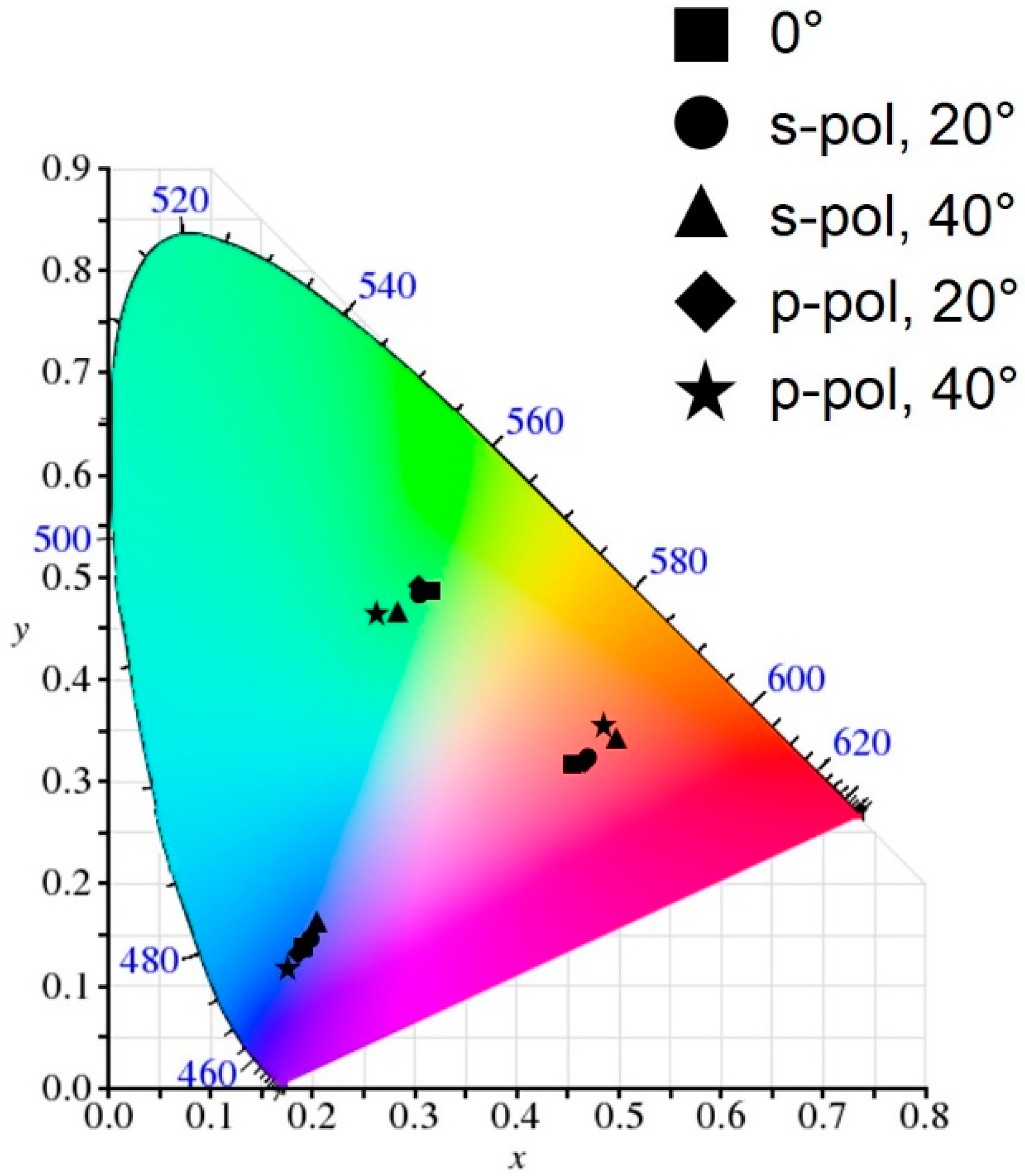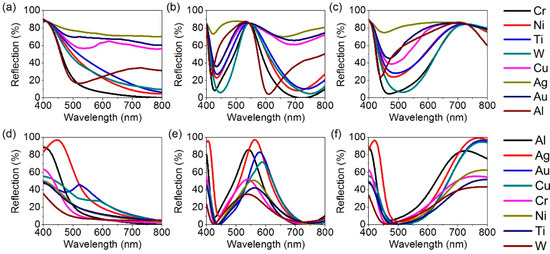 Figure 8. Calculated reflection spectra with different (a–c) top and (d–f) bottom metallic layers at normal incidence for blue, green and red colors.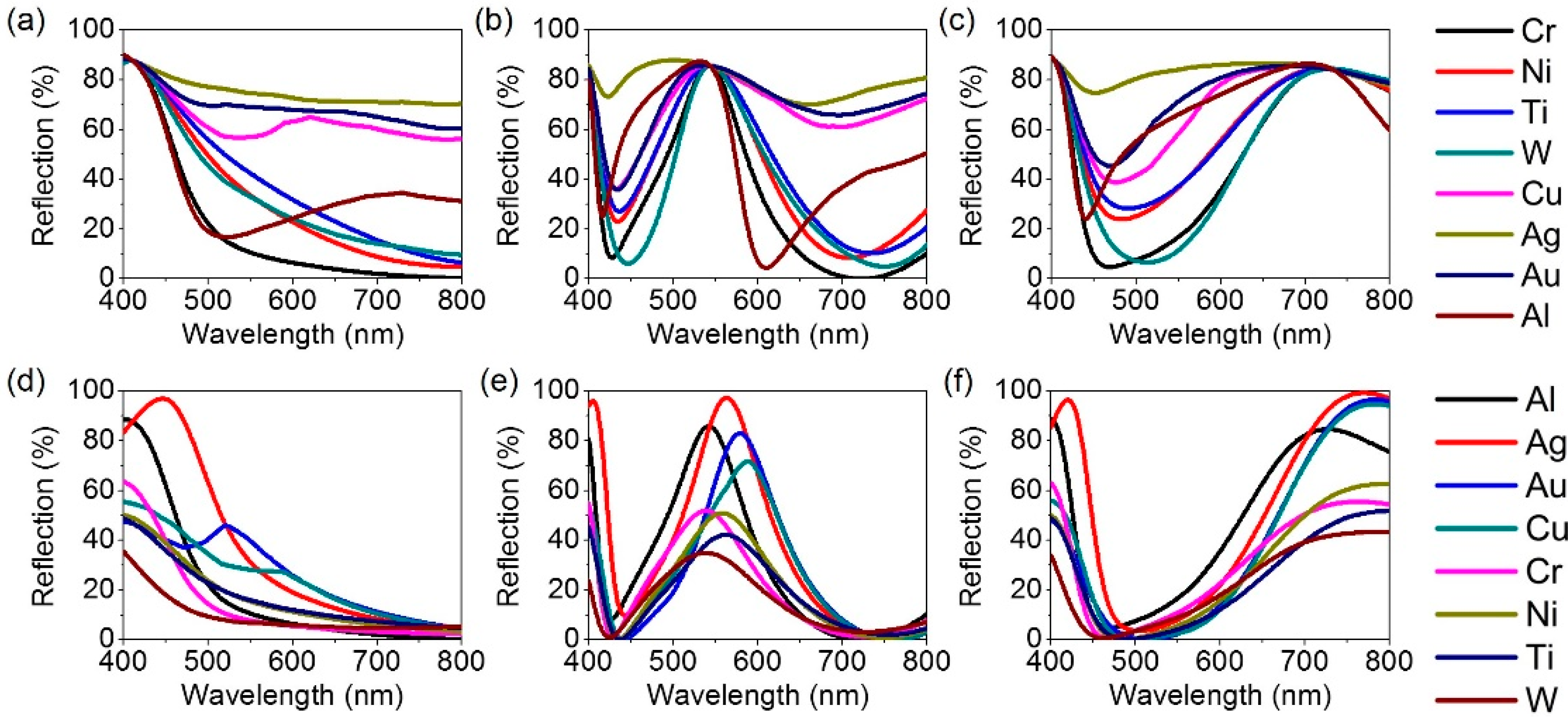 Table 1. Summary of color coordinates for different angles of incidence (0°, 20° and 40°) and different polarizations (s- and p-polarized light).
Polarization
s-Polarization
p-Polarization
Angle of Incidence
0°
20°
40°
20°
40°
Blue
(0.191, 0.138)
(0.194, 0.141)
(0.206, 0.158)
(0.189, 0.137)
(0.176, 0.121)
Green
(0.317, 0.479)
(0.304, 0.475)
(0.276, 0.460)
(0.303, 0.477)
(0.259, 0.461)
Red
(0.449, 0.313)
(0.463, 0.326)
(0.491, 0.346)
(0.459, 0.327)
(0.478, 0.366)

© 2019 by the authors. Licensee MDPI, Basel, Switzerland. This article is an open access article distributed under the terms and conditions of the Creative Commons Attribution (CC BY) license (http://creativecommons.org/licenses/by/4.0/).