Combustion Synthesis of Non-Precious CuO-CeO2 Nanocrystalline Catalysts with Enhanced Catalytic Activity for Methane Oxidation
1
Department of Laser Applications in Metrology, Photochemistry and Agric., National Institute of Laser Enhanced Sciences, Cairo University, Giza 12613, Egypt
2
Department of Chemistry and Earth Sciences, Faculty of Arts and Sciences, Qatar University, Doha 2713, Qatar
*
Author to whom correspondence should be addressed.
Received: 23 February 2019 / Revised: 7 March 2019 / Accepted: 13 March 2019 / Published: 15 March 2019
Abstract
In this study, xCuO-CeO
2
mixed oxide catalysts (Cu weight ratio x = 1.5, 3, 4.5, 6 and 15 wt.%) were prepared using solution combustion synthesis (SCS) and their catalytic activities towards the methane (CH
4
) oxidation reaction were studied. The combustion synthesis of the pure CeO
2
and the CuO-CeO
2
solid solution catalysts was performed using copper and/or cerium nitrate salt as an oxidizer and citric acid as a fuel. A variety of standard techniques, including scanning electron microscopy (SEM), energy dispersive X-ray spectroscopy (EDX), X-ray diffraction (XRD), thermo-gravimetric analysis (TGA), X-ray photoelectron spectroscopy (XPS) and Raman spectroscopy were employed to reveal the microstructural, crystal, thermal and electronic properties that may affect the performance of CH
4
oxidation. The CuO subphase was detected in the prepared solid solution and confirmed with XRD and Raman spectroscopy, as indicated by the XRD peaks at diffraction angles of 35.3° and 38.5° and the A
g
Raman mode at 289 cm
−1
, which are characteristics of tenorite CuO. A profound influence of Cu content was evident, not only affecting the structural and electronic properties of the catalysts, but also the performance of catalysts in the CH
4
oxidation. The presence of Cu in the CeO
2
lattice obviously promoted its catalytic activity for CH
4
catalytic oxidation. Among the prepared catalysts, the 6% CuO-CeO
2
catalyst demonstrated the highest performance, with T
50
= 502 °C and T
80
= 556 °C, an activity that is associated with the availability of a fine porous structure and the enhanced surface area of this catalyst. The results demonstrate that nanocrystalline copper-ceria mixed oxide catalysts could serve as an inexpensive and active material for CH
4
combustion.
View Full-Text
►

▼

Figures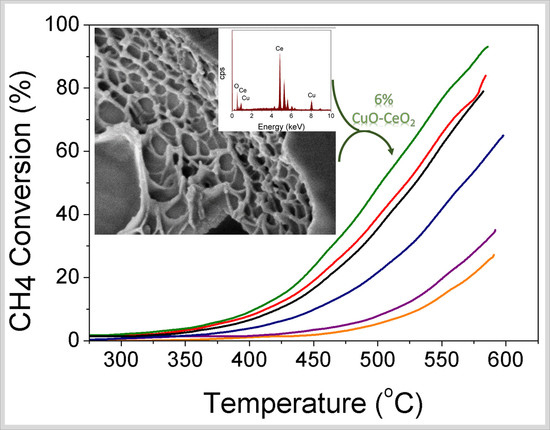 Graphical abstract
This is an open access article distributed under the
Creative Commons Attribution License
which permits unrestricted use, distribution, and reproduction in any medium, provided the original work is properly cited (CC BY 4.0).

Share & Cite This Article
MDPI and ACS Style
Zedan, A.F.; AlJaber, A.S. Combustion Synthesis of Non-Precious CuO-CeO2 Nanocrystalline Catalysts with Enhanced Catalytic Activity for Methane Oxidation. Materials 2019, 12, 878.
Note that from the first issue of 2016, MDPI journals use article numbers instead of page numbers. See further details here.
Related Articles
Comments
[Return to top]