Synthesis and Characterization of Flower-like Carbon-encapsulated Fe-C Nanoparticles for Application as Adsorbing Material
1
School of Materials Science and Engineering, Hebei University of Technology, Tianjin 300130, China
2
Research Institute for Energy Equipment Materials, Hebei University of Technology, Tianjin 300130, China
*
Authors to whom correspondence should be addressed.
Received: 20 January 2019 / Revised: 26 February 2019 / Accepted: 7 March 2019 / Published: 12 March 2019
Abstract
Carbon-encapsulated Fe-C (
[email protected]
) nanoparticles with a divergently flower-like morphology were successfully synthesized for application as an adsorbing material by using freeze-drying and chemical vapor deposition (CVD) methods. The Fe metallic source was first loaded onto a sodium chloride (NaCl) supporter via freeze-drying to obtain the Fe/NaCl composite powder. Then,
[email protected]
nanoparticles were synthesized in the temperature range of 300–450 °C via CVD of acetylene in the Fe/NaCl composite powder using Fe nanoparticles as catalysts and NaCl as supporters. Because the NaCl supporter is water-soluble, the synthesized
[email protected]
nanoparticles were easy to purify, and a high purity was obtained by simple washing and centrifugation. The optimal
[email protected]
nanoparticles, synthesized at 400 °C, possessed a unique divergently flower-like structure and a high specific surface area of 169.4 m
2
/g that can provide more adsorption sites for contaminants. Adsorption experiments showed that the flower-like
[email protected]
adsorbent exhibited high adsorption capacity (90.14 mg/g) and fast removal of methylene blue (MB). Moreover, the magnetic properties of the nanoparticles, with saturation magnetization of 36.544 emu/g, facilitated their magnetic separation from wastewater. Therefore, the novel flower-like
[email protected]
nanoparticles with integrated adsorptive and magnetic properties have the potential to be an effective adsorbent in dye wastewater treatment.
View Full-Text
►

▼

Figures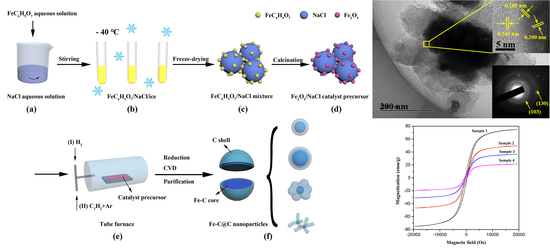 Graphical abstract
This is an open access article distributed under the
Creative Commons Attribution License
which permits unrestricted use, distribution, and reproduction in any medium, provided the original work is properly cited (CC BY 4.0).

Share & Cite This Article
MDPI and ACS Style
Zhao, L.; Dai, X.; Li, B.; Wang, H.; Li, H.; Liang, C. Synthesis and Characterization of Flower-like Carbon-encapsulated Fe-C Nanoparticles for Application as Adsorbing Material. Materials 2019, 12, 829.
Note that from the first issue of 2016, MDPI journals use article numbers instead of page numbers. See further details here.
Related Articles
Comments
[Return to top]