Monodisperse Fe3O4/SiO2 and Fe3O4/SiO2/PPy Core-Shell Composite Nanospheres for IBU Loading and Release
1
School of Chemistry and Environmental Engineering, Institute of Applied Chemistry, Shanxi Datong University, Datong 037009, China
2
Department of Chemistry, Xinzhou Teachers University, Xinzhou 034000, China
*
Authors to whom correspondence should be addressed.
Received: 7 February 2019 / Revised: 28 February 2019 / Accepted: 3 March 2019 / Published: 11 March 2019
Abstract
The magnetic targeting drug delivery system is an effective way of targeting therapy. In this study, the monodisperse Fe
3
O
4
nanoparticles with a particles size of about 180 nm were first prepared via a solvothermal method. Subsequently, the core-shell structure Fe
3
O
4
/SiO
2
and Fe
3
O
4
/SiO
2
/polypyrrole (PPy) composite nanospheres were successfully synthesized by coating Fe
3
O
4
nanoparticles with SiO
2
shell layer using the Stöber method and PPy shell by solvothermal method in turn. The as-prepared nanoparticles were characterized using transmission electron microscopy (TEM), X-ray diffraction (XRD), Fourier transform-infrared spectroscopy (FT-IR), vibrating sample magnetometer (VSM), thermogravimetric analysis (TGA), and Ultraviolet-Visible spectrophotometer (UV-Vis). The results indicated that the as-prepared composite nanospheres displayed a well-defined core-shell structure and monodispersity. The thicknesses of SiO
2
shell and PPy shell were ~6 nm and ~19 nm, respectively. Additionally, the as-prepared nanoparticles exhibited high saturation magnetization of 104 emu/g, 77 emu/g, and 24 emu/g, and have great potential applications in drug delivery. The drug loading and drug release of the Fe
3
O
4
/SiO
2
and Fe
3
O
4
/SiO
2
/PPy composite nanospheres to ibuprofen (IBU) under stirring and ultrasonication were investigated. Their drug loading efficiency and drug release efficiency under ultrasonication were all higher than 33% and 90%, respectively. The drug release analyses showed sustained release of IBU from nanospheres and followed the Korsmeyer-Peppas model.
View Full-Text
►

▼

Figures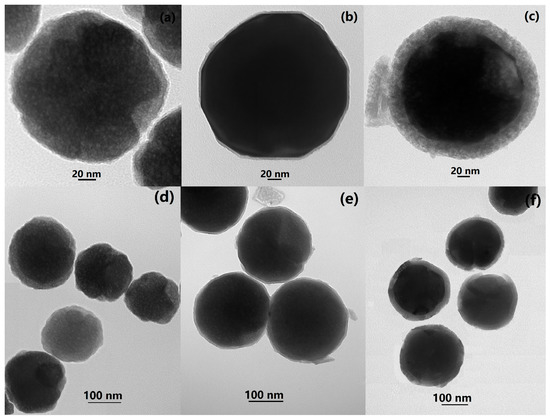 Figure 1
This is an open access article distributed under the
Creative Commons Attribution License
which permits unrestricted use, distribution, and reproduction in any medium, provided the original work is properly cited (CC BY 4.0).

Share & Cite This Article
MDPI and ACS Style
Shen, L.; Li, B.; Qiao, Y.; Song, J. Monodisperse Fe3O4/SiO2 and Fe3O4/SiO2/PPy Core-Shell Composite Nanospheres for IBU Loading and Release. Materials 2019, 12, 828.
Note that from the first issue of 2016, MDPI journals use article numbers instead of page numbers. See further details here.
Related Articles
Comments
[Return to top]