Flame-Retardant Mechanism of Layered Double Hydroxides in Asphalt Binder
1
College of Quality and Safety Engineering, China Jiliang University, Hangzhou 310018, China
2
College of Civil Engineering and Architecture, Zhejiang University, Hangzhou 310058, China
3
Fire Bureau of Zhejiang Province, Hangzhou 310014, China
4
Key Laboratory of Offshore Geotechnics and Material of Zhejiang Province, Zhejiang University, Hangzhou 310058, China
*
Author to whom correspondence should be addressed.
Received: 11 February 2019 / Revised: 28 February 2019 / Accepted: 1 March 2019 / Published: 8 March 2019
Abstract
The flame retardancy of asphalt binders with layered double hydroxides (LDHs) was investigated using limiting oxygen index (LOI) and cone calorimeter tests. The flame-retardant mechanism of the LDHs was also studied with thermogravimetry and differential scanning calorimetry (TG–DSC), scanning electron microscopy (SEM), and X-ray photoelectron spectroscopy (XPS). The cone calorimeter testing results indicated that 2 wt.% of the LDHs can decease the peak heat and smoke release rate of asphalt binders. Because a low dose of LDHs can be well dispersed in asphalt binder and favor the formation of polyaromatic structures during combustion, the thermal oxidation resistance and compactness of the char layer can be improved. The LOI of asphalt binder can be increased and the heat and smoke release during combustion can be decreased with 25 wt.% LDHs. The decomposition of LDHs can absorb the heat release of the initial two stages of asphalt combustion and reduce the burning rate of asphalt. Due to the loss of loosely bound water in the LDHs during the blending process and the decrease of dispersibility at a high LDH dose, the improvement of thermal stability is limited.
View Full-Text
►

▼

Figures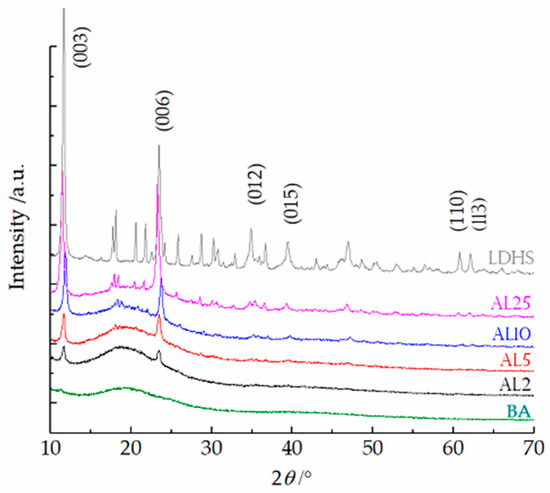 Figure 1
This is an open access article distributed under the
Creative Commons Attribution License
which permits unrestricted use, distribution, and reproduction in any medium, provided the original work is properly cited (CC BY 4.0).

Share & Cite This Article
MDPI and ACS Style
Zhu, K.; Wang, Y.; Tang, D.; Wang, Q.; Li, H.; Huang, Y.; Huang, Z.; Wu, K. Flame-Retardant Mechanism of Layered Double Hydroxides in Asphalt Binder. Materials 2019, 12, 801.
Note that from the first issue of 2016, MDPI journals use article numbers instead of page numbers. See further details here.
Related Articles
Comments
[Return to top]