Epitaxial Growth of Orthorhombic GaFeO3 Thin Films on SrTiO3 (111) Substrates by Simple Sol-Gel Method
1
State Key Laboratory of High Performance Ceramics and Superfine Microstructure, Shanghai Institute of Ceramics, Chinese Academy of Sciences, Shanghai 200050, China
2
Laboratory for Materials and Structures, Tokyo Institute of Technology, Midori-ku, Yokohama 226-8503, Japan
3
Center of Materials Science and Optoelectronics Engineering, University of Chinese Academy of Sciences, Beijing 100049, China
4
Department of Chemistry, The University of Tokyo, Bunkyo-ku, Tokyo 113-0033, Japan
*
Authors to whom correspondence should be addressed.
Received: 17 November 2018 / Revised: 6 January 2019 / Accepted: 8 January 2019 / Published: 14 January 2019
Abstract
A Sol-gel method assisted with spin-coating has been successfully used to grow orthorhombic GaFeO
3
epitaxial films on SrTiO
3
(111) substrates for the first time. The film with
Pna21
crystal structure has been grown along the c-axis. The rocking curve of (004) reflection shows that the Full-Width at Half-Maximum (FWHM) value could be determined to be 0.230°, indicating good single crystallinity and high quality. X-ray Φ scan reveals a three-fold symmetry of the substrate and a six-fold symmetry of the film, respectively. The in-plane domains rotate 60° from each other in the film. Uniform film with dense structure, columnar grains with similar grain size was obtained. The thickness of the film was evaluated to be ~170 nm. The roughness value (RMS) measured by AFM was 4.5 nm, revealing a flat film. The in-plane Magnetization versus Magnetic field (
M-H
) curve at 5 K performs a typical ferri- or ferromagnetic hysteresis loop with a saturated magnetization (
M
s
) value of 136 emu/cm
3
. The Curie temperature could be determined to be 174 K. Compared to Pulsed Laser Deposition (PLD), the sol-gel method can prepare large area films with low cost. These new films show promising applications in multiferroic devices.
View Full-Text
►

▼

Figures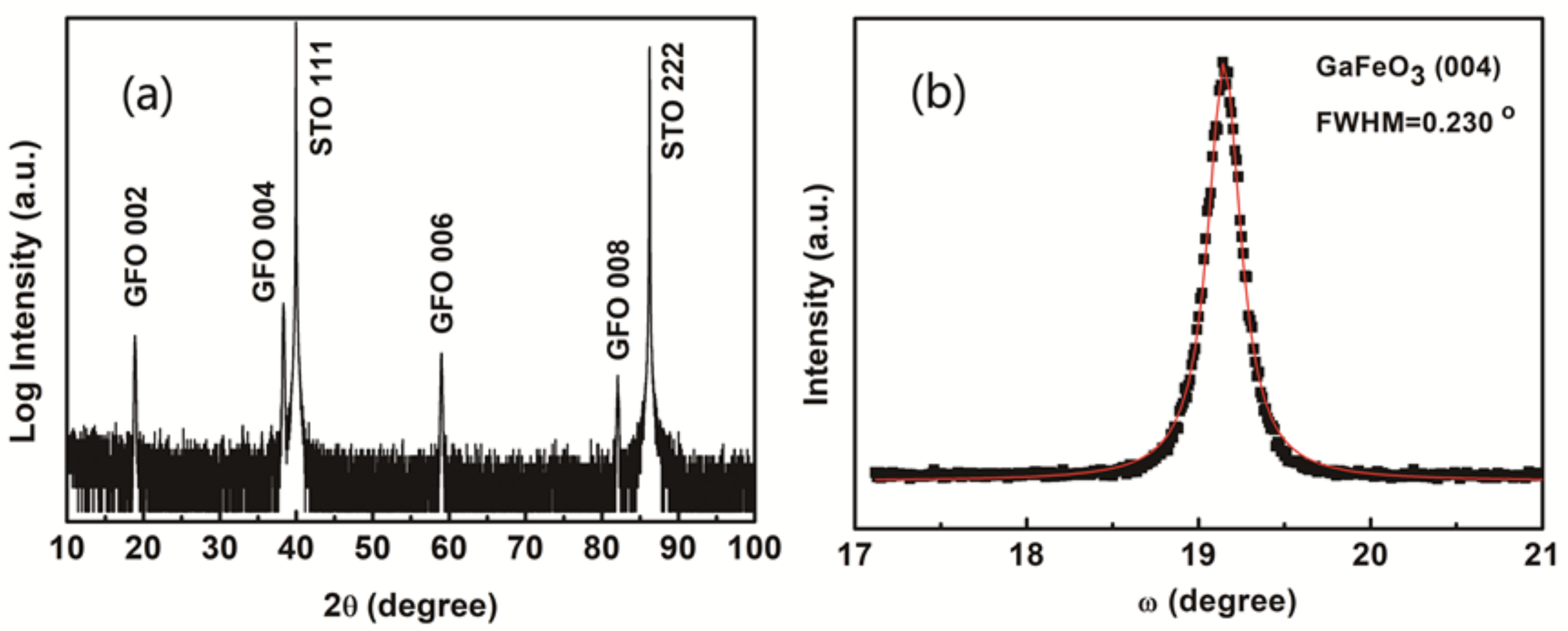 Figure 1
This is an open access article distributed under the
Creative Commons Attribution License
which permits unrestricted use, distribution, and reproduction in any medium, provided the original work is properly cited (CC BY 4.0).

Share & Cite This Article
MDPI and ACS Style
Zhang, M.; Yasui, S.; Katayama, T.; Rao, B.N.; Wen, H.; Pan, X.; Tang, M.; Ai, F.; Itoh, M. Epitaxial Growth of Orthorhombic GaFeO3 Thin Films on SrTiO3 (111) Substrates by Simple Sol-Gel Method. Materials 2019, 12, 254.
Note that from the first issue of 2016, MDPI journals use article numbers instead of page numbers. See further details here.
Related Articles
Comments
[Return to top]