Nanocellulose-Block Copolymer Films for the Removal of Emerging Organic Contaminants from Aqueous Solutions
1
Department of Chemistry, University of Puerto Rico, Río Piedras Campus, 17 Ave. Universidad STE 1701, San Juan, PR 00925-2537, USA
2
Molecular Sciences Research Center, University of Puerto Rico, 1390 Ponce De Leon Avenue, Suite 2, San Juan, PR 00931-3346, USA
3
Department of Chemistry, Jackson State University, 1325 J. R. Lynch St. P.O. Box 17910, Jackson, MS 39217-0510, USA
*
Author to whom correspondence should be addressed.
Received: 4 December 2018 / Revised: 26 December 2018 / Accepted: 3 January 2019 / Published: 11 January 2019
Abstract
The prevalence of emerging organic contaminants (EOCs) in ground and surface water has sparked the search for more effective methods to remove EOCs from the environment. In pursuit of a solution for this environmental concern, herein we present the development of reusable films based on cellulose nanofibers (CNFs) and the block copolymer, poly(4-vinylpyridine-b-ethylene oxide) (P4VP-PEO) to adsorb sulfamethoxazole (SMX) as an EOC model compound. We hypothesize that the adsorption of SMX was achieved mainly by π-π interactions between the pyridine functionalities of the block copolymer and the electron deficient phenyl group of the SMX. Preceding preparation of the films, CNFs were modified with the alkoxysilane trimethoxy(2-phenylethyl)silane (TMPES) to increase their stability in aqueous solution. After the addition of P4VP-PEO, the process was completed by filtration followed by oven-drying. XPS and FTIR were employed to confirm the addition of TMPES and P4VP-PEO, respectively. Adsorption batch experiments were performed in aqueous solutions of SMX at a neutral pH, obtaining adsorptions of up to 0.014 mmol/g in a moderate time of 60 min. For the reusability tests, films were immersed in ethanol 95 wt.% to elude the adsorbed SMX, rinsed with deionized (DI) water, and dried at room temperature to be reused in a new adsorption cycle. We found that this new composite material could be reused several times with negligible loss of adsorption capacity. The films presented have been shown to be of substantial importance for water remediation as they find direct application in the adsorption of electron deficient aromatic compounds and are reusable.
View Full-Text
►

▼

Figures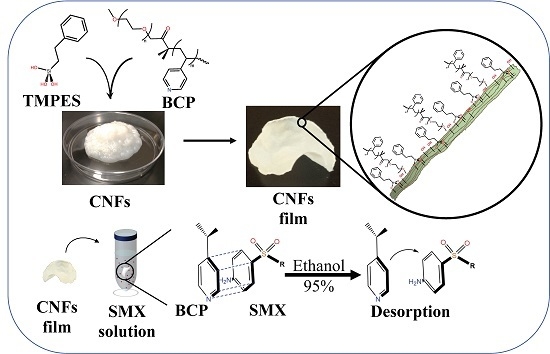 Graphical abstract
This is an open access article distributed under the
Creative Commons Attribution License
which permits unrestricted use, distribution, and reproduction in any medium, provided the original work is properly cited (CC BY 4.0).

Share & Cite This Article
MDPI and ACS Style
Herrera-Morales, J.; Turley, T.A.; Betancourt-Ponce, M.; Nicolau, E. Nanocellulose-Block Copolymer Films for the Removal of Emerging Organic Contaminants from Aqueous Solutions. Materials 2019, 12, 230.
Note that from the first issue of 2016, MDPI journals use article numbers instead of page numbers. See further details here.
Related Articles
Comments
[Return to top]