A Comparative Study of Localized Corrosion and Stress Corrosion Cracking of 13Cr Martensitic Stainless Steel Using Acoustic Emission and X-ray Computed Tomography
1
Department of Materials Engineering, The University of Tokyo, 7-3-1 Hongo, Bunkyo-ku, Tokyo 113-8656, Japan
2
Research and Services Division of Materials Data and Integrated System, National Institute for Materials Science, 1-1 Namiki, Tsukuba, Ibaraki 305-0044, Japan
3
Materials Department, Research Laboratory, IHI Corporation, 1 Shin-Nakahara-Cho, Isogo-ku, Yokohama 235-8501, Japan
*
Author to whom correspondence should be addressed.
Received: 16 July 2019 / Revised: 5 August 2019 / Accepted: 9 August 2019 / Published: 12 August 2019
Abstract
An accurate evaluation of stress corrosion cracking (SCC) in 13Cr martensitic stainless steel (MSS) is still missing due to the lack of an in-situ insight into the process evolution and full characterization of the corrosion morphology. In this work, two main regimes involved in the SCC progression, including localized corrosion and cracking, were comparatively studied using in-situ acoustic emission (AE) monitoring and three-dimensional (3D) X-ray computed tomography (XCT) scanning. The stress corrosion tests were conducted with u-bent smooth specimens subjected to a single droplet of 1 μL 1% neutral NaCl solution. Localized corrosion and cracking evolution were controlled in tempered and quenched steel specimens, respectively. From XCT scanning, localized corrosion was featured by an irregular corrosion pit with deposited corrosion products containing cracks. The single dominant SCC crack was observed to initiate from corrosion pit and propagate with a 3D tortuous and discontinuous morphology. AE signals were detected in both cases. Correlated with in-situ observations and clustering analysis, source identification of AE signals was proposed. AE signals during localized corrosion were assessed to be mainly from cracking within the deposited corrosion products. Comparatively, hydrogen-bubble evolution, plastic deformation, and crack-branches coalescence were proposed as the AE sources of cracking evolution.
View Full-Text
►

▼

Figures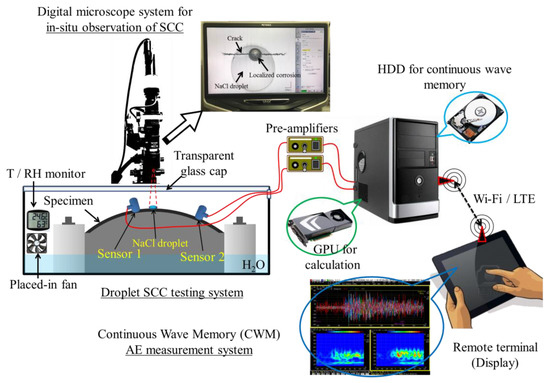 Figure 1
This is an open access article distributed under the
Creative Commons Attribution License
which permits unrestricted use, distribution, and reproduction in any medium, provided the original work is properly cited (CC BY 4.0).

Share & Cite This Article
MDPI and ACS Style
Wu, K.; Ito, K.; Shinozaki, I.; Chivavibul, P.; Enoki, M. A Comparative Study of Localized Corrosion and Stress Corrosion Cracking of 13Cr Martensitic Stainless Steel Using Acoustic Emission and X-ray Computed Tomography. Materials 2019, 12, 2569.
Note that from the first issue of 2016, MDPI journals use article numbers instead of page numbers. See further details here.
Related Articles
Comments
[Return to top]